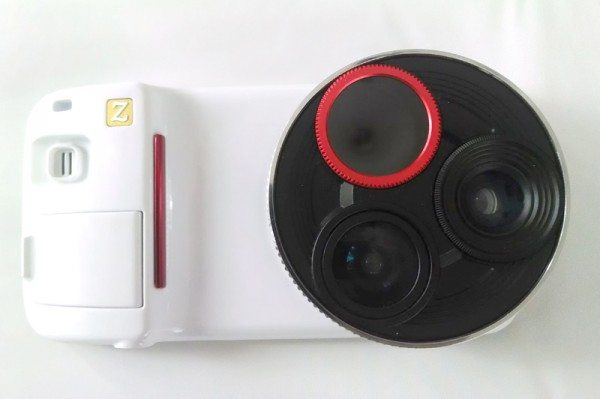 Torn. Conflicted. Confused. Verklempt.  Ok, maybe not verklempt, but conflicted, yes.  I am one of those people who gave up the traditional digital camera and exclusively use my Samsung Galaxy S4 as my digital camera.  It's with me all the time, right?  And like many of you I have struggled to take good pictures consistently because, let's face it, no matter how good the smartphone cameras get they still aren't good enough.  And like most of you, I don't know enough about picture-taking to alter all the ISO settings, exposure, and whatever else is on there, every time I want to take a picture. Oy vey. I just snap away.  So when I saw the Ztylus Revolver Smartphone Camera Kit (pronounced just like 'stylus'), a gadget that you attach to your Samsung Galaxy S4 to improve the camera and your pictures, I jumped. So why I am so torn, conflicted, and confused? Read on.
Camera devices that attach to your smartphone to improve the camera are not new, to be sure.  It seems that there are new ones coming out all the time for the iPhone for example.  But this is the first device that I have run across that was made specifically for the Galaxy S4 and that replaces the back of the phone with the camera attachment. I was intrigued. What I got was the Ztylus Revolver Smartphone Camera Kit, which contains 2 devices: the ZGS-4 Camera Case and the RV-1 Revolver Lens Attachment. You can purchase them separately, but you can't use the Revolver Lens Attachment without the Camera Case, so you'll need to buy that to get the lens I will talk about in a minute. The kit can be had at several places online for around $85, or you can get just the Camera Case for $30 and the Revolver Lens Attachment for $60.
Specifications and Descriptions
First, the specs and a little description of each part.
Camera Case:
Ergonomic Hand Grip
Foldable Kick Stand
1/4-20 tripod mount ready
Sound Redirect
Camera Strap Ready
The Camera Case is made of smooth plastic, much like the back of the Galaxy S4 and it is basically a replacement for the back of your phone. So you remove the back and pop on the Ztylus. On one end of the Case you will see a bump that serves as the hand-grip when you are holding the phone like you would a digital camera. It also has a ¼-20 standard tripod mount if you want to attach the phone to a tripod.  I have a tripod, but I have yet to use it with the Ztylus. The Case also has a kickstand which is very handy. My old HTC Thunderbolt had a kickstand and I missed it terribly when I changed phones. The last thing I'll mention is the indentation that sits over the S4's speaker. The product description says that this little part of the Camera Case is called the 'sound redirect' and that it is supposed to greatly enhance the sound output from the S4.  I can wholeheartedly agree with that one!  More on that in a minute.  Here are a few pictures:
Without the Revolver Lens Attachment: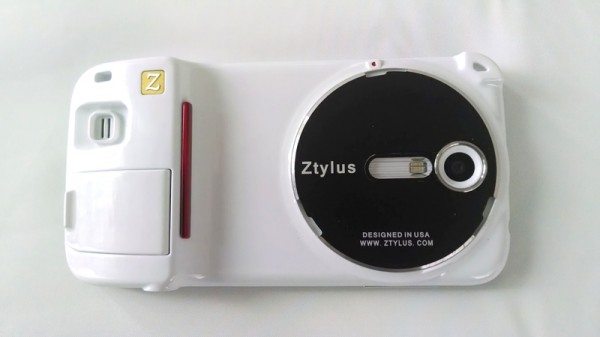 With the Revolver Lens Attachment: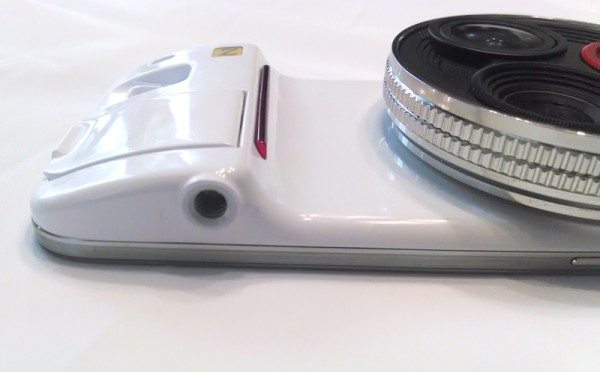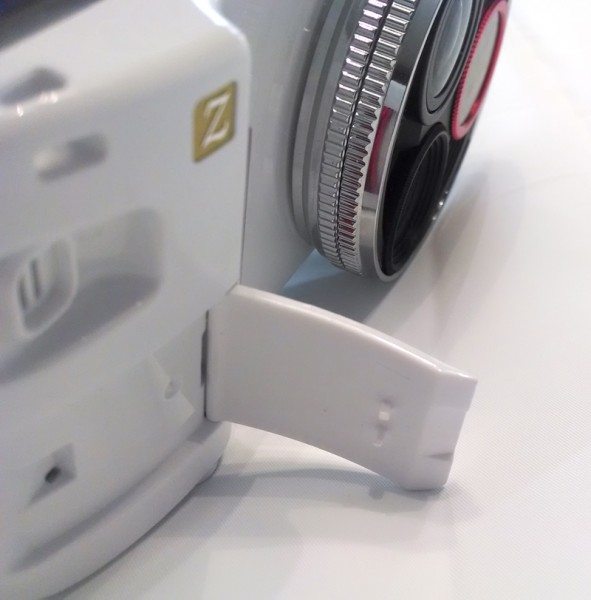 Revolver Lens Attachment:
Sturdy yet flexible construction
CPL(Circular Polarizer Filter)
Wide Angle Lens
Super Micro Lens
Extreme Fish Eye Lens
The Lens attachment is constructed with aircraft grade aluminum and metal. It has several little tabs around the outside of it, and to attach it to the Camera Case you line up the tabs into little slots on the Camera Case and rotate it to lock it in place.  If you have ever owned a DSL-R and attached a camera lens, it's exactly like that. The outward facing part of the Revolver Lens rotates in a circular fashion with your hand so you can switch between the 3 lenses (one of them does double-duty with 2 lens). The Revolver looks and feels very much like lenses I have used with my DSL-R cameras of the past.  The CPL and Extreme Fish Eye Lens are 2 of the 3 lenses, and the other lens is the Wide Angle Lens.  To access the Super Micro Lens you use your fingers to unscrew the top part of the Wide Angle Lens and remove it, showing you the Super Micro Lens beneath.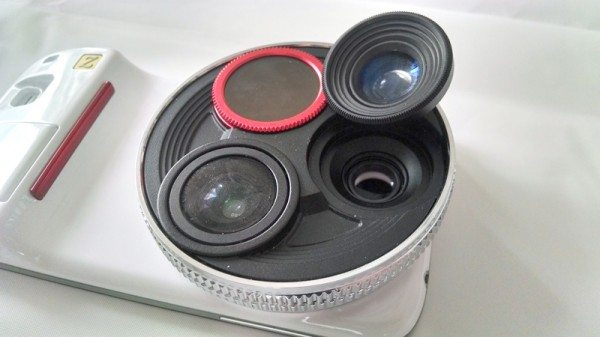 Performance
The 'sound redirect' indentation I mentioned is awesome. It really amplifies the sound from the crappy S4 speaker, and makes listening to music or movies so much better, as well as speakerphone calls. The kickstand is awesome for propping the phone up for Skype calls, watching movies or videos, or just sitting on my desk at work so I can see incoming calls and text messages easier.
The Revolver Lens is a great addition to the S4's camera, and I have provided a picture gallery below so you can see numerous examples of photos I took with and without the Revolver Lens Attachment so you can see the difference it makes. The bottom line is that the Revolver Lens Attachment makes the S4 camera much better in my opinion, and I am taking better pictures because of it.  If you like taking pictures with your S4, this will make you a better picture-taker.
Here is a description of each lens:
Fish-eye lens – If you know what fish-eye view looks like, then you know what this lens does. It simply provides you with a creative way to take a photo with a 180-degree field of vision.
Circular Polarizer Lens (CPL) – This lens does a fantastic job of greatly reducing glare, improving contrast, and enhancing color saturation.  Basically, the grass is greener and the sky is bluer, and the glare off the water is gone. And it works for both pictures and video. This is the lens I use the most.  I also use this lens in conjunction with the HDR mode on the phone, which also enhances color saturation.  I find that using both together provide much better photos.
Wide-Angle lens – It does what it says. It enables you to get more of the image into the frame.
Micro lens – This lens does an amazing job of providing you a super-close view of your subject at 10x zoom. You won't be using this to zoom into your kid scoring that soccer goal, but you will use it to take close up pictures of nature, and to read the occasional tiny printed text on stuff.  Hey, don't judge.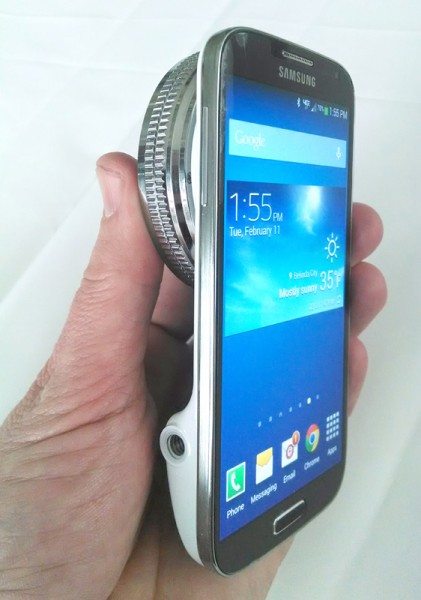 Picture Gallery
Click the thumbnail to view the full-size version of each photo (NOTE: some of these photos are very large)
Micro Lens:  Normal shot VS close-shot (red markings indicate close-up area)
Panoramic S4 shot:  Normal camera lens VS Fish-Eye lens




Wall of pictures:  Normal camera shot VS Wide-Angle VS Fish-Eye
CPL lens:  Normal camera shot VS CPL Lens shot  (Notice the greener color of the grass on the left side and the trees in the middle in the second picture)
Video shot with/without CPL lens:  These are screen-capture shots from video taken with my S4.  The first one is from video NOT using the CPL lens. The second one is from video using the CPL lens. As you can see, using the CPL lens makes all the colors deeper and richer.
Conflicted Feelings
It took me a long time to finish this review because I wanted to make sure that my conflicted feelings weren't misplaced, so I forced myself to use the Ztylus for a long time on a daily basis to confirm what I was thinking.  My first thought when I attached the Camera Case and Revolver was… 'This is so cool'.  After a few minutes though my thought was… 'Do I really want to carry my phone around with this thing on it?'  And therein lies my conflict.  Let me explain.
Considering just the Camera Case, I am ok with carrying my phone around with this as the back of my phone.  The bump for the handle is big, no doubt, and it does draw some curious glances. And you can't lay your phone flat on any surface because of that bump. But it does fit into my pockets fine I suppose. I carry my phone in my pants or jacket pocket daily, so I don't use a holster of any kind.  For those of you who do that, I am pretty confident that the phone won't fit into your holster with the Camera Case attached.  But does the Camera Case alone provide enough reason for me to leave it attached to my phone on a daily basis?  For me, that answer is no.
The phone is easier to hold with the Camera Case on it when using it as a camera, I admit.  And the kickstand is great too. But I don't watch movies or listen to music from the speaker very often. And I don't carry my tripod around every day either, so I don't use the tripod mount on the bottom. So I like the features of the Camera Case, but I don't use any of them on a daily basis.
Considering pocketability again, if you attach the Revolver Lens to the Camera Case, then forget it.  It was just too awkward to slide the whole thing into my pants or jacket pocket. It just adds too much girth.  Plus, there is no cover for the Revolver to protect the lenses so you won't want to throw this around inside your bag/purse anyway.  You'll want to remove it and use the cushioned carrying case that comes with the Revolver to protect the lenses. (The Camera Case comes with one too, by the way)
So you can probably see why I am torn.  I am taking better pictures (and video by the way) with the Ztylus Kit. But I don't have enough reason to keep the Camera Case attached to my phone all the time and I certainly am not going to carry it around with the Revolver Lens Attachment on it. And if you are like me, most of your pictures aren't planned and you take pictures when the moment happens, am I right?  Most of my pictures aren't planned, I just take the shot on the spur of the moment. So I don't carry around the Ztylus Case and Revolver with me everywhere I go to enable me to hurriedly pop it on to grab that picture I want.
The Bottom Line
So for me the bottom line has ended up being this: if I am going somewhere that I know I will be taking pictures… my kid's ballgames, a wedding, a school program, the family vacation, etc, then I attach the Ztylus kit and head out. But on a daily basis it just doesn't make practical sense for me to keep them attached to my phone, which means for those spur-of-the-moment snapshots I don't have the Ztylus to help me make better photos.  Do I recommend the Ztylus Kit?  Absolutely.  It will enable you to take much better pictures, no doubt, and the price is great in my opinion for what you get. And for me, I use it for situations where I know I am going to use it.  But if you are the type of person who never, ever anticipates your picture opportunities, then you probably won't end up using the Ztylus Kit.
Some of our links in posts like this one are affiliate links, which means that we may receive a small commission on purchases at no cost to you.
Product Information
Price:
$85
Manufacturer:
Ztylus
Requirements:
Pros:

Big improvement to picture taking ability
Big improvement to crappy S4 speaker
Affordable price

Cons: