We use affiliate links. If you buy something through the links on this page, we may earn a commission at no cost to you. Learn more.
Kids sure are lucky these days because they have laptops and PDAs to help them with their school work. Back in my day, all we had were pencils, that we had to sharpen with a pocket knife as we walked to school barefoot in the snow. Ok, maybe it wasn't that bad… But really, all we had were pens and pencils to take notes during class. I used to hate taking notes in school because my mind had a really bad habit of wandering. Fast forward to present day and not much has changed. My mind still wanders and I still don't like taking notes. But, now I have a new tool that can help fill in the gaps during those times when I'm supposed to be paying attention during meetings. It's an electronic pen called the Pulse Smartpen from Livescribe.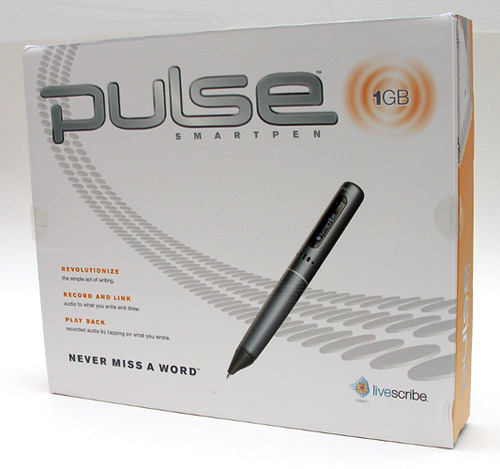 Hardware Specs
Processor: Samsung ARM 9 (32-bit, 150 MHz)
Screen: 96×18 OLED Display
Storage: 1GB NAND (over 100 hours recording time) or 2GB NAND (over 200 hours recording time)
Battery: 300 mAH rechargeable lithium (non-removable)
Audio jack: (2.5mm)
Size: 6.1 x 0.55 in. (155 x 14mm)
Weight: 1.3 oz. (36 Grams)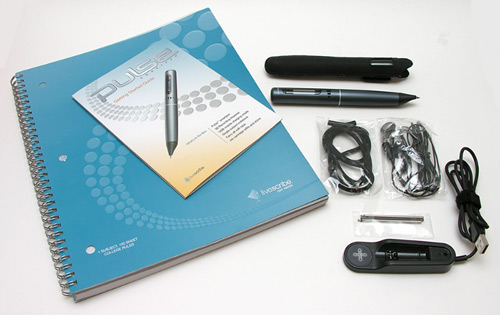 Package Contents
Pulse Smartpen
Smartpen sync / charge dock
Carrying case
Earphones
100 page spiral notebook
3 ink refills
1 stylus tip
Neck cord
Quick start guide
What is it and what can it do?
The Pulse Smartpen is a ballpoint pen that you use to write notes during your classes, lectures, meetings, etc. As you write, the pen will record your strokes along with audio. When you are done with a note taking session, you can go back to your handwritten notes and tap on a word that you wrote to hear what was being said as you were writing that word. You can also upload your note taking sessions to your computer for archival and searching purposes.
The hardware
For the most part, the Pulse Smartpen looks like a regular ballpoint pen. But upon closer inspection, you will soon recognize the fact that this is a very powerful electronic pen with all kinds of amazing features.

The body of the pen is made of aluminum that isn't overly flashy. The top side has the power button, dual microphones, a speaker and a small OLED display.

On the underside, you will find the contacts for charging with the included USB dock.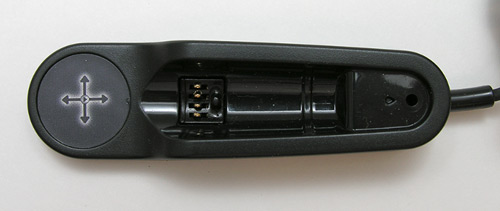 The dock is a small plastic stand that has a magnetic connector built into its base.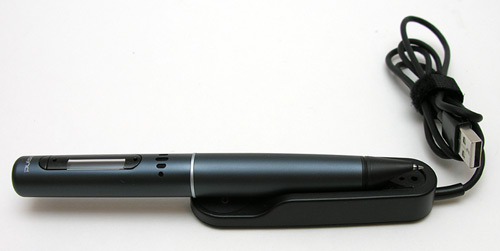 All you have to do is just set the pen in the dock, for it to make a connection for both charging and syncing with your PC.

From the side, the Pulse looks a bit like a fountain pen.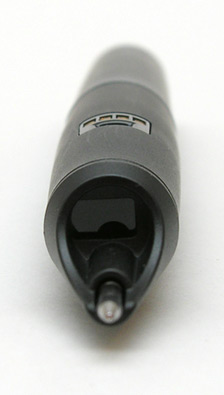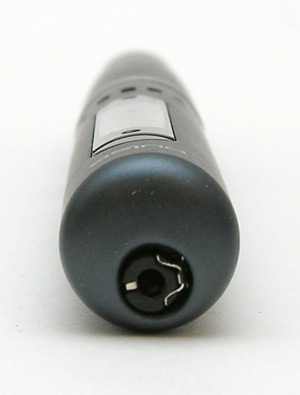 But if you look closer at the area behind the ballpoint pen tip, you'll see an Infrared camera lens. This camera is what will record everything you write or draw.
On the top of the Pulse, there's a 2.5mm audio jack for a set of ear buds that are included with the pen. These ear buds allow you to listen to recorded sessions in privacy and will also record audio with their built in microphones.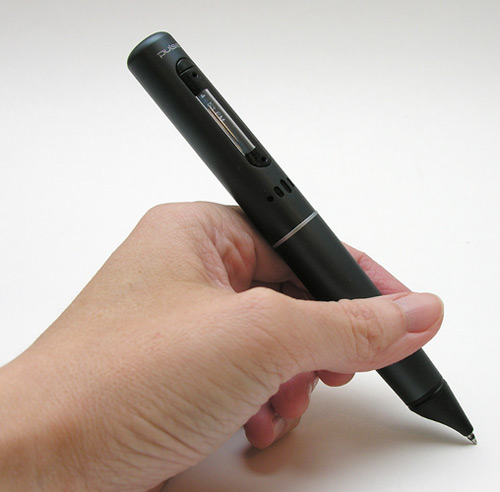 In hand, the Pulse Smartpen does feel a bit chunkier than your typical Bic pen, but it's not overly cumbersome. I didn't have any problems writing with it and experienced no discomfort even after long note taking sessions.
How does it work?
To use the Pulse Smartpen, you first need to charge it through the USB dock. Then just press the button on the Left side of the LCD to turn it on.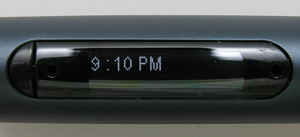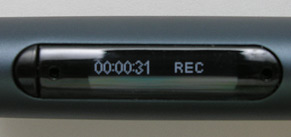 Start up time takes about 5 seconds, and then you'll see the time of day displayed on the screen. When you tap the record button on the paper, the screen will start displaying a counter of how long you've been capturing writing and audio.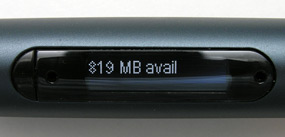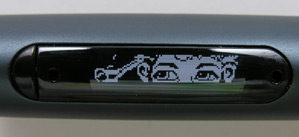 The LCD displays status information, but can also be used to play movies. This is a cutesy feature that teens will probably appreciate more than adults. There are a couple different animated movies saved on the pen, with audio and everything. There's even a little app in the pen that instructs you to draw a piano keyboard on the paper. From there, you can play little tunes. Again, this is kid fluff, but it's fun for demos.
In order for the pen to record your writing, you have to use special notebooks sold by Livescribe. Included with the pen is one 100 page spiral bound notebook.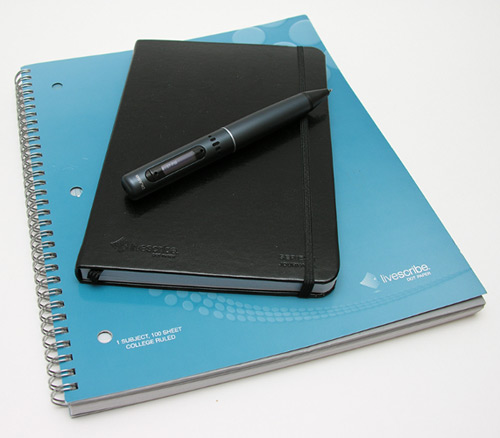 You can purchase additional notebooks and even Moleskine style journals directly from Livescribe. According to one of the demo videos on the Livescribe site, you can print your own paper. I've yet to find that option though… The Pulse pen is able to keep track of sessions recorded on multiple notebooks and journals, which I think is pretty cool. That way, you can have a separate notebook for each class or project.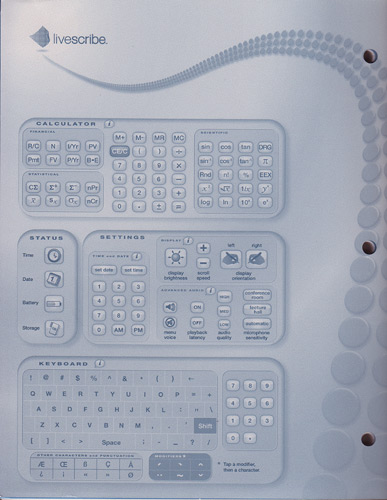 The inside covers of the notebooks and journals have several 'tools' that you can access just by tapping the tip of the pen on the paper 'buttons'. There are tools to show the time, date and battery status. There is also a calculator and keyboard.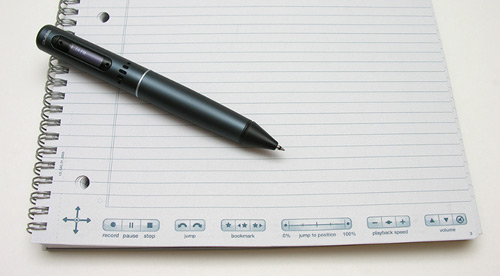 At the bottom of every page in the notebooks and journals are tools for recording the note taking session.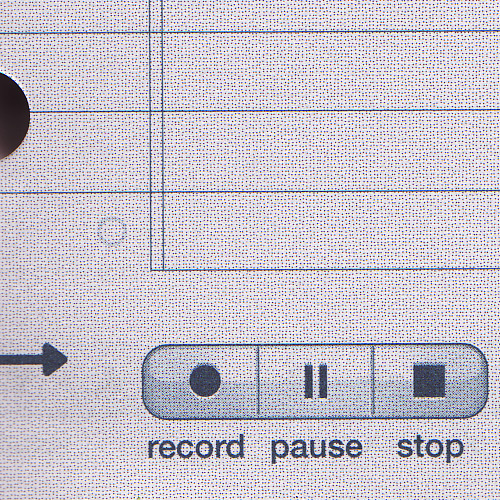 What makes the paper special are the tiny dots printed on the page, which can be seen when looked at very closely.
To record a lecture or meeting, you just turn the pen on, tap the record button and start taking notes. When you're finished taking notes, tap the stop button. From there you can do two things. You can go back and study your notes by tapping on different words with the pen tip. When you do this, the audio captured at the time you wrote those words, will start playing through the speaker built into the pen. Studying your notes with this pen is so cool because you'll never miss something that was said. I know it can be difficult to keep up when taking notes. This way, you don't have to worry.
The tools at the bottom of each notebook / journal page allows you to skip around in the session and even speed up / slow down the audio.
The built in microphone in the pen worked really well for the average sized conference rooms where I did my testing. The included earbuds have microphones built into them and are supposed to work really well for large size lecture halls. I didn't have the opportunity to test this though…
The second thing that you can do with your recorded sessions is to upload them to your PC (right now, there is only a desktop app for Windows, but according to the Livescribe website, they are working on one for the Mac).
Click thumbnail to see full size image
The desktop application is easy to use and is pretty cool all by itself. When you connect your Pulse pen, the sessions or any changes to previous sessions will automatically sync to the desktop. You can then see exact images of the pages of notes that you've entered… in your own writing. You can click on a word with your mouse, and the audio will start playing from the time that you wrote the info.
Click thumbnail to see full size image
As the audio plays, you'll seen an animation over the top of the ink, showing it draw as the audio progresses. So ok, that's cool right? Well get this… You can even search for words in your notes. Printed or cursive. In my testing, I found that it did a really good job finding words, even with my sloppy writing.
You can also share your notes with other people by saving them as PDF files or what they call Pencasts. Pencasts are encapsulated movies of your notes with audio. You can share them via Facebook or though the Livescribe community website.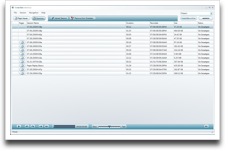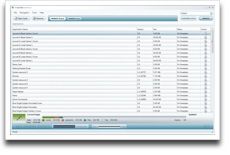 Click thumbnail to see full size image
Once you delete the sessions from the pen, you'll no longer be able to play back the audio by tapping in the notebook or journal pages where you originally wrote the notes. Of course, you can still use the PC desktop application to listen to those sessions. The 1GB pen can hold up to 100 hours of audio though, so you won't need to delete the sessions very often unless you really want to.
Another thing that I think makes this note taking system very powerful is the fact that you can go back and add more info to your notes and it will know which page it belongs on when you sync back to the desktop application.
I really have enjoyed testing and using the Livescribe Pulse Smartpen. It's super easy to use and would be great for anyone that needs to capture notes on a regular basis. Students will absolutely love this product and will wonder how they ever got along without it.

Product Information
Price:
149.0
Manufacturer:
Livescribe
Requirements:

Windows XP SP2 or Windows Vista

Pros:

Very easy to use
Records audio and ink
Can search for written words in text
Can share notes with others

Cons:

Have to use special paper with the pen