We use affiliate links. If you buy something through the links on this page, we may earn a commission at no cost to you. Learn more.
I'm very active, and love to be outdoors and hiking. Trouble is, I'm also a klutz. So
when I recently inherited my husband's original U.S. Robotics' Pilot, finding a solid,
rugged case that protects it, yet still fits my active lifestyle, became a top priority!
I read all the reviews, even tried out a couple cases, but didn't find anything that
worked for me. I thought I was doomed to spending the big bucks on a titanium case, when
the perfect — and cheap — solution fell into my lap!
I own a couple pairs of Outdoor Products' hard-shell eyeglasses cases. They're perfect
for the active, and clumsy, hiker. The case consists of high impact styrene plastic inner
sleeve, covered by a cradling nylon sock, and all surrounded by a rugged ballistic-type
nylon shell. It's practically indestructible, crush-proof, and certainly "sit on
proof". Oh how I wish they made a slightly larger size to fit my Pilot!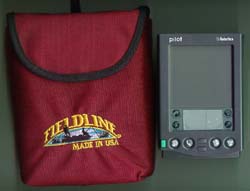 Well, they do! Outdoor Products' hunting division, Fieldline, makes a GPS carrying case with that same
high impact styrene plastic inner sleeve, that can be used to protect a variety of
sensitive electronics, including my Pilot.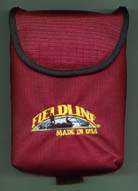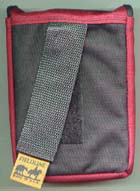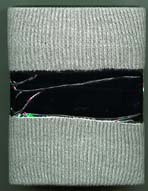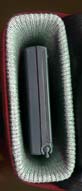 The case measures 6″ H x 4″ W x 2″ D, and weighs 75 grams. It
consists of a rugged nylon outer case, featuring a velcro front entry flap, and a velcro
rear belt loop. Inside this outer case is a high impact styrene plastic inner sleeve,
covered by a removable, washable, nylon sock. This sock cradles the Pilot safely and
comfortably inside the protective sleeve.


The belt loop, on the rear of the case, is a 1 1/2″ nylon strap fully covered in
velcro, from top to bottom. This means the case can adjust to fit any belt size, from wide
to narrow. I added a store-bought Acetal snap hook (at 55 cents), for even more
versatility.
The best thing about this case is the price — around $5 at The Sportsman's Guide! I ordered one in through
my local store, product #23093, and saved shipping and handling charges. As soon as my
husband saw it and tried it out, he demanded that I buy one for him too!
Price: ranges from $6 to $15. Available in most hunting departments
during hunting season, and specialty stores year round. Check out Fieldline's list of retailers
for clues where to look in your area. Colors are limited, but it does come in all
variations of camouflage.
Pros:
It's rugged! Great for hiking! The Pilot is well protected.
Strong materials, well made.
The inner nylon cradling sock and outer case are both removable and washable.
Great belt clip.
Quick access.
The inner sleeve stretches to accommodate a Pilot in its original case!
It's cheap!
Cons:
It's a bit bulky.
Have to remove from case to use it or to HotSync with cradle.
Camouflage may not be your fashion choice.