We use affiliate links. If you buy something through the links on this page, we may earn a commission at no cost to you. Learn more.
Today I want to tell you about the morespace external USB hard drive from Hammer Storage. This is probably a company that you've never heard of before. I know that I was not familiar with them until I received an email asking if I might like to check out one of their drives. As I'm always in need of more file space, I didn't have to think about my response very long. I said sure, they shipped me the drive and now you can learn more about it…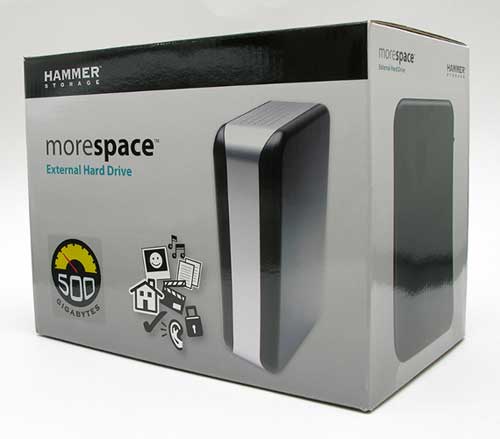 Hammer Storage is a division of Bell Microproducts Inc. and has several storage products including Raid, NAS, networked drives and the morespace. The morespace is a USB 2.0 external drive that is available in the following capacities: 250GB, 320GB, 500GB, 750GB, 1TB and 1.5TB. For this review, I was sent the 500GB model.
Hardware Specifications
Hard Drive Form Factor: 3.5″
Maximum Bus Transfer: 480 Mbps
Sustained Transfer Rate: 34 MBps
External Drive Factory Format: FAT 32
Power Adapter Length: 60in
USB Cable Length: 36in
Compatibility Operating System: Windows 2000, XP, Vista, Mac OS X 10.4 and Later
USB: USB 1.1 or 2.0
Power Specifications: AC Input Voltage 100 – 120 VAC, AC Input Frequency 50 – 60 Hz, DC Output 12 V / 1.5A
Physical Dimensions: 7.5 x 2.4 x 4.9 in
Weight: 2.2 lb.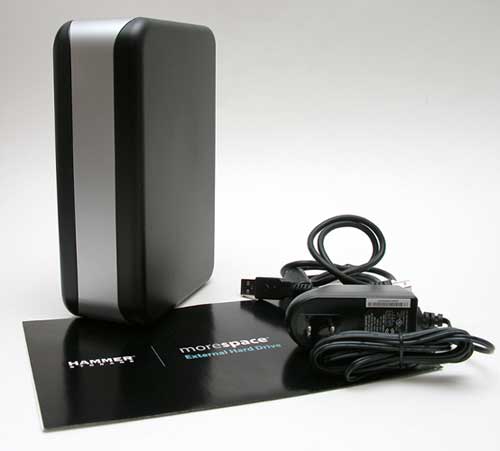 Package Contents
Morespace External Drive
AC Power Adapter
USB Cable
Quick Start Guide
Warranty Statement
Stick-on Rubber Feet

Pulling the drive out of the box revealed an unassuming Black and Silver colored plastic case with no gaudy branding or other decoration. I really appreciate companies that style their products like this. I prefer the clean and simple look.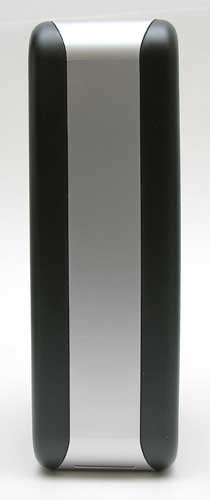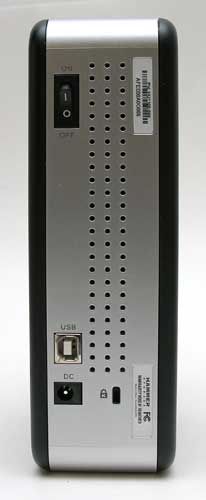 The front edge is plain except for a thin horizontal Blue status LED on the very bottom. This LED is pretty much hidden from view and is only noticeable when its blinking and reflecting onto your desktop. My desktop surface is a dark color, so I don't really notice it much at all.
On the back side, you will find a power toggle switch, USB connector, DC in power connector and a Kensington security lock slot. You'll also notice several rows of ventilation holes.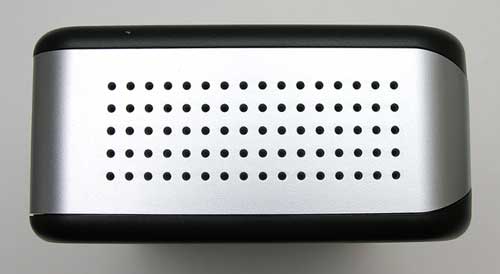 These holes are repeated on the top and bottom surfaces of the drive. The morespace drive has a fan-less, which allows it to run very quietly. I was really surprised at just how cool it is able to run without fans. The case feels like it gets barely above room temperature.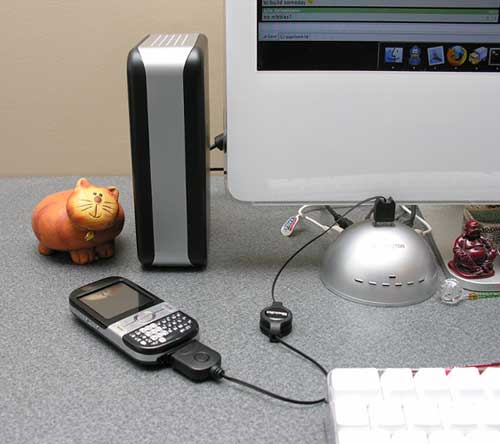 The morespace is designed to either stand up vertically on your desk, or to be stacked horizontally if you have more than one. Tiny stick-on rubber feet are included if you intend to lay the drive flat (horizontally). The Black and Silver case allows it to blend in with most other devices on your desk. Look, it even matches my new Palm Centro :o)
This drive is true plug and play. Just take it out of the box, plug in the AC adapter and USB cable to your Mac or PC and you're good to go.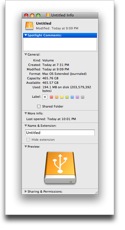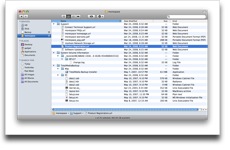 Click thumbnails to see full size screen shots
It's formatted as a FAT32 drive by default, with 465GB free. Included on the drive are some support documents and a backup program for PCs and Macs. The first thing I did was to reformat the drive as Mac OS Extended (Journaled) for my Mac since I knew I wouldn't be using it with a PC…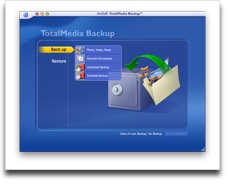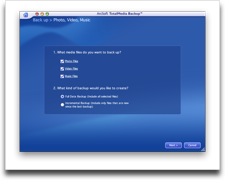 Click thumbnails to see full size screen shots
The Mac (not sure what was included for the PC) backup application included on the drive is TotalMedia Backup. I've seen this program on other external drives that I've reviewed. It has some nice features and is easy to use.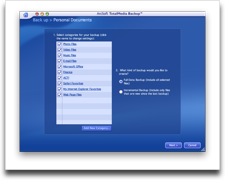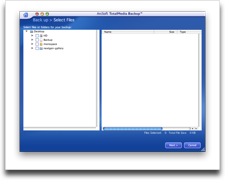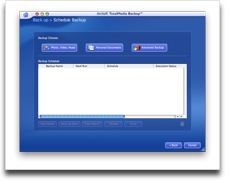 Click thumbnail to see full size screen shot
My own Mac backup preference is SuperDuper! from Shirt Pocket Software. It's free for regular backups, but requires payment if you want to do scheduling. Since I already paid for SuperDuper! I will stick with it. TotalMedia Backup works fine too though, so don't be afraid to use it.
I've been using the morespace as my backup drive for a few weeks now and haven't had any problems with it other than one slight annoyance. It appears that the drive must have some built in software to power the drive off after so many minutes of inactivity. That shouldn't be an issue right? That should be a good thing… Well the annoyance is that sometimes when I go to check mail or find a file on my Mac's internal drive, it will want to wake up the morespace drive. That wouldn't be a problem either if waking up was instantaneous. Unfortunately, it take 5 seconds or so, which is a pain when you have to wait to access something that isn't even on that particular drive. I went into the Mac's energy saver settings in the system preferences and turned off the hard drive sleep option, which seems to have helped in that the drive doesn't go to sleep as quickly as it did before.
All in all, the Hammer Storage morespace external USB hard drive gives you quite a bit of bang for your buck. It's quiet and easy to use. The 500GB model can be found for under $100 on some online stores, which is a good deal. If you need a backup drive or extra file space for your pictures, videos, music, etc., this is an inexpensive way to add it.
Product Information
Price:
129.99
Manufacturer:
Hammer Storage
Requirements:
Pros:

Inexpensive
Quiet
Stackable

Cons:

Slight lag when 'waking' up
Some read / write noises