We use affiliate links. If you buy something through the links on this page, we may earn a commission at no cost to you. Learn more.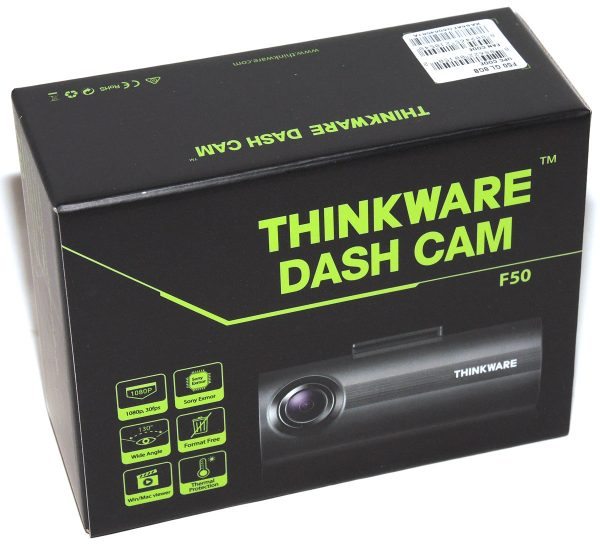 As Julie has mentioned in previous dashcam reviews, this type of device is engineered to not only record your driving adventures, but also document the circumstances "in the event of an accident or for capturing footage of streaking meteors or streaking people on your drives". While I have yet to witness any naked people run in front of me (or UFO for that matter), there have been times I have seen someone plow the car in front of them for cutting them off…any of which would make for great YouTube moments. Julie recently reviewed the Thinkware F750, a very feature-rich dashcam with nearly everything you could want in a high end dashcam. That said, the Thinkware F50 falls on the opposite end of the spectrum being a relatively minimalistic dashcam that still provides very nice video without as many of the frills of its larger siblings.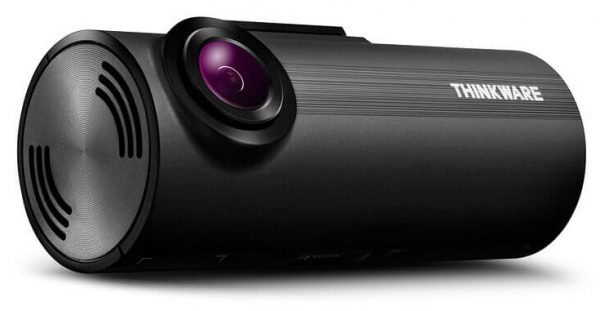 The Thinkware F50 is a full HD 1080p dashcam that adheres to your front windshield and automatically records what happens in front of you as you drive down the road. The F50 is very easy to install and setup, once you have routed the power cord it is a simple plug & play device.
Features:
The F50 uses a 1080p Sony Exmor HD sensor that captures a 140° wide viewing angle. The device also has integrated thermal protection that shuts the F50 down when temperatures get too hot. There is anti-file corruption protection while recording to hopefully prevent failure to record. The ReadyParking surveillance mode records footage when it detects anything disturbing your vehicle while it is parked.
In the box: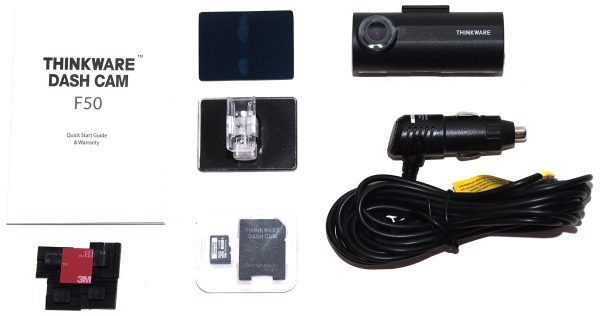 Main Dash Cam Unit
Mount with 3M tape
Cigar Jack Adaptor
Adhesive Cable Holder
8gb MicroSD memory card with adapter
Quick Start Guide/Warranty Card
Specifications:
| | |
| --- | --- |
|  Dimension | 78 x 34 x 31.5mm |
|  Weight |  42g (0.09lbs) |
| Camera | Sony Exmor CMOS 2.12M |
| Resolution | 1080p Full HD (1920 x 1080) |
| Capacity | Micro SD Card 8GB(class 10), 16GB/32GB/64GB(UHS-I) |
| Recording Modes | Continuous Recording, Incident Recording, Manual Recording, Audio Recording, Parking Surveillance Recording |
| Sensor | 3-Axis Accelerometer G-Sensor (3D, ±3G) |
| GPS | External GPS Antenna (Optional) |
| Power | Input Power: DC 12/24V |
| ETC | Operation Status LED |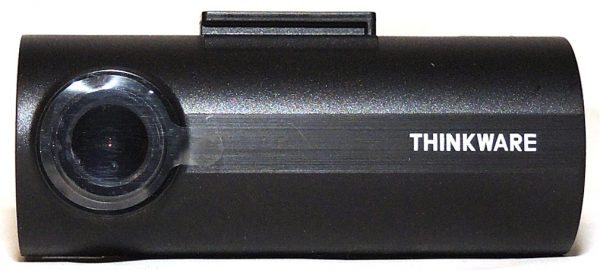 The Thinkware F50 has a cylinder shape and is made of hard black plastic (think of a couple of those old film canisters stuck together). The camera lens is fixed but can be adjusted/angled so that it will be level with the road via the windshield mount.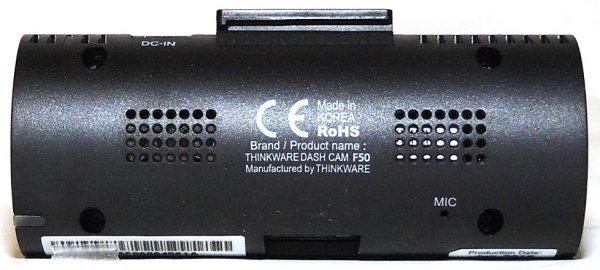 The back of the F50 has two small speaker grills, operational status LED, and a built-in microphone.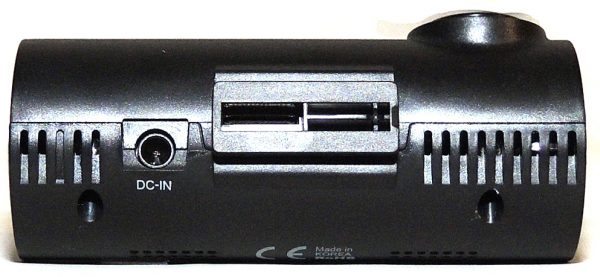 The top of the F50 has the mounting foot, thermal vents and DC-IN power port.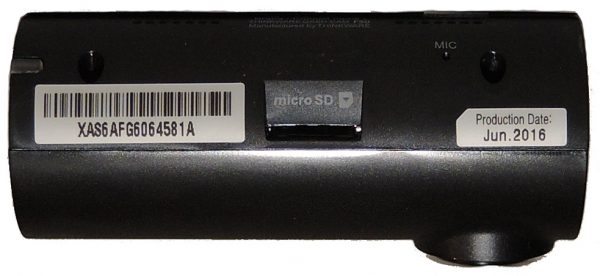 The base of the F50 has the serial number and production date stickers in addition to the microSD card slot. The F50 is compatible with up to a 64gb microSD card. Though the 8gb microSD included by Thinkware will be enough capacity for most folks.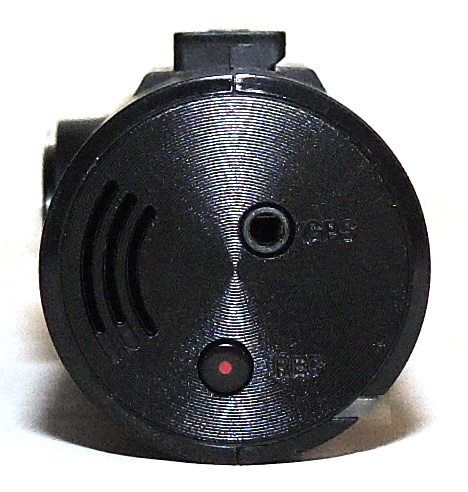 The left side of the device has the manual recording button and GPS receiver socket (optional accessory).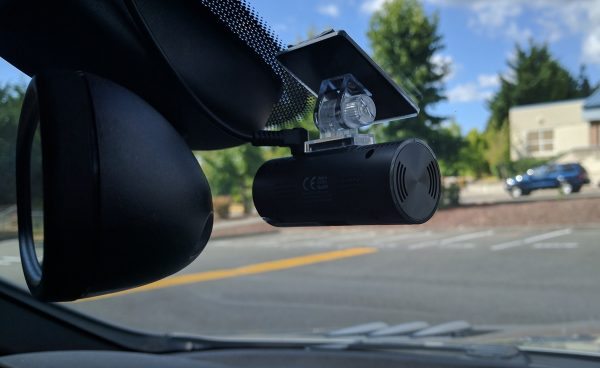 The F50 mounts nicely behind my rearview mirror with the power cabling tucked away so you can barely tell the system is there especially when sitting in the driver's seat. Though it does give you verbal queues when it is powered on and ready to continuously record or the microSD card is not installed etc. The mount itself adheres to the windshield via 3M double sided adhesive pad.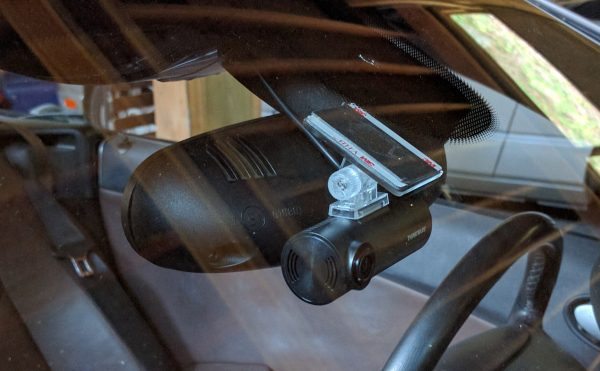 The F50 protects itself and the recorded data against overheating by automatically turning off in extreme conditions to prevent internal damage due to high temperatures.
As I said, the F50 is pretty minimalistic. To watch your video, you have to eject the microSD card and insert it into your computer and then open the files on the Thinkware Dash Cam PC viewer. The F50 records in mp4 video format which is compatible with most computers and video players.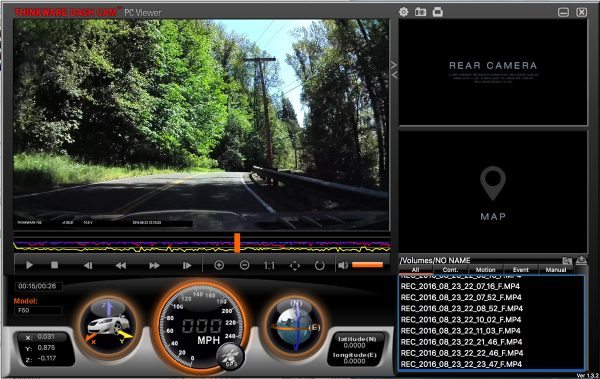 The Thinkware DashCam viewer is nicely done showing you not only driving video but three dimensional G-forces the car is experiencing at any particular moment. These G-forces are illustrated in the bar graph under the video and the dial with a car in it with X- Y- and Z- axis in the lower left corner of the window. I am 99% sure this viewer is designed to be used with all or at least most of the Thinkware dashcams so the features that are not available are blacked out and obviously not operational. In the case of the F50, you can add the optional Thinkware GPS dongle to get speed, location, and mapping data.
Daytime Video:
Being the first dashcam I have ever used, IMO the F50 has very useable video in the event you need it prove what happened in an accident. The video is not 4k but the 1080p resolution captures a good view of what is happening in front of you. As I mentioned earlier, the F50's Sony Exmor CMOS 2.12M lens has a 140 degree viewing angle and does a solid job of dealing with sun, shade, and windshield glare.
Nighttime Video:
The F50's nighttime video is also very useable as well.
Conclusion:
The Thinkware F50 is about as minimalistic as it gets in the dashcam world these days. All it takes to get everything operational is to insert the microSD card, adhere mount & camera to your windshield, and plug in the power cord…more or less 100% plug & play. No settings, no syncing, no buttons or interface…really zero hassle whatsoever. Add in solid day & night 1080p video and a reasonable price tag, the F50 is a good choice for those who want an easy to use, cost effective dashcam to record/document your travels while putting down the highway.
Source: The sample for this review was provided by Thinkware. Please visit their site for more information and Amazon to order.