We use affiliate links. If you buy something through the links on this page, we may earn a commission at no cost to you. Learn more.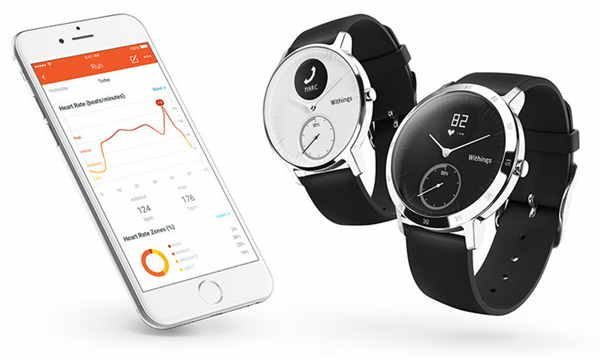 Withings, my favorite health gadget company, has just added two new activity tracking watches to their existing line of wearable fitness trackers. The new Steel HR watches will be available in a 36mm and 40mm case version and will have all the features we've come to expect from Withings activity trackers including automatic step, run, swim and sleep tracking. But what is most exciting about the Steel HR is that it will continuously measure your heart rate during workouts, average heart rate during the day, and resting heart rate while sleeping. This is the first analog style fitness tracker to offer this feature.
Unlike the Activite Pop watch also from Withings, the Steel HR will have a rechargeable battery. Don't worry though, you're not going to be charging it every night or even once a week:
Steel HR is powered by a rechargeable battery that lasts up to 25 days, the best battery life for a heart monitoring activity tracker available. After approximately 25 days of heart rate monitoring, Steel HR will transition to power save mode, giving users an additional 20 days of battery life. In power save mode, Steel HR will continue to track basic activity, including steps and swims.
The Steel HR will begin shipping in October. The 36mm size will retail for $179.95 and the 40mm for $199.95. Visit Withings.com for more info.