We use affiliate links. If you buy something through the links on this page, we may earn a commission at no cost to you. Learn more.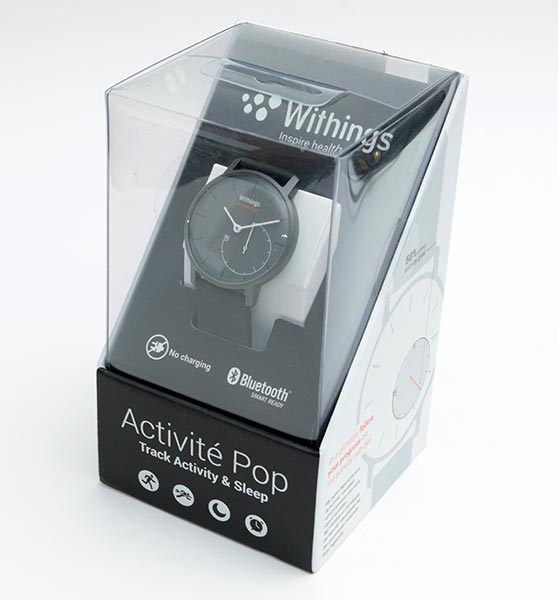 Gadgets that track your activity and sleep are available in a variety of shapes and sizes. There are trackers that clip to your clothing, ones that clip to your shoes, wristband style trackers and smartwatches with built-in activity tracking features. But what if you don't want to clip a tracker to your clothes and don't want a smartwatch with a bazillion features you're never going to use? What if you want a classic looking watch with tracking features built-in? The Withings Activité Pop fits that category perfectly.

What is it?
The Withings Activité Pop is an activity tracking watch that looks like an ordinary wristwatch. It doesn't have a bunch of buttons, dials, LEDs, etc. It has a minute and hour hand and a daily activity goal dial.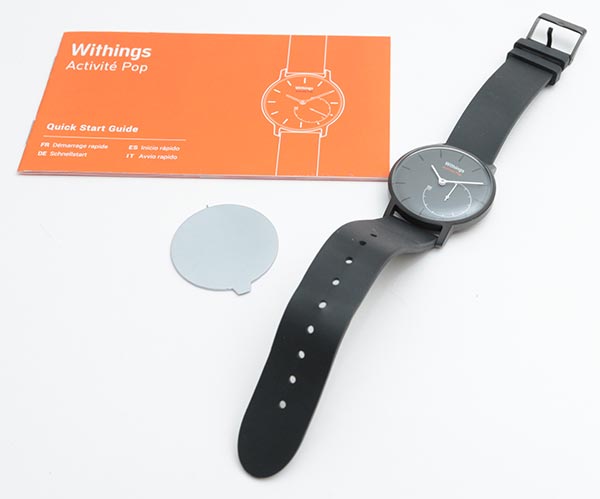 What's in the package?
Withings Activité Pop with silicone strap
Installation tool
CR2025 button cell battery (installed)
Quick start guide
Design and features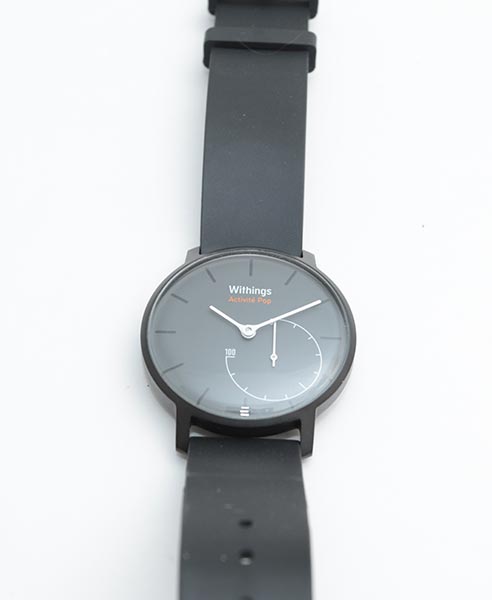 The Withings Activité Pop has a 36,3 mm diameter case (1.3") and 11,5 mm thick (0.45″). It is available in either black like the one we see here, blue, pink or beige.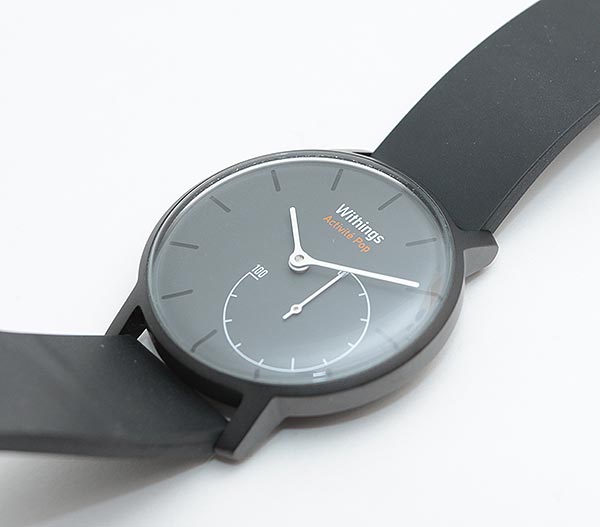 The Pop has a stainless steel case with a glass face. The dial has hour marks, but no numbers. The hands are white and there is a white circular dial in the bottom right quadrant. This is the activity dial which is sectioned into 10 sections. Each section represents 1/10th of your daily activity goal. If your goal is to walk 10,000 steps, each mark on the activity dial would be equal to 1000 steps. There's a longer segment mark so you can easily see when you're half-way there with your daily step count.
The Pop tracks steps, but it can also automatically track your running, swimming, and your sleep.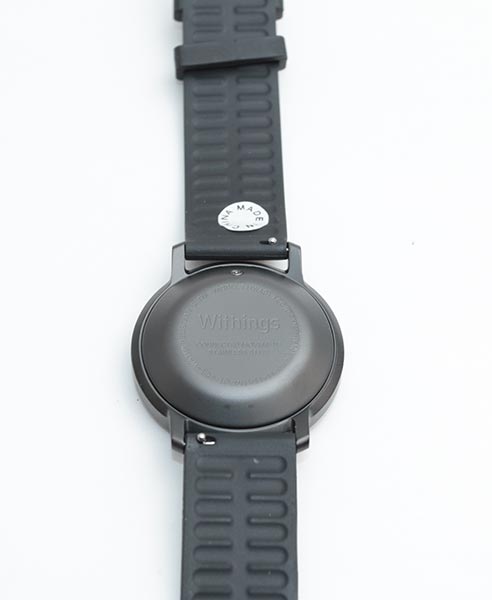 The watch looks like a traditional non-smart wristwatch, but when you flip it over, you'll notice that it's a bit thicker than an ordinary watch. I thought the thickness might bother me, but it was a non-issue.
There's a small button at the 12 o'clock location on the back of the case. You press this button during watch setup process which also uses the Withings Health Mate app for iOS and Android.
Setup and usage
To setup up the Withings Activité Pop, you'll need to install the Withings Health Mate iOs or Android app. You can then follow the in-app steps to connect to the watch, sync and sync the time. You can even set an alarm which will vibrate the watch. This alarm can be used for anything you like or if you want to use it to wake you up, there's an option to have the alarm vibrate when the watch detects the best time based on your sleep cycle.
The Health Mate app provides an easy to read scrolling timeline of your activity, sleep and more info if you have other Withings health gadgets like the Withings Body Cardio Scale and Withings Wireless Blood Pressure Monitor. Tapping on a reading will take you to a more detailed view of the tracked activity.
Sleep tracking works the same way. If you wear the Withings Activité Pop to bed, it will detect when you go to sleep without needing to manually press buttons or otherwise let it know that it's time for bed. When you wake up the next morning you can check the sleep data from the previous night to see how long it took you to fall asleep, how long you slept and the breakdown of light and deep sleep. It even knows how many times you woke up during the night.
Syncing all activity and sleep data is automatic. You don't have to initiate syncing, it's all there when you check the app.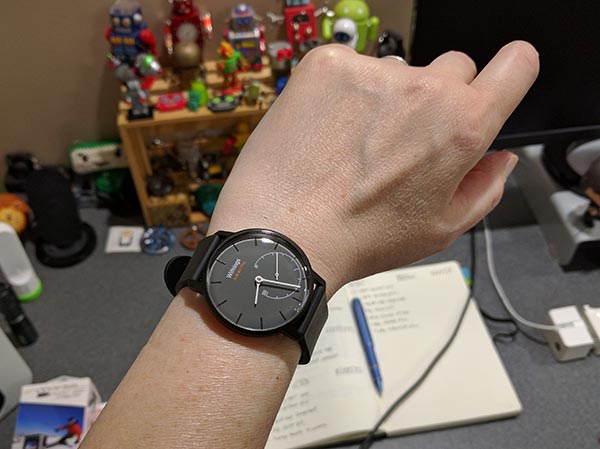 I've been using this watch for a few weeks and I think it's a great activity tracker for a few different reasons. One big reason why I like it is that I don't have to think about charging it every night or once week. It will run for up to 8 months on a CR2025 button cell battery. When the battery needs to be replaced, you can do this yourself using the included tool.
Another reason why I like this tracker is because it always shows the time. With a lot of other wrist-worn activity trackers, you have to flick your wrist, tap a display or press a button to see the time. You don't have to do this with the Pop because it's a watch, with hands.
Checking your activity level is also simple to do because it's always right there. Just look down and you'll be able to tell pretty closely where you stand for the day.
One other thing I like is that this watch uses standard size 18mm watch bands so you can swap them out with something fancier if you like. You can also buy replacement watch bands directly from Withings.
Final thoughts
I've been a fan of Withings products for many years now. They make quality health tracking products that are well designed, easy to setup and easy to use. The only thing I can think of that would make the Withings Activité Pop better than it already is would be glow in the dark hands or some way to see the time in the dark. Other than that, it's one of the classiest activity tracking gadgets currently on the market.
Updates 08/24/17
This watch has set on the shelf for a year until recently when Jeanne asked me if I had any fitness trackers. Her and a few other people where she worked signed up to do a walking challenge and needed a way to track steps. I remembered that I had this watch and set it up for her on her old Samsung Galaxy Note 2 smartphone which she is still using (not for long though). It's been working like a champ and is still being powered with the original battery.
I did notice two issues when setting it up this time. I had to remove the back of the watch to do a hard reset because the built-in reset button wouldn't work. Getting the back cover snapped back in place was TOUGH! I don't look forward to changing out the battery when it needs it.
I also noticed that you can't set your goal steps to anything you want. For example, Jeanne's daily goal for her challenge is 8500 steps, but the Health Mate app only lets you set the goal in increments of 1000. Just an FYI.
Source: The sample for this review was provided by Withings. Please visit their site for more info and Amazon to check prices / order.
Product Information
Price:
$129.95
Manufacturer:
Withings
Retailer:
Amazon
Requirements:

iOS compatibility (7 or higher)
iPhone (4S and above)
iPod touch (5th generation or higher)
Android compatibility (4.3 or higher)
Requires a Bluetooth Low Energy device

Pros:

Battery doesn't need to be charged
Nice watch syncs time
Can set an alarm
Tracks steps and sleep

Cons: