We use affiliate links. If you buy something through the links on this page, we may earn a commission at no cost to you. Learn more.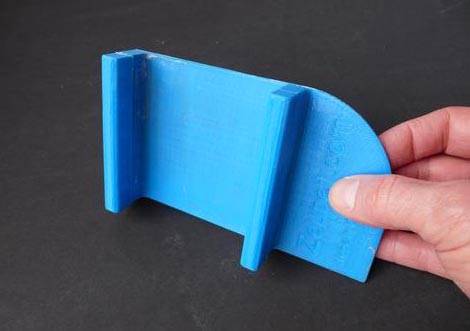 If you live in a home with a sliding door, you know how convenient they are for going to and from your patio. But they can also be frustrating to use when your hands are full. Eric Gagnon thought so too, so he invented the Zoupet. What is it? It's foot operated door slider. Check out a video showing how it works.
Its name comes from a French onomatopoeia: "Allez zoup!", meaning "Let's go!".
The Zoupet is designed and manufactured in Quebec (Canada) and is made of two plates that are made of PVC. They are resistant to all weather conditions and are recyclable. The plates install easily and quickly without tools to both sides of the sliding patio door using good old Velcro. Once installed, you can use your toe to slide the door open, walk through and then use your toe to slide it shut again. It's a genius idea that Eric invented by first prototyping the handle using cardboard and then using a 3D printer (shown above). Now they are available in white PVC for $14.44 from Zoupet.com.