We use affiliate links. If you buy something through the links on this page, we may earn a commission at no cost to you. Learn more.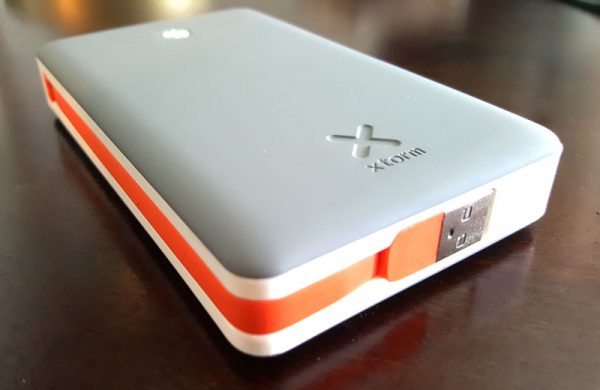 It is getting harder and harder for product manufacturers to make their power bank products stand out from the crowd.  You find these things everywhere, even hanging up in gas station convenience stores.  So Xtorm has come out with some power banks that seek to combine some of the best features of many of the power banks I have seen lately.  Their latest offering is the Power Bank Free 15000 mAh that has 3 USB ports, a built-in USB charging cable, compact design, and high-speed charging.  So let's see how it performs.
First things first, the specs from the manufacturer:
Battery capacity: 15,000 mAh
Battery-type:  Li-ion
Dimensions:  5.2 inches X 3 inches X 0.9 inches
Input:  2A/5V (built-in USB charging cable)
Output:  3 USB ports (3A ,5V max)
Weight:  0.7 lbs
Re-charging time: 7-8 hrs
Included in box:  Manual, Pouch and Micro USB Charging Cable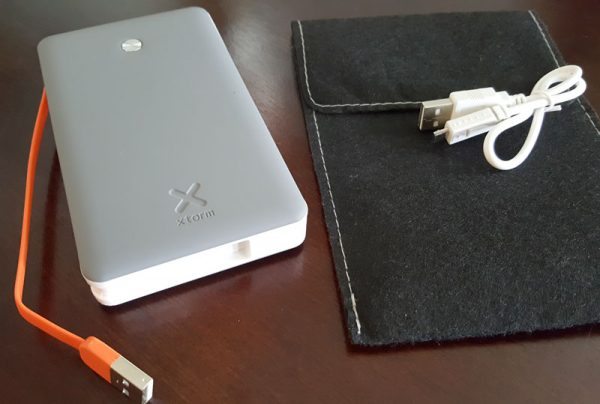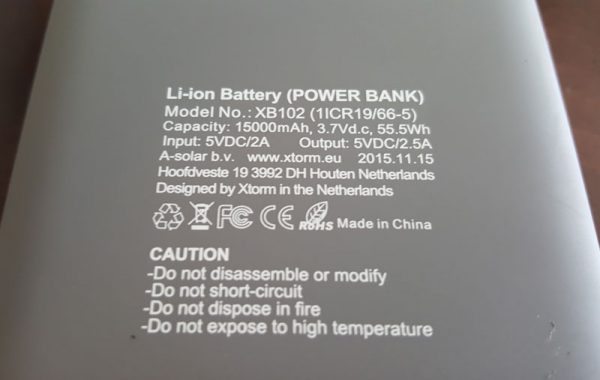 The Xtorm has rounded edges and a non-slip rubberized covering, so it is very easy to hold in the hand.  And it is small enough to carry in any bag or purse, and I suppose in your pants pocket if you wanted.  It also comes with a felt pouch that enables you to carry the small USB cable as well.  Like just about every other power bank out there, it has 4 LED lights on the side to indicate how much juice is left in the tank and a button on the top to turn the power bank on and off.  Unlike some other power banks it doesn't automatically turn on when you plug something up.  You have to press the button to turn it on, but you can also manually turn the Xtorm off by pressing that button.  When your device is done charging the Xtorm automatically turns off so as not to overcharge your device and save juice in the power bank for later.
I have included some pictures below to show you the size and thickness of the Xtorm compared to my 7-inch Nexus 7 tablet.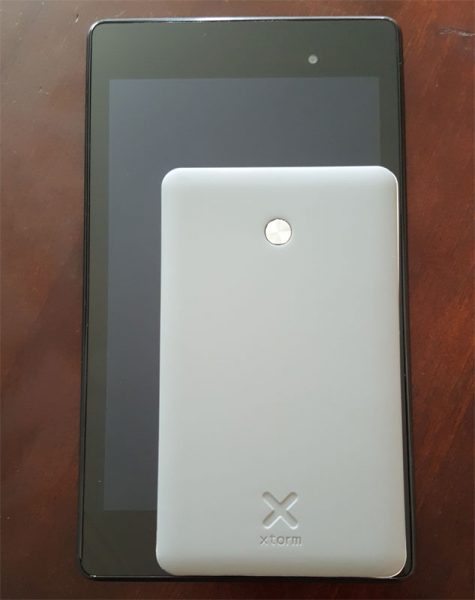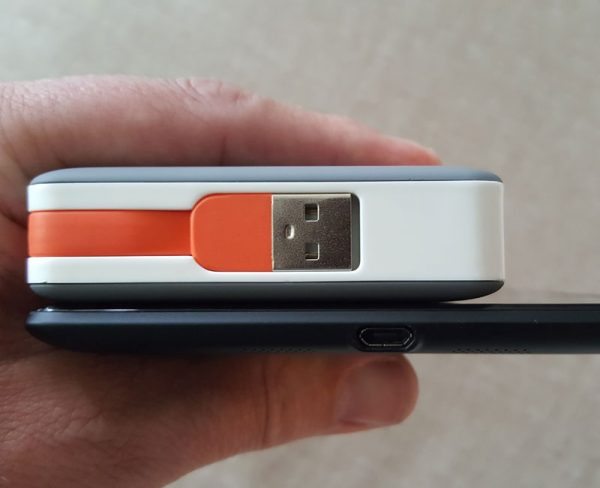 Performance
Xtorm instructs you that when you are charging multiple devices, use the OUT 1 port with the device that has the largest capacity battery.  So for example, if you are charging an iPad and a smartphone, plug the iPad into the OUT 1 port and the smartphone into the OUT 2 port.
I charged numerous devices with the Xtorm at the same time: 1 tablet and 2 smartphones.  The device never heated up and I was able to get maximum charging speed from the Xtorm, which confirms the claims of the manufacturer.  Having this device on a recent trip was wonderful because everyone in the car had a smartphone and there were several tablets as well, so we used it the whole trip to charge multiple devices at a time.  This is a very good power bank!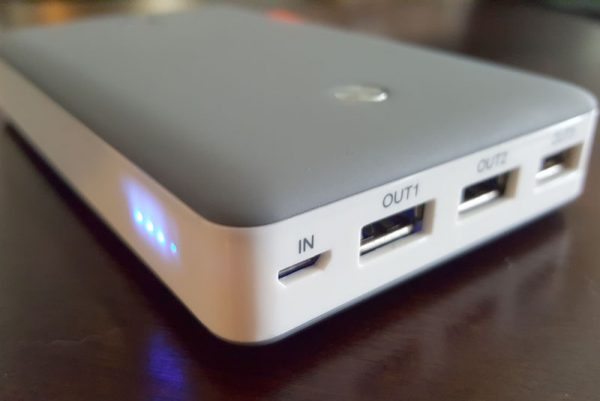 What makes it different
Having 3 USB ports isn't new of course.  There are numerous power banks out there with 3 USB ports.  But I will say that having a power bank that has 3 USB ports that provides high-speed charging is a stand-out feature of the Xtorm.  What you will also notice right away is the bright orange cable wrapped around the edge of the Xtorm. That built-in charging cable makes it really handy to charge the power bank no matter where you are.  You can use a power brick (not included) if you have one, or use the built-in USB cable to plug the Xtorm up to your computer or USB charging device like a bedside charger.  The built-in cable can't be detached and you can't use it for anything else except for re-charging the Xtorm, but it is extremely handy.
The power bank is sold online by Xtrom, which is based in the Netherlands, and you can buy it on their website here:  http://www.xtorm.eu/en/power-banks/power-bank-15-000-free-/  As of the writing of this review, the price was listed at 79 Euros, which right now is about $88 US dollars.  That isn't overly expensive in my book, especially for what you get.  But it is a little more expensive than some of the other power banks I have obtained over the past year.    I looked on Amazon and found several of their other products as well, so head over there to see what they have available that is similar to this product, for example, a smaller capacity power bank that is basically the same form factor with a smaller capacity.
Bottom line
After several weeks of use, I can say that this is a high quality product in look and feel, and it performs exactly as the manufacturer claims.  I now use it daily in place of some of the other 3-port power banks that I have, mainly because of the smaller form factor and high-speed charging ability.  I highly recommend this gadget!
Note this particular power bank is only available through the Xtorm's site which is in the Netherlands.
Source: The sample for this review was provided by Xtorm. For more information visit their site and Amazon for other Xtorm products.