We use affiliate links. If you buy something through the links on this page, we may earn a commission at no cost to you. Learn more.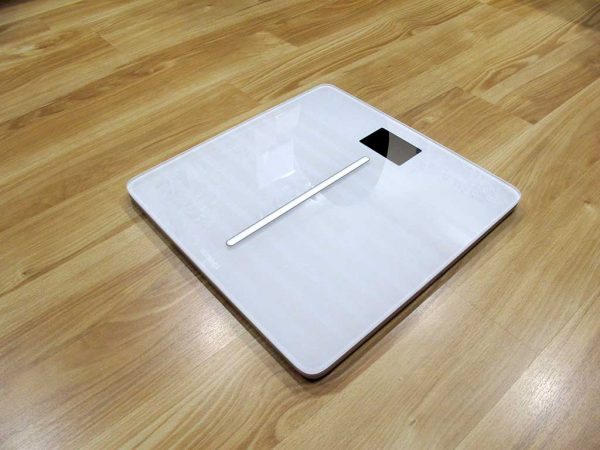 Almost every morning for the past five years, I've stepped on a Withings WiFi Body Scale to log my weight. The five year log of my weights in the Withings Health Mate app lets me see trends like when I lost about 12 pounds while going through my battle with breast cancer back in 2011 and when I gained that weight back with 15 extra pounds when I was put on a special hormone drug. Now that I'm off that drug, I've been trying to get back down to my goal weight and have been relying on the Withings scale to help me track my progress. When I was recently contacted with an offer to review their new Withings Body Cardio wireless scale, I was happy to accept and excited to see what improvements were made to the scale I've been using for so long. Let's check it out.
The new Body Cardio scale has a sleek new premium look. If Apple made a bathroom scale, it would look like this one. The Body Cardio scale is available in a black version and a white version like the white one that was sent to me. The scale is 12.8 x 12.8 x 0.7 inches and top of the scale where you stand is made of a thick tempered glass slab, with a divider strip in the center and a white on black display at the top.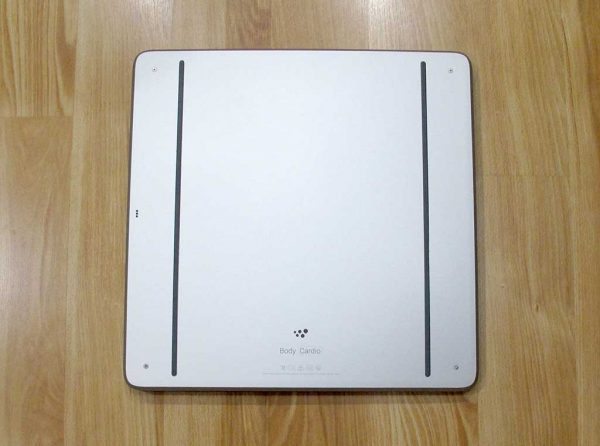 The only branding is a discreet logo on the bottom of the brushed aluminum base. Also on the bottom are two anti-skid strips that prevent the scale from sliding around when you step on it.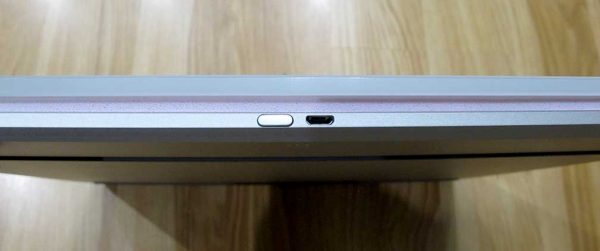 On one side you'll find a micro-USB port that is used to charge the scale. Don't worry, you're not going to be charging this scale every day, every week or even every month. One charge should last up to a year.
Next to the USB port is a button that is used to pair with a mobile device and change the measuring units from kilograms to pounds or stones.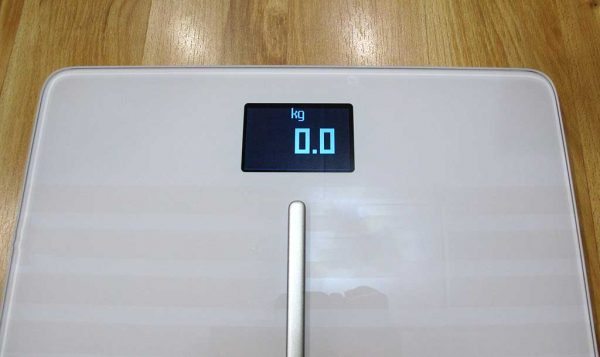 The backlit display is bright and very easy to read in any lighting condition.
Setting up the scale is as easy as charging it for a few hours, installing the iOS or Android Health Mate app, pressing the pairing button on the scale and then adding the new scale to the app. The procedure is quick and easy. Once the scale is setup, you can start measuring your weight and other stats.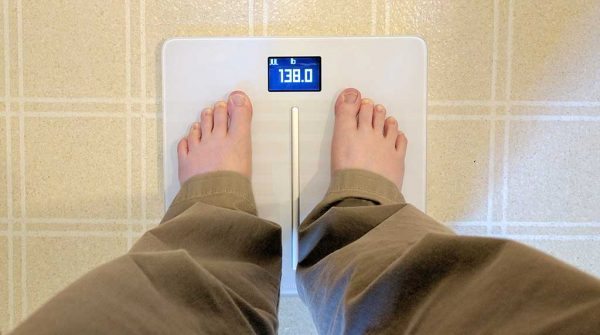 In addition to measuring your weight (9-396 lbs (5-180 kg), with a 0.2 lbs (100 g) graduation), the Body Cardio scale also measures body fat percentage, water percentage, muscle mass, bone mass, heart rate and your pulse wave velocity rating. What is pulse wave velocity?
With every beat the heart generates a wave that propagates along the arteries. The propagation speed of this wave is directly linked to the health of your arteries. Faster speeds indicate stiffer arteries, which increase the risk of developing hypertension or cardiovascular disease.
"If we could have just one measurement for cardiovascular health, it would be pulse wave velocity. Alone it tells us more than all the other indicators combined… We are entering a new medical era, because this parameter that was previously restricted to laboratories is now accessible to the general public, who will be able to use such information to improve heart health." – Dr. Pierre Boutouyrie Cardiologist, Pharmacologist at Georges Pompidou European Hospital, Paris
For even more info you can read this Withings-Science_behind_PWV report provided by Withings.
Using the scale is easy. You just step on it with bare feet and it will show each measurement in succession including a graph that shows +/- changes in your weight from the previous reading.
The scale even shows the current day's weather and yesterday's steps if you also use a Withings activity tracking device like the Withings Go. Too bad the scale doesn't show your daily appointments! That would be a great feature for people like me who weigh first thing in the morning.
The Body Cardio scale can detect up to eight users. If weights are very similar, the scale will display a choice of users and let you lean your weight on the scale to choose the right user.
When the measurements are done (the whole process takes about 20-30 seconds), the readings are synced to your Withings account via WiFi.
Here's a quick video showing the scale in action:
It's tough to see in my images and the video, but the top of the Body Cardio scale has faint stripes which are actually electrodes. The instructions tell you to line up your heels with the second stripe from the bottom edge. I kept having issues with the scale not recording my heart rate, so I ended up using a permanent marker to put a dot on each side of the scale where my big toes should rest. This has helped.
It's also important to note that you need to wait at least 10 seconds between weight checks so the scale can tare (zero out the previous readings). I did notice that even waiting for 10 seconds before taking another reading would show different %'s for some of the readings like fat, water, muscle mass and heart rate.
To review your measurements, you can log in to your account on the Withings website or use the Health Mate app on your iOS or Android device. I'm just going to talk about the Health Mate app for this review.
Your measurements can be viewed in the Health Mate app either by a scrolling timeline like the image on the left or by drilling down into each measurement type. If you click a weight reading you will be taken to a history screen where you can view your weight as a graph.
Scrolling horizontally will let you see your BMI history and the body composition readings for body fat percentage, water percentage, bone mass and  muscle mass.
The Health Mate app will also let you see a history of your heart rate readings. As you can see from the image above, my heart rate is all over the place. A different heart rate each time you step on the scale is not unusual because your heart rate fluctuates all the time. It's also important to know that the heart rate measured by the Body Cardio is not your resting heart rate because you're not laying down or sitting when it's being recorded. As soon as you stand and start moving around, your heart rate will elevate. That said, keeping an eye on your heart rate is always a good idea because it is an indicator of your health. The higher your heart rate, the less active you probably are. I've always had a fast resting heart rate, but now that I'm working out on a regular basis, it's starting to come down.
And last but not least, the app will let you see information about your Pulse Wave Velocity score and ways to improve it. Note that you need to have at least five successful weigh-ins before you'll see your first PWV score.
If you are like me, you are probably wondering what are the normal ranges for body composition? Here's the info on the various body composition levels as per Withings site:
Body Water %

The normal ranges for water mass are as follows:

Body Fat %

The normal ranges for fat mass are as follows:

Muscle mass

There are no normal ranges for muscle mass as this value depends on each individual.
Bone mass
There are no normal ranges for bone mass as this value depends on each individual.
Pulse Wave Velocity
The lower the number, the better your overall cardiovascular health is. To provide the most accurate results, the Withings Health Mate app automatically takes age into consideration when interpreting this measurement.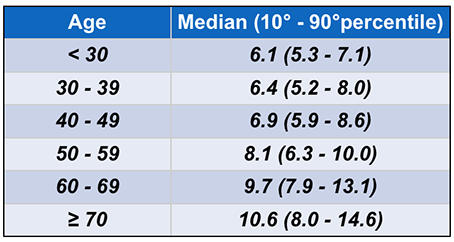 For example, if you have a Pulse Wave Velocity measurement above 7.1 m/s and are less than 30 years old, your Pulse Wave Velocity is higher than the PWV of 90% of the population.
I am happy to report that all my readings have been in the good range. Being able to see these readings every morning is an easy way to keep a handle on my health. Of all the readings that the Withings Body Cardio scale provides,  the little graph that shows the difference between the previous and current weight is the one I like best. Right now I want to see a downward or level graph, not an upward one, so this scale helps me visualize my goals and keeps me on track.
I've been using a Withings scale for the last five years and am pretty certain that I will be using one for the next five.  The Withings Body Cardio scale is a quality device that not only looks great and records my weight but also records my other body composition details like fat mass, muscle mass, etc is great for someone like me who loves metrics and keeping track of them.
Updates 07/20/16
It's been about a month since I posted my review. I really like the look and construction of this scale and continue to use it every day. But it almost NEVER records my heart rate. Nine times out of ten I get a little X instead of my beats per minute reading. I really only pay attention to my weight reading and the trend graph, so I ended up turning off the heart rate, fat mass, bone mass, muscle mass and water % screens.
Updates 02/09/17
I'm still using this scale every day to keep track of my weight. I like it better than the Withings WiFi Body Scale which I used for years because it uses rechargeable batteries that last for months. But, the heart rate and pulse wave velocity rating features NEVER work. I've made sure that I have the latest firmware and I always step on the scale in my bare feet. The muscle mass, fat % and other features always work, but not the heart rate features. I don't really care THAT much, but it is annoying to always see a little heart with an X through it when I step on the scale.
Updates 03/10/17
I'm happy to report that the heart rate and pulse wave velocity rating features are now working… at least 50% of the time which is a huge improvement over 0% of the time. What changed? Withings pushed out a firmware update which seems to have improved the reliability of this reading. As I said in my last update, the heart rate tracking and Pulse Wave Velocity reading don't really matter that much to me, but if the lack of this feature kept you from buying this scale, you can look into it again. This really is a great scale.
Source: The sample for this review was provided by Withings. Please visit their site for more info and Amazon to order.



Product Information
Price:
$179.95
Manufacturer:
Withings
Pros:

Quality look and feel
One year battery life
Easy to use
Records multiple health readings including Pulse Wave Velocity
Shows a graph of weight change compared to previous reading

Cons:

Scale is picky about where you stand on it