We use affiliate links. If you buy something through the links on this page, we may earn a commission at no cost to you. Learn more.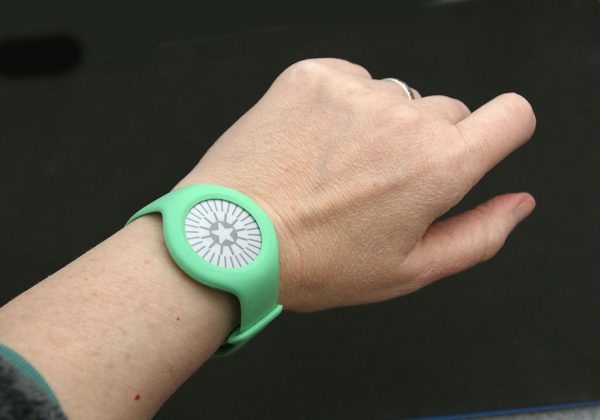 Wearable activity trackers are everywhere and come in every imaginable shape and size. That means finding one that is perfect for you can be a challenge because there are so many choices. If battery life and the ability to wear a tracker somewhere else on your body besides your wrist is important to you, consider the Withings Go activity tracker. Let's take it for a walk.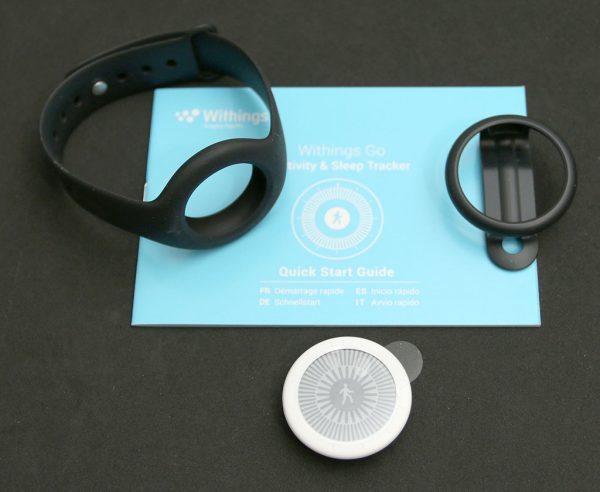 What's in the box?
Withings Go activity tracker
Wristband
Belt clip
Quick start guide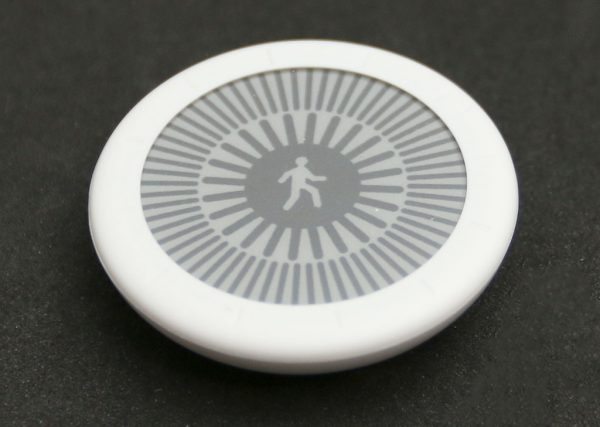 The Withings Go tracker is a small white plastic disk that is water resistant up to 165 feet deep. Wear it while you shower, wear it while you swim. It doesn't care. It has an always-on E Ink screen that shows your progress by displaying tick marks around the edge. Each tick mark represents a percentage of your daily goal which can be customized through the Withings Health Mate app on your iOS or Android device.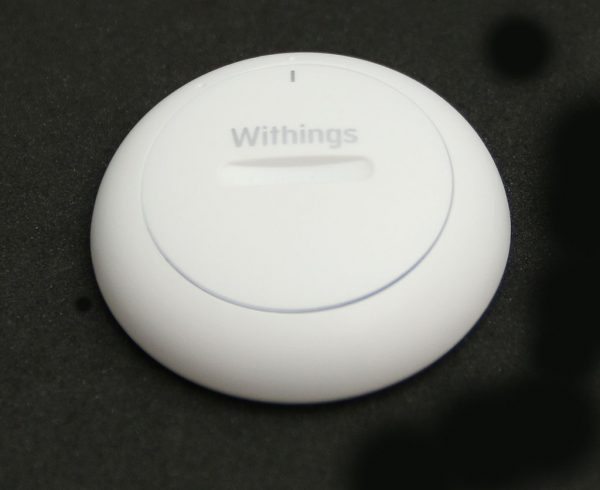 The tracker is powered by a CR2032 coin cell battery that should last up to 8 months. Not having to charge the tracker every night or even once a week is a nice advantage to this activity tracker. When the battery does need to be replaced, it's easy to do and very inexpensive.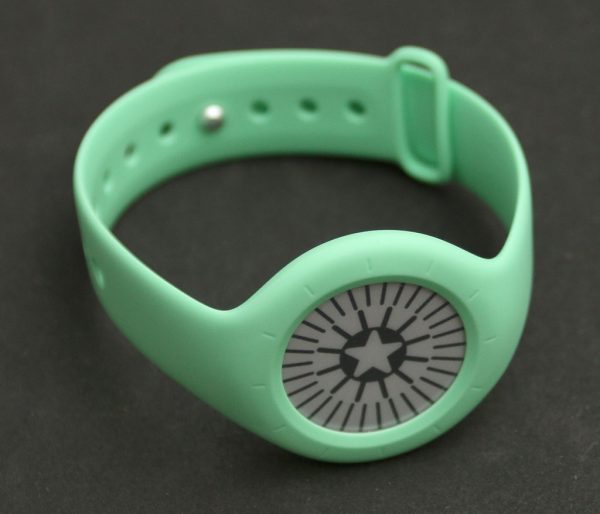 The Go is available in five different colors and comes with a wrist band and a belt clip holder.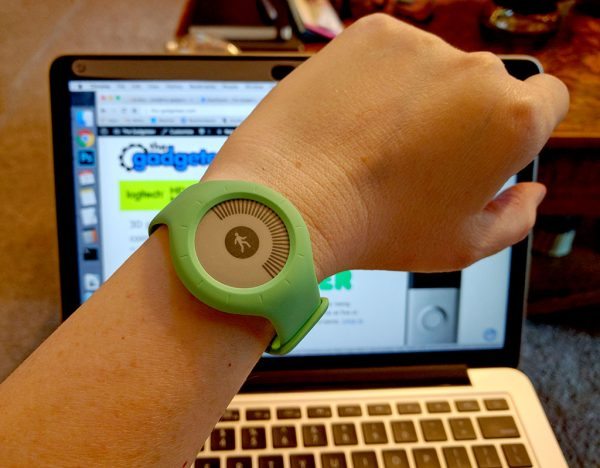 The tracker in the wrist band holder is watch sized and comfortable to wear all day. I didn't even notice it on my wrist while sleeping. Why would I wear it while sleeping? Because the Withings Go not only tracks steps, but also tracks running, swimming, calories burned, distance, and sleep patterns.
Using the Withings Go is simple. You just put it on and go about your day. Any time you want to check your progress towards your daily goal, you just look down at the face of the tracker. You don't have to tap anything, press a button, etc.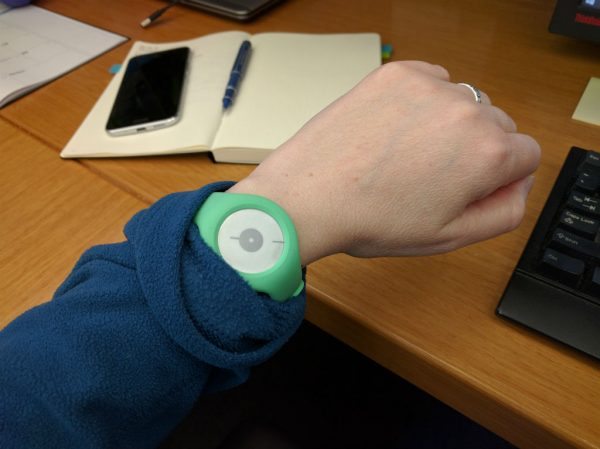 Speaking of buttons, the Withings Go does have one. If you press the middle of the display, it will change to an analog clock face for about 10 seconds. If I could change anything about this tracker, it would be to always show a digital clock and to show the step count instead of tick marks.
In order to see the details of your daily activity, you have to go to the Withings Health Mate app. This app brings together data from all Withings products. That's why you're seeing my weight and blood pressure info. We're just going to focus on activity and sleep for this review.
Tapping on the section takes you into a more detailed dashboard. For activity, you'll see a total of your steps, percentage of your daily goal, distance, calories burned and duration of activity. I'm assuming it would show swimming in addition to walking… but I don't swim, so I'm just guessing.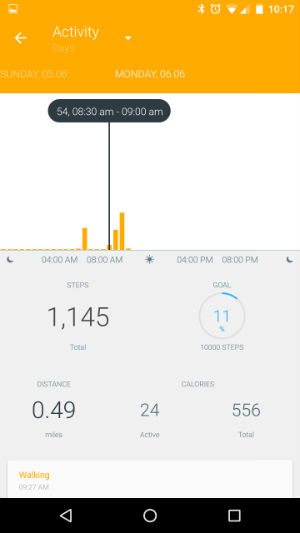 If you tap on one of the bar graphs, you can see how many steps you took during certain times of the day.
The Withings Go activity tracker also tracks your sleeping patterns. You dont have to do anything special to put it into sleep tracking mode. As long as it's on your wrist, it will detect when you've gone to sleep and will track when you're awake, in light sleep or deep sleep through the night. The image above on the left should show a bar graph of the nightly sleep pattern like the weekly graph on the right, but I'm using a beta test version of the Health Mate app and it seems to have a bug.
Syncing the data from the tracker to the app is all done automatically. As long as you're within reach of the mobile device with the Health Mate app, the data will sync periodically throughout the day.
I am a fan of Withings products and like the simplicity of the Go activity tracker. If it had an always-on clock display, and a numerical step count, it would be my perfect tracker. But as it is, it comes close enough to earn a spot on my wrist.
Source: The sample for this review was provided by Withings. Please visit their site for more info and check Amazon too.