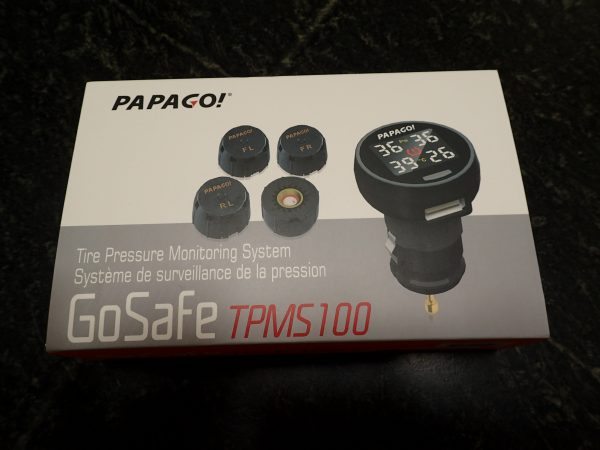 Your car's tires are an integral part of your safety while driving, and responsible adults pay attention to them. But really, checking my tire pressure is way at the bottom of my list of things I want to do.   The Papago GoSafe TPMS 100 (TPMS: Tire Pressure Monitoring System) makes this task easy and much more pleasant.  The Papago GoSafe TPMS uses RF technology to wirelessly and continuously monitor each tire's pressure and temperature and clearly display the information to the driver.
The Papago GoSafe TPMS comes with a display device that fits into your car cigarette lighter and four sensors to install on the valve stem of each tire.  (Don't worry about losing your USB adaptor cigarette lighter plug in, the Papago GoSafe TPMS doesn't force you to choose, the display device includes a USB port.) Each tire valve sensor has a CR1632 button battery that must be inserted before using. The system also comes with a few small tools to help with the installation.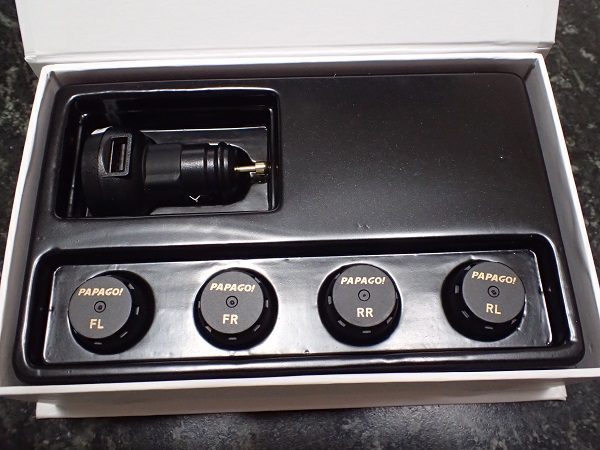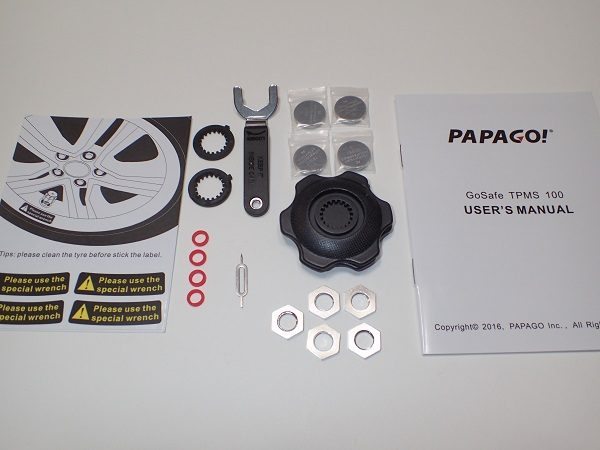 I followed the simple instructions and was able to get my Papago GoSafe TPMS up and running in about 10 minutes.
The display device shows the tire pressure for each tire as PSI or Bar ("Bar" is a metric unit of pressure used in some countries). With a push of the only button, the centigrade temperature for each tire is displayed.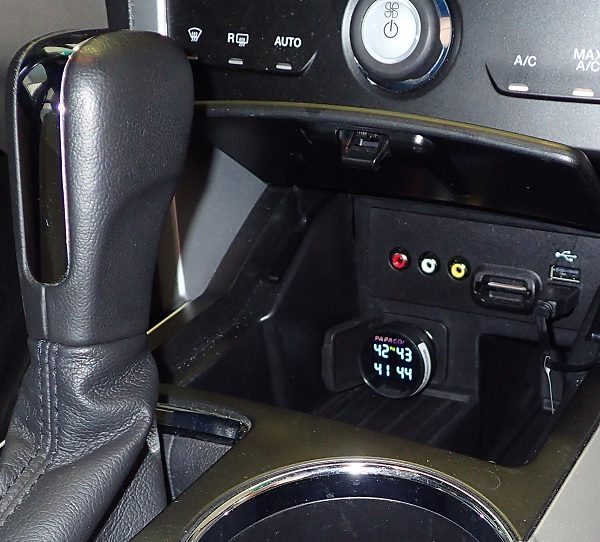 The Papago GoSafe TPMS has a default tire pressure of 36 PSI with a high pressure setting of 46 PSI and a low pressure setting of 26 PSI.  The display unit beeps when the PSI goes beyond the high or low settings.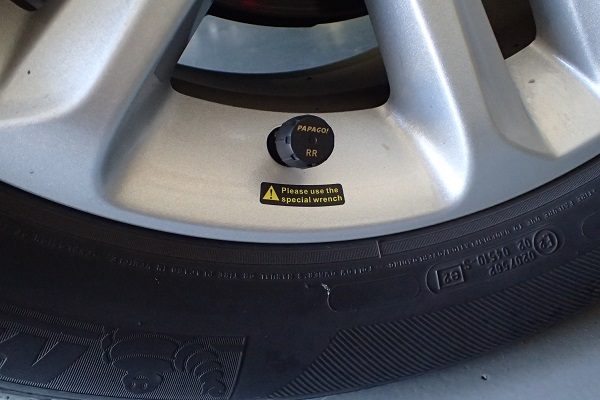 My tires are labeled with a maximum pressure of 45 PSI (it's embossed on the side of the tire).  So after a short drive in the 100+ summer heat, the display device was showing 48-49 PSI and the alarm was going off, "Bi-bi-bi-bi".  The alarm is not startling or obnoxious, but it's not something you want to drive around with either.  The "Set" button (the only button) on the display device stops the "beeping", but only for one minute.  Be sure to check and set your high/low settings before you go on a long drive. Changing my high pressure alert default up from 46 PSI was simple, but not something to do while driving.  It will also alert you when any of the batteries in the sensors run out. The manual says the batteries should last 1-2 years.
Tire pressure is important for safety, fuel efficiency and extending the life of the tires. Because it is so important and so easy to forget, some of the newer cars have built-in tire pressure monitoring systems.  This is a great device for the rest of us and a lot less expensive than a new car.
Source: The sample for this review was provided by Papago. Please visit their site for more info and Amazon to order.
Some of our links in posts like this one are affiliate links, which means that we may receive a small commission on purchases at no cost to you.