The Gadgeteer is supported by readers like you! If you buy something through links on our site, we may earn an affiliate commission at no cost to you. Thank you! Learn more.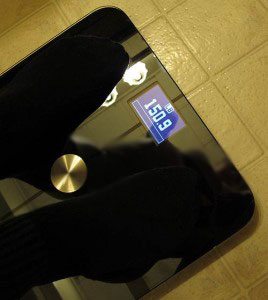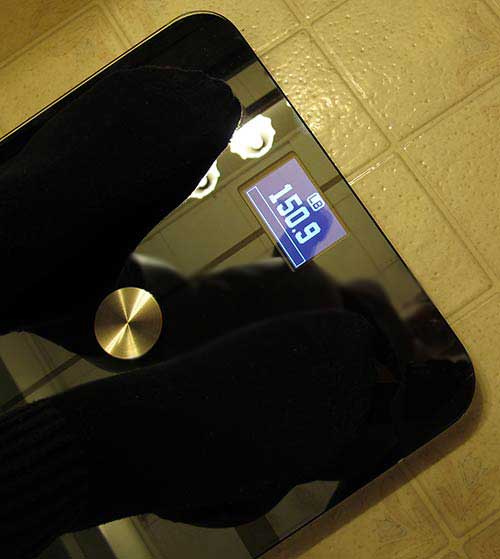 I like to keep track of stuff. All kinds of stuff… I keep a text file where I add notes for all kinds of things that I don't want to forget. Since I have a horrible memory, this text file comes in handy quite often. I also keep a list of books that I've read, trips I've taken, my A1C readings (I'm a diabetic) and my weight. Ever since I lost 25 lbs after learning I was diabetic, I've been somewhat obsessed with maintaining my weight. My typical routine is that I get up in the morning, weigh myself, get a shower, get dressed, go to work and at some point during the morning, I add my weight to a Google document. Remember that I mentioned that memory is horrible? Well, that sometimes causes issues with me recording my daily weight. I'll start to type it in and think… hmmmm, was it 129.9 today or was it 130.2? When I first discovered the Withings WiFi Body Scale, I was so excited because I'd never have to worry if I was remembering the right weight. It would do all the work for me. Perfect!
A scale with WiFi built in? Wow, what will they think of next? Seriously, this a regular scale that you step on to weigh yourself. It also records your body fat percentage and displays your BMI. The cool thing is that it transmits the data to your account on the Withings site and / or other sites like Google Health, Twitter, etc.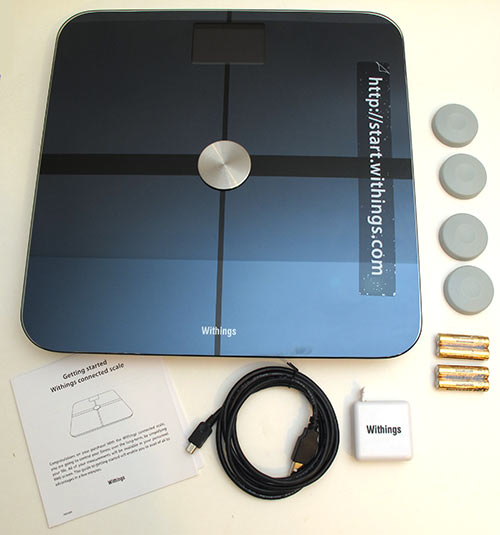 Hardware Specs
Weight: Units – kg, lb, stlb, Graduation – 0.1 kg (0.2 lbs) – 4 sensors, Maximum capacity – 180 kg (396 lbs)
Body analysis – Weight, Fat mass, Lean mass, Body mass index
Communication – Wireless 802.11g (WEP/WPA/WPA2-personal security)
Power – (4) 1.5V batteries (AAA)
Dimensions – 12.6 x 12.6 x 0.9 inches
Weight –  2.3 kg (5.1 lbs)
Package Contents
WiFi Body Scale
USB cable
4 AAA batteries
Tape measure
Stick on feet for carpet
Quick start guide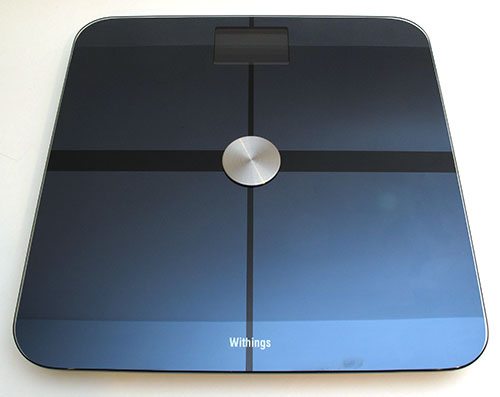 The Withings WiFi scale looks really sexy. It's very contemporary with a shiny glass slab top.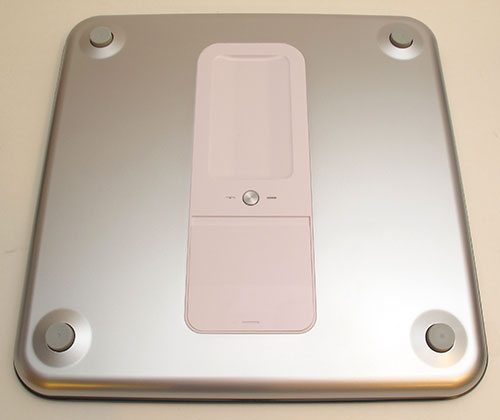 On the back is an easy to access battery chamber.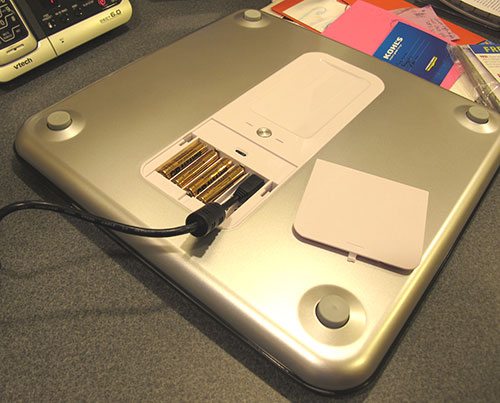 To start using the scale, you load the batteries and then connect one end of the included USB cable to the connector next to the battery compartment and the other end to your PC or Mac. Navigate to http://start.withings.com/ with your browser and you are able to quickly able to setup the scale to pair with the Withings website. I had no issues getting mine up and running in less than 5 minutes.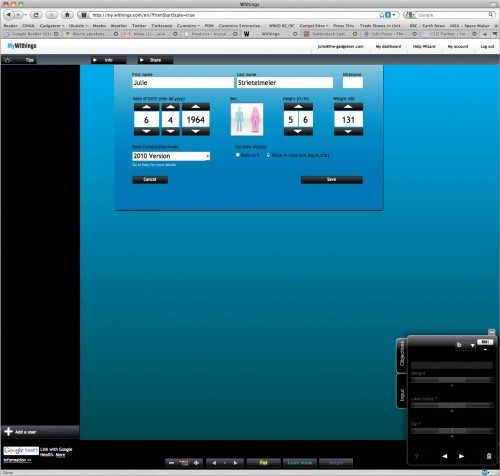 The next step is to setup your account with your age, gender, height and weight info. The great thing is that up to 8 people can use the scale. That's more than enough for a typical family.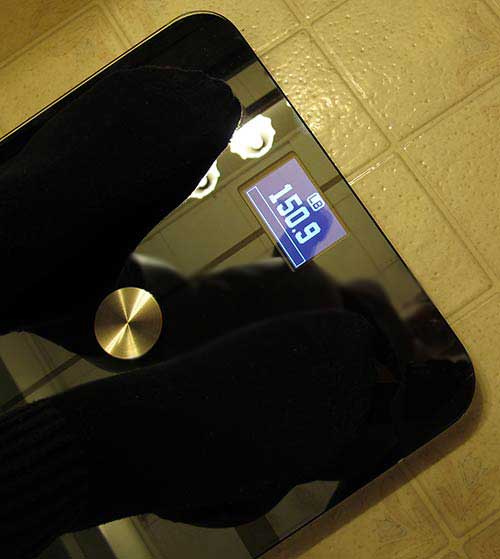 When the batteries are installed and the scale has been setup through your WiFi connection, it's ready for your first weigh-in. Cue up the theme song for Biggest Loser, put some pressure on the scale with one foot so that the 2.4 x 1.6 inch White on Black LCD display lights up with flashing 0.0 lbs and then step off. This is the calibration part of the weigh-in. When the 0.0 digits stop flashing, step back on the scale to see your weight. If you want the scale to include your body fat measurement, make sure you are barefoot.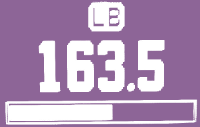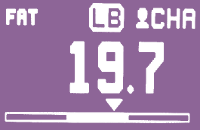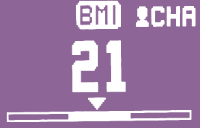 The LCD will first display your weight, then your body fat in % or pounds (this can be customized by you) and then your BMI (body mass index).
The body fat information is measured through invisible electrodes on the surface of the scale. When you step on them with your bare feet, your body's impedance is measured. A small and harmless electrical current is passed through your body. The electrical current passes more quickly through fat free tissue like muscle than it does through fat or bone tissue. The amount of resistance to the electrical current relates to how much fat-free mass a person has and their body density. It's hard to say just how accurate this measurement is, but it's best to just use it to monitor changes and not get hung up on the actual body fat number that you're given.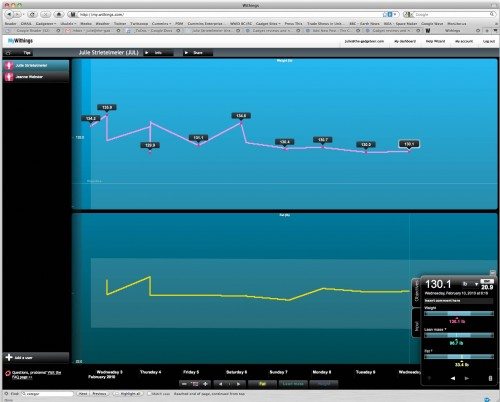 After you've weighed, hop off the scale, go to your computer, login to your Withings account page and you'll be greeted with some nifty graphs… or you will after you've weighed in several times. Each day's weigh in will include your weight, body fat, lean mass and BMI info. Best of all, you didn't have to remember the numbers as they were automatically recorded for you.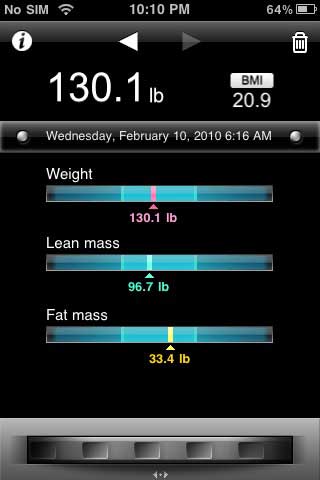 There's also a free iPhone app that you can download from that app store that will let you see your info on the go.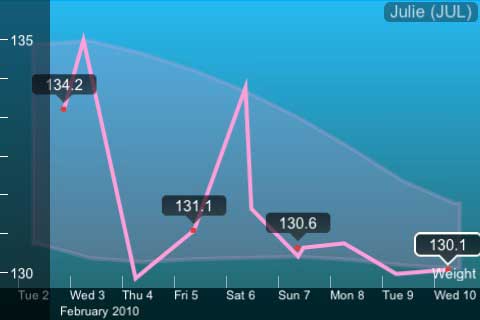 It even includes the same nifty graphs.
If you set an objective (goal weight that you want to reach), you can also receive a weekly email that tells you how you are progressing to your goal.
I haven't had any issues with the scale since the first firmware update was installed that allowed it to calibrate. Before that happened, the scale would sometimes show my weight as 4 pounds over what it should have been. I later learned that this was due to it including the weight of the scale itself in with my weight. I've only ran into one other issue that is probably operator related. I live in a 2 person household, so we have 2 different accounts on the scale. I haven't had any issues with stepping on the scale, waking it up and then measuring my weight. However, my housemate seems to always have problems getting the 0.0 calibration to come up. That said, she also has problems turning on the TV… sorry Jeanne 😉
I really am enjoying using the Withings WiFi Body Scale. It's great to have my data automatically stored for me every time I use it. It motivates me to weigh every morning so that I can check the graphs to make sure I'm staying steady or not going up in weight.
Updates 07/02/15
The Withings WiFi Body Scale has been a permanent fixture in my bathroom since reviewing it over 5 years ago. I use it almost daily to keep track of my weight. I've not had any issues with it in all this time. The batteries last for about a year or longer (I can't remember when I changed them the last time) and I even have it linked into my Fitbit account so I can see my weight graphs with my activity info. You wouldn't think it would be possible to link info from a non-Fitbit product into Fitbit's dashboard, but it is. I can't take the credit for figuring it out though. Janet figured it out and gave me the info. Even after reviewing Fitbit's own scale, I prefer the Withings WiFi Body Scale.
Product Information
Price:
$159.00
Manufacturer:
Withings
Pros:

Records weight, body fat and BMI every time you step on it
Up to 8 users can use the scale
Saves to a web account, google health, twitter

Cons:

Sometimes acts flaky if you try to weigh several times in a row