We use affiliate links. If you buy something through the links on this page, we may earn a commission at no cost to you. Learn more.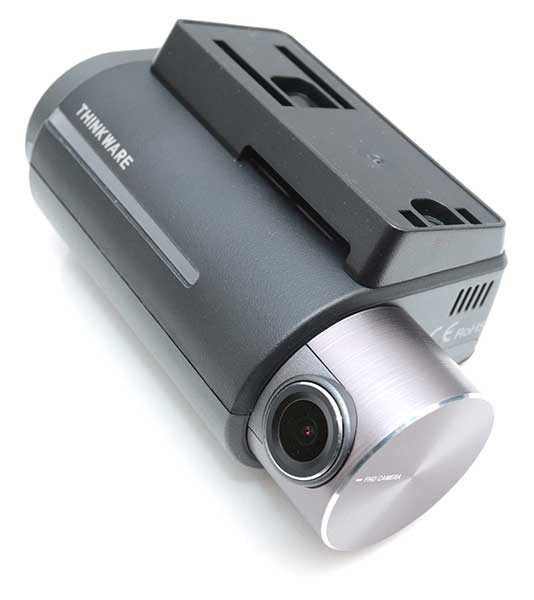 Dash cams are becoming more popular every day and when a product becomes popular, you start seeing a lot of brands from the very inexpensive (some would say cheap) to very expensive (some would say spendy). Today I am taking a look at the Thinkware F750 dash cam which lands in the expensive category with an MSRP of $299.99. Why would you want to spend close to $300 (retail) for this dash cam when you can find many budget brands that sell for less than $100?  Let's take the Thinkware for a spin and find out.
What is it?
The Thinkware F750 is a full HD 1080P dash cam that attaches to your front windshield and automatically records your trips as you drive. Dash cams are useful just for recording your driving adventures, but also in the event of an accident or for capturing footage of streaking meteors or streaking people on your drives. This particular dash cam has almost every feature you'd ever want in a dash cam except one. But I'll get to that later.
Hardware specs
Camera: 2.19 Megapixel, , Full HD (1920 x 1080P), 140-degree viewing angle, Sony EXMOR CMOS image sensor
Memory Capacity: 16/32/ 64 GB UHS-1 MicroSD Card, 512MBNand Flash Memory Dual Support(Dual Save)
Recording Modes: Continuous Recording, Incident Recording, Manual Recording, Parking Surveillance Recording, Audio Recording
Sensor: 3-Axis Acceleration G-Sensor (3D, ±3G)
GPS: Built-in
WiFi: Built-in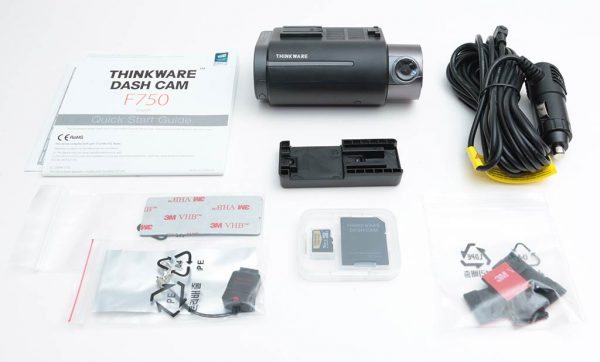 What's in the box?
Thinkware F750 dashcam
12V power adapter
micro SD card with SD card reader
USB microSD card reader
Windshield mount with 2 3M adhesives
Adhesive cable management clips
Quick start guide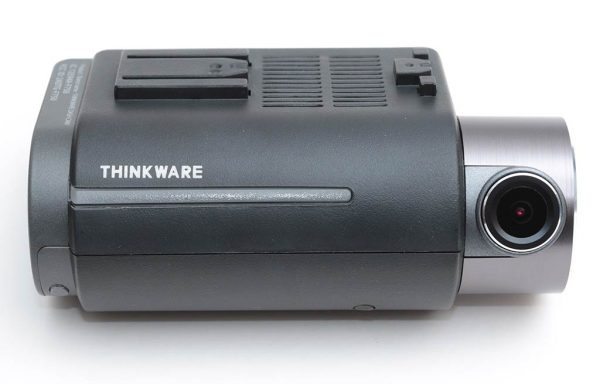 Design and features
The Thinkware F750 is mainly made of plastic except for the what I believe is a thin aluminum shell over the pivoting camera lens on the side of the unit. The camera lens can rotate about a quarter turn so that you can adjust the angle so that it will be level with the road.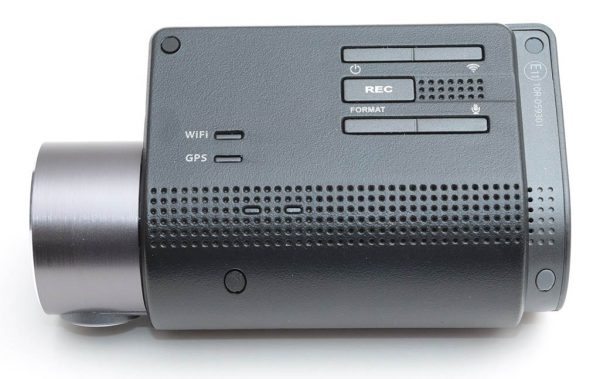 The camera has four status LEDs for Power, voice recording status, WiFi and GPS. There's also a power button if you want to manually toggle power, and a WiFi button to turn on WiFi mode. Other buttons include a manual recording button, format button to erase the micro SD card and a microphone button to toggle audio recording.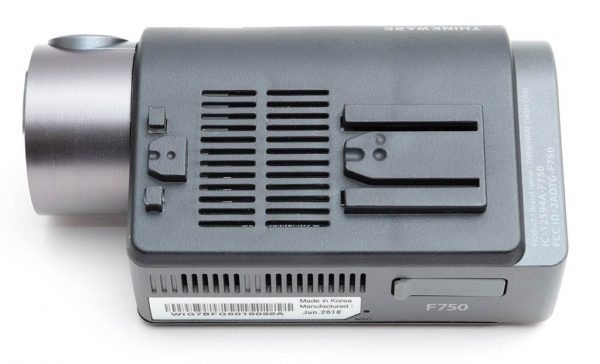 The top surface of the camera has a slot for the windshield mount, which uses 3M adhesive strips instead of a suction cup mount. 3M adhesives work really well… I would say almost too well because they are a real pain in rear if you need to remove them. I still have parts of old strips stuck to my MINI Cooper's windshield from old dash cam reviews, so I personally would rather use a suction cup. But that's just me.
In the image above you'll also see the micro SD card slot which is protected by a rubber cover.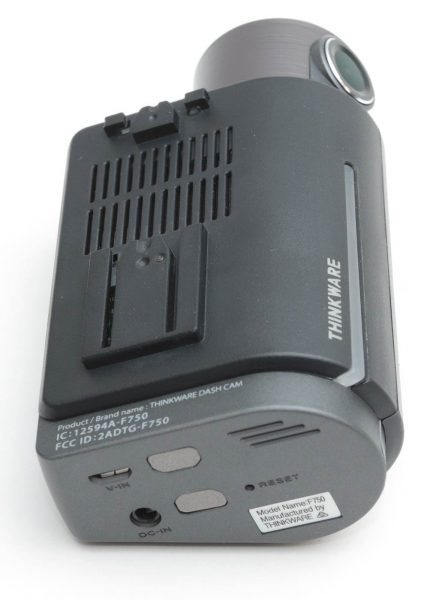 The side of the camera opposite of the lens has a Video In connector if you buy the optional rear camera, power connector, and a reset switch.
Installation and setup
If you're familiar with dash cams, the first thing you probably noticed about the Thinkware is that it does not have a built-in display. Some people might say that the lack of a display makes the dash cam sleeker and helps the device from being recognized for its purpose. I prefer my dash cams to have a display. Not because I want to watch live footage as I'm driving, but for easier setup.
To customize the Thinkware's many settings, you have to use the mobile iOS or Android app and the built-in WiFi feature. Connecting via WiFi requires that you start up the app, press the WiFi button on the dash cam and then wait for the camera's WiFi access point to show up on your mobile device so that you can switch to it. Sometimes this can a minute or so to connect, so it can be a little annoying if you're in a hurry.
In addition to letting you change the camera settings, the app also gives provides a listing of recordings and allows you to download them to your phone via WiFi. Again, this is slow… I usually just skip trying to download the files with my phone and pop out the micro SD card to view the files on my MacBook.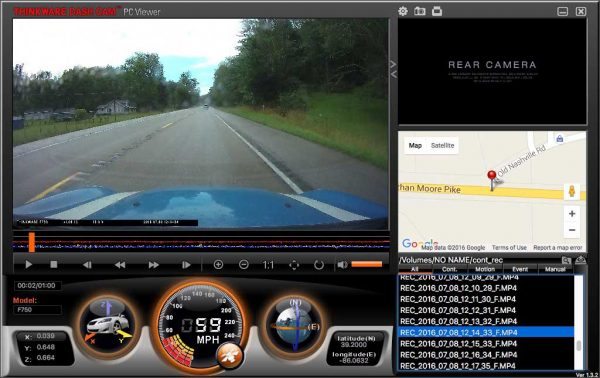 Thinkware has a free desktop viewer app for Windows or the Mac that will let you view video clips and shows more info about the recordings, like speed and location with a moving map.
Performance and usage
The Thinkware F750 dash cam has several video capture modes and saves each video in different folders on the micro SD card depending on the mode:
Continuous Recording: Records videos in continuous mode in 1 minute segments.
Incident in Continuous Mode: When the dash cam detects impact, it will immediately store the 10 seconds prior and after the impact.
Motion in Parking Mode: When the dash cam detects motion while parked, it will immediately store the previous 10 seconds prior
to the activation of motion detection and will start recording video for the next 10 seconds.
Incident in Parking Mode: When the dash cam detects impact while parked, it will immediately store the 10 seconds prior and after the impact.
Manual Recording: Manual recording videos initiated by pressing manual recording button.
Other special features include:
Lane Departure Warning System (LDWS): An audible warning notifies the driver in real time when the vehicle is leaving its lane. This warning is only enabled when the vehicle is traveling faster than 30mph.
Forward Collision Warning System (FCWS): An audible warning notifies the driver in real time to avoid possible rear-end collision when the vehicle is ahead is slowing or stopped. The warning is only enabled when the vehicle is traveling faster than 20 mph.
Using the built-in GPS database, the camera is also supposed to alert you to red light cameras, speed cameras, combined red light and speed cameras, average speed zone and mobile speed zone alerts. I guess Columbus, Indiana is not included in that GPS database because I was never alerted to any of these cameras while trying around my small town.
Let's see the Thinkware F750 in action:
At 1:19 you will hear the FCWS alert and at 2:21 you hear the LDWS alert… at least I guess that's why it chimes. I wasn't out of my lane though. The alerts will become annoying real fast, so I turned them off a couple days into my testing of this dash cam.
What works well and what needs work
Let's start with what needs work. Not having a built-in display is my main complaint. The lack of this feature makes setting up this camera more time consuming and harder to do than a dash cam that has a built-in display. That's because the WiFi feature that is needed to pair the camera with the mobile app is too slow. You can't even check settings without being connected to the camera.
Another thing I'd change if it were up to me, would be the video clip length. As is, the video clips are 1 minute long with no way to make them longer. I also think that for the price, that a rear camera should be included with the F750.
Now the good. When it comes to video quality, which is obviously the most important feature of a dash cam, the F750 does a very good job. Video is crisp and colors are good. It has a nice wide view without having a warped fisheye look.
Final thoughts
The Thinkware F750 is a top of the line dash cam that offers all the features you could want from adding an optional rear camera, GPS alerts for red light and speed cameras, FCWS and LDWS alerts and WiFi. If you want / need all these features and also want a camera that offers very good video quality, you will enjoy using the Thinkware F750. Just be aware that setup and downloading video using WiFi will be time-consuming. If you're ok with those limitations, then the Thinkware F750 is quality high-end dash cam that deserves a look.
Source: The sample for this review was provided by Thinkware. Please visit their site for more info and Amazon to order.