We use affiliate links. If you buy something through the links on this page, we may earn a commission at no cost to you. Learn more.
I always enjoy reviewing flashlights like the German made LED Lenser products, which are extremely nice. One of the latest LED Lenser flashlights in the new HP (High Performance) line that has come on the market is the P7. This light is unique in that it has a focusable lens and is super bright.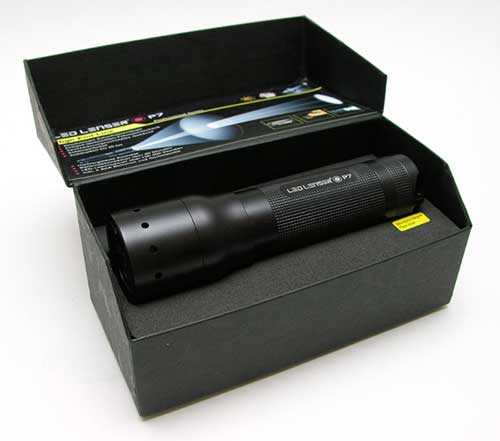 As per a lot of LED Lenser flashlights that I've reviewed in the past, the P7 also comes in a nice Black box which would be suitable for presentation as a gift.
Flashlight Specifications
Light type: Cree LED
Bulb: High-intensity 4.45-watt 167 lumens Gallium LED
Lens: Plastic composite material
Reflector: Advanced Speed Focus System
Beam type: Spot
Case type: Aluminum
Powered by: 4 AAA Alkaline batteries included
Water resistant?: Yes
Size: 5.5 x 1.4 in
Weight (with batteries): 7oz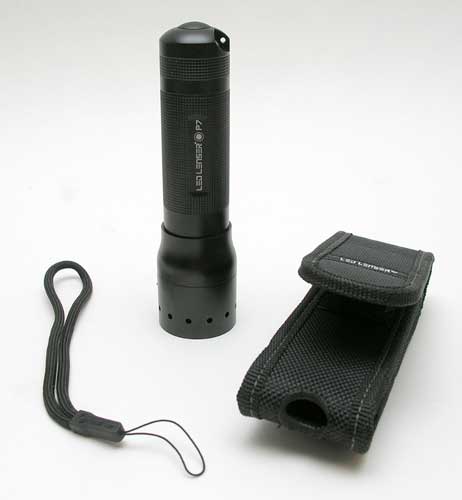 Package Contents
P7 flashlight
4 AAA batteries installed
Handstrap
Canvas belt case
Instruction / spec sheet
The P7 has a Black aluminum case, with a knurled grip and an eyelet on the cap for the included handstrap. In hand it very feels solid and comfortable, with good balance. The only writing on the flashlight is the LED Lenser logo and model number.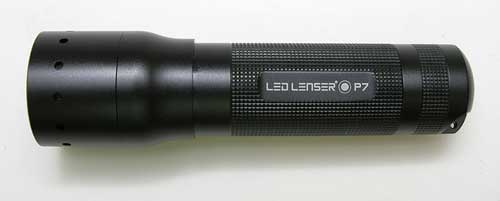 The interesting feature of this light is that it has a focusable beam. Focusing is accomplished by extending and retracting the lens of the flashlight. When the lens is fully extended, it is approximately 5.5 inches long.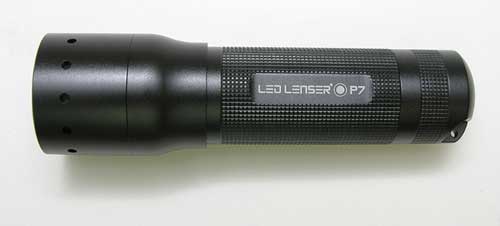 When you slide the lens back towards the body, it is shrinks by about .25 inches. The lens remains at the length you slide it to by friction. You can slide it back and forth while the light is on or off.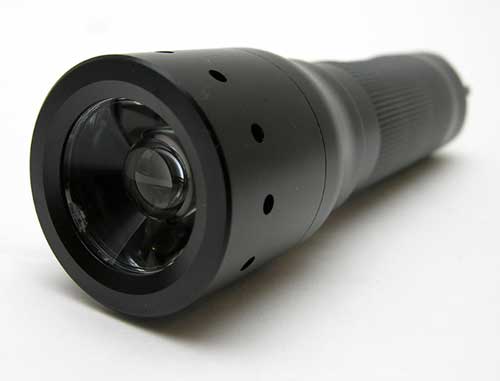 The lens is made of a plastic material with a dome in the middle that allows the LED to focus the beam of light. The P7 uses a Gallium LED that provides 167 lumens. I think it's the brightest flashlight that I've reviewed yet.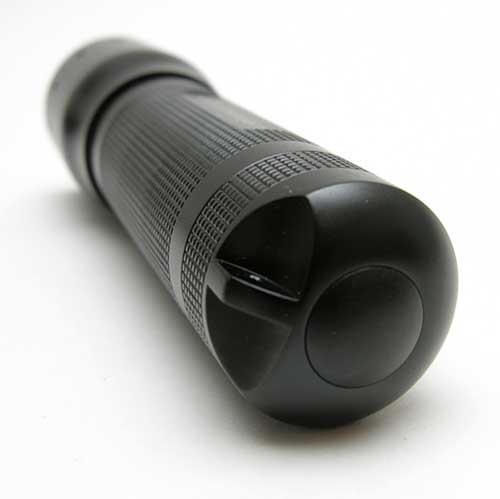 On the opposite end, you find the metal power switch which is located in the end cap of the flashlight. It's a spring loaded click switch with good tactile feedback.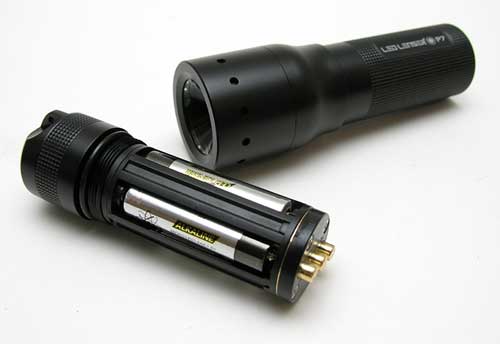 The o-ring sealed end cap unscrews to reveal an attached battery holder. The P7 is powered by 4 AAA batteries which are thankfully included with the flashlight. This flashlight advertises the fact that it will give up to 130 hours of light on one set of batteries.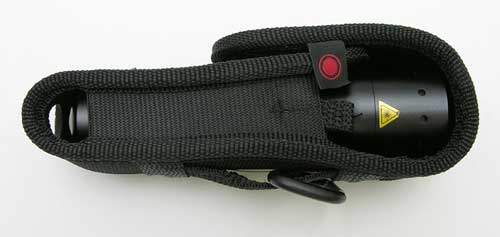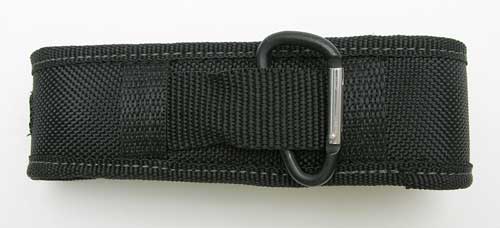 Also included with this flashlight is a nice canvas belt case. It has a belt loop and a small carabiner.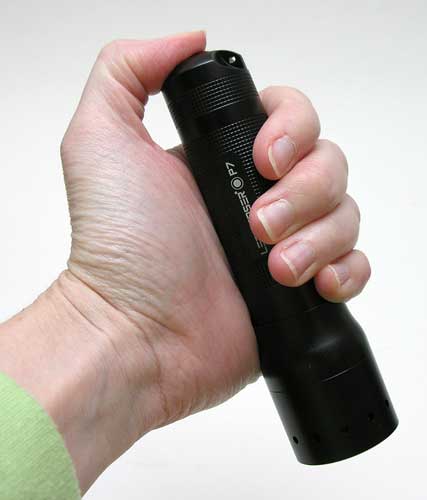 The P7 has a three step Quick-Cycle switch function. Press power without clicking it for maximum light, click it once for low light, click again for high beam and then again to power it off. Here is a picture of my office with no lights on, at night, with the door closed. You can only make out the glowing LEDs from some of my electronics. I'm standing in the corner of the room focusing on the opposite corner approximately 16 feet away.
Now let's power on the P7 and see what it can do…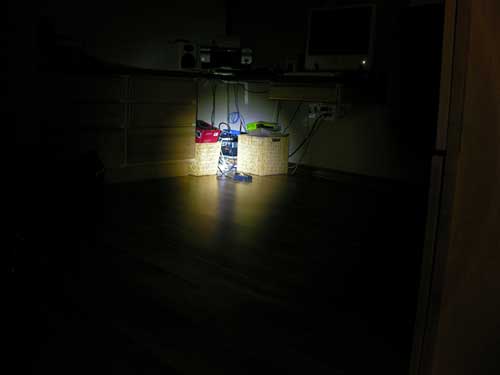 This is what the beam looks like with the lens extended out 100% and the power switch clicked in once. It's a narrow focused bright beam.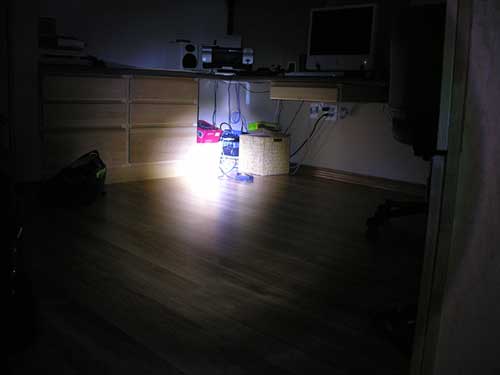 Here's what the beam looks like on the second setting. You can see that the beam has widened, allowing you to see more area.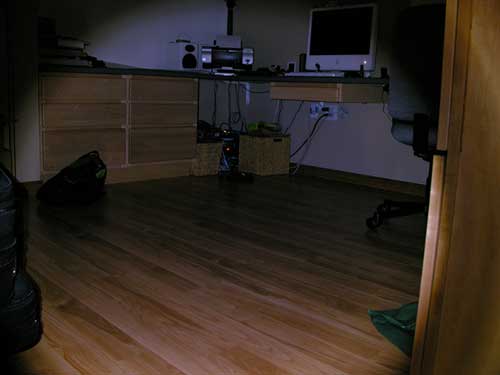 Here's what it looks like when you slide the lens to the shortest position and press the power button once. The light is well spread out with no real bright spots or areas of intensity.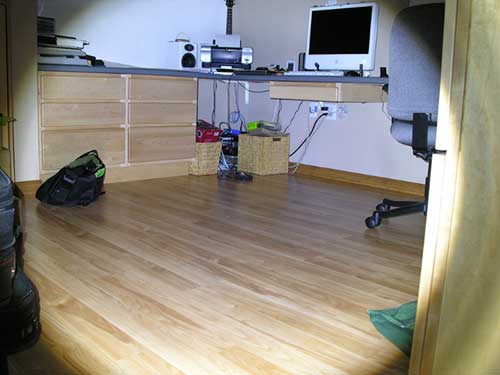 Click the power button once more and WOW, a super bright wide spread beam that pretty much illuminates the entire room. According to the specs, the P7 has a 0-711 foot light range. That's quite impressive.
As you will notice from the images above, all of the settings have very visible differences in beam focus and brightness. I can understand how this flashlight would be very helpful for people that make their living working in dark areas. That said, I can also see how this light would be useful to anyone that needs to shed a little light (or a lot of light) into a dark spot.
I really like the LED Lenser P7 for its rugged design, variable focusing options and super bright beam. The fact that it uses regular AAA batteries is also a plus in my opinion. Even though it's quite a bit more expensive, the P7 is now my favorite LED Lenser flashlight, unseating my previous favorite, the LL7732.
Update 11/04/15
Seven years later and I'm still using this flashlight. While I don't have a lot of times when I need a flashlight, when I do, I grab this one. I like it because I like the feel in my hand, the easy press tail switch and the bright beam. The only thing I don't like about the flashlight is that it takes 4 batteries. That's a lot of batteries to replace. Luckily they are AAA's, but even that size isn't cheap. LED Lenser flashlights are built to last. According to my review, this light was priced at $120 back in 2008. You can find it for less than $50 on Amazon today if you're interested. The P7 really is built to last and I know I'll be using it for many more years to come.
Product Information
Price:
$120.00
Manufacturer:
LED Lenser
Retailer:
Amazon
Pros:

Variable beam focusing feature
Powered by AAA batteries
Very bright beam

Cons: