We use affiliate links. If you buy something through the links on this page, we may earn a commission at no cost to you. Learn more.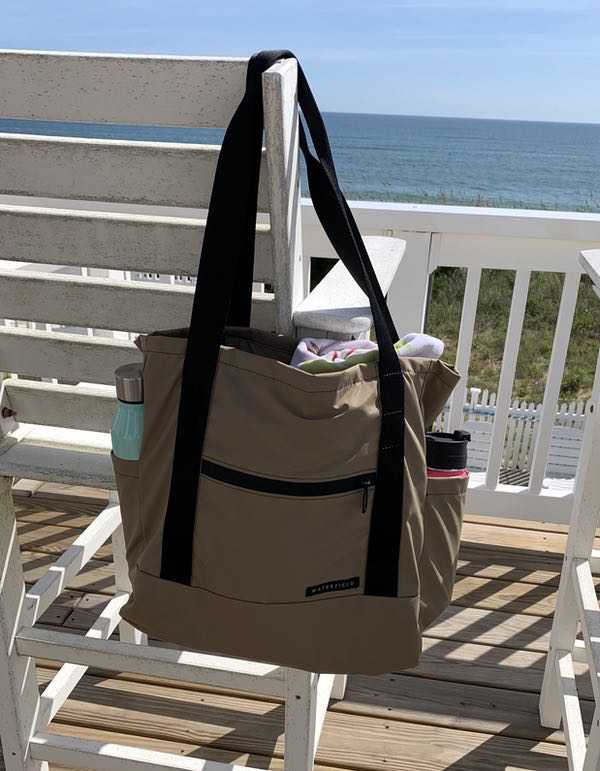 REVIEW – I was not a tote guy, but I am a changed man. Meet the Waterfield Designs Packable Tote Bag, my new best friend and travel buddy. It's just so freaking useful. To the review!
What is it?
It's a lightweight packable tote bag.
Hardware specs
14.5″ by 14.5″ by 5.5″
13″ handle drop
12 ounces
19 liters capacity
Folds into a 9.5″ by 8.5″ pocket
Design and features
Why would I get so hyped about a tote bag? First and foremost, it's a Waterfield. That means that even the packable version is built for durability, good looks, and excellent features. It's an everyday bag that happens to be packable.
Let's start with the exterior, which is built from a custom material that is wrinkle resistant, waterproof, and has a substantive structure. It looks good enough to take to the office, but will take a beating on travel & beach trips. I know this because I have done both.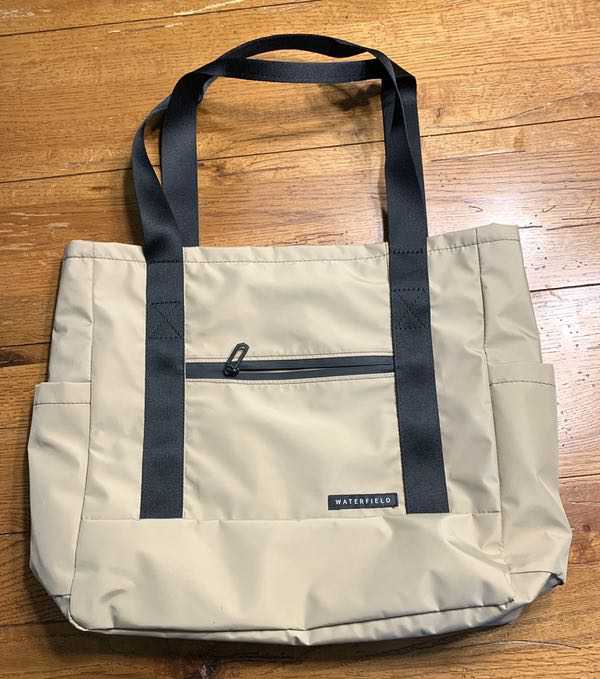 The interior is lined with a tough diamond ripstop fabric that also allows for visibility to find your stuff. Like all Waterfield products, it's classy inside and out.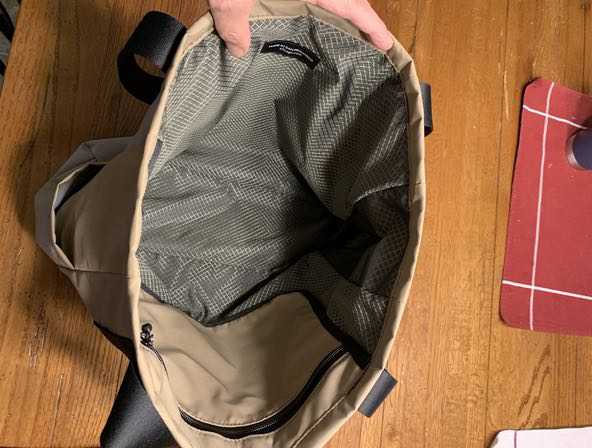 Here's a closeup of the interior fabric. Tasty, isn't it?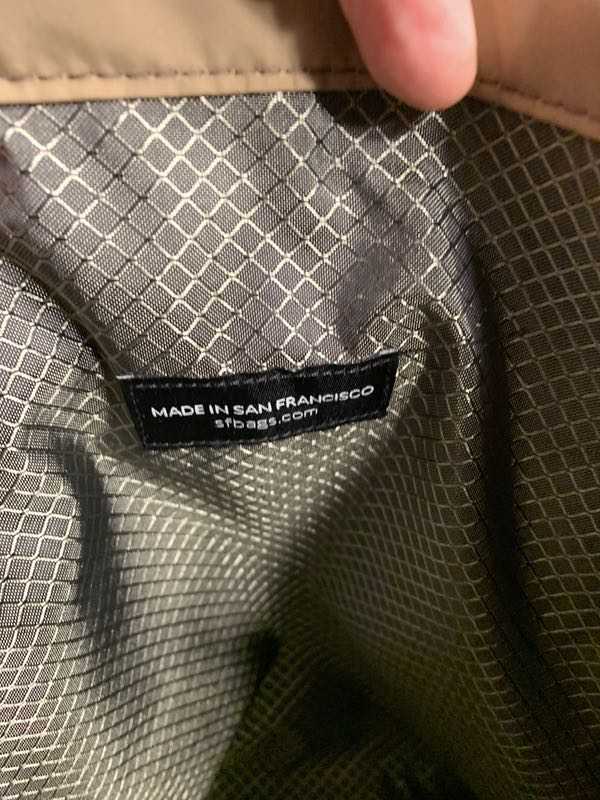 You have two pockets that are secured with splashproof seals and waterproof zips that sport Waterfield's metal hardware. The outside pocket is 8″ by 8″ (it runs to the top of the bag) and includes a metal key leash.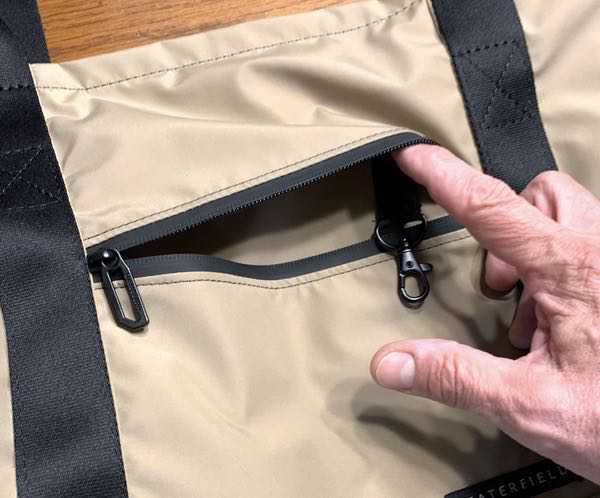 The interior pocket is 8″ by 9″ and also sports that waterproof zip. Plenty of room for all the small stuff.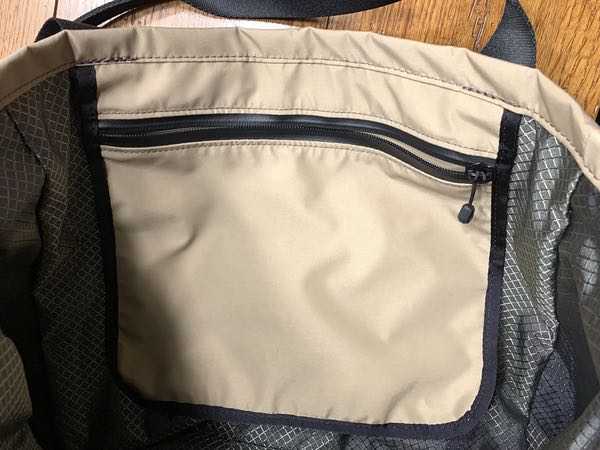 You'll find a bottle pocket on each side that is 4.5″ by 7″. I found that taller skinnier hydration bottles work best here, but you can stash an umbrella or sunglass case in either one with ease.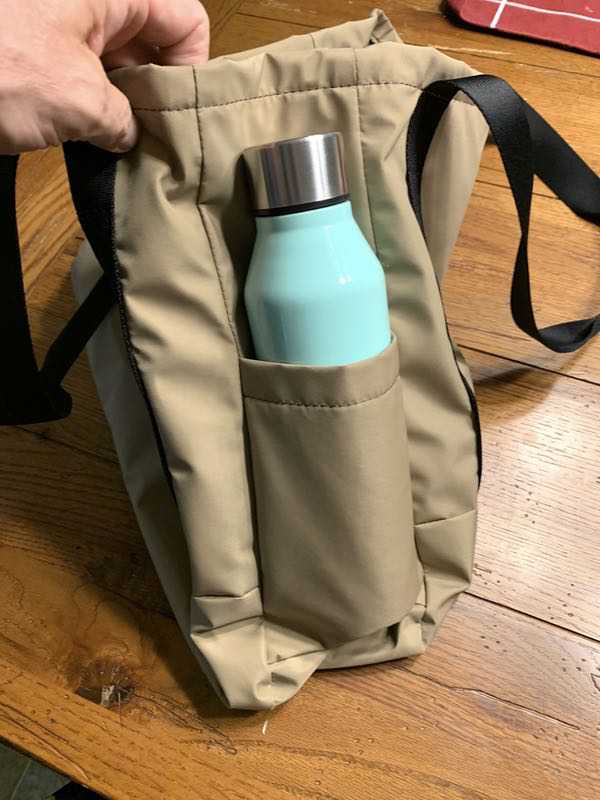 The interior space is a whopping 14.5″ by 14.5″ by 5″, with that extra bit of structure that helps with packing. It's also got a reinforced rim to help with the structure. For size reference, I have a 1.75 liter bottle of rum in the main compartment. It's got room to spare as you will see below.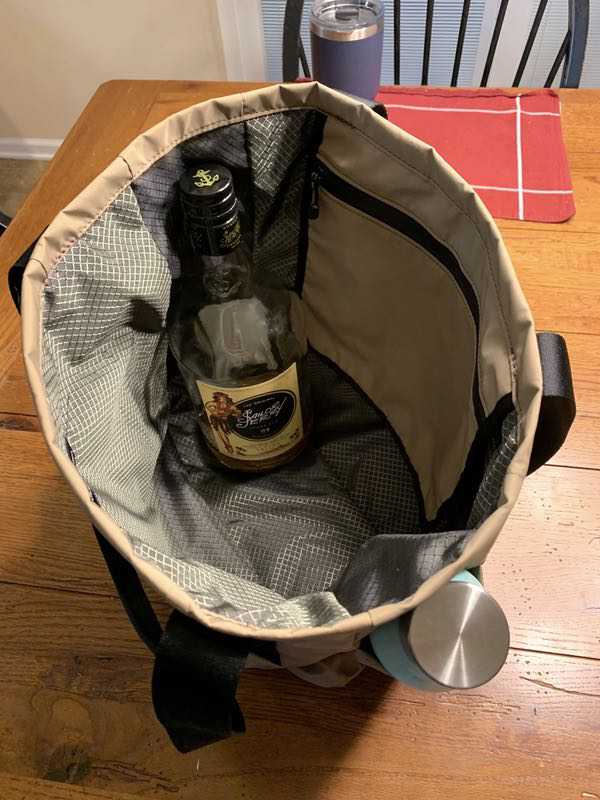 The handles are simple nylon that are folded and sewn for the grips. They're basic as I would expect for a packable bag, but plenty solid for doing work. The 13″ handle drop allows for side or over-the-shoulder carry.
The bag just oozes quality in every corner. For a 12 oz bag, it feels remarkably solid with a dual layer build. Every stitch is perfect and reinforced in all the right places. You can merrily kick this bag around wherever you go and it will just laugh at you.
The Packable Feature
Packing the bag for travel is easy. You'll start by flopping out that interior pocket and turning it inside out.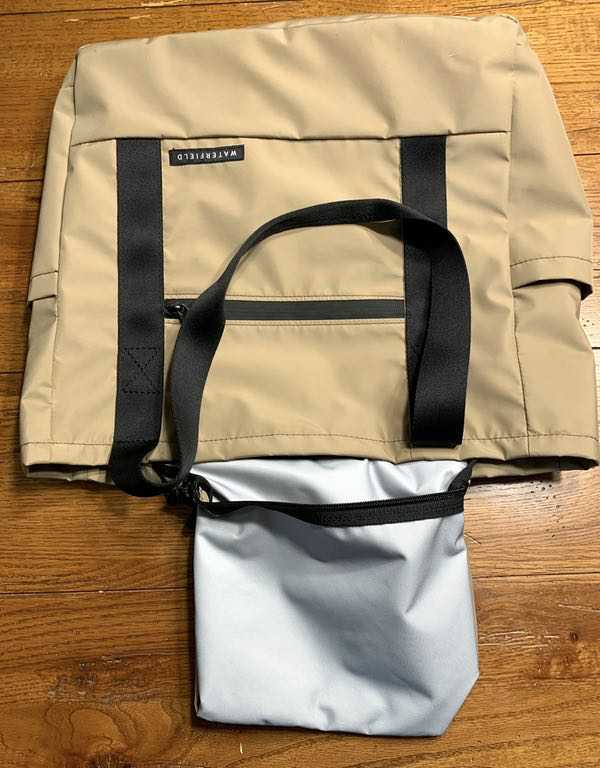 Next, you'll fold in the sides to roughly the width of the pocket.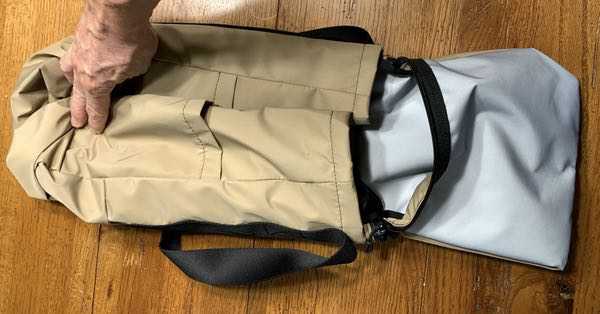 Now fold that mass in towards the pocket like so…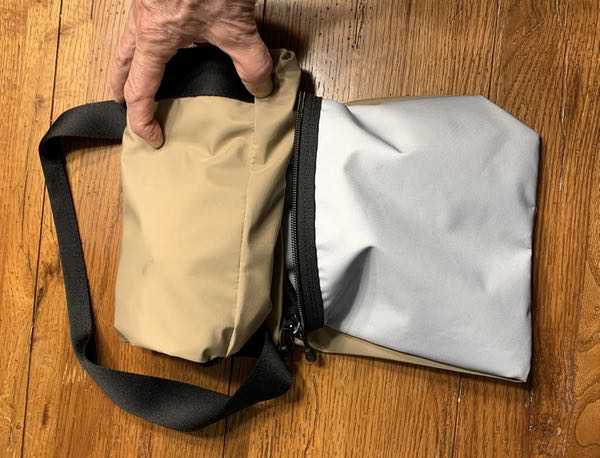 Then stuff it in there. The build is generous enough that you don't need to be precise to mash the material into the pocket.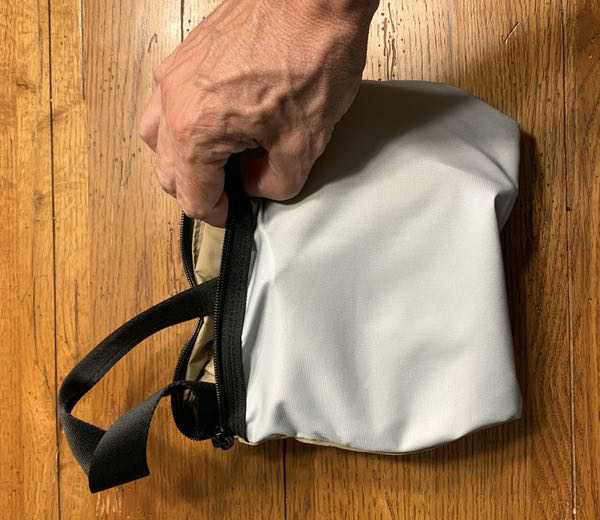 The zip is also reversible, so the final product seals up nice and tight in a 9.5″ by 8.5″ package. Stow it in your backpack or carry on and it's ready when you get to your destination leaving wrinkles behind.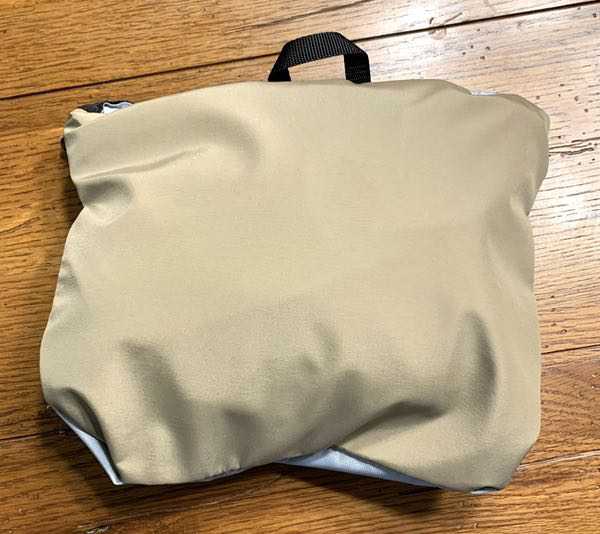 Performance
I said it before: I was not a tote guy. Now I find myself taking this thing everywhere. Here I loaded it up with produce from my garden to share at the office.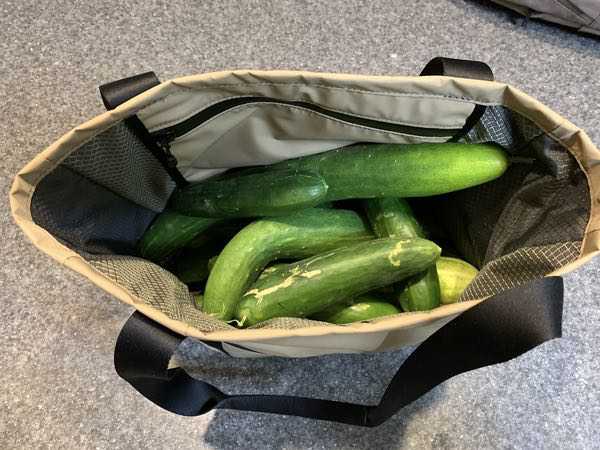 Another time I packed for a quick overnight trip. You're looking at my iPad Pro 12.9″, toiletries, my coffee gear, flip flops, and a towel in this kit-out.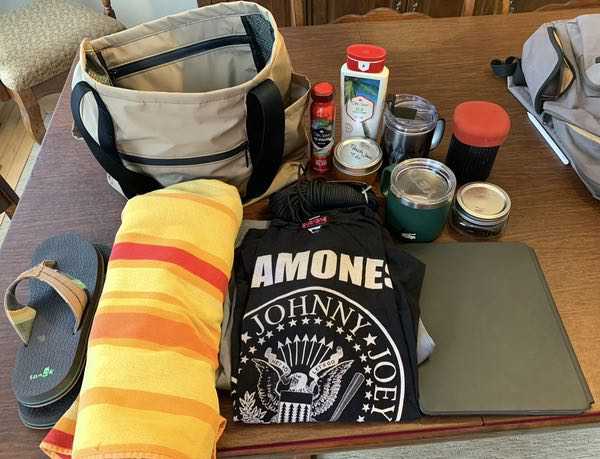 Here's what we're looking like packed up.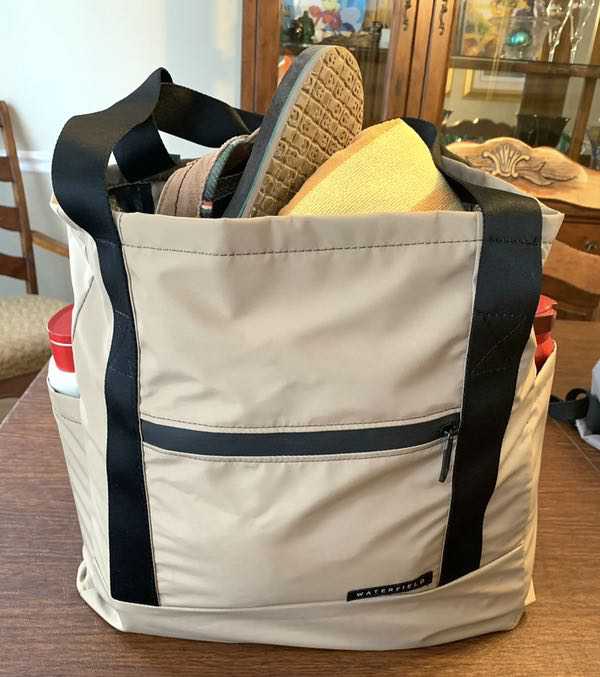 And here's a top view. I could sneak in a few extra items if I needed them.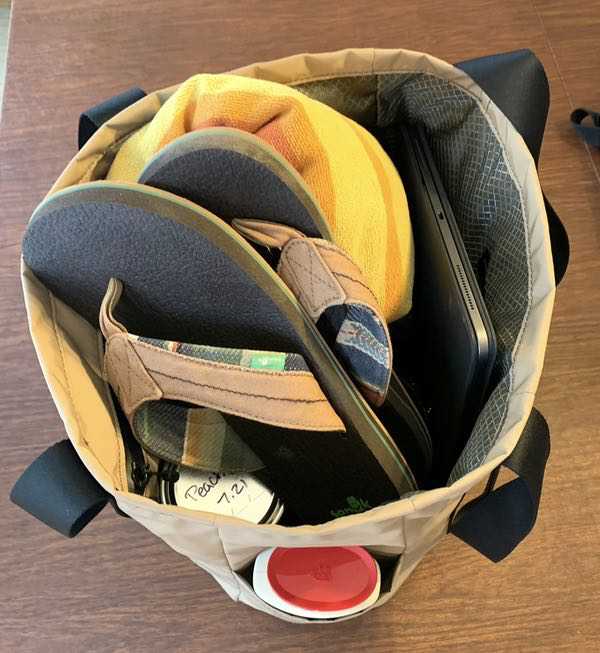 We just got back from a trip to the Outer Banks in North Carolina, where the tote served as my Bread Transportation Unit for the drive from Philadelphia. I have 5 dozen rolls of various types in the bag plus two sleeves of bagels.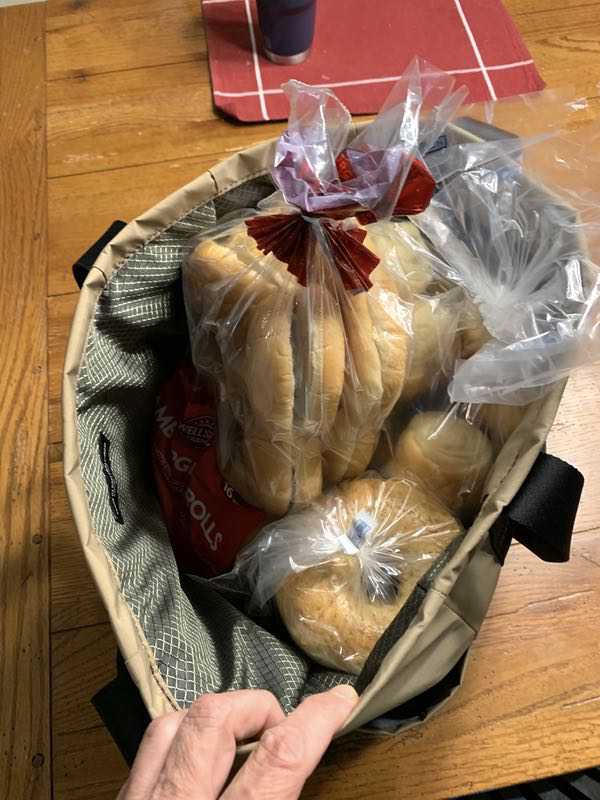 When we got there the tote transformed into a beach bag and shopping bag for short trips.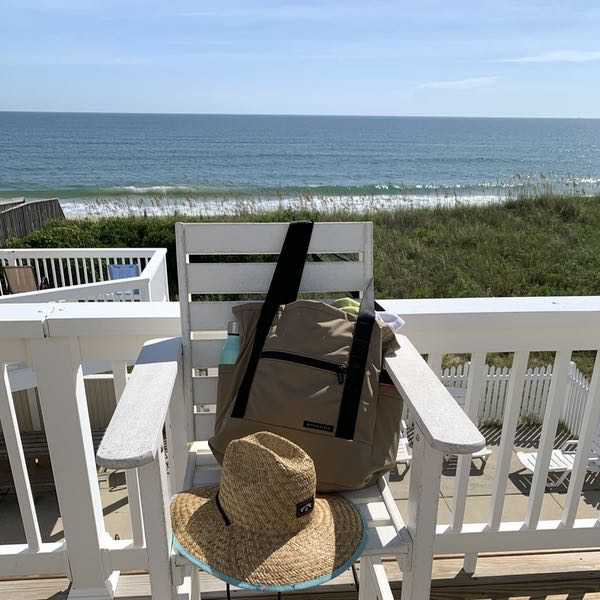 Here it is chilling in the North Carolina sun.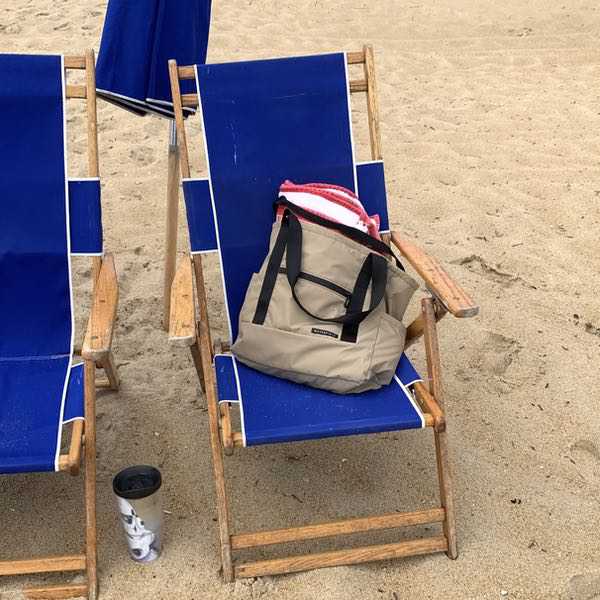 What I like
Outstanding build quality & materials
Durable & water resistant
Excellent usability
Looks great in all situations
Structured form and generous pockets make it extremely versatile
What needs to be improved
Nothing that I could find
Final thoughts
I'm sold on the Waterfield Designs Packable Tote Bag. It may be a little more expensive than other options out there but the quality, durability and versatility make it well worth the price. It's going to last forever. It looks great wherever you take it. And the usability/functionality makes it a bag that will adapt to just about any situation.
Price: $89.00
Where to buy: Go to the Waterfield Packable Tote Bag product page.
Source: The sample of this product was provided by Waterfield.