We use affiliate links. If you buy something through the links on this page, we may earn a commission at no cost to you. Learn more.
These days, everyone is looking for different ways that they can save money and help the environment. That's why I love the new Conserve power strip from Belkin. It will help you save energy and money. Let's take a closer look…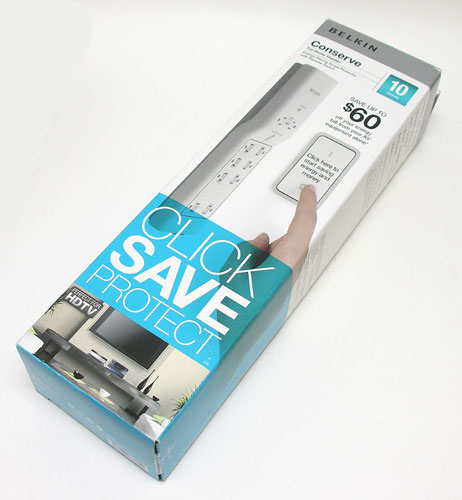 Hardware Specifications
10 outlets – 8 switchable / 2 always-on
Continuous duty electrical rating: 125V/15A/60Hz/1875W
Coax protection
1000 Joules of surge protection
Clamping voltage: UL1449 330V
Faulty Ground Indicator
Maximum Spike Current: 72,0000A H-N 24,000A, H-G 24,000A, N-G 24,000A
EMI/RFI Noise Filtration: 150kHz – 100MHz up to 58dB
SIZE (REMOTE ONLY) 4″ X 1.25″ X 12.875
Remote switch battery type: A23 (12V) Alkaline or eq.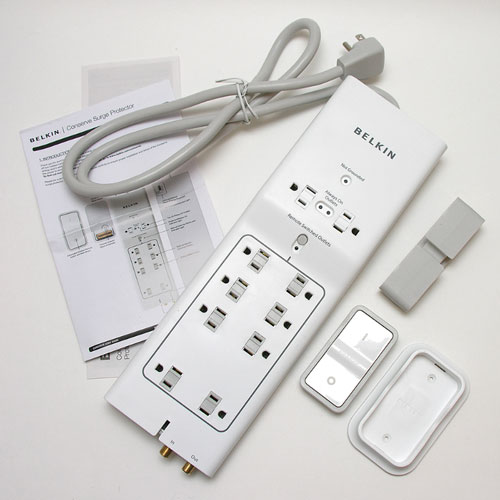 Package Contents
10 outlet strip
Instructions
Wireless remote
Wall plate

Available in 10 and 8 outlet versions, the Conserve power strip gives you a way to keep two devices always powered on, while the others can be turned completely off with a flip of a wireless switch.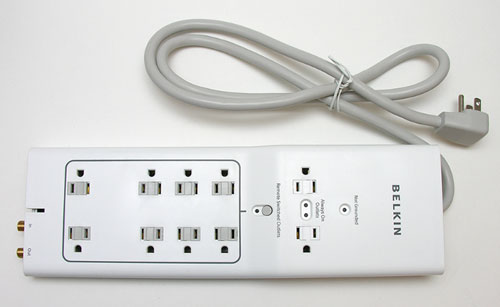 The power strip is made of rugged White plastic, and has 10 outlets separated into three groups. Towards the top of the strip near the Belkin logo, there are two outlets that remain powered even when the other outlets are switched off. A small LED above these two outlets let you know if the strip isn't properly grounded. Two LEDs between the two outlets glow in Green to show that they are powered on.
A small button below the always-on outlets allows you to manually toggle power to the remaining eight switchable outlets.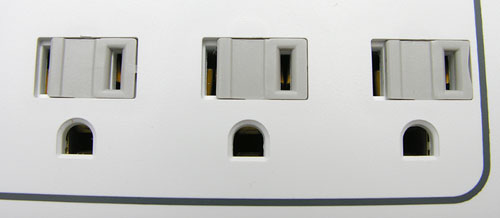 The outlets are the grounded three prong variety.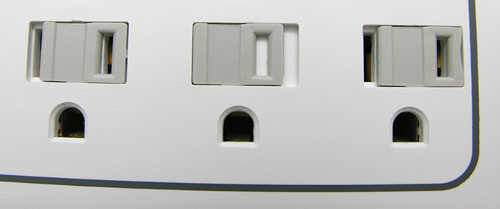 A slide cover allows you to close off individual outlets if desired.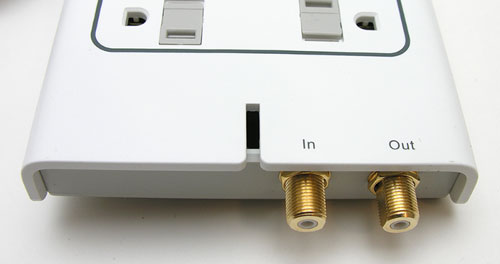 If you use the Conserve power strip with your home theater setup, you can protect your satellite or cable equipment from surges by using the coax connectors. You have to supply your own cables though…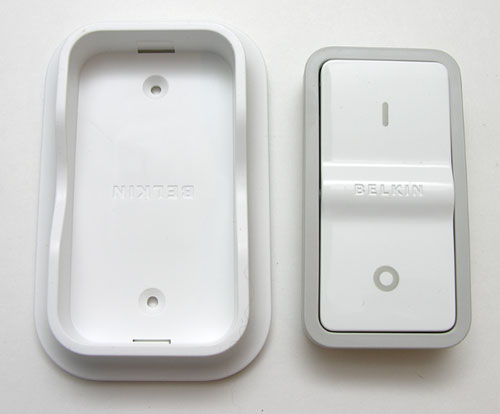 By itself, the Belkin Conserve is just a nice 10 outlet surge protected power strip. What makes it really cool is the wireless remote control that you can use to completely kill the power to eight of the outlets. If you're thinking "So what Julie, I already turn off all my electronics when they aren't being used. What's the big deal?" Well, the thing is that even when you turn off some appliances and electronics, they still use power. This is especially true for those AC adapter power bricks. Even if you just use them to charge a device, when you unplug that device, the AC adapter is still using some power. The Belkin Conserve will completely power off the outlets so that anything plugged into them will not use any power at all.
I set mine up with my home theater devices. In the always-on outlets, I plugged in my DirecTV DVR and my XtremeMac XtremeHD 4 To 1 HDMI Switcher box. In the eight switchable outlets, I plugged in my TV, DVD and audio equipment.
Setup was a snap. I just unplugged everything from my old power strip and then plugged them into the Conserve. The first time I used the wireless remote switch to turn things back on, it didn't do anything. If I pressed the little manual switch on the power strip, it toggled power fine – so I was confused for awhile till I noticed a channel select switch on the back of the power strip.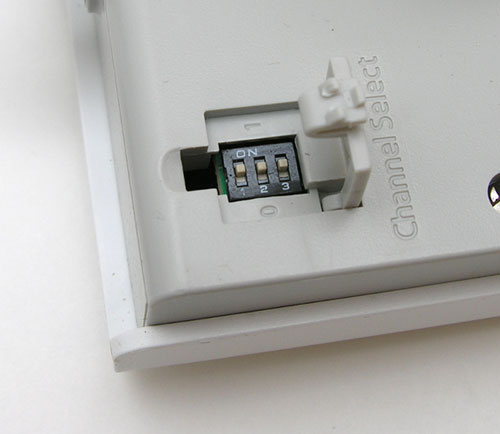 This switch is there to allow you to pair the wireless remote to the strip. According to the instructions, you shouldn't need to change the settings unless you are using more than one Conserve power strip. But for some reason, mine would not work in the default setting, so I had to change one of the dip switches and then match that configuration on a second set of switches on the remote. Once I did that, the remote worked perfect. Yay!
I placed the switch right beside the light switch for my basement, so now when I am finished watching TV for the night, I can flip both switches and know that I'm saving both money and energy. I really like this product and am thinking about buying a second one to use in my office for things like my printer, speakers, and other devices that don't need to be sipping power 24hrs a day when they aren't really being used. Thanks Belkin!
Product Information
Price:
59.99
Manufacturer:
Belkin
Pros:

Has 2 always-on outlets and 8 switchable outlets
Wireless power switch
Surge protector

Cons: