We use affiliate links. If you buy something through the links on this page, we may earn a commission at no cost to you. Learn more.
If you're interested in saving money and energy, Black & Decker's new Power Monitor device is a viable solution. It is an easy to use device that allows you to wireless monitor your whole house energy usage.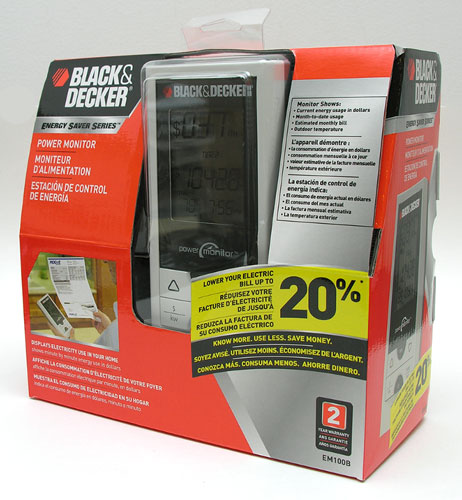 This device takes the Kill-A-Watt electric usage monitor product idea a step farther, to give you information about your total power usage. The Kill-A-Watt is perfect for checking the power consumption of individual appliances that plug into a wall socket. But, it can't give you information about your dishwasher, furnace or air conditioner. The Black & Decker Power Monitor can show you real time usage and charges.
Hardware Specifications
Frequency: 433.92MHz
Update Rate: Approximately every 30 seconds
Range: Up to 60ft through a single external wall
Temperature range for outdoor sensor: -40F to 140F
Minimum power measurement: 300W
Power resolution: 100W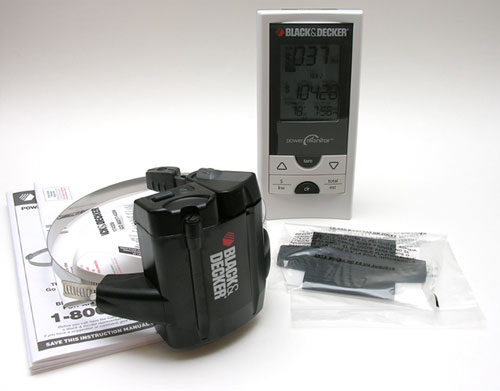 Package Contents
Digital display
Wireless sensor
Rubber shim
Instructions
I'll admit, when I was first approached to review this device, I thought it was exactly like the Kill-A-Watt product, but from Black & Decker. I agreed to do a review because my review of the Kill-A-Watt EZ continues to be one of the most read reviews on The Gadgeteer. I figured a similar product might be popular too. Then when the product showed up on my door step and I realized it wasn't quite the same thing at all, which made me even more excited…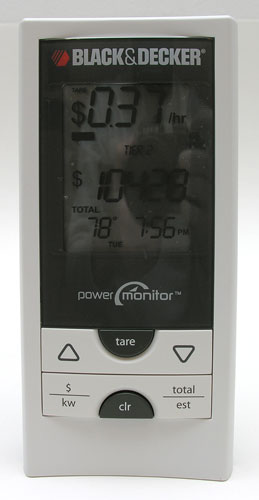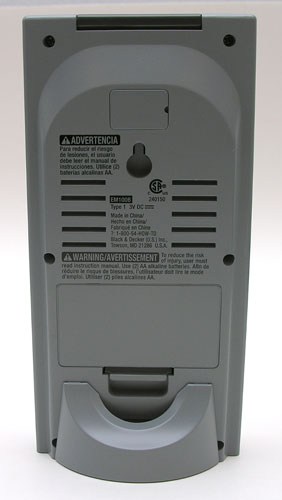 The Power Monitor has two main components. A digital display and a wireless sensor. The always on digital display runs on 2 AA batteries (not included) and continuously displays your $ per hour usage, total usage, temperature and time of day. The display can sit on a table or be hung on the wall.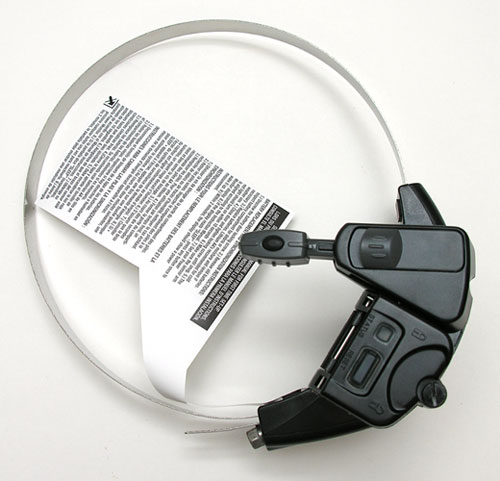 The second component of the power monitor is the wireless sensor. It also runs on 2 AA batteries which are not included. It is made of plastic, with an adjustable metal loop. What do you do with the sensor? You attach it to your outdoor power meter.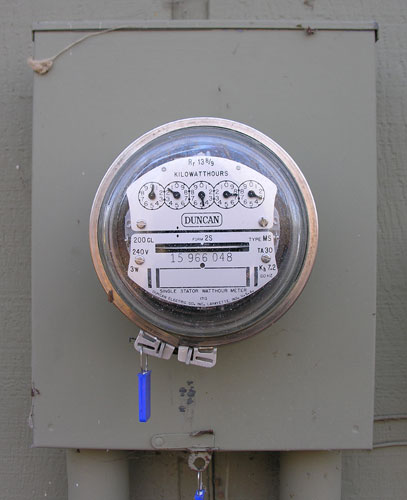 At first, I was a little worried that I would have to do some wiring to connect the wireless sensor to my meter. Not to worry though, no wiring is necessary.
In the image above, you see my power meter (wow, I should have wiped off the cobwebs huh?). It's an electromechanical style of meter. The Power Monitor will also work with electronic meters with an optical port on the face or top.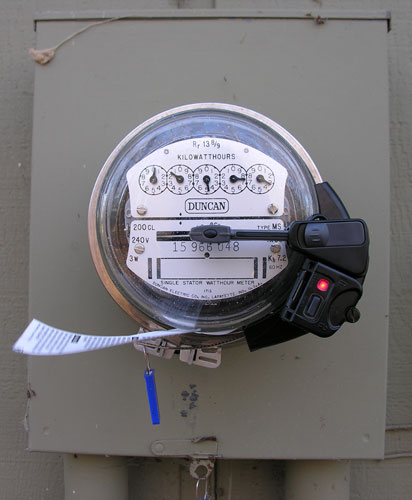 Installation is super easy and quick. All you have to do is to load 2 AA batteries into the sensor and then slip the metal ring around the meter. Line up the arm on the sensor with the revolving disk and tighten the the screw, which snugs the metal loop around the meter dome.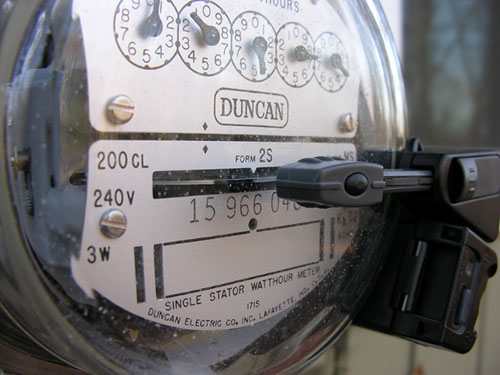 Then, you just press the reset switch on the front of the sensor so that it will start reading the spinning disc.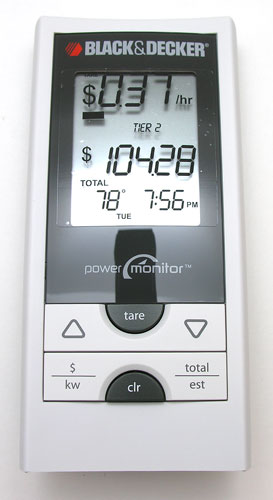 The second part of the setup involves plugging the right data into the Power Monitor's digital display. You'll need to know if your electric company charges you on a flat rate, tiered rate or a time-of-use rate system. In my area, we have Duke Energy. Staring at my online bill didn't help me figure out what my kWh rate was. I was confused by the fact that every month, the rate appeared to change slightly. I ended up calling customer service, which turned out to be a good move, because I learned some important facts – at least about Duke Energy.
A flat rate system charges you a set fee per kWh used. In my area, we have a tiered rate system which works like this:
Tier 1 – The first 300 kWhs used are charged at 0.092945
Tier 2 – The next 700 kWhs used are charged at 0.054178
Tier 3 – Remaining kWhs used are charged at 0.044464
Depending on where you live, you might have a time-of-use rate system (TOU). That system will charge a different fee per kWh based on the time of day.
One thing I learned by calling Duke Energy is that there are other fees that make up your bill besides just your power usage. For Duke, there are 9 different riders with fees like: pollution control, emission control, fuel adjustment, clean coal adjustment, etc. These riders fluctuate month to month. We also have a $9.40/mo. fee that we have to pay just for the privilege of having electricity. All these little fees remind me of my land line and cell phone bills… But the information to be gleaned here, is that the Black & Decker Power Monitor will not be able to give you your exact billing amount each month to the penny. It can only tell you your power usage charges.
Once you have set up the display with the rate information for your area, you'll immediately begin seeing various information such as the temperature (from the wireless sensor outside) and the time of day. It will also show you your cost per hour and total accumulated cost. If you click the Total / est button, it will toggle between the accumulated cost and estimated monthly cost. If you click the $ / kW button, it will toggle between displaying cost per hour and kWhs used per hour.
Another great feature of the Power Monitor is that it can also show you how much your major appliances are contributing to your bill. To see that info, you use the Tare button. First make sure all your other main appliances like your refrigerator compressor, sub pump and air conditioner aren't running. Press the Tare button and then turn on the appliance that you want to measure. In a few seconds, cost and kWh information about that device will begin displaying.
I like this product, but I do see a couple of problem with it. The Power Monitor doesn't take into consideration the start and end dates for your monthly bill. The power monitor isn't going to be able to give you very accurate information if you don't reset the accumulated data on the right day of the month. If you're using a tiered or time of use system, it might give you inaccurate results when you are gathering data based on Tier 1 costs, when you're really already in Tier 2 or 3. For that fact, this product is best used as a measurement device that can help you learn your own power usage trends. The Black & Decker Power Monitor is a great tool to use to keep an eye on your power usage habits. By seeing how much energy an appliance is using or your total usage, it can help you change your habits to save both money and energy.
Product Information
Price:
99.99
Manufacturer:
Black & Decker
Pros:

Shows you how much power your main appliances are using
Easy to use
Also shows outside temperature

Cons:

No way to know where you are in a tiered rate system when you start collecting data
Can tell it which days of the month are in your billing cycle