We use affiliate links. If you buy something through the links on this page, we may earn a commission at no cost to you. Learn more.
I live in a rural area that seems to have power issues on a semi-regular basis. Either during storms or even on a perfectly nice day,
there will be at least a couple times a month when the power will go out. Most of the time it is a fast down / up sort of thing, but
then there are times when it will stay down for a couple of hours at a time. It's typically not a big deal during daylight hours, but
nine times out of ten, it will happen at night. During those times, it's always a crap shoot if I can find a flashlight that is charged
and ready to go. Now I don't have to worry about the status of my flashlight battery, because I have the LifeLight Mega-Function Lantern
from LifeGear.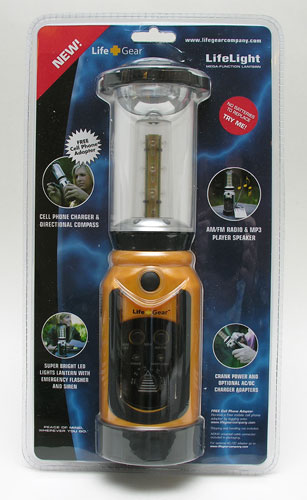 The LifeLight is an 11 inch x 3 inch diameter lantern that has all kinds of useful goodies built in for use at home or the outdoors.
Besides functioning as a lantern, an emergency light and siren, there is a built-in AM/FM radio and the ability to charge your
cell phone.
Features
15 Super Bright 20,000 MCD LEDs
High Quality AM/FM Radio with External Speaker

Emergency Signaling Flashers
Emergency 130 Decibel Siren
Directional Compass
External Speaker Connectable to iPod or other MP3 Devices
Night Light
Crank Power Generator
3.6V 300MA rechargeable lithium power storage battery with a life of 500 complete charging cycles
Ultrasonic, high frequency mosquito repelling audio transmitter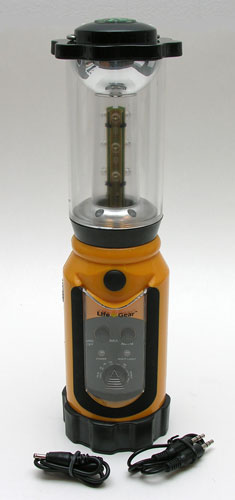 It comes with a 3.5mm patch cable and a Nokia charging cable. More about both of these cables in a bit.


The light's casing is made of Yellow and Black ABS plastic.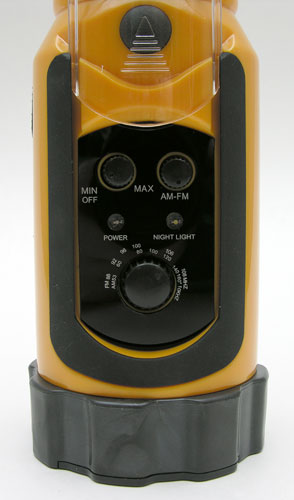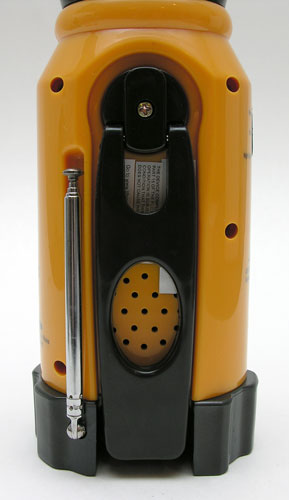 The front of the LifeLight has a slide up transparent plastic cover, that protects the radio On/Off switch, AM/FM selector and frequency
tuning knob. Above the panel of buttons is a momentary push switch that toggles between three light modes. Press it once and only 3 of
the 9 LEDs light up. Press it again and all 9 light up. Press it one more time and the White LEDs will blink along with Red LEDs below
them.
On the back side of the lantern, you'll find the telescoping radio antenna and the hand crank. In case you haven't guessed yet, this lantern
and all it's functions is powered by turning the built-in crank. One minute of cranking will charge the battery to about 70% and will yield
enough power to do one of the following:
About 45 minutes of light from 3 LEDs
25 minutes of light from 9 LEDs
10 minutes of radio power
20 minutes of siren power
90 minutes of emergency flashing by all 15 LEDs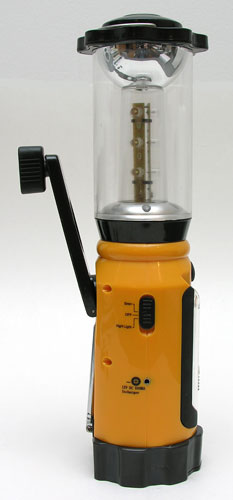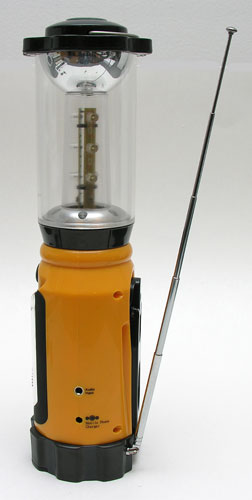 Turning the crank is not difficult, but it does take some effort to crank it for a whole minute.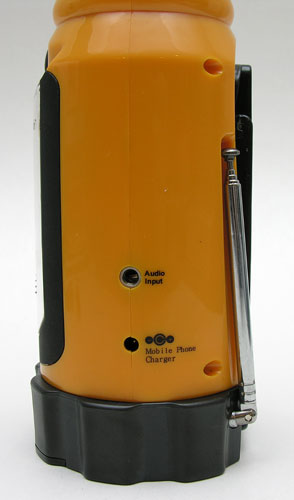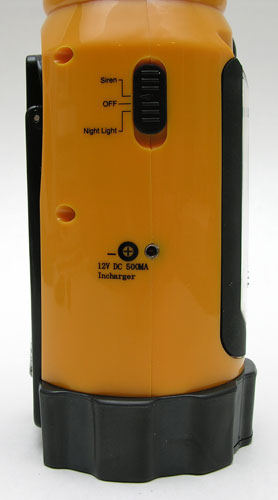 If you look on either side of the LifeLight, you'll notice some connection points. There is one that enables you to use the built in speaker for
other audio devices like an iPod, by using the included 3.5mm stereo cable. Another to plug in an optional 12V charger and then one to plug in
the included Nokia charging cable that is compatible with the following models:
7250i / 6800 / 6610 / 6200 / 6100 / 5100 / 3650 / 3595 / 3586i / 3560 / 3520 / 3361 / 3300 / 2285 / 2270 / 2260 / 252 / 282 / 1260
2865i/ 3155i/ 5300/ 6085/ 6086/ 6101/ 6102/ 6102i/ 6103/ 6111/ 6125 / 6126 / 6133 / 6136 / 6155i / 6165i / 6265i / 6270 / 6275i / 6282 / 6300 / 6555 / 7360 / 7370 / E50 / E51 / E61 / E62 / E65 / E90 / N70 / N73 / N75 / N76 / N80 / N90 / N91 / N93 / N95
Don't own a Nokia phone? You can order adapters for other brands like LG, Palm, AudioVox, Palm, Motorola, Samsung, etc.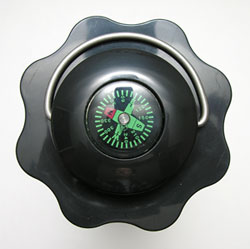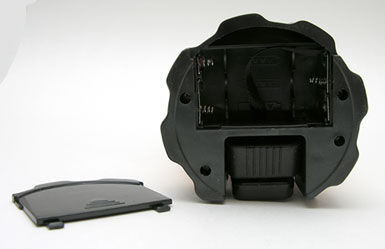 Continuing the feature tour, on the top of the LifeLight lantern, you'll find a compass and a handle. Then on the bottom, there is a battery
compartment that you can install two AA batteries. Seems a bit odd to install batteries when all you need to do is turn the crank for a minute to
get light and radio.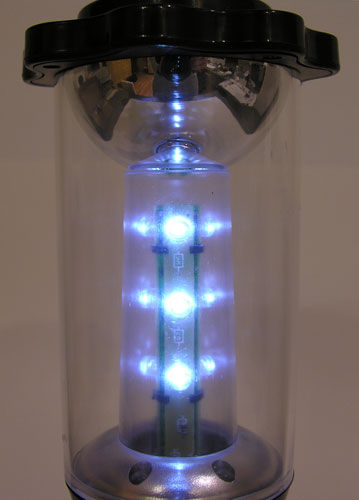 This little lantern puts out adequate light for navigating dark hallways or even the woods at night. As the power
depletes, the LEDs dim. Crank for
a few seconds and you're off and going again. Very convenient and easy.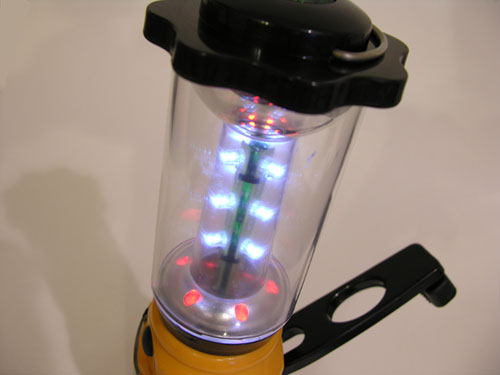 The emergency flasher feature won't be useful indoors, but if you're lost in the woods, it might help along with the siren which sounds
vaguely like something from an alien or UFO movie. Just like the LEDs, as power starts to drain, the sound does too.
I can't really think of much to improve with this product. But, if I were to pick something, I would like that it would be waterproof. I think that would make it even more useful for the outdoors. That said, I like this little lantern because it's super easy to use, has multiple built in features, doesn't take up a lot of space and will never suffer from a dead battery. LifeGear sells
this device through their site for $70, but you can find it for less than $25 by looking on other sites like Amazon.com.
Product Information
Price:
69.95
Manufacturer:
LifeGear
Pros:

Crank generated power means no more dead batteries
Built in radio
Different light modes
Emergency siren feature
Cell phone charging feature

Cons: