We use affiliate links. If you buy something through the links on this page, we may earn a commission at no cost to you. Learn more.
It took me almost all day to do it, but my MSI Wind netbook now has OSX installed on it…
The reason why it took so long was that I ran into a few hiccups along the way. The first thing I did was to install a 1GB RAM upgrade. Then I transplanted a Dell Wifi card that I purchased on eBay. OSX doesn't recognize the WiFi card that MSI uses… Then I burned the OSX ISO onto a DVD. Problem was that I only had one blank DVD and after the burn, it wasn't able to do a verify. Oops… I didn't feel like driving into town to buy some more discs, so I scrounged around in my drawers and found another solution. A spare 70GB 3.5″ SATA hard drive and Brando's SATA 2.5″ and 3.5″ SATA HDD Dock came to my rescue. The MSI Wind Forums helped me again with instructions on how to set up my HD so that it would be bootable.
The actual install using Paul O'Brien's walk-through went great until I got to part in the OSX setup where it asks you if you want to transfer your files and settings from another Mac. It kept looping at this part. But of course a little reading in the MSI Wind Forums turned up the answer to that problem as well.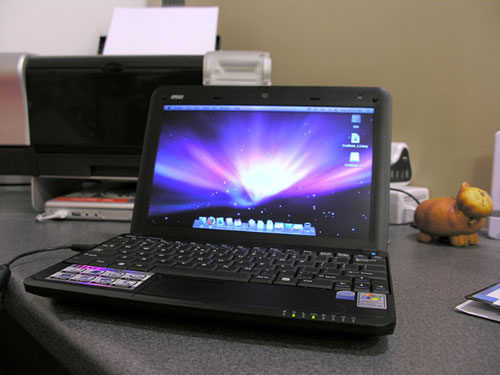 The install is complete now and all the important functions appear to be working properly, including sound, WiFi and sleep. There are a few things that I still need to look into and / or fix:
1. The built in webcam isn't working.
2. The fan seems to be running considerably more than it did under XP.
3. I don't know if it's my imagination, but the display seems fuzzier under OSX than it did under XP. The resolution is the same 1024 x 600.
I still need to do some battery life tests to see how the 3 cell battery performs under this new OS. Other than that, I think I'm good to go :o)