We use affiliate links. If you buy something through the links on this page, we may earn a commission at no cost to you. Learn more.
Mobile gadget enthusiasts can't visit their favorite gadget news sites without being bombarded with news about the latest netbooks. Whether you want to refer to this category of extremely portable and affordable laptops as subnotebooks, ultraportables, UMPCs, MIDs or netbooks, is entirely up to you. What I call them is a whole lot of fun and convenience in a small package. The first netbook to capture our interest was the ASUS Eee PC, then it was the HP Mini-Note. Now it's the MSI Wind. Let's see if it's worthy enough for a spot in your gear bag…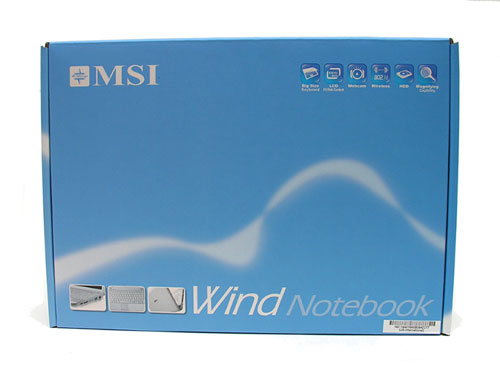 Hardware Specs
CPU: Intel Atom N270 1.6GHz, Front-side Bus 533Mhz, Cache 512K
Chipset: 945GSE+ ICH7-M
Operating System: Genuine Windows XP Home Edition
Display: 10″ WSVGA LCD, LED backlight, 1024 x 600 resolution
Graphics: Intel GMA950
System Memory: 1GB DDR2 667MHz
Hard Drive: 120GB SATA I
Communications: 10/100 Ethernet, 802.11b/g WiFi, Bluetooth
Touchpad: Sentelic
USB2.0 Port X 3
1.3M Webcam and microphone
4-in-1 Card Reader, SD/MMC/MS/MSpro
Output: 19V DC, 65W / Input: 100~ 240V AC, 50/60Hz Universal
Dimensions: 10.23″(L) X7.08″(D) X 0.748″~1.24″(H)
Weight: 2.3 lbs (3 cell)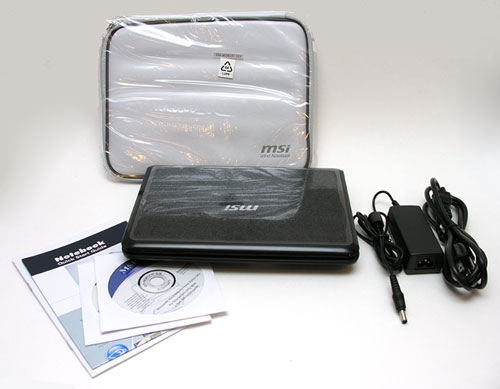 Package Contents
MSI Wind Netbook
AC adapter
Power cord
Zippered slip case
Windows XP Home SP3 recovery CD
Driver, Utility, Manual CD
Quick start guide
Style and design
The MSI Wind netbook is currently available in four colors and two hardware configurations. The colors are Black, Pink, White and the Love Edition, which is White with heart line graphics. The hardware config choices are just between an 80GB or a 120GB hard drive. The 120GB version of this netbook is only available right now in the Black and Love Edition colors. At the time I placed my order last week, I didn't even know there was an 120GB version. I was having a heck of a time trying to find any online stores that had any models in stock. I lucked out though and found the MWave store and they had some 120GB Black models in stock, so I snapped one up. I originally wanted a 6 cell battery model, but since I couldn't find any in stock, I decided to go for the higher capacity hard drive model instead. I figure I can always get a 6 cell battery later.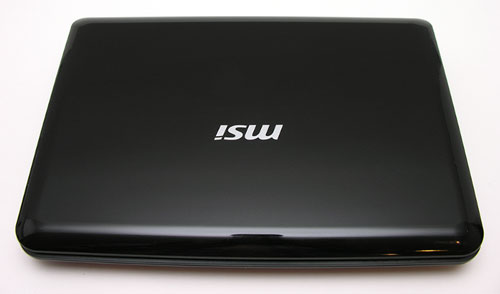 Since I've already had the opportunity to try out two other popular netbooks, I was hoping that the MSI would fall somewhere in between the slightly toyish looking ASUS Eee PC and the really cool looking HP Mini-Note. Thankfully, it does. I like the design because it isn't flashy. It has rounded sides and corners, with no sharp edges. The lid is shiny slick Black that has a tiny bit of sparkle to it. If you look really close, you can see multi-colored specs in the surface. The MSI logo is silk-screened in White in the center… perfect for slapping a sticker over it at some point ;o)
According to the product page on MSI's site, the lid has "Special Insert Mold Roller Technology (IMR). The special IMR technology protects the notebook from fading and also reducing the fingerprints which makes the Wind always look glare and outstanding." Ummm… do what? Trust me, the lid still shows fingerprints, smudges and smears.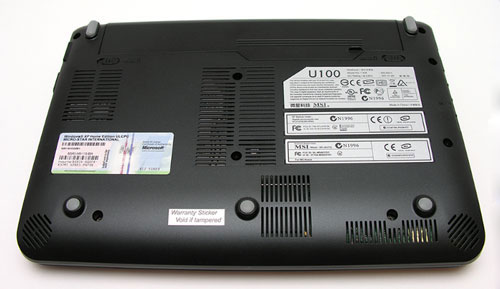 The bottom half of the Wind is not shiny; it has various heat ventilation slits and five Grey rubber feet. There is also a speaker in the front corners.

On the left side, you'll find a security lock slot, power connector, heat vents and two USB ports.

The opposite side has another USB port, a 4-in-1 card reader that supports SD, MMC, Memory Stick and MSPro formats, a Video out port and an Ethernet jack.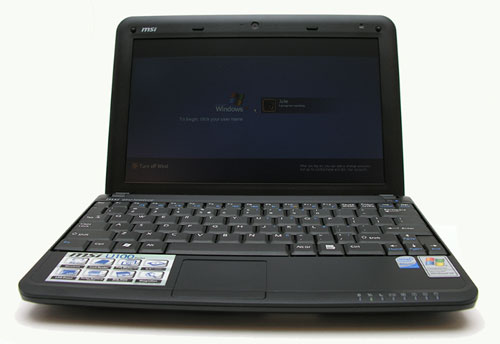 The lid / screen is held closed with friction. There isn't a clasp or any other mechanism to keep it closed. The hinge feels sturdy enough that when you open the lid, it will lift the whole computer along with it. So opening it, is a two-handed operation.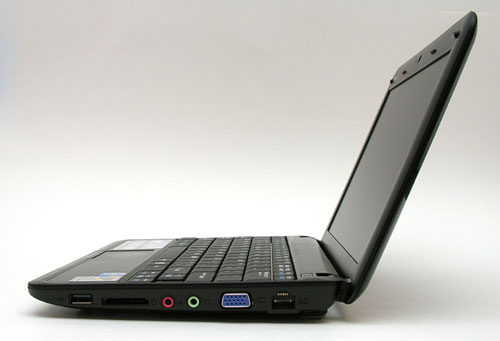 This little guy should fit easily on an airplane tray table…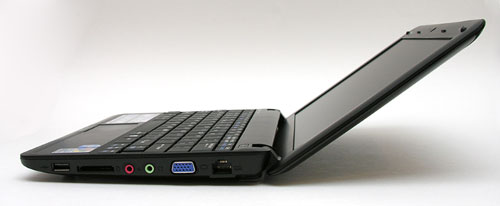 Here you see the screen open to the maximum angle.
Sizing it up
I purchased the MSI Wind netbook to serve as my travel companion for an upcoming vacation to Florida. I usually take my 15″ MacBook Pro with me whenever a travel, but I get tired of lugging it around the airport with me. I love it dearly, but it's big and bulky. I decided against a MacBook Air a long time ago because I think they are overpriced and under powered.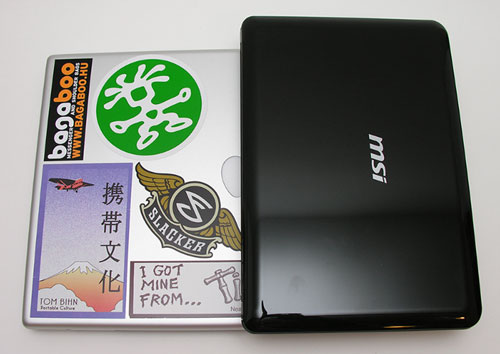 The Wind is significantly smaller than the MacBook Pro as you can see here…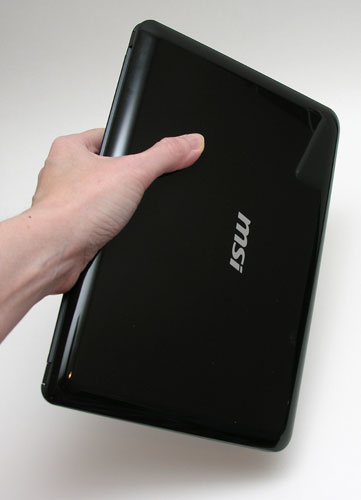 It is small and light enough to fit in almost any gear bag.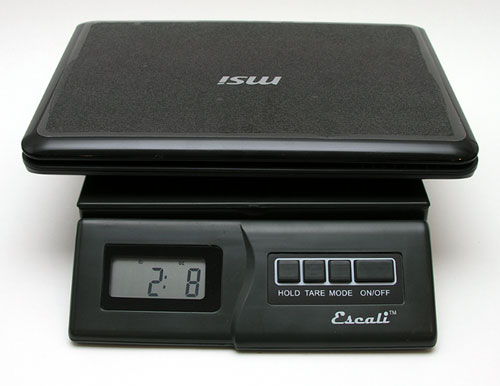 All by itself, it weights in at 2 lbs 8 oz on my scale. Great right?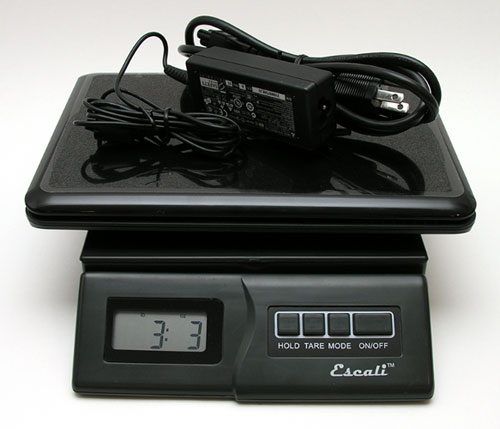 Well, when you add the necessary AC adapter, the weight jumps up considerably. Actually, the AC adapter brick isn't all that cumbersome by itself, but when you pair it with the bulky power cord that plugs into it, that's when we see the issue. Why is it that the littlest gadgets seem to have the most massive power adapters / cords? Grrrrr. I knew I wouldn't be happy till I could find something to help me lessen the weight and bulk problem…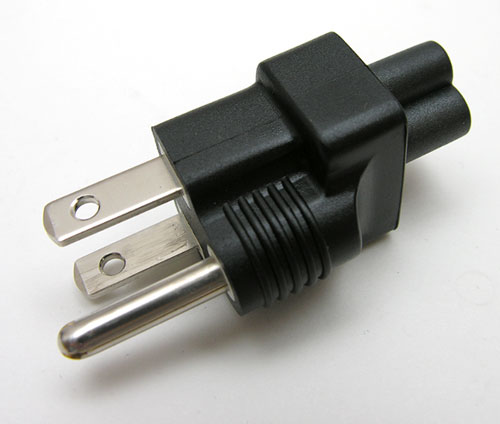 It didn't take me too long to find a cool little solution thanks to the fantastic MSI Wind forums at MsiWind.net. This little $3 adapter can be found at StayOnline.com and totally replaces the included power cord.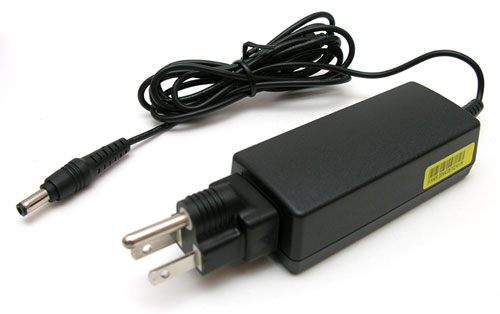 It plugs directly into the AC adapter. Nifty huh? It reduces the overall weight of the netbook and AC adapter from 3 lbs 3 oz to 2 lbs 15 oz. I know that's only a 4 oz savings, but every little bit helps and it definitely saves some space in your gear bag too.
Using the keyboard and touch pad
Following an initial charge of the battery, I was ready to start putting this little netbook through all the same types of things I use my Macbook Pro for when I travel. I may be The Gadgeteer, but I'm really not an over the top power user when it comes to what I want out of a netbook. Basically, I want to be able to touch type on it, surf all my favorite websites on it, read and respond to emails with it, offload digital camera images to its hard drive and maybe do a bit of photo editing if the mood strikes me. Let's start with the keyboard…

The size of the Wind's keyboard is not an issue for me as far as hindering my ability to touch type on it. My hands fit comfortably on the 'home' row, without having to adjust the spacing of my fingers. The keys themselves are flat, but have good travel and tactile feedback.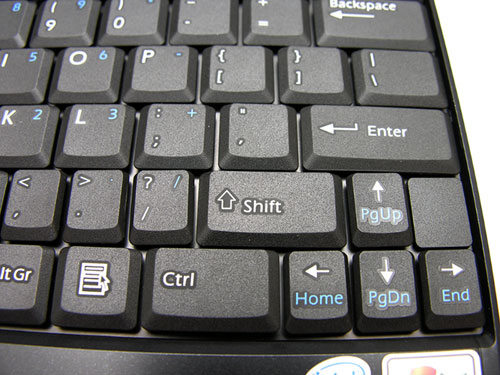 The keyboard would be perfectly fine for me, but due to the layout, I do have consistent problems correctly typing the following characters: . ? /
The location of the . key under the L key is almost directly under it as you can see above. On regular full-size keyboards, the location of the . key is usually where the ? key is. So, when I want to end a sentence with a period, I almost always get a slash. When I want to type a question mark, I end up pressing the Right shift key instead. Same goes for typing a /. I also almost always accidently press the Right up arrow when I mean to press the Right Shift key. So, it ends up that I have to slow my typing down in order to keep from making mistakes. I've only had the Wind for a week now, so maybe with more time with it, I'll automatically start adjusting to the layout. Maybe. I have to say that I really long for the HP Mini-Note keyboard. It was perfect for me.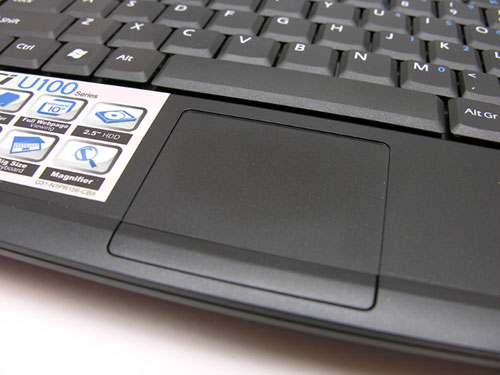 The built in touch pad on the Wind is small (2 x 1.5 inches) and only has one button that can be pressed on either end, instead of two separate buttons that map to the Left and Right mouse buttons. Unfortunately, MSI stopped using Synaptics touch pads and started using Sentelic finger sensing pads for their Wind netbooks. The touch pad is quite sensitive, so I have had no problems using it like a mouse. Even the one button doesn't bother me. I do miss not having the ability to do two finger scrolling like I can on my Macbook Pro though. The Sentelic driver does have a corner tapping scroll feature, but it doesn't work very well at all. I ended up just disabling it. I'll probably end up using a small Bluetooth mouse…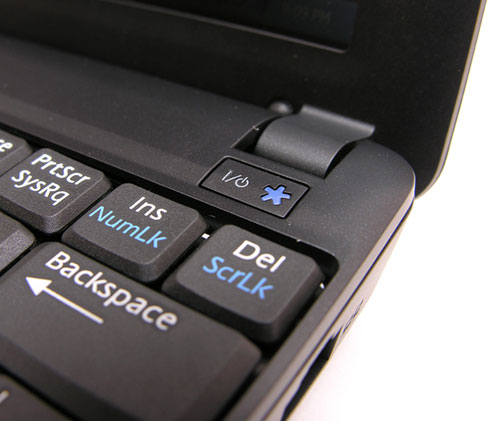 The power button is located in the upper Right corner of the keyboard. It has a Blue star LED built into. It's small, but easy to press.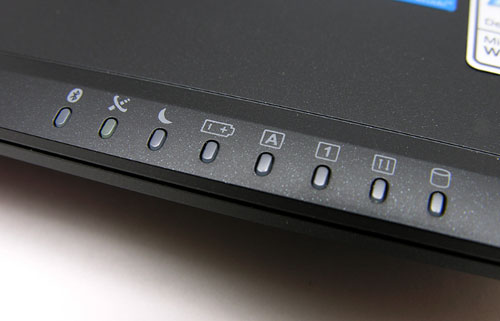 A row of status LEDs is located along the bottom Right edge of the keyboard. These LEDs show the battery charging status, Bluetooth and Wifi status, and hard drive activity.
The display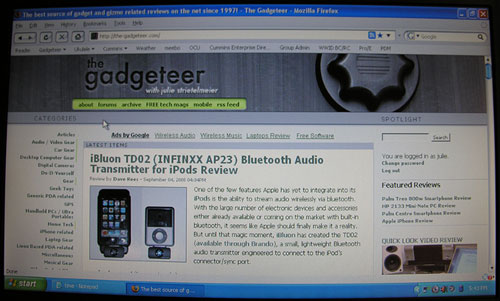 A 10 inch display was an important selling point for me as I didn't like the Eee PC's tiny 7″ screen at all. The HP's display was the bigger at 8.9 inch and with a resolution of 1280 x 786, it was significantly better. The Wind's display maximum resolution is 1024 x 600 and features an LED backlight that gives it really good color and brightness. Even with the brightness set back to 50%, the display is easy to read.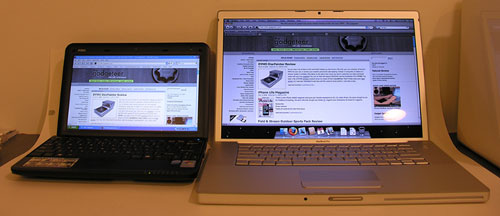 Here we have the Wind next to my Macbook Pro. Both machines are set to maximum brightness and are pointed at https://the-gadgeteer.com. Although I wish the maximum resolution was higher, I have had no problems using the Wind to surf all my favorite sites. Up and down scrolling isn't that bad, and horizontal scrolling isn't necessary thank goodness.
I haven't tested the display outside in direct sunlight – I never use my laptops outside anyway… Today is gloomy, so I can't do a valid test. Hopefully someone else will chime in and comment about that aspect of the display. So far, I can't find any real faults with the screen. The colors are vibrant, text is crisp and the size is just fine.
Sound
I wouldn't rely on the MSI Wind as a boom box. Sound quality through its small bottom speakers is only slightly better than mediocre. For videos on Youtube it's fine though. Audio quality through the headphone jack is much better.
Battery performance
MSI claims that the 3 cell battery can last up to 3hrs per charge. In all my testing, I didn't even make it to 2hrs. In all three full charge to automatic shutdown tests that I did, the battery lasted for about 1hr and 45 minutes give or take a minute or two. Not exactly stellar huh? All my tests had the screen set to 50% brightness and consisted of me surfing via WiFi with Firefox to my various fave sites including some Youtube video watching, RSS reading, email reading and responding, and a game or two of Spider Solitaire. Nothing too strenuous. That tells me that if I use the Wind at the airport before my flight, I better use it plugged into AC. The flight from Indiana to Florida is only about 2hrs, so I should be ok there… I am hoping that I'll be able to get my hands on a higher capacity battery soon. The folks at Mugen Power Batteries have one on the works. Probably not in time for my trip though.
Overall system performance
The MSI Wind netbook is a very capable little device. It runs XP Home quite well. Rebooting from power off to ready to work, takes my machine 45 seconds. Not bad really. Launching applications, surfing, etc., all feels snappy to me. I really have no complaints with system speed.
Out of the box, the 120GB 5400RPM hard drive is partitioned into a 39GB partition for C:\ and a 68.8GB partition for D:\. There's also a hidden restore partition. Not sure why that's needed though as the Wind comes with an XP Home restore CD.
The Wind runs cool and relatively quiet. After an hour and 45 minutes, the bottom of the netbook is warm, but no where near hot. As for noise, you can hear the fans running and the hard drive accessing, but it's not distracting.
Conclusion
So far so good. I love the size and weight of the MSI Wind netbook, that's for sure. I also like the display, but wouldn't mind a little bit more resolution. The touch pad is fine too. The keyboard layout is probably my single biggest complaint, even over the 3 cell battery life. I can live with less than 2 hours of battery life because I know I'll soon be able to get my hands on a higher capacity battery. The keyboard layout isn't something I can really fix though. I'm hoping my fingers just need more time to adjust to it. We'll see… Even with that one complaint, I really am enjoying this computer and am looking forward to taking it with me next month on my trip to Florida. That is unless HP comes out with a new Mini-Note that has an Atom processor in it ;o)
My next plan for this little guy is to try my hand at putting OSX on it. Wish me luck!
Product Information
Price:
499.99
Manufacturer:
MSI
Pros:

Size and weight
System performance
Display

Cons:

Keyboard layout (. ? and right shift location)
Battery life with the 3 cell battery
Touch pad doesn't have multi-touch capability
AC adapter and power cord bulkiness