We use affiliate links. If you buy something through the links on this page, we may earn a commission at no cost to you. Learn more.
One of the few features Apple has yet to integrate into its iPods is the ability to stream audio wirelessly via bluetooth. With the large number of electronic
devices and accessories either already available or coming on the market with built-in bluetooth, it seems like Apple should finally make it a reality. But until that magic moment, iBluon has created the TD02 (available through Brando), a small, lightweight Bluetooth audio transmitter engineered to connect to the iPod's connector/sync port.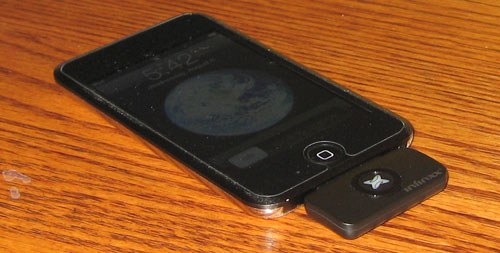 First and foremost, the TD02 bluetooth dongle works incredibly well. I plugged the dongle into my iPod Touch, it immediately went into pairing mode, and paired with my Jabra BT8010 Bluetooth stereo headset without any assistance from me (true plug & play). The sound quality was as good as wired earbuds, definitely no static or other audio issues. The AVRCP function allows Bluetooth headsets/devices to control many of the iPods/iPhones functions (i.e., play/pause, volume, skip, etc), although this is device dependent. My BT8010 controlled my Touch's play/pause and volume but did not have the capability to skip ahead.

According to Brando, the TD02 (Infinxx AP23) is the smallest bluetooth dongle currently available for the iPod.
Features:
Adds bluetooth A2DP function to your iPhone/iPod
The smallest, slimmest, lightest A2DP transmitter available for the iPod/iPhone
Powered by the iPhone/iPod
Supports AVRCP function (remote control of play/stop, forward / backward, volume functions )
With LED flashing patterns indicating the BT connection status
Compatible with all A2DP bluetooth headphones / BT speakers
Specifications:
| | |
| --- | --- |
| Bluetooth Version | 2.0 compliant, Class II |
| Bluetooth profile | A2DP, AVRCP |
| RF Frequency | 2.4GHz / 79 Channel / AFH |
| Range | 33 feet (10 meters) |
| Power Supply | DC 3.3V |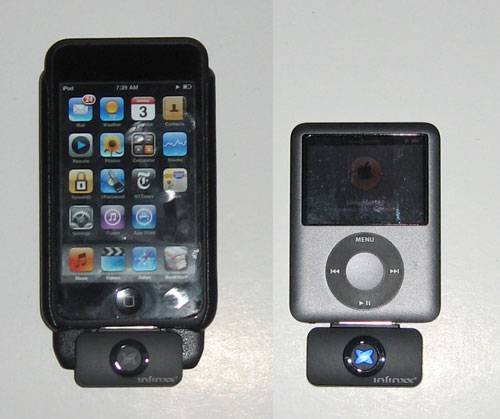 According to iBluon (& Brando), the TD02 is compatible with the Mini, iPod w/color display, iPod w/video, iPod Classic, all generations of Nanos, Touch and iPhone. I have tried the dongle with my Touch, a friends iPhone, my wife's 2G and my 3G Nano. Three of the four worked perfectly. I was never able to get my 3G Nano to work with the bluetooth dongle. My Nano kept saying it was an 'unsupported accessory'. I updated to the latest firmware, tried it with and without the lock switch on, and resetting the Nano….no luck. When I was at BestBuy I tried the dongle on their 3G Nanos and it did not work on any of theirs as well.
I went to CarToys and BestBuy to pair the iPod/TD02 with other Bluetooth devices. I paired it with a bluetooth enabled stereo speaker. Like the Jabra headphones, they paired/connected seamlessly without any input from me. However, when I was in CarToys there were so many Bluetooth enabled
car stereos (and no digital display on the dongle) it was (silly as it sounds) difficult to pair the TD02 with a specific car stereo. The indicator light said it was paired with something but the CarToys person and I could figure out which one. This should not be an issue in a car with a single stereo.
The concern I have with pairing is the fact that the dongle has a single (unchangeable) bluetooth authentication code (0000). That means if the device you are attempting to pair it with needs an authentication code of 1234 (or anything else) you are out of luck. The TD02 does not allow any type of input….absolute automatic pilot. But this is a relatively minor issue due to most devices you would be pairing it to would either have no authentication or 0000 as the code.
Surprisingly, the dongle does not significantly affect the iPods/iPhones battery life. I had my Touch paired with my stereo headset, playing music continuously for 5 hours (screen off), the battery charge went from 100% to approximately 75%.
iBluon has done a good job creating an iPod/iPhone accessories that definitely fills a void Apple has yet to. If you have any bluetooth stereo (A2DP enabled)
equipment and do not like wire laying around, I suggest you give the TD02 serious consideration.
Product Information
Price:
62.0
Manufacturer:
iBluon
Retailer:
Brando
Requirements:

iPhone 2G, iPhone 3G, iPod Touch, iPod nano(1st, 2nd, 3rd gen), iPod Classic, iPod Video, iPod (Color), iPod Mini

Pros:

Solid construction
Adds stereo Bluetooth to any iPod/iPhone
Small and lightweight
iPod/iPhone powered
Little battery drain
Supports AVRCP function
LED flashes patterns indicating Bluetooth connection status

Cons:

No controls or display
Did not work with my 3G Nano