We use affiliate links. If you buy something through the links on this page, we may earn a commission at no cost to you. Learn more.
Over the years, I've tried quite a few devices that allow you to watch and listen to your digital media through your television set. Some of these devices have included WiFi, some included hard drives, some required that you stream the content from a computer to the player and some required that you convert the content to a format that the player could handle. For one reason or another, I stopped using all of those devices except for the AppleTV. I really like the AppleTV's user interface, but have never really liked the fact that I have to convert the files and then 'send' them from my desktop computer to the AppleTV in the living room. I'm all about simplicity, and while the AppleTV comes close, it doesn't quite get there. I think I've found a device that does get there tho. It's the WD TV HD Media Player from Western Digital.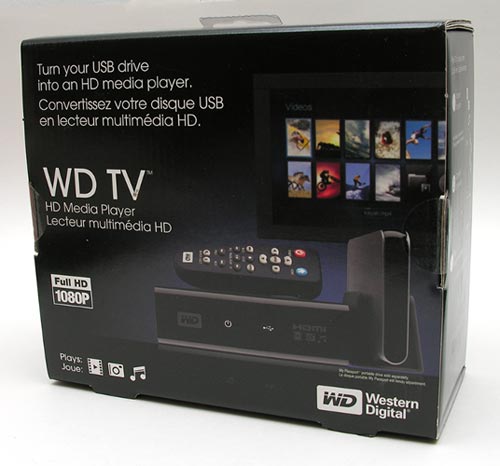 The WD TV doesn't include YouTube or allow you to rent movies, but it does play the video, audio and image content that you already have, and does so in a really user friendly way.
Hardware Specifications
File Formats Supported:
Music – MP3, WMA, OGG, WAV/PCM/LPCM, AAC, FLAC, Dolby Digital, AIF/AIFF, MKA
Playlist – PLS, M3U, WPL
Photo – JPEG, GIF, TIF/TIFF, BMP, PNG
Video -MPEG1/2/4, WMV9, AVI (MPEG4, Xvid, AVC), H.264, MKV, MOV (MPEG4, H.264)
MPEG2/4, H.264, and WMV9 supports up to 1920x1080p 24fps, 1920x1080i 30fps, 1280x720p 60fps resolution
Subtitle -SRT (UTF-8)
USB 2.0 ports: 2
External Drive Formats Supported: FAT32, NTFS, HFS+ (no journaling)
Video Interface: HDMI, Composite A/V
Physical Dimensions: 1.57 x 3.94 x 4.94 Inches
Weight: 0.67 Pounds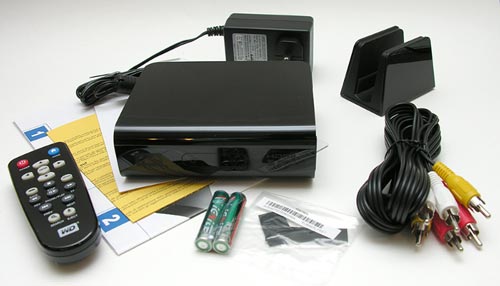 Package Contents
WD TV Player
Remote Control
2 AA Batteries
AC Adapter
Composite A/V cable
Passport USB Drive stand
Instructions
The WD TV unit is small, allowing it to fit into even the most cramped areas of your entertainment center.

It's made of shiny Black plastic and lacks buttons, dials and switches.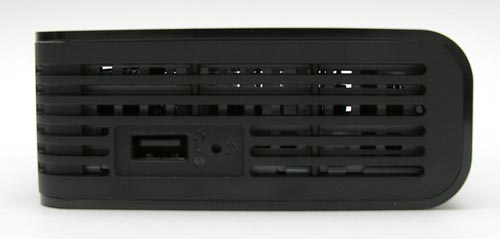 On the Left side, you will find a USB port and a reset switch.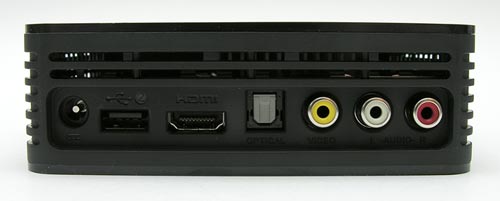 On the back side, you'll find an AC power connector, another USB port, an HDMI connector, TOSlink Optical audio port, and composite A/V connectors.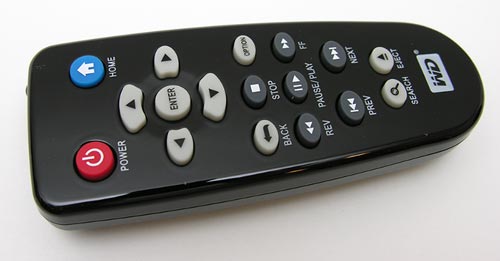 A small remote control with real buttons is also included along with the batteries to power it.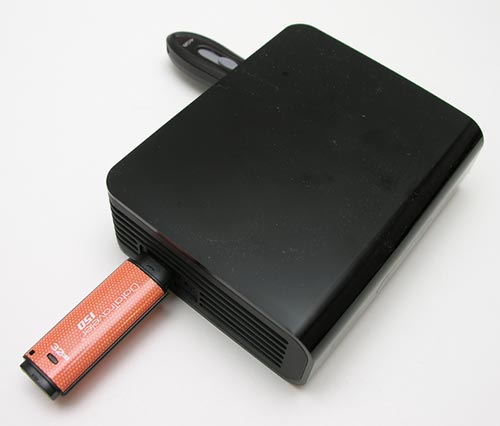 The WD TV doesn't include its own hard drive like some players (AppleTV, MVIX). Instead, it has two USB ports in which you can plug in thumb drives or even WD's own USB Passport drive.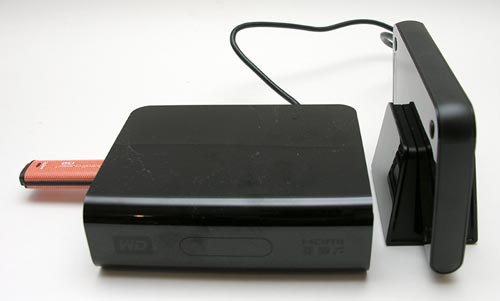 There's a little stand included specifically for the Passport drive, so that you can set it next to the player.
I tested the WD TV with my 32GB Kingston flash drive and a WD Passport drive. The cool thing is that you don't have to specify which USB drive you want to view content from. The software in the WD TV reads both drives and creates one list of all the content.
Setting up the WD TV with your TV is a snap. A composite A/V cable is included in the package, that you can use to connect to your TV. While this works fine, you can get MUCH better video quality by using an HDMI cable (if your TV has that capability). The only bad thing is that you'll have to go out and buy your own HDMI cable. Tip: Don't go to Walmart, Target, Best Buy or other local stores to buy an HDMI cable. They will charge you $25-$30 for one, which is robbery when you can buy the same thing from NewEgg for less than $10.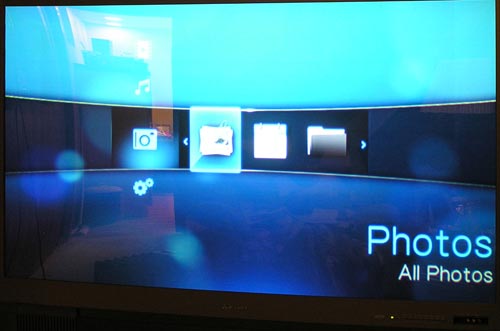 After you connect the WD TV to your television and power it on with the remote, you'll be presented with a simple user interface. You can scroll up and down to choose the main function (Photos, Video, Music, Settings) and then side to side to pick options for that specific mode.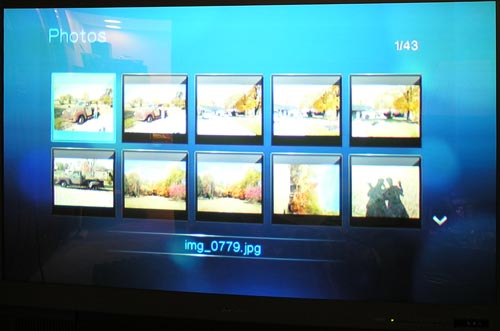 In Photo mode, you can view images on the attached USB devices by thumbnails or a list of file names.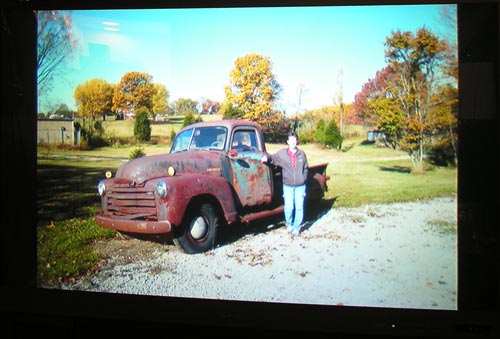 You can click on an image to see it in full screen. You can also rotate, pan and zoom. You can view the images in slide show mode and even have music playing in the background.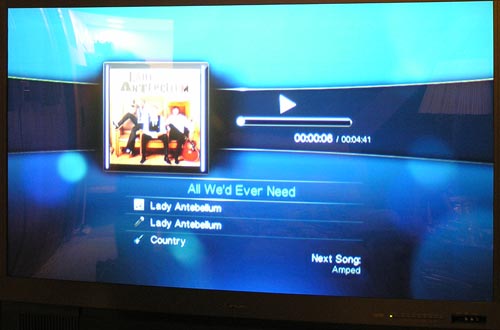 In Music mode, you can easily play your tunes. Even the album art will display on the screen while music is playing. You can choose music based on Artist, Genre and Album.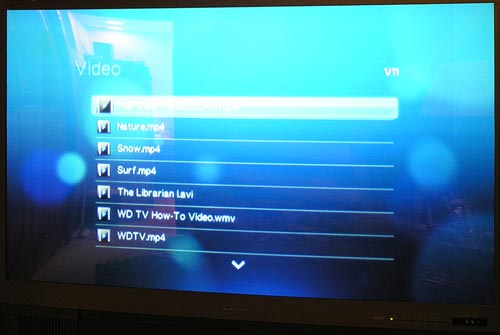 Photo and music modes are nice additions, but my main use for a device like this is to easily view my video content on my TV. I have to say that I think the WD TV does this easier than any device I've tried so far. Save your videos on a USB device, plug it into the WD TV, scroll through the list of files, press play on the remote and away you go. The best part for me is that no time consuming file conversions are needed. This is something I had to do all the time with the AppleTV in order to play video that I'd downloaded from the internets. I much prefer downloading the file, copying it to a USB stick, plugging the stick in the WD TV, sitting down and watching it. Easy!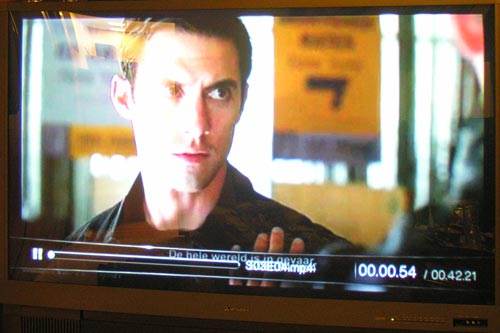 Video quality using HDMI is great to my eyes. Of course it will really depend on the video itself. If you have low resolution video, it won't look the best on a large TV.
The WD TV impressed me after I had downloaded an AVI video that wouldn't play on my MSI Wind and wouldn't play on my iMac using VLC, without VLC having to reindex it. I thought for sure it wouldn't play on the WD TV either, but I was wrong. It worked just fine. The only video file that would not play for me was a really old .WMV file that I had created using Movie Maker on a Windows PC. The WD TV comes with some software that you can use to convert files if necessary. I didn't try it, but I bet it would have fixed that file for me.
One nice feature is that you can resume playing a video if you stop it and want to go start it again later. The player will automatically remember where you left off.
While watching video, you can rewind and fast forward at four speeds (2x, 4x, 8x, 16x). I wish there was a feature to skip ahead so many minutes or to go to the end of a video. Just nit picking here though…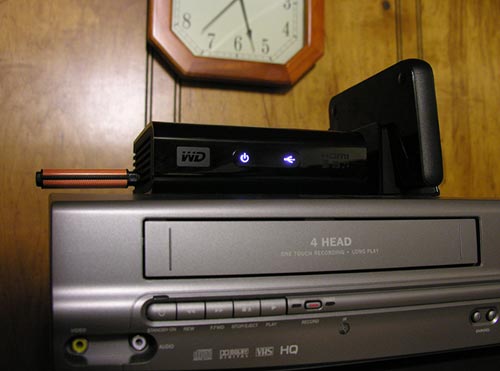 I really like the WD TV HD Media Player from Western Digital. Its small size and ease of use has me sold. It's definitely going to stay in my entertainment center until something better comes along.
Product Information
Price:
129.99
Manufacturer:
Western Digital
Pros:

Easy user interface
2 USB ports
Plays music, video and shows photo slideshows

Cons: