We use affiliate links. If you buy something through the links on this page, we may earn a commission at no cost to you. Learn more.
Update 6/3/07: Mvix NDAS Firmware update now available
Last Spring, I had the opportunity to review the MV-5000U Multimedia Player from Mvix. Except for a couple issues like a noisy fan and no networking features, I really liked this device. It is one year later and we now have the MX-760HD. This unit addresses all of the complaints that I had with the first generation device and goes even further to add a few major enhancements.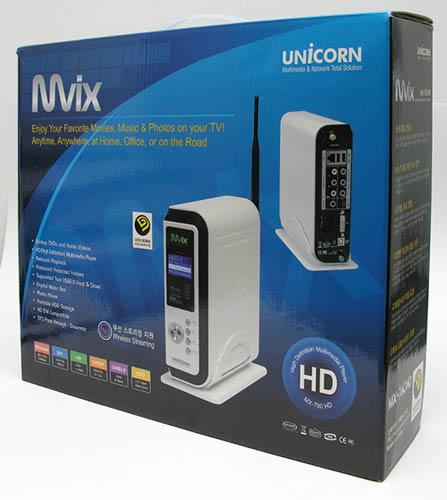 Hardware Specs
Security Encryption: Wireless WEP Architecture
TV-System Compatibility: NTSC / PAL / AUTO
Standards: Wireless, LAN, USB-host, USB2.0
Protocol: 802.1b/g or MIMO (TCP/IP: DHCP client mode, Manual IP mode)
Port LAN: 10/100 Mbps RJ45 LAN Port
Media: Hi Definition Video Decoding
Supported Video Formats: DivX (3/4/5), AVI, Xvid, MPEG, MPG, VCD(DAT), DVD(VOB, IFO), WMV(WMV-9), ASF(WMV-9), TP, TS, TRP
Pixels / Resolution: 1920 x 1080i (Hi Definition decoding)
Supported Audio Formats: MP3, WMA, AAC, OGG, PCM, AC3, DTS (pass-thru and downmixing)
Features: Attach External USB HDD, flash drive or DVDROM
Supported Image Formats: BMP, JPEG/JPG, PNG
A-V OUT Options: DVI, Component, Composite, S-Video, Optical
Screen Aspect Ratio: 4:3 or 16:9
Subtitle Format Compatibility: SMI, SRT, SUB
HDD Compatibility: 3.5-inch IDE PATA, UATA or ATA
HDD Format Compatibility: NTFS or FAT32
LCD Display: 128 X 64 mm
Power: AC-DC Adapter 12V, 2.5A
Dimensions: 187mm(w) x 193mm(h) x 58mm(d) or 7.4″(w) x 7.6″(h) x 2.3″(d)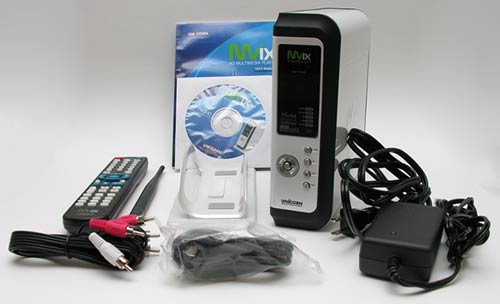 Package Contents
Mvix (MX-760HD) Wireless HD Media Center
Screwless Stand for Mounting
IR remote control with AAA Batteries
5dBi Wireless Antenna
Audio / Video cable
USB 2.0 High-Speed Cable
AC Power Adapter
Manual (English) and Driver CD
This player doesn't look that much different than the previous version. It's constructed of metal and plastic and is still designed to sit up vertically with a plastic stand to keep it from falling over.

The stand doesn't snap into the base of the player though, so if you have move it around, it easily slips out of the stand. Duct tape anyone? ;o)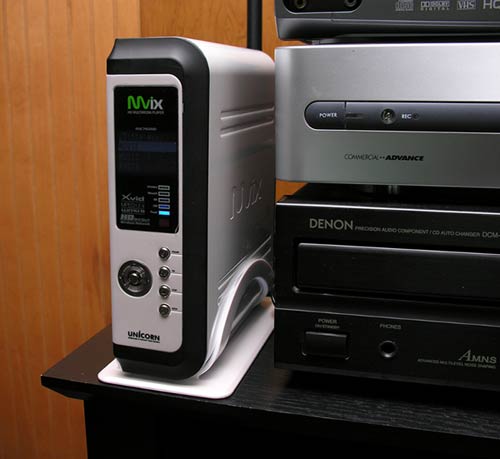 The front of the MX-760HD has a small LCD, various status LEDs and a panel of navigation buttons. Of course this device comes with a fully functional IR remote, but if you are a glutton for punishment, you can control it directly through the buttons on the front. Can you say yuck?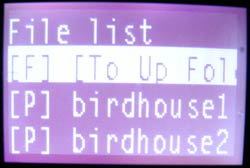 The 4 line LCD has a Blue background with White letters.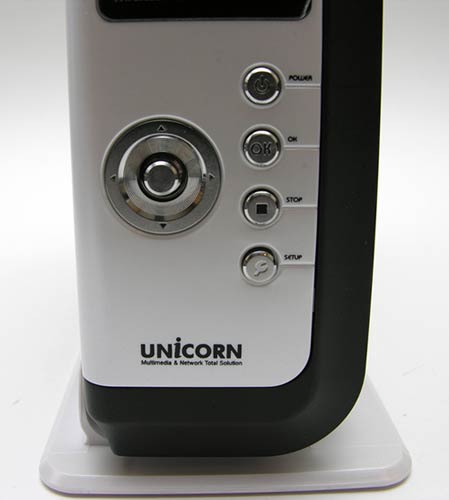 It's not difficult to navigate the media folders and files using the buttons, but for me, I'd rather sit on the couch and use my big screen TV and the remote.

The remote isn't one of those cheesy membrane style remotes that I've had the displeasure of using in the past. This is a nice large, friendly remote. The batteries are even included. The only problem I noticed is that the buttons aren't backlit and sometimes it feels like the actual transmission of commands is sluggish when I compare with other A/V devices that use IR controls. Maybe an RF remote would be a nice upgrade for generation 3 of this device.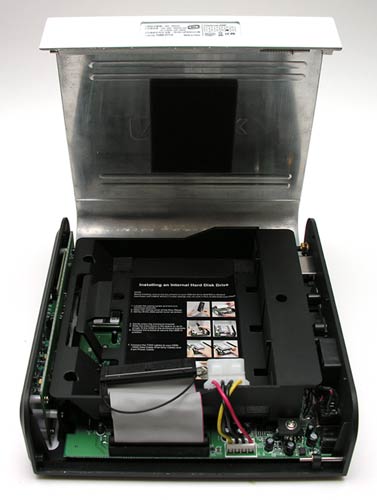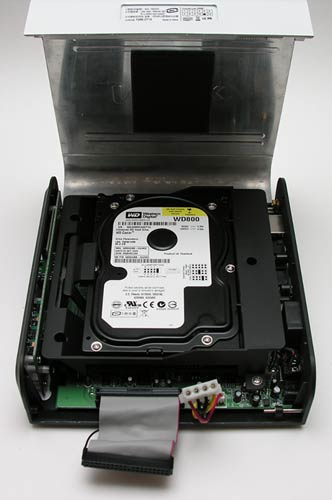 Like the MV-5000U, the MX-760HD ships as an empty chassis ready for a 3.5 inch IDE hard drive. You can purchase the unit with a hard drive already installed if you like, but it's really very simple to install your own. No tools or special geek skills are required, just loosen the thumbscrews on the back of the unit and lift open the metal cover. Then it's just a matter of placing the hard drive in the tray and connecting the built in cables. The whole process should take you less than 5 minutes. It's actually not even necessary that you install a hard drive if you don't want to. There are three other methods for accessing media (photos, music and video). You can plug in a USB flash drive into the back of the Mvix and access files from your computer (PC or Mac) wirelessly or via Ethernet. More about networking in a bit.

The next step is to connect the player to your TV. The Mvix ships with good old composite audio / video cables. If you have a nicer TV, you can also connect it with S-Video, component, or DVI. You'll just have to supply your own cables for those type of connections. The audio connection choices are Optical, Coaxial and R/L. Since this device only ships with composite cables, that's what I used to connect it to my 65″ Mitsubishi RPTV. Again, setup is easy and quick.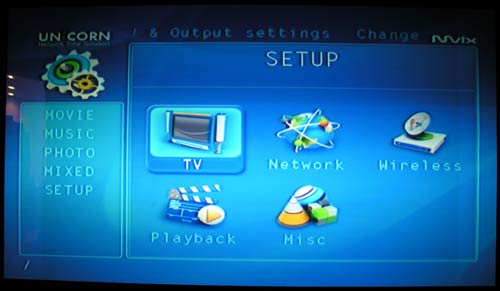 After the player is connected to the TV and both are powered on, you'll want to press the setup button on the remote to help customize your setup.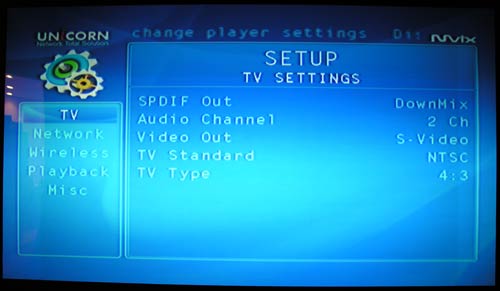 Above you see some of the TV related settings that can be changed.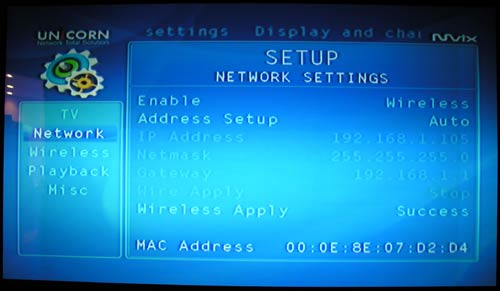 This version of the player has networking built in. That was one of the complaints that I expressed about the MV-5000U, so I was very happy to see that the MX-760HD has both wired and wireless features. This allows you to gain access to content much easier than unplugging the player, connecting it to a computer via USB, copying files to the internal hard drive, then reconnecting it to the TV. That was the process with the previous Mvix player. Of course, you can still use this method if you like…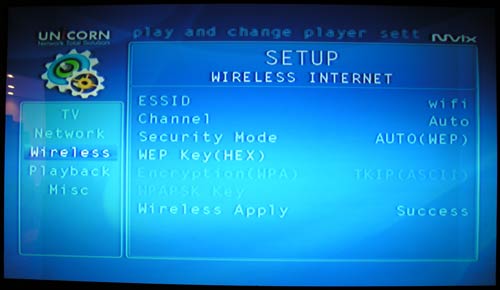 I did have some problems trying to get the player to successfully connect to my wireless setup. My first issue was telling the player the ESSID. By default it was set to dd-wrt in my router. That's just fine, but the Mvix doesn't let you enter a '-' in the name. So I had to change it something else in the router. I chose 'wifi'. But with the correct ESSID, the Mvix wouldn't connect. It kept failing with all the settings I was trying. I even told the folks at MvixUSA and they sent me a 2nd unit, thinking my original was defective. When it too failed, I knew it was something I was doing wrong. I finally figured out that I had to have WEP security enabled in my router's (Linksys WRT54G/GS) configuration with a 64 bit 10 digit hex key. It didn't seem to want to work with no security at all, which is what my router had been initially configured with.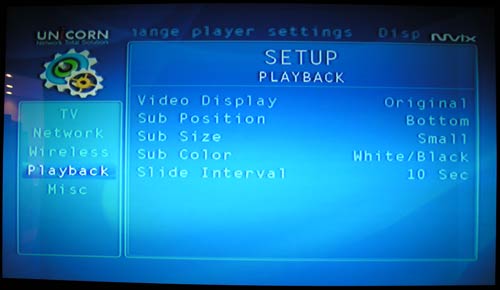 More settings that you have the ability to change…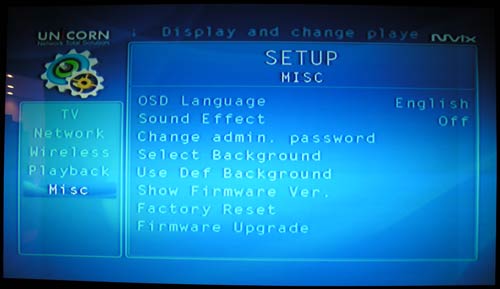 And even more…
After you have the player connected to your TV and are either pointing it to audio / video content on your computer via the network, or have copied files to an internal hard drive, you're ready to start enjoying it. Oh wait, you can also use the built in USB ports in the back of the Mvix. You can plug a USB flash drive with music or video and access it like a hard drive. Or you can plug in a USB DVD-ROM drive with a disc full of content into the USB slave port. For my testing, I only tried USB flash drives. I was able to play movies directly from the plugged in drive. Very nice! The cool thing is that you really don't even need a hard drive for the Mvix since it can use flash drives.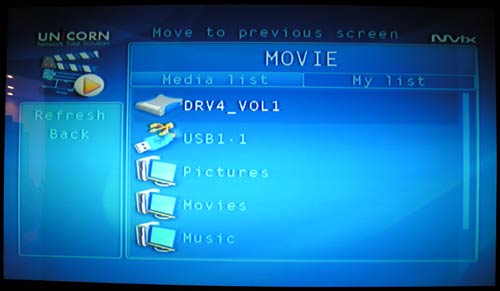 When you turn on the player,you are shown the various drives and network folders that you have access to. In the picture above, you see that I have a hard drive installed (DRV4_VOL1), a USB flash drive (USB1-1) and several network folders on my iMac.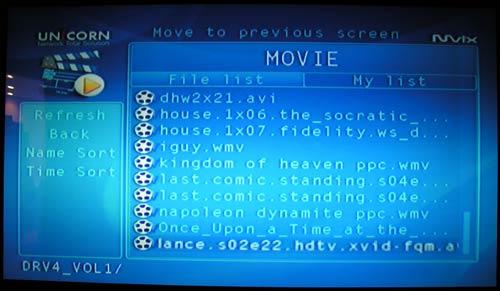 Selecting one of the drives or folders will then show you the files. You can navigate just like you do folders on your computer.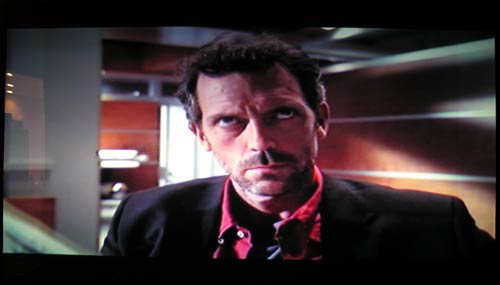 Display quality watching movies / videos is completely dependent on the resolution that the file was created with. I had a few HD and regular quality shows that I used to test with and was very happy with the results.
Pressing the Info button on the remote will give you stats listing for the video currently playing.
I didn't notice a difference in speed or quality when playing video from an internal hard drive, flash drive or via wireless. The only issues that I can complain about are that I did noticed a slight hiss in the audio playback while watching videos and fast forwarding through a video using the FF button on the remote is not smooth and sometimes causes a few seconds of pausing.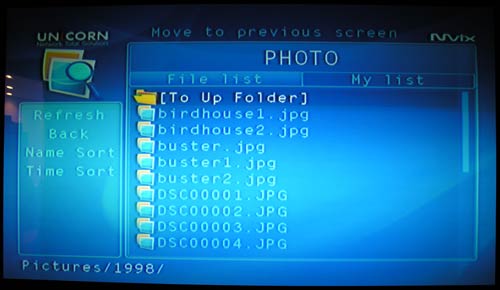 In addition to playing video content, you can also view photos.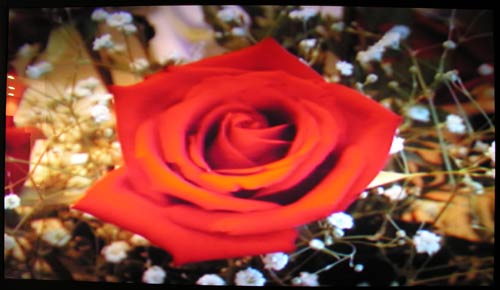 You can start a slideshow and even have music playing in the background.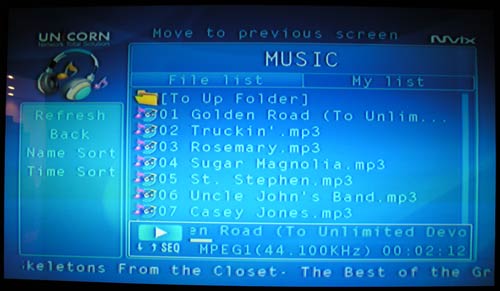 And of course, the Mvix can play your digital audio files.
I believe that the MX-760HD is a worthy successor to the MV-5000U. It is easy to setup, has a generous selection of video connection methods, HD quality video output, USB host ports, networking and a quiet fan! The video quality looks better than my Mac mini connected to the same TV and with the IR remote, it's easier to navigate. As such, it looks like the MX-760HD will remain attached to my TV for the foreseeable future.