We use affiliate links. If you buy something through the links on this page, we may earn a commission at no cost to you. Learn more.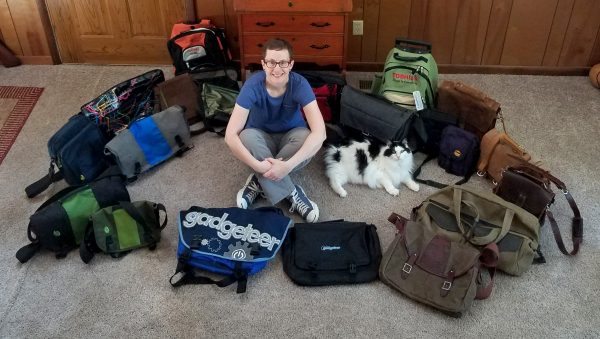 A few days ago my post about the new Pad & Quill bags on Facebook prompted a challenge from reader Robert Grenader to share a picture of my bag collection and he would do the same. Robert has shared his picture and here's mine. Click through for a list of all the bags and what I use them for.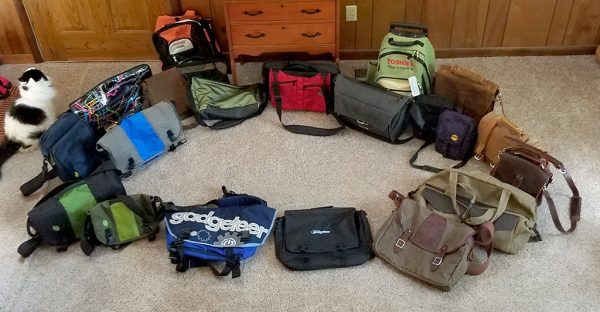 I thought I had more bags than this, but then I remembered that I had done a bag purge at this time last year, which made a big dent in my collection. As you can see though, I still have quite a few bags. Some of them don't see any action though as they are just part of the collection.
Listed counter-clockwise starting with the blue bag at the bottom with the large Gadgeteer logo:
Seagull Custom Courier messenger bag – This is a bag that I don't use, but as you can imagine, there's no way I'll ever get rid of it due to the awesome Gadgeteer logo on the flap. The flap is one of the main reasons why I don't use this bag. It's designed to keep out the weather, which makes it difficult to fling open. The bag also uses a lot of Velcro, which is not a fave of mine.
Generic messenger bag with the Gadgeteer logo on the flap – This was a gift given to me a few years ago from former Gadgeteer writer Bill Kuch. Like the Seagull bag, I don't use this one either, but will hold on to it because of the logo.
Oberon Design Leather and Waxed Canvas Messenger Bag – Here's another bag in my collection that I don't use. Why? I don't really care for buckled flap. I'll probably be adding this bag to the purge pile so someone else can enjoy it.
WaterField Designs Outback Duffel – I like to use this bag as part of our luggage when we go on a driving vacation. It's great for holding clothes and other items.
Saddleback Leather Company Explorer's Satchel – I've always loved the style and look of Saddleback bags, but they are too rugged (heavy and stiff) for my liking. I have held on to several of the bags though just because my collection wouldn't seem complete without one.
Saddleback Leather Company Briefcase – This was my first Saddleback Leather bag, so I've held on to it but I don't use it.
Saddleback Leather Company Messenger Bag – I don't use this bag because it's really heavy even BEFORE you add anything to it. I also am not a backpack person…
Sundog small shoulder bag – Many years ago I used to carry a larger Sundog verticle messenger style bag as my everyday bag. This company has gone out of business.
Another small bag with lots of pockets which I can't find the brand or company name. I know I reviewed it a very long time ago though. It will go in the purge pile
Toshiba rolling bag from CES – I think this is from CES 2006. I keep it because it has a telescoping handle and wheels. It also holds a lot of stuff. And by stuff I mean it holds a bunch of the smaller bags that I don't use 😉
Peak Design Everyday Messenger bag – This is my current everyday bag that goes with me to and from work. I love the customizable interior and that it stands up without falling over.
Tom Bihn Checkpoint Flyer Laptop Bag – Tom Bihn no longer makes this bag, but I continue to use it when travel involves flying because it's easy to get through airport security with it. Just unclip the bottom and lay flat to go through the Xray machine. It also has good organization pockets inside.
Waterfield Designs Sling – I haven't used this one for a long time, but I love the color of it, so I have held on to it. Sometimes Jeanne uses this bag when we travel.
WaterField Cozmo Bag – I reviewed this bag also 14 years ago. It was my every day bag for a long time until I switched over to messenger style bags. I handed it down to Jeanne who used it for a few years and now it's been living in the closet. It still looks pretty good for its age.
WaterField Designs 10″ Portable Muzetto Bag – I grab this bag when I only want to carry a few things. It makes a nice vacation bag while sight seeing and shopping.
Toshiba backpack – I think this was another CES freebie. It's going in the purge pile since I don't use backpacks.
SLAPPA 17″ Transit Messenger Bag – I don't use this bag, but I've held on to it because it has a unique feather – changable flaps. The flaps zip off. I liked the idea so much that I've kept the bag beause I thought I might one day try to make a bag with this same feature.
Timbuk2 Laptop Messenger Bag – I carried this bag for several years and then moved on to another Timbuk2 and then yet another one listed below. Timbuk2 has been my go to messenger bag company. That is until I switched to the Peak Design Everyday Messenger bag.
Timbuk2 Custom Laptop Messenger Bag – This was my previous everyday bag (click through on the review link and scroll to the bottom). It served me well for several years, but I got a little bored with it, so I switched to the Peak Design Everyday Messenger bag a few months ago and have been carrying that one instead.
Timbuk 2 small messenger – I bought this one to use as a small travel bag for vacations or other short excursions.
Timbuk2 City Guide Bag – I don't use this bag, but Jeanne sometimes grabs it to use as a travel bag.
Well, there you have it, the Gadgeteer's current bag collection. As mentioned, I'll be downsizing and giving away some of the bags I never use at my next gadget giveaway that I do at work. That way I'll open up some room to add some new bags! Like the title says, I have a bag problem!