We use affiliate links. If you buy something through the links on this page, we may earn a commission at no cost to you. Learn more.
I don't carry a purse and never have. Maybe it's because I've yet to find one
that is 'me'. Or maybe it's because I carry so much stuff with me every day,
that a purse just can't manage. So, I carry a gear bag instead.
For the last few years, my gear bag of choice has been a SunDog Computer Field
Organizer bag. That bag has been a faithful companion to me every day on my
trips to and from my day job. Unfortunately, it began looking pretty shabby and
needed replacing. I was very unhappy to find out that SunDog had apparently gone
out of business.
So, my quest began to find a suitable replacement. One that could hold several
Palm or Pocket PC devices, associated accessories, a couple magazines, cell
phone, billfold, keys, various adapters, cords, and my Fujitsu Lifebook when I
wanted to bring it along too.
The first contender is the WaterField Cozmo
bag. This bag is available in two sizes: Large Cozmo $149 16 x 12 x 5 / 2.7 lb.
and Small Cozmo $139 14 x 10 x 4 / 1.9 lb. and four colors: White, Red, Blue,
Stone and Grey. I was sent the Small Stone version.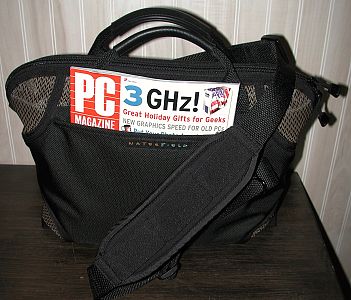 Designed and manufactured in San Francisco, CA., WaterField bags are made of
bullet-proof Ballistic Nylon with industrial-strength stainless steel D-rings,
and self-mending YKK zippers.
My first impression of the Cozmo was that my quest for the perfect bag might be
over before it even really got started! Looking at the bag for the first time, I
knew I had a quality product.
This bag is totally different then the flap type bag I'd been using for years.
The Cozmo doesn't have a flap at all. Instead, it has a dual zippered top with
two open pockets on either side of the exterior.
Judie's note: This is extremely convenient for easy access without having to
deal with a rogue flap!
The open pockets are wide enough to hold a few standard sized magazines, but not
deep enough to hide them entirely. The magazines stick out above the pocket
about three inches.
The Cozmo unzips into one large compartment, with pockets on both walls of the
bag. The first thing you notice is that the inside liner is Gold rather than
Black in color. This is very helpful for seeing and retrieving items from the
bottom of the bag.
One wall of the bag has a large pocket that is held closed with a wide canvas
tab and Velcro. This pocket can be used for anything you wish, but it works
great for holding a notebook computer in the optional SleeveCase.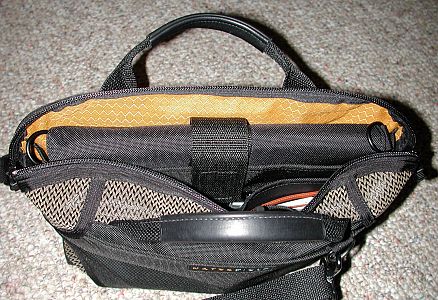 SleeveCases are made of a layer of high grade neoprene wrapped in a Ballistic
nylon shell. They are available in a variety of sizes depending on your specific
notebook brand and model. They can also be customized with D-rings, flaps, and
specific orientations (opening end). Judie's note: My
sleeve came with D-rings attached, and an extra strap. For days when I just need
my laptop – nothing else – I can carry the sleeve with its own shoulder strap.
Very convenient!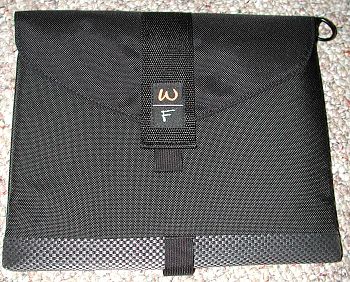 WaterField was kind enough to send a SleeveCase for the Fujistu Lifebook 2110
that Judie and I both use. The only problem that I found with using the
SleeveCase, is that removing it takes extra time. Normally, this isn't a big
deal… But in certain situations, it can be. For example, when you are required
to remove your notebook at the airport for security purposes, you really don't have a lot
of time to goof around with it. When using the SleeveCase, to remove the
notebook from the Cozmo bag, you have to unzip the top, pull open the Velcro
tab, pull the SleeveCase from the side pocket, open then the sleeve's flap, and
then remove it from the sleeve. I would like to see a Cozmo bag with a built in
padded notebook sleeve, so that I could just reach in and quickly remove the
notebook.
On the opposite wall of the Cozmo are several other pockets. Two large deep ones
for items such as billfolds, PDAs, and digital cameras. There is also a narrow
pocket for a cell phone and a business card pocket.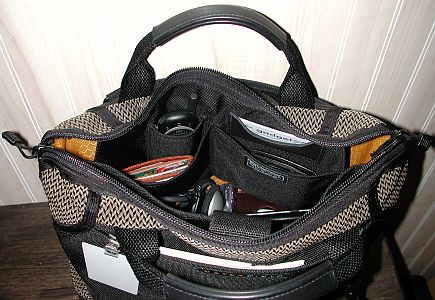 This bag offers ample storage for all my stuff. At the moment, I have 2 Palms,
one Pocket PC, Pocketop wireless keyboard, Stowaway XT keyboard, cell phone,
billfold, Sony earphones, iAudio MP3 player, and a gear pouch filled with other
necessities.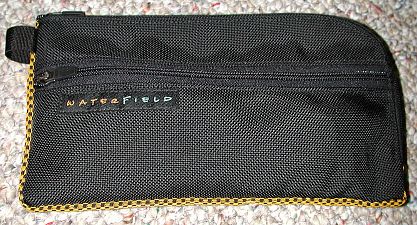 The Gear Pouch is another accessory that is available from Waterfield. It's a
zippered pouch available in 3 sizes made of the same materials and style as the
Cozmo. It has two main compartments. The top unzips into the large pocket that
can hold small cables and other doodads. While a shallow front zippered pocket
is available for things such as pens, styli, lip balm, small adapters, etc.
Judie's note: I use my pouch to carry my power and sync
cords. The front zippered compartment is great for PDA power adapters and my
memory card PCMCIA adapters.
Transporting the bag is a pleasure. You can either grip it by the dual handles,
or sling it over your shoulder with the very comfortable shoulder strap.
Judie's note: This strap is the most comfy I have ever
used. It is not only padded, it is also "spring loaded" – giving when you need
it to. No more shoulder furrows!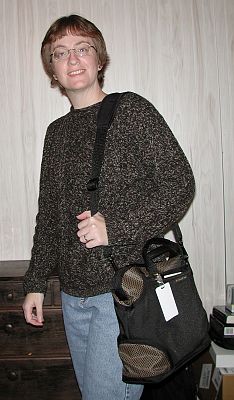 The Cozmo makes a great carry on bag on a plane as the small size fits perfectly
under the seat in front of you without laying it on its side. Speaking of which,
the bottom of the Cozmo is flat, so it sits up easily on the floor or desk
without toppling over. This makes it easy to retrieve articles without having to
wrestle with the bag.
I've been using the Small Cozmo for several weeks now. It's gone with me on my
vacation to Arizona, and on my trip to COMDEX. Even loaded down with my Fuji,
and other items, it didn't dig into my shoulder or make me tired while trekking
to my gates at the airport. The open outside pockets were perfect for airline
tickets. It has allowed me to keep my items in one place with easy access while
also looking sporty and stylish. At the moment, it is my gear bag of choice.
Price: Large Cozmo $149, Small Cozmo $139
SleeveCase $35 – $42 depending on notebook size needed, additional customization
extra
Gear Pouch $18 – $25 depending on size
Pros:
Quality construction
Small but ample storage
Comfortable shoulder strap
Cons:
No padding