We use affiliate links. If you buy something through the links on this page, we may earn a commission at no cost to you. Learn more.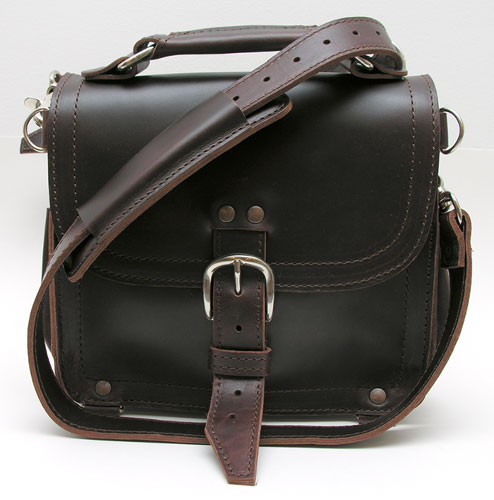 Anyone else out there ever had a secret fantasy about wanting to be like Indiana Jones? Come on, I can't be the only one. I remember the original movie and falling in love with the character. Traveling to exotic locations, searching for treasures, yeah, that's me in a nutshell! Ok, not quite… But I do live in Indiana and… ok, the similarity ends there. Or it did till now. Now I am one step closer to fulfilling that fantasy because I have an Explorer's Satchel from Saddleback Leather Company.
Saddleback Leather Company make fantastic handmade leather bags that are the real deal. These aren't cheesy bags that might last a year or so before falling apart. They don't design bags with snaps, zippers or velcro that can wear out or break. These bags can last a lifetime and beyond. I reviewed their briefcase bag last year and was extremely impressed with the quality. The only issue was the size and weight. As a result, I was really happy when I found out that they were offering a much smaller bag called the Explorer's Satchel. Available in Chestnut, Black, Dark Coffee and Tobacco Brown, I was sent the Chestnut version of this bag.
Sized at 10 x 9 x 3.75 inches, this bag is like a mini version of the briefcase that I previously reviewed. It weighs in at 2 lbs empty and is made of 100% waterproof full grain boot leather. It has a buckled flap and a grab handle, which is one of my must have features for a gear bag.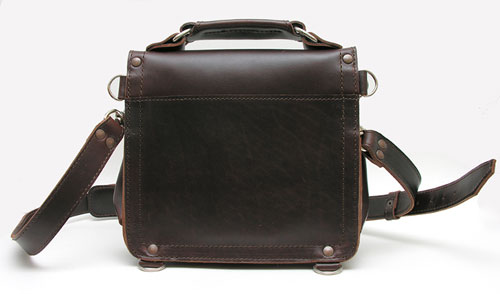 If you flip the Explorer's satchel around to the back side, you will find a 8.5 x 9 inch flat open topped pocket that is capable of holding items like plane tickets, a passport, etc. There are also two D rings sewn into the front and back seams on the 'shoulders' of the bag.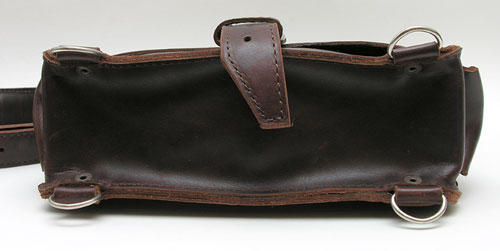 The bottom of the bag has four more D rings. One in each corner. You can use these rings to attach items to the bottom of the bag – like a mini umbrella, treasure map, etc. It's also interesting to point out that the leather seams at the bottom of the bag create a pseudo stand to keep the base from actually touching the ground.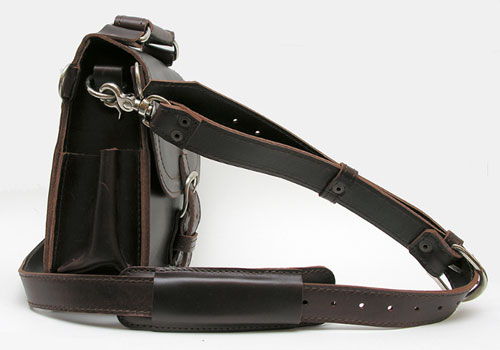 There is a pocket on both sides of this bag. The pocket is sewn between the seams, so it's a bit hard to get your hand inside it due to the attachment ring for the shoulder strap.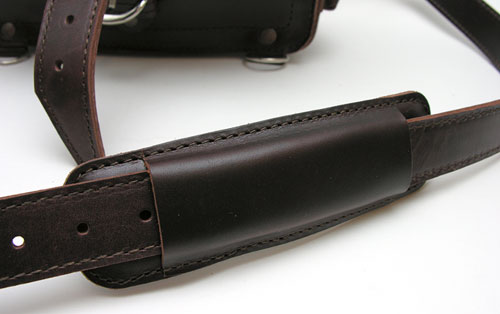 The adjustable shoulder strap is also made of thick rugged leather. It's easily removable if desired. It also has a shoulder pad, that I found to be somewhat uncomfortable for me.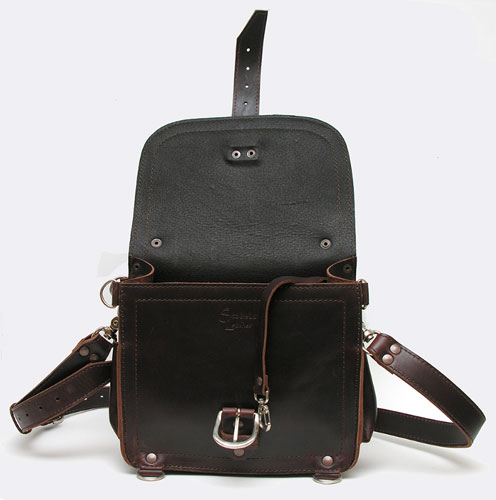 When you unbuckle and lift the flap, you are greeted with a nice whiff of leather. Mmmmmmmmm, yummy. The interior is lined with super tough pigskin. Inside is an metal key clip attached to a strap of leather.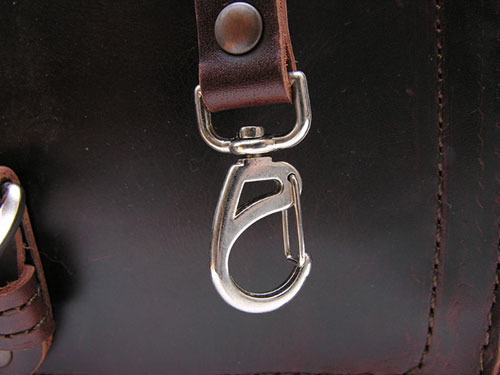 The key fob has a nice sturdy spring loaded clip attached to it. I never use these things though… do you? They tend to just flop around inside the bag getting in my way. I almost am tempted to cut it off and use the clip for something else ;o)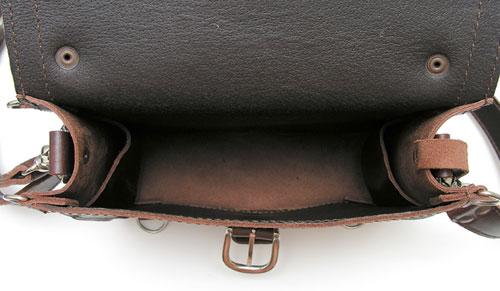 The interior of the Explorer's satchel has one main compartment that is approximately 8.5 inches across by 8 inches deep and 3 inches wide. There are two smaller pockets sewn into the sides. I like the fact that the leather is rigid enough that the bag keeps its shape when empty or full.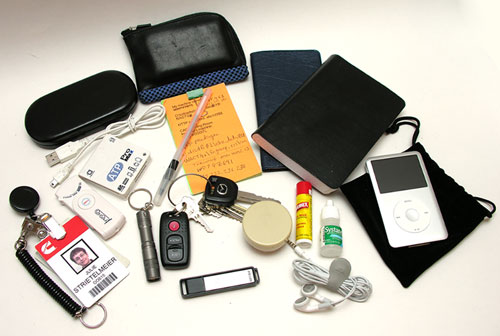 Here's subset of the gear that I carry with me every day (minus my Centro, which isn't pictured). I couldn't fit all my stuff into this bag, so I just picked the essentials. Some of the items include my Centro, 180gb iPod Classic, stock earbuds, a 4GB USB flash drive, ATP USB card reader with cable, iMono USB MicroSD card reader, Huntlight FT-A3 mini flashlight, sun clips in case, Bic pen, Carmex lip balm, eye drops, screw top plastic pill holder, car keys, Cummins badge, check book, clipped stack of index cards with super secret info scribbled on them, Miquelrius notebook and my Waterfield wallet.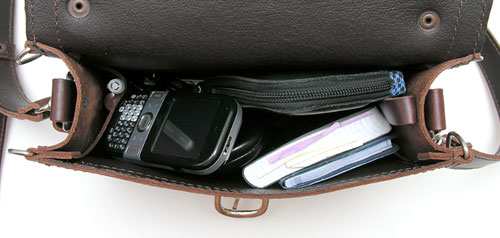 And here's what all that gear looks like piled into the Explorer's satchel. It's not crammed completely full, but it's pretty close. The only real problem with carrying this many loose items is that you have to remove the bigger items in order to get to the smaller ones at the bottom of the bag. I only use the interior side pockets to hold items that stick out far enough for me to easily retrieve them.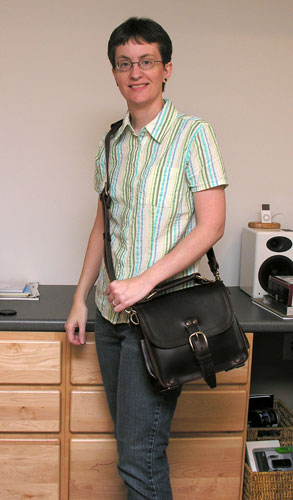 To give you an idea of the size of this bag, here I am wearing it. I'm about 5'6″ tall. Even when stuffed full of gear, the bag was easy to carry bandolier style as I'm wearing it here. The only comfort issues that I experienced were with the padded shoulder strap pad. The edges of the pad had a tendency to dig into my collar bone causing it to become sore. Shoulder strap pads usually drive me nuts sliding around, so I just removed it. Problem solved :o)
The Explorer's satchel doesn't have the capacity to function as my every day gear bag, but it works perfectly as a weekend out on the town or travel bag. I really love the style of it and it does garner some envious looks from passersby. Its price tag of $275 will probably cause a lot of people to run away in fear though. I agree that it's expensive. But if you want a small leather bag that will out last you, and your kids, the Saddleback Leather Company Explorer's Satchel is the one to get. I highly recommend it. Now I'm off to plan my next archeological adventure…
Note: The links to Saddleback Leather Company on this page are affiliate links. If you use one of these links to make a purchase, we will earn a small percentage of the sale, so we appreciate it if you click through.
Product Information
Price:
275.0
Manufacturer:
Saddleback Leather Company
Pros:

Rugged, built to last forever
Unisex style
Grab handle

Cons:

Shoulder strap pad can be uncomfortable