We use affiliate links. If you buy something through the links on this page, we may earn a commission at no cost to you. Learn more.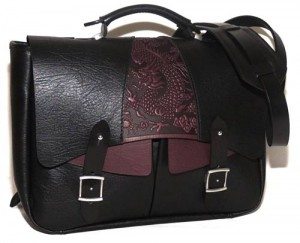 Dave: The Gadgeteer Team has reviewed many products from Oberon Design over the years. A majority of these creations have been tablet covers and slipper cases designed to protect your individual smart devices. Recently the designers at Oberon have introduced a line of messenger bags meant to carry much of your tech-gear throughout your travels. Oberon initially released a leather trimmed Crosstown Messenger constructed primarily of waxed canvas. Followed by an all-leather version, the Soho Messenger. Thankfully Julie and I get the chance to review both of these messengers in this joint review.
Note: Images can be clicked to view a larger size.
Julie's comments are in black and Dave's are in blue. Julie will be discussing the canvas Crosstown Messenger and Dave will be looking at the all-leather Soho Messenger.
Dave: Oberon does all of its design, pewter casting, and leather work "in house". They use only domestically-tanned leather, non-toxic glues and dyes, high-quality thread, zippers, and other items in their construction process. They even produce their own catalogs and websites within their company as well.
Julie: In this day and age where a lot of companies opt to farm their work out to other countries, it's really nice to feature a company like Oberon who wants do it all themselves. In fact, they don't hold a bunch of inventory. They create your bag or journal cover after you order it, right in their Santa Rosa, California shop.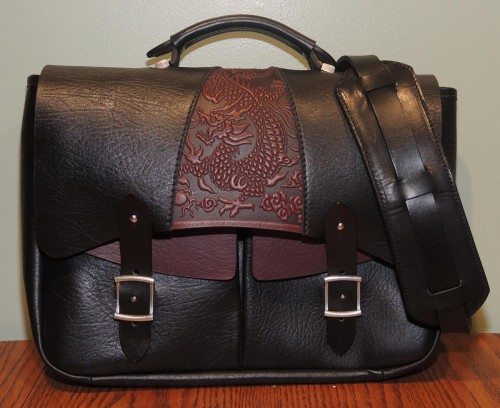 Dave: The Soho is a handcrafted, all-leather messenger bag that is well-sized with many pockets to keep your gear organized and protected. The Soho features an all black exterior with color accent styling and tooled imagery, available with Cloud Dragon, Tree of Life, Celtic Love Knot, and Wild Rose. Each illustration can be ordered in various colors dependent on design. For the more conservative, the Soho can also be ordered with a blank piece of leather.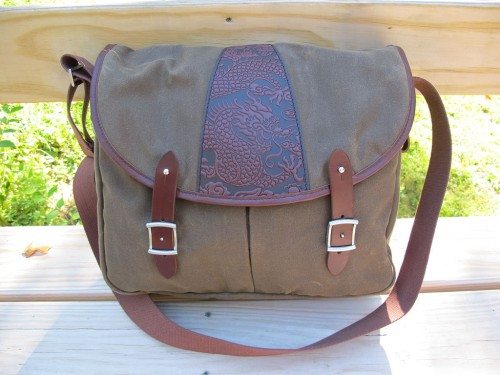 Never miss one of our posts again. Sent MON, WED, and FRI with the latest gadget reviews and news!
Julie: Dave's all leather bag is really gorgeous, but I prefer a bag that isn't as heavy, so I was interested in the Crosstown Waxed Canvas bag. This is my 2nd waxed canvas bag, as I carry a Timbuk2 messenger everyday that is supposed to be made of the same material. I'll have to say that once I got my hands on the Oberon bag, I realized that what Timbuk2 calls waxed canvas isn't like the "real" stuff. You can tell that the Oberon canvas has been treated with an actual layer of wax, because it can scratch and wrinkle with contact. This isn't a bad thing though, as the bag will develop a great patina with use.
The Crosstown comes in either field tan, like you see here, or charcoal. It can be customized with the same choices of leather tooled images, and as you can tell, Dave and I both received the Cloud Dragon image on our bags. Oberon offers a second style of the Crosstown bag that has a wider leather trim around the flap that is tooled with a Celtic pattern. But no matter which type you decide on, it's sure to turn heads because their bags stand out from the crowd.
Dave: Knowing the Gadgeteer Kid's tastes, I foresee him doing his best to abscond with this "Dragon bag" for his own… perhaps, if he is good, for high school ;).
Julie: The back of the Crosstown has an open-topped pocket that is large enough to easily accommodate documents and several regular-sized magazines when inserted horizontally.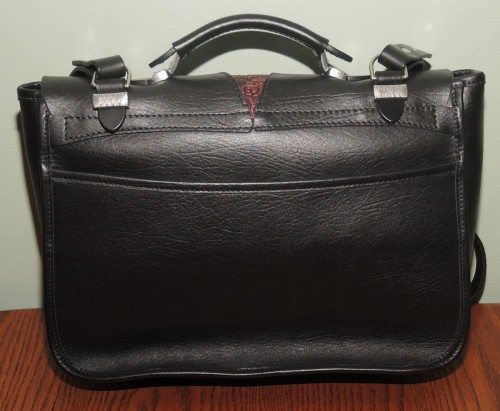 Dave: The back of the Soho has a single large slipper pocket for paperwork and flat items, making for easy and quick access, as well. The shoulder strap hard points are located on the back of bag instead of the sides. I like this positioning because I find the cross-the-body, ride-on-your-hip way of wearing the bag to be more comfortable.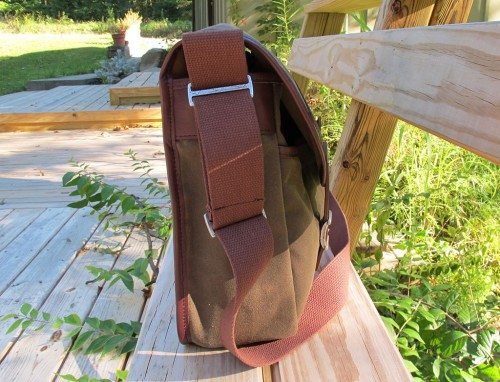 Julie: The Crosstown bag has a wide woven adjustable shoulder strap. Not shown is the metal attachment loop on one side and the leather attachment loop on the other side.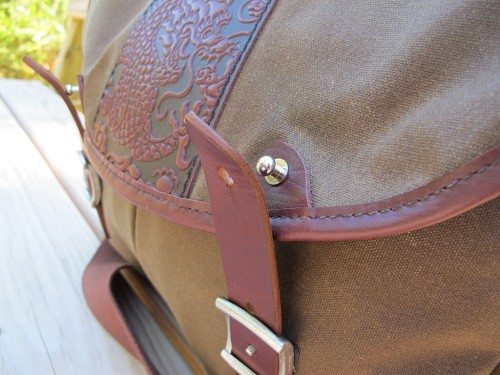 Julie: The main flap is secured with two Sam Browne studs which are made of solid brass. I've not used this type of closure method before, but found it to be a lot nicer than noisy Velcro or plastic buckles that always manage to pinch my fingers.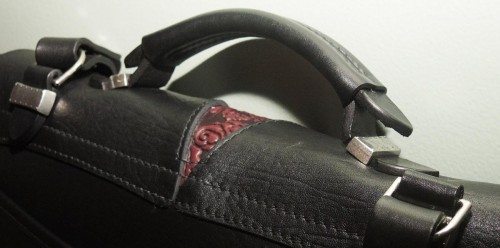 Dave: The Soho has the same "Sam Browne stud" closure system as the Crosstown. Though the Soho has more pewter hardware, which looks very nice with the black and burgundy leather, but adds greater strength.

Dave: The reenforced leather handle is well sized and comfortable to grasp on those occasions that the bag is not hanging from your shoulder.
Julie: That's a feature I wish was also included on the Crosstown. Grab handles are one of my must haves, and I found that I missed not having one while I was reviewing the Crosstown messenger bag.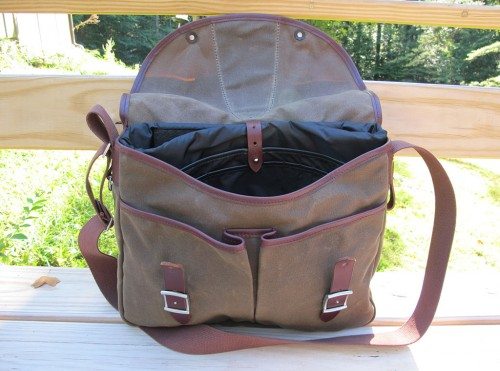 Julie: Open the flap of the Crosstown and you're greeted with two large open pockets that are roomy enough to hold all sorts of gear. These two pockets don't have a flap to secure the contents though, which could be a concern.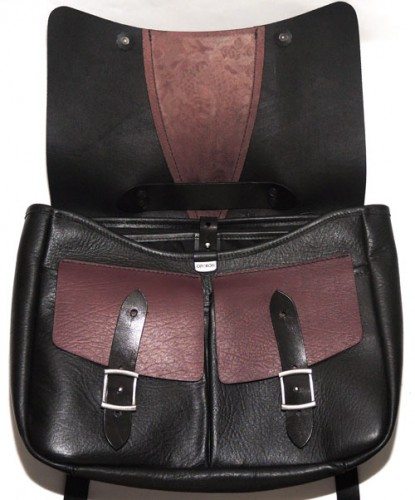 Dave: The Soho has leather flap closures covering the two bellows pockets on the front of the main body of the messenger. As you can see, the flap color matches the leather of the illustration.
Julie: I notice that your bag has the same scoop front like mine. I like that feature. It makes it a little easier to access the pockets in the main compartment.
Julie:  Speaking of the interior, the Crosstown bag is unlined but has a black ballistic nylon organization panel / divider that can be used to organize your gear into 3 nicely-sized pockets and 2 pen / pencil slots. The  optional laptop sleeve, which is padded with 1/4 inch wool felt and has a wool felt flap that protects the top edge of the laptop, slides behind the divider and is secured with another Sam Browne stud.
In the image above on the right, I have a large size Moleskine notebook in the front left pocket and a Nexus 7 tablet in the front right pocket. Inside I have my 13″ Macbook Air in the laptop sleeve with the felt flap covering the edge. In the other pockets, I have a homemade leather notebook cover with 2 Field Notes notebooks, 2 pens, a Waterfield wallet, day-job badge and a stack of colored index cards and a checkbook in the leftmost pocket. Although it's not visible, I also have a Waterfield zippered pouch with all sorts of cables and adapters in the bag too. The 15″ Crosstown messenger is plenty large enough to hold all my stuff and then some. Not shown is the metal key clip which is attached to the left inside wall of the bag. With the laptop sleeve in place, this clip is a little hard to access.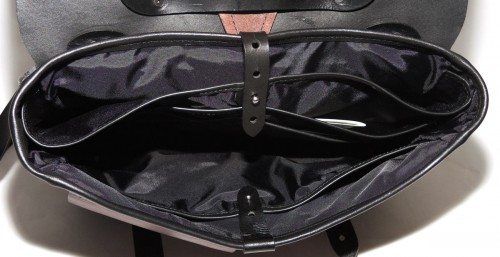 Dave: The interior of the Soho is broken down into three large open pockets. The front and back pockets have a leather strap and ball-stud closure to keep the sections securely closed. The center pocket is the largest of the three with small slip-in pockets stitched into the back nylon fabric for organizing smaller/flatter items.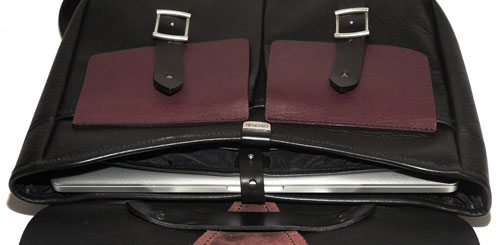 Dave: Even though Oberon considers the Soho a 13″ messenger bag, my 15″ Retina display MackBook Pro fit inside nicely. My bag does not have a padded laptop sleeve like Julie's does, though I doubt that my RDnMBPro would fit if it did. I had originally planned to carry my iPad and other gear, but I am very pleasantly surprised that I can carry all that plus my laptop as well, when I need to. While I love the Colonel Littleton Navigator bag I reviewed, it does not allow me to carry bulkier items, even my sunglasses case is a stretch. But the Soho's interior is large enough to carry not only my iPad, RD MBPro, sunglasses case, and paperwork, but a multitude of other gear/stuff as well.
Julie: FYI: Jeanne's 15″ Macbook Pro fits just fine in the laptop sleeve included with the 15″ Crosstown messenger.
Features & Dimensions
Soho holds a 13″ laptop, Crosstown is available in 13 and 15″ versions
All leather constructed from premium domestic bullhide (Soho), waxed canvas with leather trim (Crosstown)
2 Straps: cross body with shoulder pad and top grip handle (Soho), 1 shoulder strap with no pad (Crosstown)
Soho bag measures 15.5" wide x  12" tall  x  5", 15″ Crosstown version measures 16.5" Wide x 14″ Tall x 5.5″
Deep optional laptop pouch dimensions: 13″ x 9″ x .75″
Interior of bellow pockets 7" tall x 5.5"
Wide interior organizational pockets and pen or cosmetics holder
Wide back pocket 12.5" Wide x 7.5"
Deep functional length of cross body strap: 57" longest 42" shortest
Weight without laptop pouch:  Soho – 4.3lbs / 15″ Crosstown – 2.3lbs
Weight with laptop pouch:  Soho -5 lbs / Crosstown – 3.4lbs
Fit & Comfort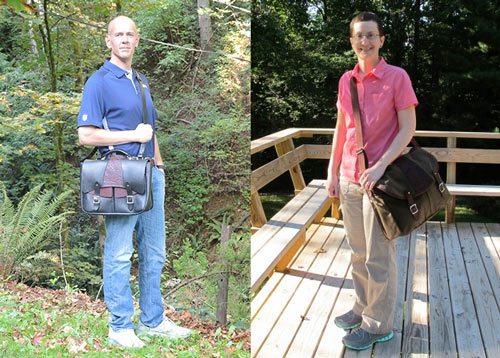 Julie: I found the Crosstown messenger bag to be as comfortable to wear and carry as most messenger bags. It didn't feel much heavier than my Timbuk2 that I carry every day. Like I had mentioned above, the only thing missing from this bag to make it perfect (for me) would be a grab handle. Other than that, it looks great, feels great, and is easy to use.
Dave: The Soho is the first messenger that I have ever used/owned. I typically use thinner brief-type cases, like the CL Navigator, or if I need greater volume I would use my booq Boa Flow backpack. The Soho messenger is a great mix of the two: great old world craftsmanship and stylish look/design with added capacity for more gear. 
Julie: I can't find any faults with these bags. They have been made with high quality materials and are constructed with expert craftsmanship that you'd expect from a high-end bag with a high-end price. If money is not an issue for you and you like the styles of these messenger bags, I don't think you can go wrong by making one of them a part of your everyday carry.
Product Information
Price:
$195 - $565
Manufacturer:
Oberon Design
Pros:

Excellent craftsmanship and build quality
Handmade from top-shelf materials
Carries a good amount of gear
Designed and made in the US

Cons: