We use affiliate links. If you buy something through the links on this page, we may earn a commission at no cost to you. Learn more.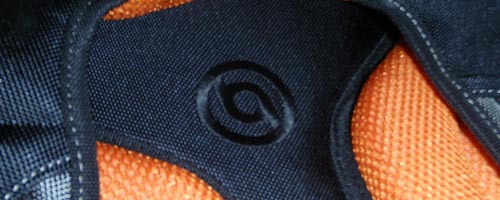 It has been more than 20 years since I have regularly carried a backpack (college to be exact). It was a ratty (at least by the time I got done with it) old JanSport with mediocre construction, little comfort, and zero accommodations for tech-stuff, being the 80's and all ;). Jumping to present day, today's backpacks not only need to protect and carry all of our fragile technology and miscellaneous stuff, but do so in a much more ergonomic way. After using the Boa Flow M for a few weeks, I can definitely attest to the fact that this backpack by booq has evolved many quantum levels since (way) back-in-the-day.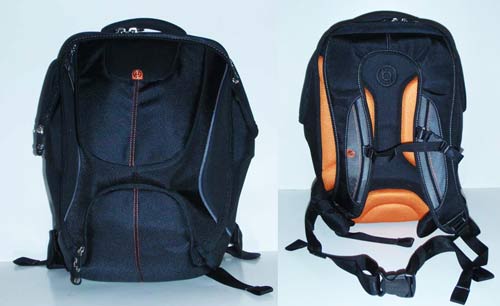 The booq Boa Flow M is an all black bag with orange and gray trim and stitching.  Like the Boa Slimcase XL and XL90 laptop bags I reviewed a few years ago, the materials are top notch and the workmanship is very well done. The exterior of the backpack is made of a heavy-duty black ballistic nylon with a water-repellent coating. The 'high-performance YKK' zippers will withstand countless openings and closings.
The shoulder straps are nicely padded with both a waist and a chest strap; all adjustable to give a well-carried, comfortable ride. The front of the backpack has two zippered, exterior pockets. The back of the backpack is padded as well. Even fully loaded, it is comfortable and distributes the weight well.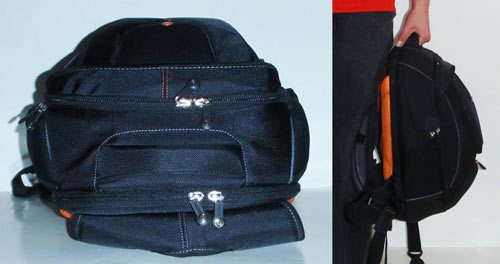 The top allows access to the two main compartments designed to hold a majority of your stuff (front) and laptop (back). Between the two pockets, there is  a handle for carrying the bag horizontally.

The main front compartment has a large number of subpockets, of various sizes and shapes, for holding a multitude of tech-stuff. The picture on the right is devoid of any gear, the one on the right has all my tech-stuff within. My point is that, the Flow has a deceptive amount of space to carry stuff in and pockets-galore to keep it all organized (although, sometimes I have to search many pockets to find what I am looking for). Even loaded with everything I typically drag with me there is tons of room for extras.

The rear compartment is for your laptop. It is well padded and my 13″ MacBook easily slides inside. This compartment is large and lined with a soft material providing an ideal, protected place for your laptop. Designed to carry a laptop that is 13-15″ in size, or 13-17″ if you carry an Apple MacBook. This specialized pocket holds the laptop separately from the main pockets, placing the laptop directly against your back, providing even further protection.
Specifications:
Fits: 13-17 Mac, 13-15 PC
Max Laptop Size: 14.5″ x 10.5″ x 1.5″ (368 x 267 x 38mm)
Exterior: 18 x 14 x 9 (457 x 356 x 229mm)
Weight: 4.5 lb (2.05 kg)
Features:
Ballistic nylon exterior with water-repellant coating
Oversized YKK high-performance zippers
HD foam laptop compartment for optimum protection
Intelligent interior layout optimized for laptop accessories
Side pockets for phone, music player or water bottle
Limited 5-year Warranty

Both sides of the Flow have a moderately sized vertical, zippered pocket. Perfect for a small water bottle, rolled up magazine, or power brick and cords.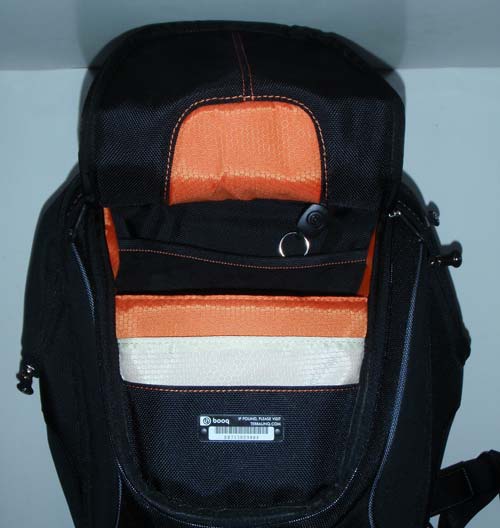 On the top/front of the Flow there is another compartment with several pockets, slots, and keyring holder to carry even more stuff.

Like a majority of booq's bags, the Boa Flow has a metal tag with a unique ID number. And once registered, booq's Terralinq service may be able to help you find your bag if lost.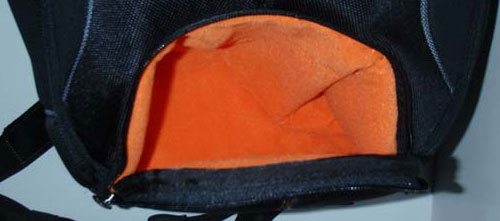 The Boa Flow has a collapsible bottom compartment, which serves as a protected, separate place for your camera (or large headphones), specially sized for a DSLR camera. When the pocket is not in use, it can be collapsed to maximize space in the main compartment.

The Boa Flow sits nicely on my shoulders and is extremely comfortable. Back in the 80's (at least in Renton, WA), few people wore their backpacks on both shoulders. Instead, we use to sling it over a single shoulder….pretty much as bad as it gets, ergonomically speaking. But either way, booq has engineered the Flow to distribute the weight of your load extremely well. Enabling you to carry a bunch of stuff along way.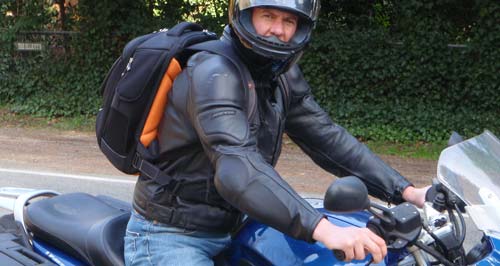 Best thing of all is how well this backpack looks and fits my motorcycle gear. It is perfect for getting my laptop, gear, and lunch to and from work.
Overall, I (& the Gadgeteer Kid) really like the Boa Flow (he is trying to sweet-talk me into letting him use it (he likes black and orange lately)). This backpack is well made with high quality materials. It has a good amount of space to carry your laptop and gear around. booq has put a great deal of thought into the Boa Flow's interior layout with protecting your laptop as this backpack's primary concern plus a specially engineered compartment for your DSLR camera. At $200, the Flow is not inexpensive, but in this case you are getting what you pay for.

Product Information
Price:
$199.95
Manufacturer:
booq
Pros:

Excellent materials and workmanship
Very well made
Water-repellent coating
Separate, padded laptop compartment
Many pockets and compartments
Comfortable
Very nice looking

Cons: