We use affiliate links. If you buy something through the links on this page, we may earn a commission at no cost to you. Learn more.
This post brought to you by Bang & Olufsen. All opinions are 100% mine.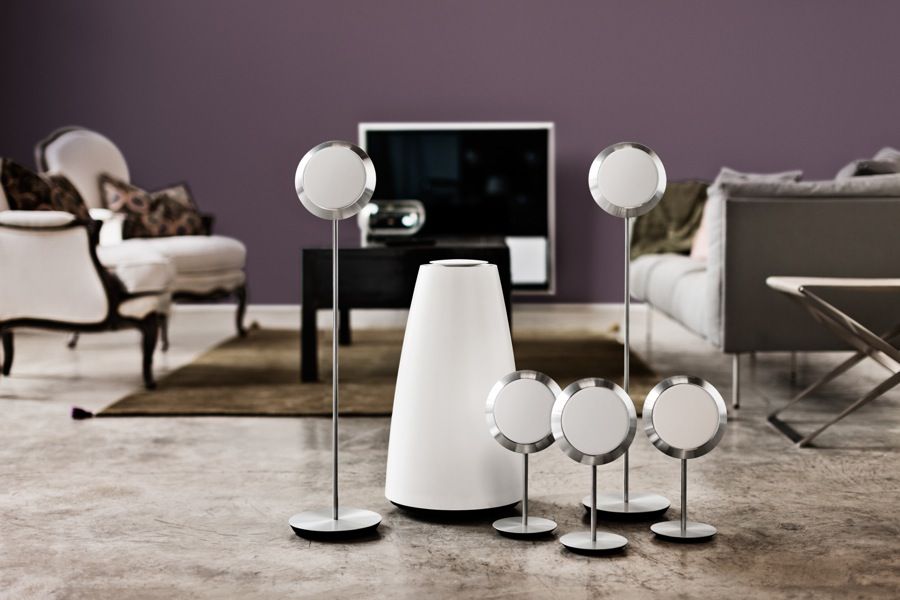 Do you ever think about what you'd do if you suddenly came into a lot of money?  I do.  I'd buy my mid-century modern dream house, order a bunch of Knoll furniture, and call Bang & Olufsen to equip my house for sound.  For many years, B&O has designed beautiful, artistic home audio equipment, car audio systems, and televisions.  Of course, their televisions already benefit from the wonderful B&O sound experience, but what about the folks who would love to add high-quality, Bang & Olufsen audio to their own TV?  Those folks are now in luck, because B&O has recently introduced their BeoLab 14 surround-sound speaker system that adds amazing, rich sound to any television. 
The BeoLab 14 system consists of an 8″, 280W downward-facing subwoofer housed in a beautifully sculptural package. The subwoofer delivers powerful sound at frequencies down to 26Hz; their Adaptive Bass Linearisation produces "cultivated bass, no matter what the peaks".  The subwoofer also contains a digital signal processor, room adaptation switch, line sense, Power Link connections for Bang & Olufsen components, and an A/V multi-connector for other components.  Finally, there are connectors for five active satellite speakers and individual 140 watt amplifiers with separate equalizers for each satellite.  The 6.3″ round satellites have 2.5″ treble/midrange drivers encased in beautifully-crafted aluminum enclosures.
Needless to say, the BeoLab 14 surround-sound system is designed and built with all the experience and attention to detail that B&O is known for.  The components are subjected to testing that simulates years of exposure to smoking, temperature extremes, and even the hazards inherent in shipping the product.  Even with the best components, B&O knows that sound is a subjective experience.  A lot of time is spent with the speakers in the Listening Room at various stages of the development, with different people, and in different room environments, to tune the speakers to achieve a sound that is what the original artist intended.
BeoLab 14 is available in two versions.  One is designed for use with B&O televisions.  It comes with only four satellites, as the TV's own speakers will serve as the center channel.  The other model works with all other brands of televisions, and it includes a fifth satellite that serves as the center channel for surround sound.  Pricing begins at about $4056 (€2995).  Tools at the B&O website allow you to locate your closest dealer and arrange for a demo.  You know what HD did to improve the picture.  Wouldn't you like to know what the B&O BeoLab 14 surround sound system can do to improve the sound of your television programming?