We use affiliate links. If you buy something through the links on this page, we may earn a commission at no cost to you. Learn more.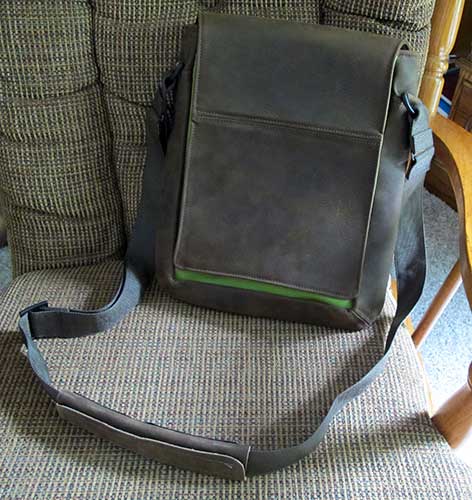 WaterField Designs is hands down, one of my favorite gear bag designers. I carry their wallet and pouches with me single every day. Last summer I had the opportunity to review their Personal sized Muzetto gear bag, which I continue to love to use as an around town carry all. When I saw that they had added a new 10″ Portable sized Muzetto capable of holding the iPad, I knew I needed to get my hands on one. Let's take a look. For the most part, the Portable size is almost identical to the Personal size that I already reviewed. The Personal size can actually hold an iPad – although it's a snug fit and can't hold much else.
All the Muzetto bags from WaterField are made of soft leather and canvas. The design is casual with flair. The exterior leather has a slightly scuffed look to it that makes you think it has seen some adventures. It fits in great with my blue jeans, sneakers and t-shirt style.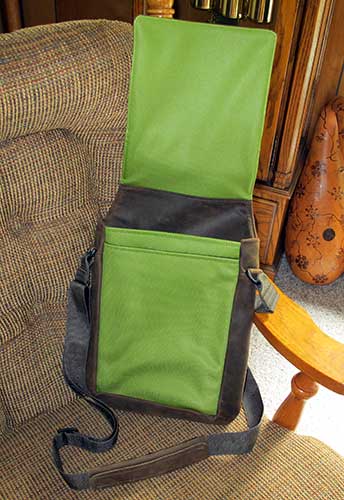 The bag has a long flap that doesn't require any type of clasp to hold it closed. The flap is thick and heavy enough to stay closed by gravity alone.
When you lift the flap, you're greeted with a splash of color. My Muzetto has a Green canvas panel under the flap, as well as the front of the main compartment. This bag is also available in Black, Copper, Flame, Pearl and Pine.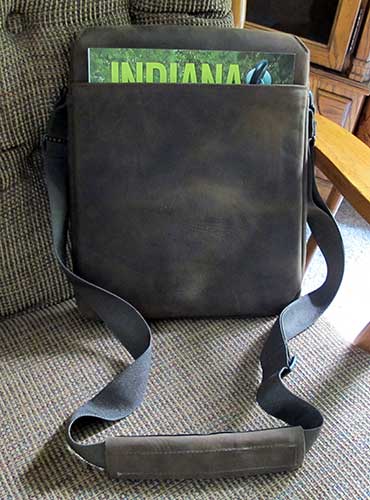 If you look at the back side of the Muzetto, you will find an open pocket that is large enough to accommodate a couple standard sized magazines. The overall size of the Portable Muzetto is 11.5″ x 9.3″ x 2.0″.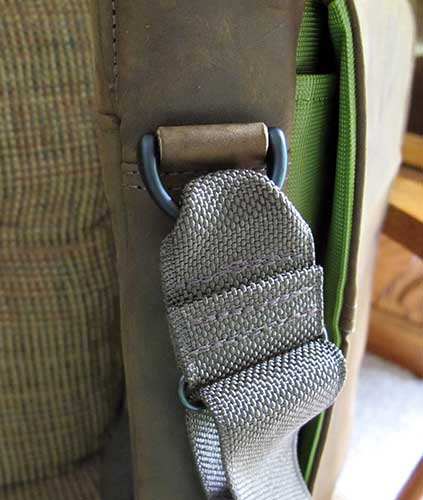 The adjustable shoulder strap is made of a soft woven material, that is attached to the bag with a metal D ring.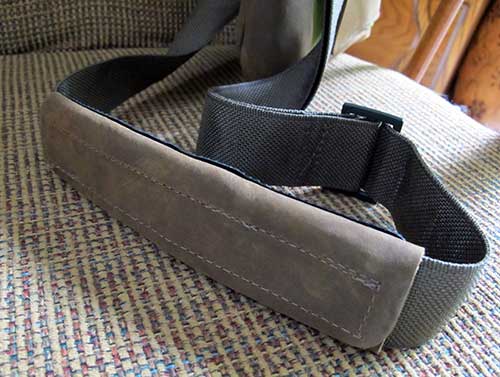 A removable leather shoulder pad is included with the bag.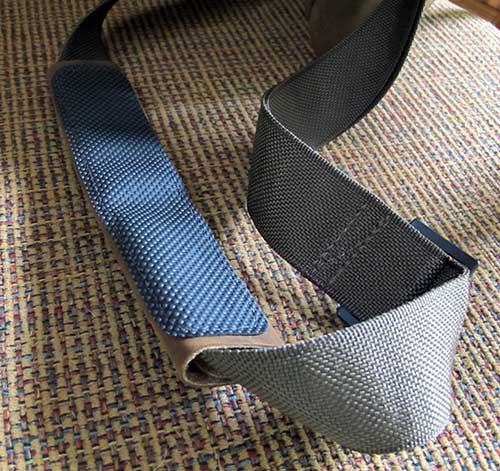 The underside of the pad has a rubber strip with raised nubs that are designed to help keep the strap from slipping off your shoulder.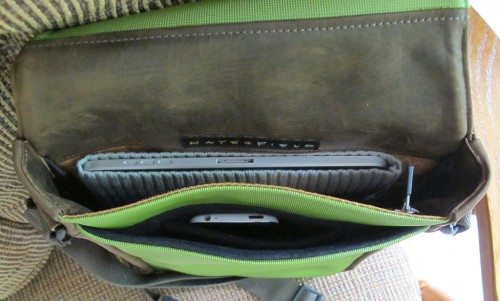 Under the flap you will find the main compartment and three other pockets. The main compartment is lined in a gold canvas-like material. In the image above (click it for a larger view), you can see my iPad in the main compartment. It's housed an iPad sock, which is a very minimal sleeve. I can't imagine any iPad case that would not fit in the Muzetto's main compartment. You'll notice that there's quite a bit of extra room available for other items too. Heck, there's enough room in there to hold the iPad, the wireless keyboard and other gear.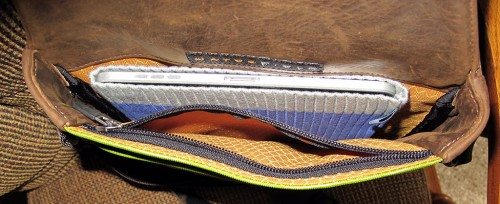 The main compartment also has a flat zipper topped slot located in the front wall. I use this pocket to hold my wallet and car keys. It could easily accommodate the AC charger for the iPad as well.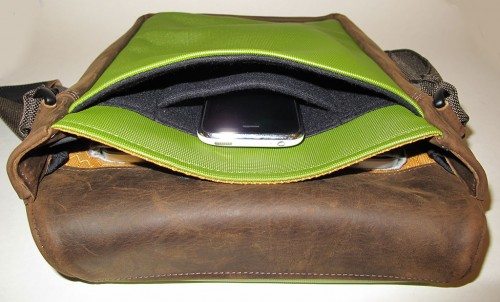 The front pocket is lined in a soft Black knit material and inside this pocket is smaller pocket made of the same material. This smaller pocket is perfectly sized for an iPhone, other smartphone or any other small device that you would like to store for easy retrieval.
Everything about this bag from materials to construction is top quality. I couldn't find any defects or reasons to complain. At almost $200, the Muzetto might not fit into everyone's budget, but I've found that WaterField products last for years, so you will definitely get what you pay for. The Muzetto is my current favorite iPad gear bag. What's yours?

Product Information
Price:
$189
Manufacturer:
WaterField Designs
Pros:

Holds iPad and more
Small soft pocket perfect for an iPhone
Back slot is large enough for magazines

Cons: