We use affiliate links. If you buy something through the links on this page, we may earn a commission at no cost to you. Learn more.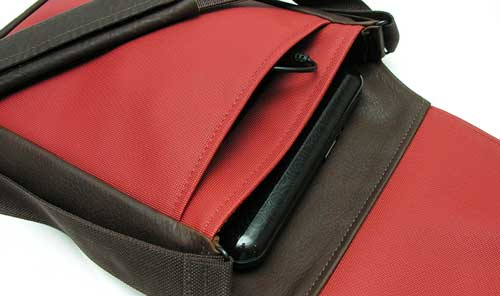 It's no secret that I'm not a girly girl. Give me some old jeans, a tshirt and a pair of sneakers and I'm perfectly comfy. Same goes for my gear bags. I don't want a froo-froo bag with flowers or Hello Kitty on it. I like like simple unassuming bags that don't look too shiny or new. When I saw the Muzetto from WaterField, I knew that I had to get my hands on one even though it's being marketed as a man bag, murse, or whatever you want to call it.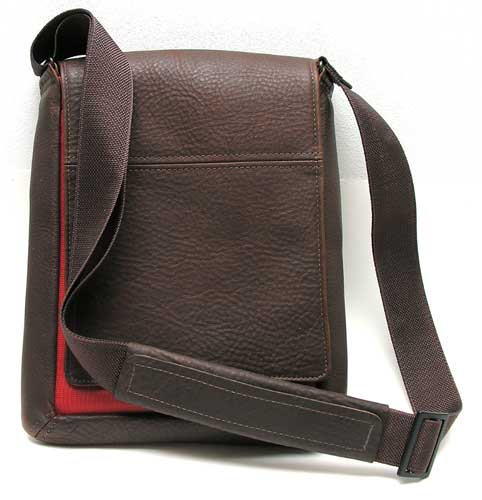 The Muzetto is available in 3 sizes:
15″ Laptop Muzetto $259 / 15.5″ x 11.75″ x 2.7″ / 2 lb.
13″ Laptop Muzetto $239 / 14″ x 11″ x 2.5″ / 1.7 lb.
Personal Muzetto $179 / 10.5″ x 8.5″ x 1.5″ / 14 ounces
And 6 colors: Black, Copper, Flame, Green, Pearl and Pine.
I was sent the Personal size in Flame.
This is a vertical messenger style bag that is made of a slightly pebbly textured supple leather and a closely woven canvas. The front flap has no closure mechanism (velcro, snaps, magnets, etc). The weight of the flap holds it closed.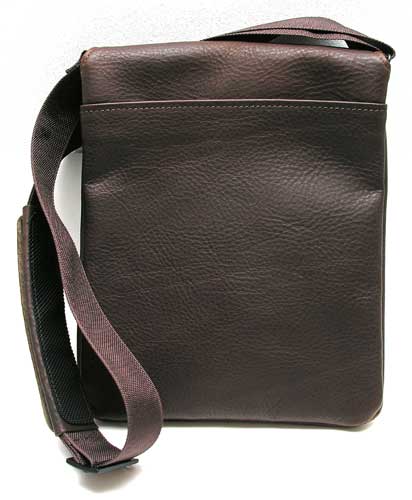 Never miss one of our posts again. Sent MON, WED, and FRI with the latest gadget reviews and news!
The only exterior pocket is located on the back side of the bag. On the personal sized Muzetto, this pocket is 8 inches wide by 9 inches tall.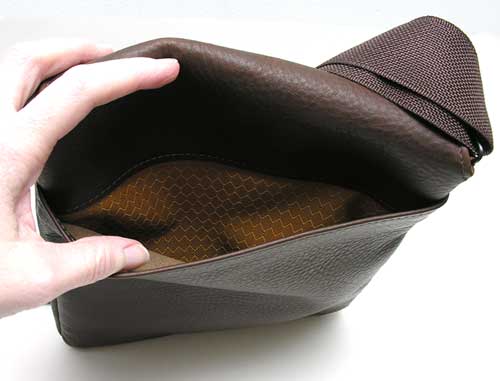 This pocket is lined in a Gold fabric that makes it easy to see the contents.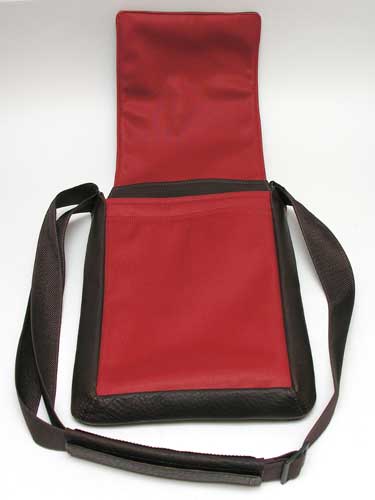 When you open the flap, you'll find another 8 x 9 inch flat open pocket.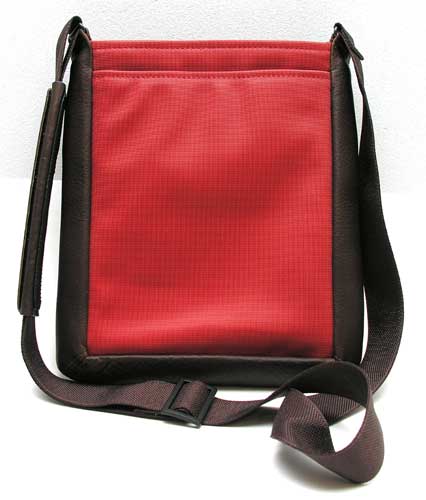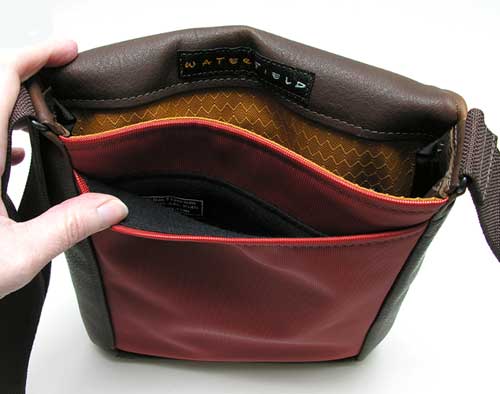 This one is lined with a soft Black knitted material. I use it to hold my cell phone, camera or other small items that I don't want to be scratched by clanking around in the main compartment.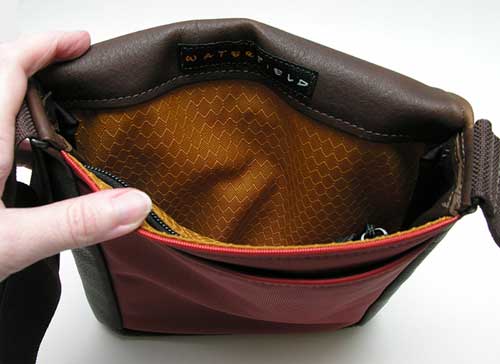 The main compartment is lined with the same Gold fabric that the back pocket is lined with.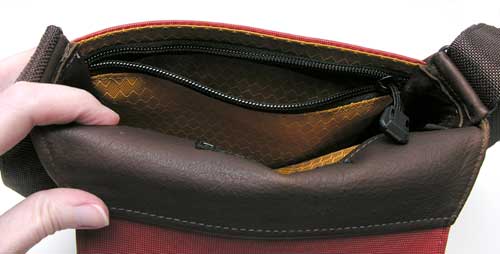 The only other storage is a zippered pocket located in the front wall of the bag. I tend to put my wallet and / or car keys in this pocket.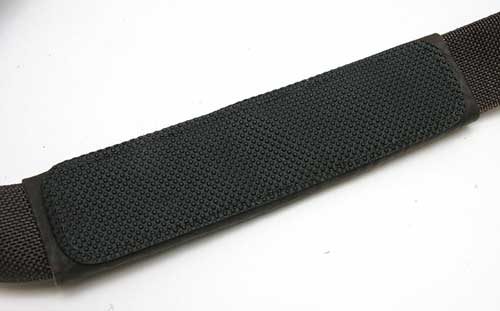 The Muzetto comes with a removable shoulder pad that has a rubber grippy surface on the back. I actually don't use this on my shoulder. Instead, I use it to keep the two layers of the adjustable woven 1.5 inch wide shoulder strap together.
When the folks at WaterField asked me which size of the Muzetto that I wanted to review, I asked for the smallest (personal) size. My plan was to use it as a companion bag for my daily gear bag. I tend to go back and forth from using the Timbuk2 Laptop Messenger bag or the WaterField Sling bag. But I've wanting something smaller to carry around when I go to lunch or on the weekends when I'm out and about. The Muzetto personal size is perfect for carrying a few essential items.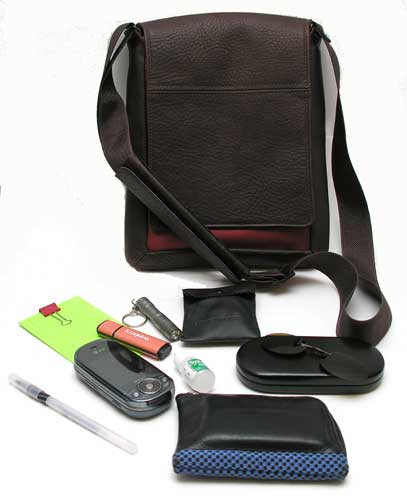 Here is a collection of items that I have been storing in the bag during my review period. A Waterfield wallet, sun clips / case, Pantech Matrix Pro Smartphone, Kingston DataTraveler 32GB flash drive, Airdrives headphones, eye drops, 3×5 index cards and binder clip, Bic pen, and a flash light. Not pictured are my car keys and some Carmex lip balm that I also carry.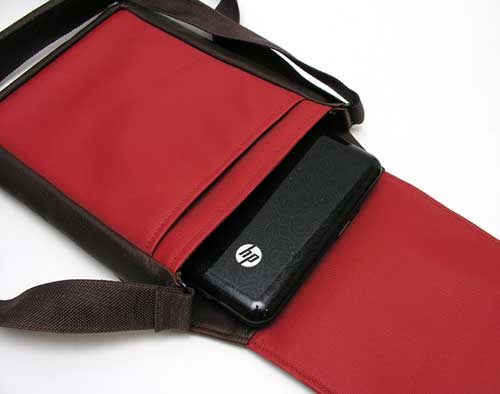 A 10″ netbook like the HP mini 1000 (and the power adapter) fits perfectly in the personal sized Muzetto. The Amazon Kindle (even in a case like the one from Oberon Design or M-edge ) also fits just fine. Since the Muzetto does not have any substantial padding, it's probably a good idea to protect items like netbooks and the Kindle in a secondary case when carrying them around in this bag.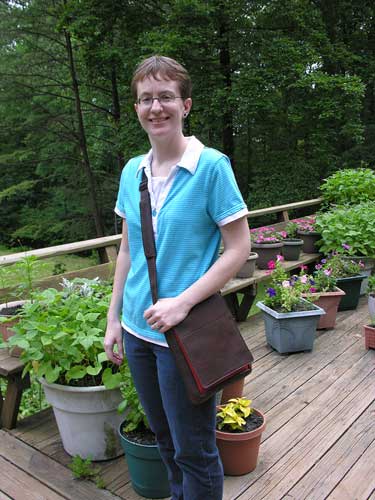 As a reference, here I am wearing the personal sized Muzetto. I am 5'6″ tall. Wow, I really need to get some sun! 😉
I really like the Muzetto. It's been a perfect bag for the task that I assigned to it. I have had no complaints with the materials or construction. The only complaints that I can come up with are that the shoulder strap isn't removable and the price. $179 is a lot of money to pay for a small bag like the personal sized Muzetto. The largest size is an additional $80. Is it worth it? My answer is that in my experience, WaterField bags stand up to years of use and abuse. I have several of their products that I continue to use every day and they all still look brand new. So, it might put a squeeze on your wallet at purchase time, but once you buy one, you're done.
Product Information
Price:
$179.00 - $259.00
Manufacturer:
WaterField
Pros:

Classy style
4 pockets
Comfy

Cons:

Expensive
Shoulder strap can't be removed