We use affiliate links. If you buy something through the links on this page, we may earn a commission at no cost to you. Learn more.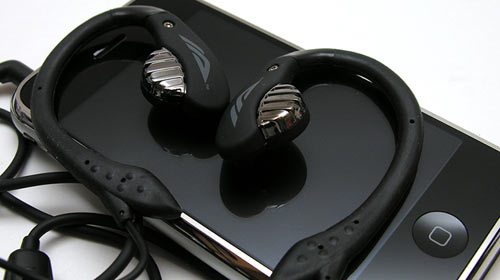 During a typical day at work, I listen to tunes through my iPhone and its stock set of earbuds. Although the earbuds get the job done and sound fair to good, they tend to become uncomfortable after awhile. But I continue to use them because they have the built-in microphone that allows me to intercept any calls that might come in. I've tried a few replacement earphones / mic for the iPhone, but most of them are in-ear style that I absolutely hate because they aren't comfortable for me and I'm always having to pull them out when people come to my desk to talk. That's why I was very interested when I first saw the new AirDrives over the ear style earphones on RichardSolo.com. Let's see if they end up collecting dust in a drawer or a coveted spot in my gear bag.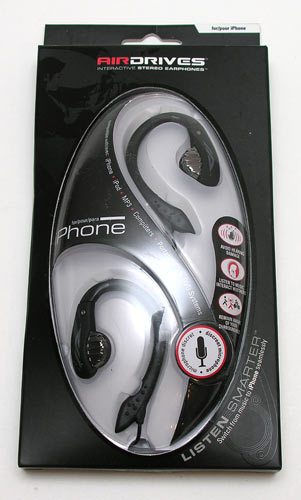 Hardware Specs
Compatible with: iPhone, Blackberry Curve, iPod, MP3, Computer, Portable CD and DVD Players
Frequency Range: 20-20,000 Hz
Sensitivity: 98 dB as source 80 dB SPL at inner ear
Impedance: 16 Ohm
Maximum Power Input: 15mW
Cable Length: 1.2m 4f
Jack: Gold plated 3.5mm dual standard stereo / 70 degree
Speakers: Neodymium rare earth magnets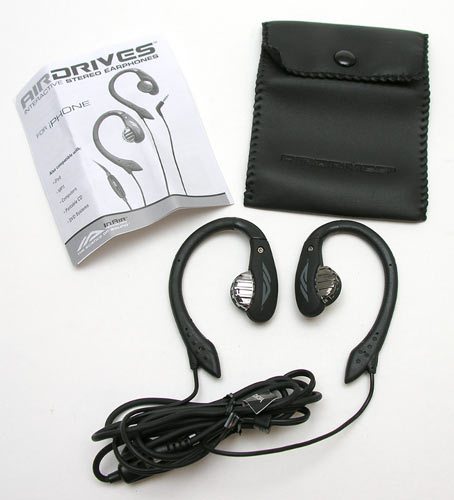 Package Contents
Earphones
Snapped carrying case
Info sheet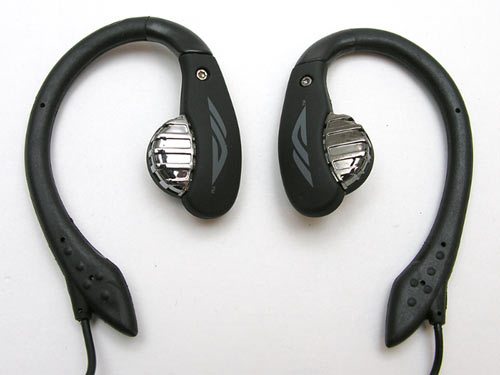 AirDrives have a unique design. They are not quite earbuds, nor would they be considered in-ear style earphones. They have over the ear hooks that are covered in soft rubber and can be bent to fit the shape of your ear for optimal comfort.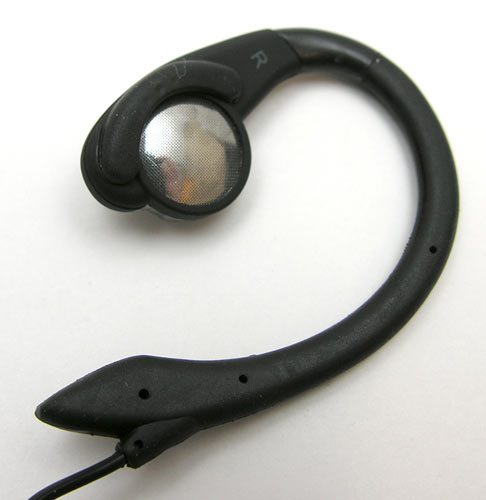 The earphones do not sit in your outer ear opening or inside the canal like typical earbuds, instead, they rest just on the outside of the ear.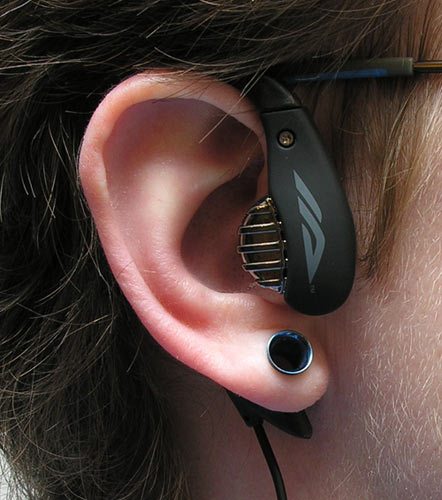 They are great for people that find most earbuds very uncomfortable because the only place where something is touching your ears is the top part where the hooks rest. Even with glasses on, the hooks didn't bother me. After a few minutes, I almost forgot I was wearing them.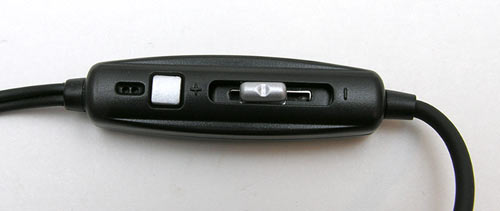 Just like the stock iPhone earbuds, there's a built in microphone and call answer / end / pause switch. The AirDrives mic also has a built in volume control slider. The pause switch can be pressed once to pause a song or twice to skip to the next song. Of course it is also used to answer and end a call.
AirDrives have actually been around for awhile now. They have non-iPhone versions and even a version for children. They use what they refer to as inAir technology:
The open ear design utilizes the ear to its full advantage by optimizing the ears' natural ability to interpret sound while allowing users full awareness of their surroundings. Add life to your music! Free your ears! "Using proprietary InAir Technology, AirDrives break the sound barrier that isolates music lovers from their environment." You shouldn't have to choose between music and social interaction. AirDrives address the growing health and safety issues and their open architecture means there are no uncomfortable buds in your ears.
I was concerned that my audio experience with the AirDrives would be lacking due to the fact that the speakers sit on the outside of my ear instead of in it. I was surprised at how good music sounds through them. While it doesn't sound quite as full as it would with typical earbuds, the AirDrives make up for it by the fact that I can hear what's going on around me while still enjoying my music.  They would not be an ideal choice for extremely noisy areas, but are great for office environments, running, cycling, walking, etc. They are even good for driving as long as you don't crank up the volume. I like the fact that there's no feeling of isolation while wearing them.
The main audio weakness with these earphones is that the bass response is weak. If you like a lot of thump with your music, you'll probably be disappointed. Bass isn't completely absent, but it's pretty low.
I did a few phone call tests with the AirDrives and the stock earbuds that are included with the iPhone. Switching back and forth between the two sets, people told me that they had some problems hearing me when I was talking with a normal voice- that I was too quiet. They basically said that both sets weren't very good. For my side of the calls, I would have to give the nod to the iPhone earbuds. Call audio is definitely louder using them. The AirDrives require me to turn up the volume in calls. The iPhone buds don't.
When it's all said and done, I like the AirDrives iPhone earphones. They are comfortable and allow me to listen to music while not feeling cut off from my environment. There are some issues with using them for phone calls, but if I talk a bit louder, it seems to be fine. My stock iPhone earbuds have been banished to the gadget drawer. 🙂
Product Information
Price:
$69.95
Retailer:
RichardSolo.com
Pros:

Very comfortable
Able to hear ambient noise around you
Don't need to remove to talk to people

Cons:

Bass response is weak
Callers might have trouble hearing you