We use affiliate links. If you buy something through the links on this page, we may earn a commission at no cost to you. Learn more.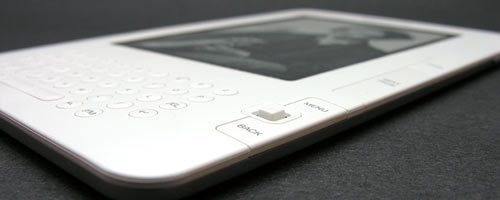 The last time I read an 'analog' book, was… ummmm… Wow, I can't even remember. I've been reading e-books on my PDAs and now smartphones for years now. I think the first device that I recall reading on was the Palm V. I love being able to carry a bookcase of books in my pocket. I didn't purchase Amazon's original Kindle, because I didn't think it would be a device that I would carry around with me all the time like my smartphone. Then recently when Oprah featured the reader on her show and offered a $50 discount, Jeanne decided to buy one. I was very surprised because she has always turned her nose up to digital books in the past when I offered to put eReader on her Palm Zire 31. I almost bought one of my own after playing with hers, but I decided to wait for the Kindle 2. I'm glad that I did.
Hardware Specifications
Display: 6″ diagonal E-Ink® electronic paper display, 600 x 800 pixel resolution at 167 ppi, 16-level gray scale
Size (in inches): 8″ x 5.3″ x 0.36″.
Weight: 10.2 ounces.
System requirements: None, because it doesn't require a computer
Storage: 2GB internal (approximately 1.4GB available for user content)
Battery Life: Up to 4 days with wireless on. Up to two weeks with wireless off
Charge Time: Fully charges in approximately 4 hours and supports charging from your computer via the included USB 2.0 cable.
Connectivity: EVDO modem with fallback to 1xRTT; utilizes Amazon Whispernet to provide U.S wireless coverage via Sprint's 3G high-speed data network. Check our wireless coverage map for availability. This expanded coverage is only available for Kindle 2. See Wireless Terms and Conditions.
USB Port: USB 2.0 (micro-B connector)
Audio: 3.5mm stereo audio jack, rear-mounted stereo speakers.
Content Formats Supported: Kindle (AZW), TXT, Audible (formats 4, Audible Enhanced (AAX)), MP3, unprotected MOBI, PRC natively; PDF, HTML, DOC, JPEG, GIF, PNG, BMP through conversion.
Package Contents
Kindle 2 Wireless Reading Device
Power adapter
USB 2.0 cable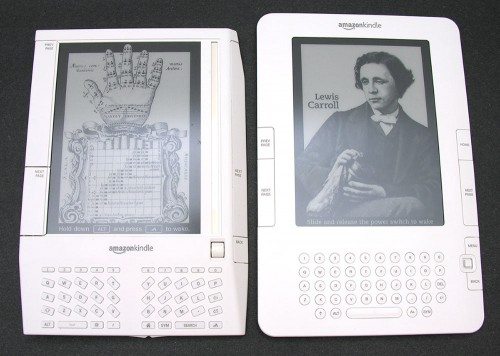 The Kindle 2 is approximately the same width as the original device, but is slightly longer. The display is the same size and resolution, but is capable of 16 shades of Gray  instead of only 4 shades.

I was immediately impressed with how thin the Kindle 2 is when compared to the original Kindle.
I wasn't a big fan of the wedge shape and probably the main reason why I decided not to buy the original Kindle was the fact that it has buttons along both side edges. Every time I would pick up the reader, I would accidentally activate a button.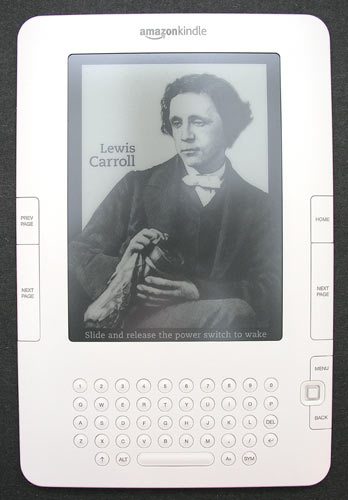 In my opinion the Kindle 2 is much nicer looking that the original. I like the thin flat design and rounded corners. The top half is made of sturdy egg shell White plastic.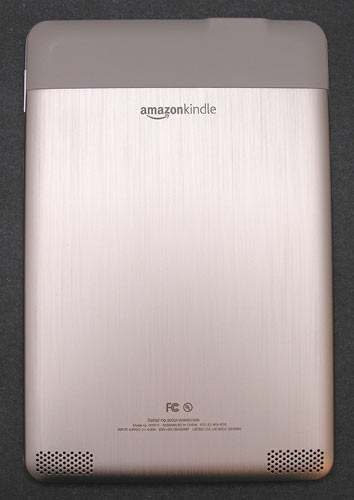 While the back is a brushed aluminum. You'll also notice the speakers located along the bottom edge.
There isn't a user replaceble battery in this newer model and there's also no SD card slot. However, the memory has been increased from 180MB up to 1.4GB.

The top edge has a 3.5mm stereo headphone jack and a spring loaded power switch.

You'll find a micro USB connector and charging status LED on the opposite edge.

There are two thin slots on the Left side of the Kindle. These are attachment slots for protective covers. One thing to note is that the Kindle 2 does not ship with any type of cover or case.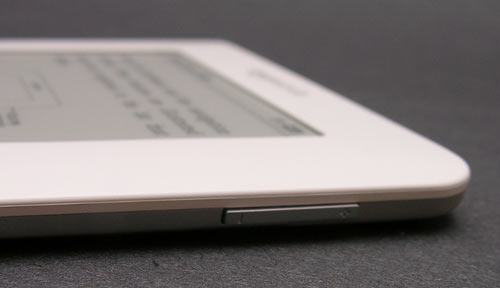 On the Right side you will find the volume controls.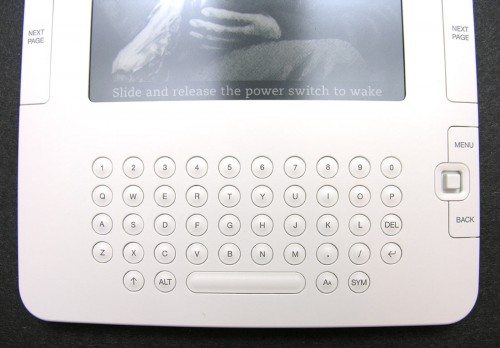 The QWERTY keyboard has hard round and slightly domed keys. Although the keys are small, they do have good tactile feedback. Thumb typing is not hard at all.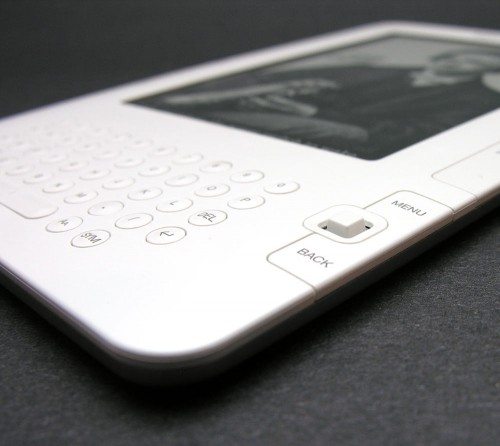 Instead of the shiny navigation strip that the original Kindle had, the Kindle 2 has a spring loaded 5-way joystick style button. The button is made of hard plastic and also has very good tactile feedback. Above the joystick is the Menu button and below it is a Back button. On the Left side of the display are Next page and Prev page buttons and on the Right side of the display there are Home and Next page buttons. I had no problems at all navigating around pages and menus with the Kindle 2. It feels very intuitive.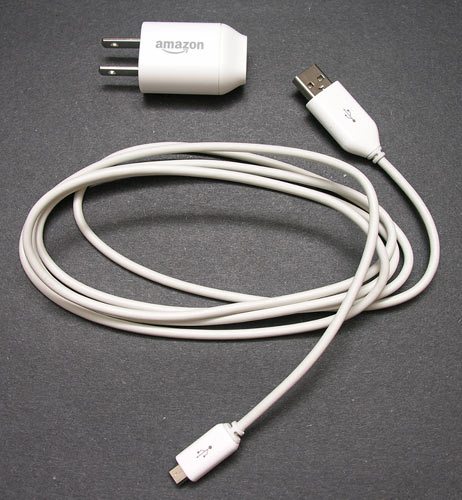 Charging the Kindle is accomplished with the included micro USB cable and AC adapter. The adapter is very compact and portable.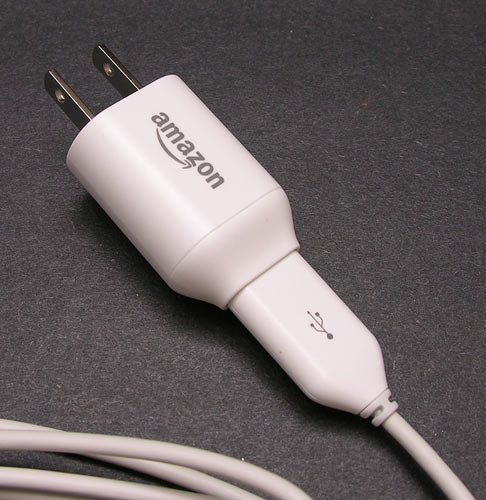 You can also charge the Kindle through a powered USB port. I have tried this on the original Kindle and haven't had success. It either isn't supported, or is extremely slow.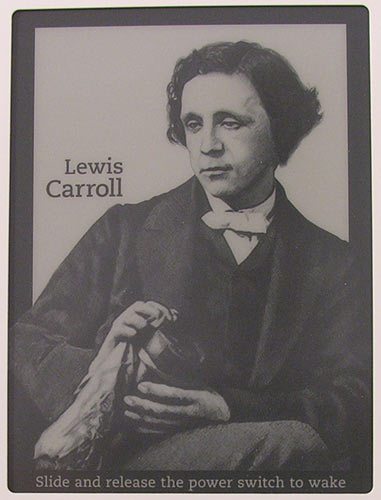 The display uses the same technology as the previous Kindle. It's still mono and is not backlit. The lack of a backlight was a concern for me as I have problems with low light vision (darned corneal dystrophy). That said, as long as I'm sitting in an area with decent lighting, the Kindle is very comfortable to read. I still do hope that a future version of the Kindle might have a backlight.
If you like to read outside, you won't have any issues with screen glare. The screen is fantastic in full sun.
The images I've captured for the review were taken without flash in a medium lit room.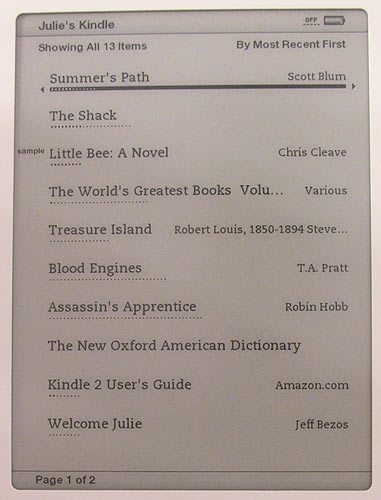 The user interface hasn't changed that much with this new model. It's still simple and non-cluttered. The Home screen lists all your books and at the top of the screen, you can see the status of the wireless connection and battery.
You'll notice that below each book's title is a dotted line. This line represents how far along you are in the book. The dots get slightly bigger and bolder to show your progress.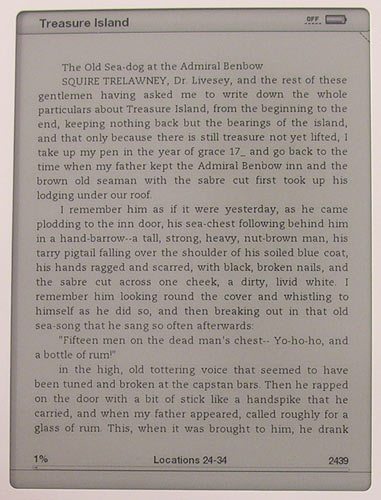 Using the joystick, you just scroll down to a book title that you want to open and select it by clicking the joystick. Again, the user interface is simple and not cluttered by info that is not necessary. The book title is in the upper Left corner and your location within the book is displayed along the bottom. In the image you see above, the text size is set to the smallest size.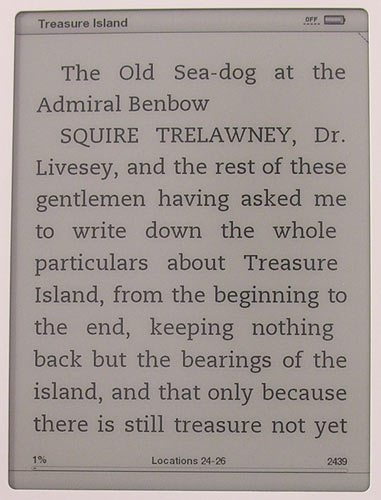 And this is the largest size text setting. You can choose from six different sizes.
Turning the pages is done with the large Next Page button on other side of the display. It feels natural and comfortable to read with the Kindle. It's actually feels more comfortable to me than using the iPhone or iPod touch. I usually hold the Kindle in my Right hand, with my thumb over the Right Next Page button.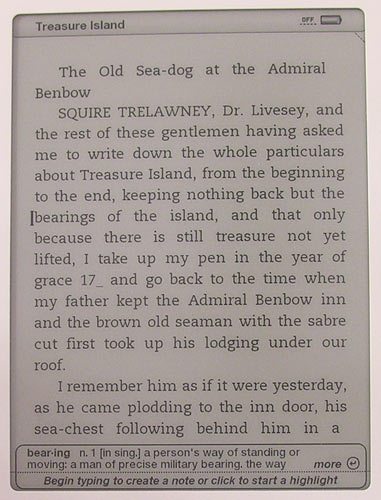 One of the most useful features of this ereader is the word look up feature. If you don't know the meaning of a word, just use the joystick to move the cursor to the Left side of the word and the definition appears at the bottom of the screen. If you want to see even more info on a particular word, you can press the return button on the keyboard and it will load a whole page from the New Oxford American Dictionary, which is included on the Kindle 2.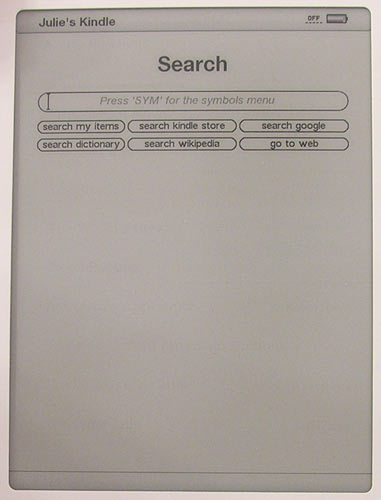 There's a search function while in a book to search for a word and an expanded search feature from the Home page.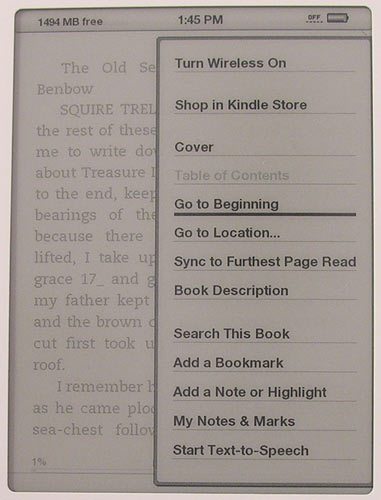 The Menu button will bring up a contextual menu depending if you are in a book or at the Home screen. While in a book, you can navigate to different locations in the book, search, add a bookmark, notes or highlight text. You can also get a description of the book (this requires wireless). Two features new to the Kindle are Syncing and text-to-speech.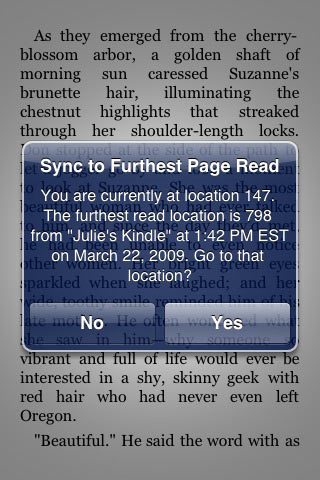 Syncing is really nice if you have an iPhone or iPod touch. The free Kindle application will automatically sync your purchased books and will always know where you are in the book. For example, I was reading a particular book on my Kindle this past weekend and when I launched the Kindle app on my iPhone today, it immediately asked me if I wanted to sync the same book to the furthest read location. I love this feature! 🙂
The Text-to-speech feature is one of the three experimental features that you'll want to try out. It will read your books to you in either a male or female voice. It sounds a bit robotic, but not too bad really. Here are two samples: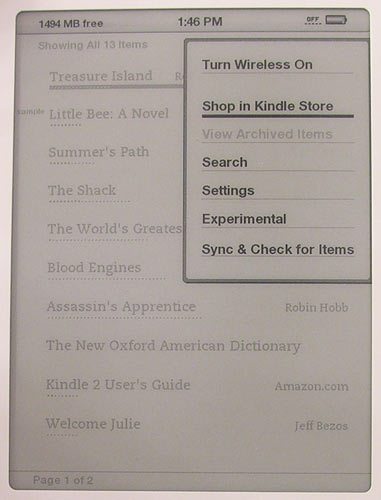 One of the main selling points for the Kindle is the ability to buy books directly from the device using their free Whispernet wireless connection. That means that you do not need a computer to convert and load books on to this reader as long as you are in the wireless coverage area. The Kindle has a built in EVDO modem that uses Sprint as the carrier. Where I live, I do not have Sprint coverage… BUT, I do get a signal on the Kindle because I it's roaming on Verizon. My signal isn't very strong or fast, but I am able to buy and download books.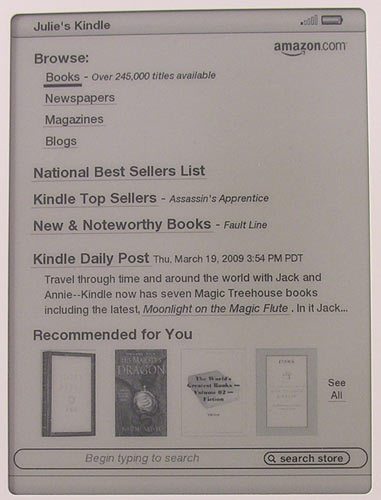 The online store is easy to navigate and wander around in.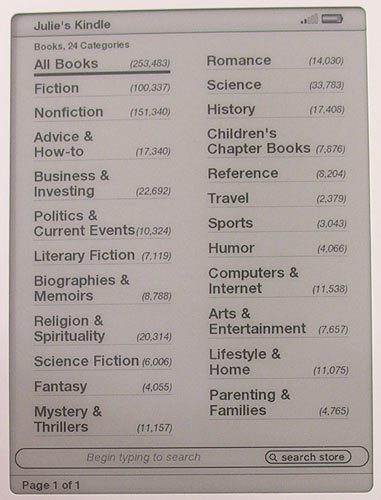 The numbers in parenthesis are the number of books available in each category. You don't just find old books to buy, even the latest and greatest titles are for sale. New York Times best sellers typically sell for $9.99 each.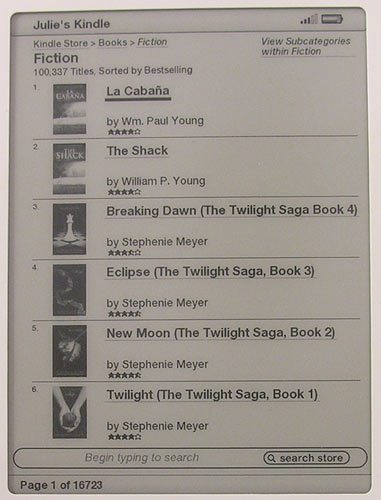 The book lists show the cover art, titles, and rates.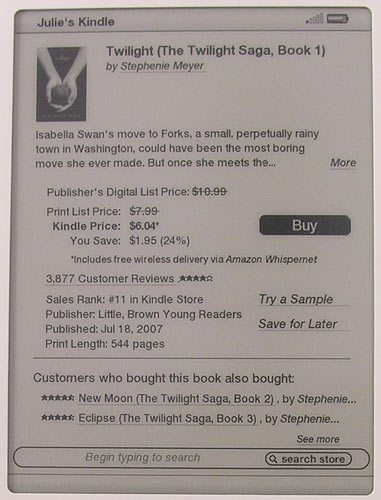 You can purchase books directly on the device or get a free sample first with an option to buy the whole book once you finish reading it. Prices are actually a lot better than I remember them being with the Sony Reader. You can even find free books to download through the online store. Amazon knows what it's doing with the instant gratification aspect of their store. When you click Buy, you don't have to go through the pain of signing on, giving your credit card number or anything. It uses your Amazon account and the payment method already setup there. It's easy, it's fast, it's addictive 🙂 Even with my slow connection, I could buy a book and have it ready to read in a couple minutes.
In addition to books,  you can subscribe to newspapers and magazines that will be delivered right to your device. There aren't many magazines to choose from yet, only 24 or so including Time, Newsweek, Reader's Digest, etc. I'd be more excited about magazines if the Kindle had a color display.
If you're cheap and don't want to buy books, you can help yourself to any freebies that Amazon makes available, or you can download books from other sites and convert them to the Kindle format (.AZW). There are free tools available that makes this very easy. Stanza and Calibre can both save to AZW format.
The Kindle also has a built in web browser…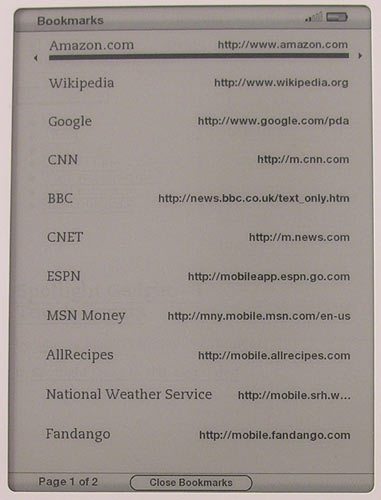 Unless you have a fast connection, it isn't the most enjoyable experience though…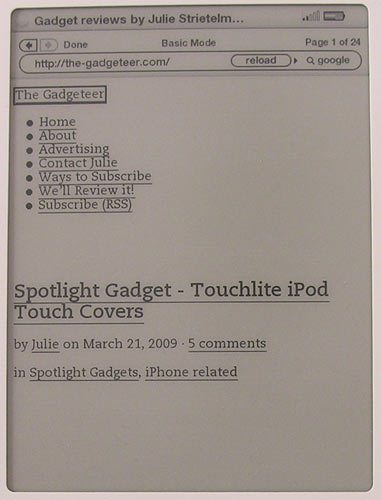 This is what The Gadgeteer looks like through the Kindle browser. Ick 🙂
I've had the Kindle 2 for a few weeks now and I have been enjoying using it. It feels slightly faster than the original kindle at turning pages and does have a better battery life. As long as I don't forget to turn off the wireless radio, it might last for close to two weeks between charges. If I forget to turn off the radio, I'll be lucky to get a day and a half out of a charge.
Reading on the device is comfortable on my eyes as long as I am in a well lighted area. Holding the device and changing pages using the buttons is also comfortable. The size is thin and light, but even so, I don't take it to work with me in my gear bag everyday. I find that I have been only using it at home so far. I know I'll also bring it along on trips, but it isn't convenient to carry with me all the time. If I want to read a few pages while I'm at work, I launch the Kindle app on my iPhone and read there. Then when I get home, I sync to the last read page on the Kindle and I'm good to go. 🙂
I think the Amazon Kindle will eventually do for books what the Apple iPod has done for music. People were skeptical with the original Kindle, but I think as Amazon continues to improve on this wireless e-book reader, that it's definitely going to happen.

Product Information
Price:
$359.00
Manufacturer:
Amazon
Pros:

Easy to use
Great display, no glare outside
Whispernet / Online store
Sync with other Kindle enabled devices (iPhone)

Cons:

Expensive
Wireless feature can drain battery quickly