We use affiliate links. If you buy something through the links on this page, we may earn a commission at no cost to you. Learn more.
Product Requirements:
Device:
Windows 98/2000/ME or XP, Macintosh running Mac OS 9, version 9.2.2 or Mac OS X, version 10.2 or 10.3
I've owned a LOT of handhelds over the years…starting with the early  wonderful Apple Newton, progressing to the first Windows CE HPCs, and so on right up the food chain. I also have owned a few
Palm handhelds and phones. I recently traded my HP 1945 for a Tungsten C, but the  person lived in Canada, and I couldn't stand being without a handheld for a few weeks. I thought I'd try out a Zire 31 while I waited.
Hardware Specs:
Processor:  200Mhz Intel ARM-based processor
Operating System: • Palm OS® 5.2.8
Screen: 160×160 color STN display with contrast and
brightness controls. Supports thousands of colors
Size: 4.4 x 2.9 x .6 in.(11.17 x 7.36 x 1.52 cm)
Weight: 4.1 oz. / 116.23 Grams (without protective flip lid)
HotSync® Cable: Standard Mini-USB HotSync cable and AC adapter included
Most of us experienced handheld owners wouldn't pick a basic model like the Zire 31. But what if you never owned a Palm before? Or what if you wanted a backup device? The Zire 31 is a fantastic entry level device. The install CD comes with a very nice tour program guiding the user through Palm basics. The user guide can be installed to the Zire 31. I don't remember this much user assistance in previous Palms, and the getting started tour on a Pocket PC can't even come close. For those seeking more helpful tips and overviews, I would recommend "Now You Know Zire" by Palm. It's more than a glorified user manual, with many helpful tips and tricks and 5 minute lessons. I learned quite a bit by reading it, and new users should become proficient very quickly.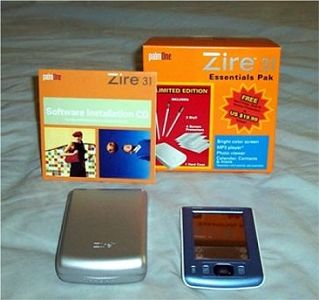 The packaging the unit comes in is easy to open plastic. Just cut open the top and the Zire is accessible. I liked how everything else was neatly packaged in a Chinese-take out-looking box. I got a special deal at Office Max, and the unit included a hard case, 4 screen protectors, and 3 extra styli.
Taking the unit out of the box, I got ready for the initial charging. The charger fits snugly on the side next to the mini USB connector. I thought at first I got a bad unit, as it wouldn't turn on at all even while plugged into the power outlet. But after about 15 minutes, it came on by itself, putting my fears to rest. The battery icon never shows when charging is complete. The Zire can trickle charge when turned off and connected to a desktop.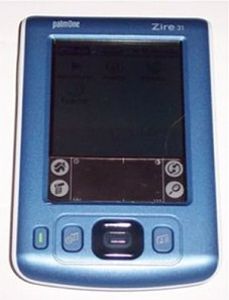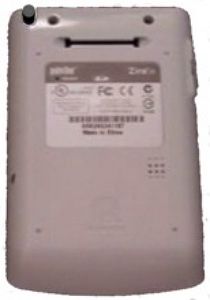 Never miss one of our posts again. Sent MON, WED, and FRI with the latest gadget reviews and news!
How is the physical design of the Zire 31? The unit itself is very sturdy. I dropped it once from a height of four feet on to a carpeted floor with no damage. The case is two pieces of plastic held together by two screws on the backside. There are no hinges to catch or break and the buttons are flush with the case. From a design perspective I think this was a great move. When you move your fingers over the case they don't catch on anything, everything is flush. A plastic flap covers the USB and charging ports. The SD card slot is also covered by a flap-no dummy cards to have to worry about!
Another nice touch is the IRDA port. Most users won't know where it is other than on the top of the handheld.  Just point it and beam away. No more trying to line up the IRDA ports like on other handhelds. The blue casing on the front doesn't pick up fingerprints at all, and resists scratches very well. That said, screen protectors are a must, and if you buy the Zire Essentials Pak you will get 4 of them. The unit is comfortable to hold for extended periods of time. It fits very flat in a shirt pocket or khakis. The D-pad is easy to use with e-books and to scroll through menus. You can almost get away with not using the stylus at all. The included hard case is made of silver plastic, and protects the Zire 31 from daily bumps and jostles. It is attached to the case by Velcro, but I soon tired of having  the strip on the back of the Zire 31 so I removed it. The white back casing didn't leave any markings of the Velcro ever being there. I do wish that Palm would have included the flip cover as well as the case, just in case I wanted to switch between the two. (Note from Julie: I recently bought a Zire 31 as a gift for a friend and it did include a rubber flip cover. No case though.)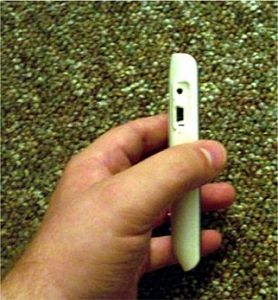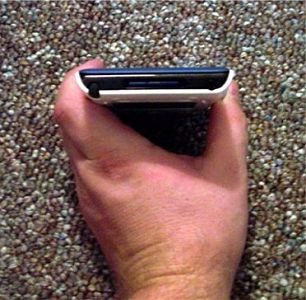 How does the Zire 31 handle in daily usage? The included OS is 5.2.8. It has several nice user features, like the ability to have a photo as a background and spiffier icons. The 200 MHz processor is quite zippy. Applications open almost immediately. These extra touches might not be appreciated by the general user, but should make their experience more enjoyable. The Zire 31 will display photos  out of the box, good enough to double as a photo wallet. The low resolution is good for close up photos, but far away shots are just too small to be seen clearly. It will also play mp3s as well with RealOne software. Audible software is also included. The volume on the Zire is LOUD! I firmly believe it is the loudest I've ever heard in a handheld. In most programs with headphones on I have the volume almost turned down as low as it can go. Using the Zire as an alarm clock is quite practical now. I can hear it from a whole room away. It does a fair job playing video as well, although hampered by the older screen technology and resolution. As for the screen, it is extremely difficult to read outdoors, but it is acceptable for such an entry level device. What it lacks in resolution it makes up in brightness. My 3 1/2 year old was delighted to be able to watch Dr Who on it in the car in the evening. The battery really drains watching video, but I could use it during a whole work day playing audio with the screen off.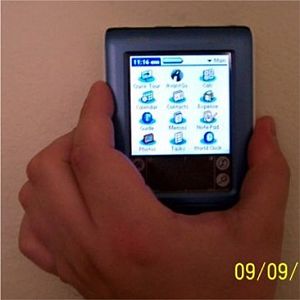 There are a variety of useful software programs included on the install CD. In addition to Palm Desktop, the following programs come with the Zire 31: RealPlayer for Palm OS, AudiblePlayer2, Palm Reader, Handmark Solitaire, Handmark Splash Money, PowerOne Calculator, Handmark MobileDB, and Addit.
Palm knows its target market for the Zire 31, and wisely omitted multimedia software that will highlight the Zire 31's screen shortcomings. Office users lean towards the Tungsten E or Zire 72, with the included Documents to Go. No office synchronization software is included, and neither is Kinoma Producer. Quickoffice Premier and Kinoma Player 2 performed just fine on the Zire 31 in my tests, however, so users needing these applications can purchase them without fear.
I see this device as a great all around performer, with the exception of the screen. It is solidly built, has great sound capabilities, zippy performance and good battery life. I would not hesitate to recommend the Zire 31 to anyone, but especially to first time buyers, those seeking a backup device, or budget conscious up graders from previous color Palms (3C or m130). I've enjoyed it so much I wrote this review entirely on it. Now if I could just master Graffiti2!
Pros:
Low cost
Well built
LOUD sound
Good software bundle
Fast processor
Bright screen
Cons:
Screen unreadable outdoors
Screen hinders video playback
Price: $149
Product Information
| | |
| --- | --- |
| Price: | 149.0 |
| Manufacturer: | Palm |