We use affiliate links. If you buy something through the links on this page, we may earn a commission at no cost to you. Learn more.
Program Requirements:
Desktop:
Intel Machines:
Windows 95/98 or NT 4.0
8mb RAM minimum
One available serial port
CD-ROM drive
Macintosh Machines:
Requires Palm MacPac which is sold separately
The Palm V from 3Com / Palm Computing is one of the two latest models of their very popular connected organizer. The body style of this model is a wide departure from their previous stuffy business looking PalmPilot and Palm III. The Palm V is downright sexy with its sleek metal body.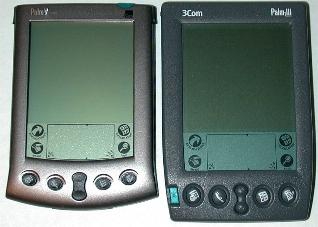 Hardware Specs:
Processor: Motorola Dragonball EZ MC68EZ328
Operating System: Palm OS 3.1
User Storage Memory: 2MB
Display: 160×160 pixel, high contrast and backlit
Power: Lithium-ion rechargeable
Size and weight:  4.5″ x 3.1″ x 0.4″, 4oz
The first thing you notice when you look at the Palm V is its size. It looks tiny compared the PalmPilot and Palm III. After having played with the Palm V for a few hours, going back to my Palm III felt too large in my hand. As far as weight, there isn't a real noticeable difference between it and the Palm III. This is probably due to the new metal case weighing more than the plastic one that the Palm III uses.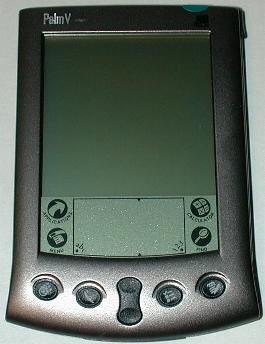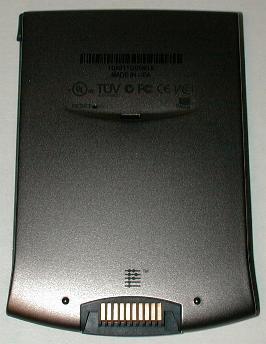 The case is a smooth titanium colored anodized aluminum. It looks and feels great in your hand. The case is made of two halves that are pressed fitted together. There are no screws or anyway that I can see to open the case. I think the Palm V is the best made Palm device yet. The unit just feels more solid. Definitely no creaking with this one! That's the good news. The bad news is that you can't take the case apart…which means, that the Palm V is not upgradeable. You can not add more memory to it like with previous Palm devices. You are stuck with 2meg unless some enterprising hacker figures a way around it.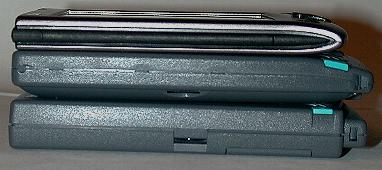 (Palm V, Palm III, and PalmPilotPro stacked)
The front of the Palm V has the model name in raised silver lettering in the top left corner. The top right corner has the green ON/OFF button. When you press the button down, it has tactile feedback to let you know that you've pressed it in. The ON/OFF button also toggles the backlight on and off by holding it down for a few seconds.

The four familiar application buttons and scroll buttons are also on the front of the unit. The buttons are now oval, smaller and concave. They seem a bit easier to press than the buttons on the Palm III. The UP/DOWN scroll button is much better than
the scroll button on the Palm III in my opinion and has great tactile feedback. I think it will be easier to play games with these buttons :-).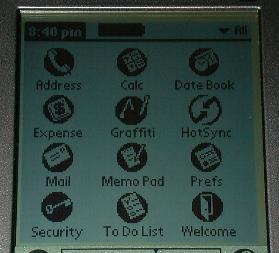 The display on the Palm V is a marvel to behold. It is so much clearer than the PalmPilot and Palm III that I couldn't believe it at first. Below you will see pictures taken with and without flash. You can see that the background color of the Palm V's display is lighter colored. It is also smoother looking. My Palm III's display background looks slightly grainy…something I never noticed till I had the Palm V to compare it to. I think the Palm V's display is now even crisper than the REX's display which I thought was the best I had seen. The screen is actually smaller than the Palm III's screen. I think this size difference is what makes the display seem sharper. If I look very closely at my Palm III, I can easily see the individual pixels with white space around them. On the Palm V, the pixels are so much closer together that you can barely see any white space.
Screen Dimensions:
| | | | |
| --- | --- | --- | --- |
| | PalmPilot Professional | Palm III / IIIx | Palm V |
| Height | 3.20″ | 3.20″ | 3.075″ |
| Width | 2.35″ | 2.375″ | 2.242″ |
The Palm V display can still only show 4 shades of grey at any one time, but it can now pick from a palette of 16 shades.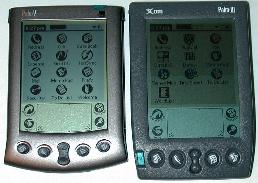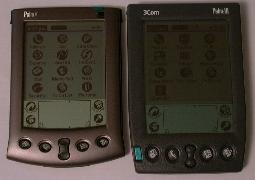 After using the Palm V for just a short while, going back to the Palm III was hard on the eyes. If you've ever had problems viewing the display before, you won't now.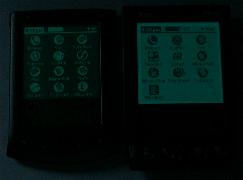 The backlight on the Palm V is different than the backlight on the previous Palm OS PDAs. It is now a reverse backlight. Everything that is black on the screen lights up and everything that is white doesn't. Sound strange? It is a little. Look at the picture on the left to see the difference between the Palm V (left) and Palm III (right).Problem is that you have to be in pretty dark light in order to take advantage of the backlight. You can't even tell the backlight is on in even a medium dim room. I'm not real happy with that…
But, thanks to Calvin's New Palm Info, I learned that there is a toggle to reverse the reversed backlight and make it what I would consider normal. You do the shortcut command, .8 to reverse the screen.
The sensitivity of the touch screen seems to be just as good as the other Palm devices. My graffiti recognition is the same.
Both sides of the Palm V now have stylus holders. This is supposed to help all of us lefties out there! The stylus holders are actually open the entire length of the side. The stylus slides into place with a click. No worries about lost styli now folks, they really snap in tight. So tight in fact that it's a real pain in the butt to get them out! I kept accidentally turning the unit off and on as I tried to remove the right stylus. There are two little nubs on either side of the stylus that hold it in place. I hope they wear down with use.

Palm was kind enough to send two styli. One plastic and one metal/plastic combo. The metal/plastic stylus has ends that unscrew to reveal a reset pin.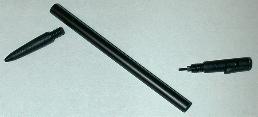 These slots on the sides of the Palm V can also be used for accessories like the flip screen cover. This black cover has a 'spine' that slides into one of the stylus slots (your choice). The cover is pretty rigid and is made of real leather (at least it smells like it) with a rubbery hinge that lets the cover flip all the way behind the Palm V. There is also a metal clam shell type case that you can buy that takes advantage of the stylus silo.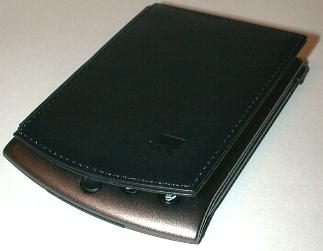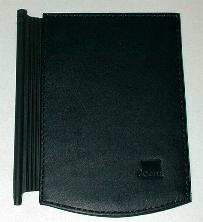 The top of the unit has the power button, IR port and the contrast control button. That's right folks, no more pesky contrast wheel! The button when pressed pops up a little requester on the display that has a slider control. Pressing this button when the unit is off has no effect. I'm not sure what I think of the new location for the power button. It sometimes gets in the way when I'm trying to remove the stylus. This button is also a little 'wiggly'.

On the back of the Palm V is the reset button, accessory slot (my name for the little opening that is supposed to help hold things like the modem….) and the serial port. Bad news… the serial port isn't the same as previous models which means that you can't use your old cradle with your new Palm V and visa versa. So, if you're like me you'll need a cradle for home and one for work… Which means even more bad news… an extra cradle costs $49. Yikes! You can buy the hotsync cable, but it is part of a travel pack that also costs $49.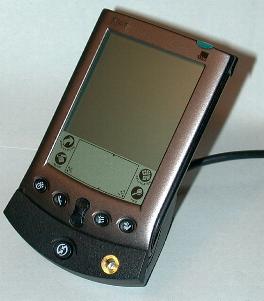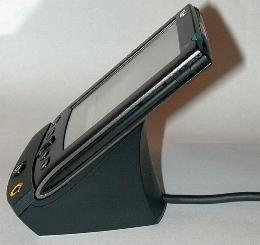 The hotsync cradle is a bit smaller than the Palm III cradle. It has a black plastic shell over an aluminum base. It has a nice heft to it and doesn't scoot around on your desk. There is still the familiar hotsync button on the front that you can press to initiate syncing. The button is easier to press now that it is concave. It also doesn't feel cheap and wiggly like the Palm III's cradle hotsync button. The hotsync cradle also doubles as the recharging station. Yes, no more AAA batteries, the Palm V has a lithium-ion rechargeable battery. There is a bright green LED on the front of the cradle that glows when your Palm V is in the cradle. The LED is hollow and allows you to put your stylus in it like a little ink well. There is a nice long cable attached to the cradle with a 9pin serial connector at the end (a 25 pin adapter is also included). This connector is special because you plug the AC adapter into it. One end of the AC adapter plugs into your wall outlet and the other end plugs into the 9pin serial connector.
The AC adaptor is a 120 VAC input, and 4.1V @ 400 mA & 6V @ 100 mA output.  The Palm V battery voltage reports 4.05V when fully charged.  You do not need to have the AC adapter plugged in in order to hotsync.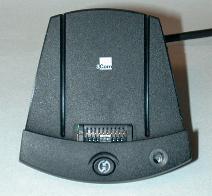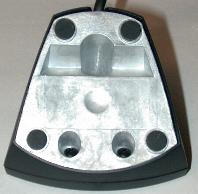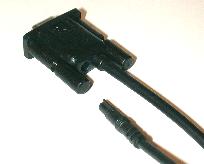 The Palm V slides in and out of the cradle easily. The first time you use your Palm V, you will need to charge the internal lithium-ion battery for 3hrs. Dontcha just hate getting a new toy that you can't play with right out of the box? It drove me crazy waiting those first 3hrs :-).  After the initial charge, you will only need to put the Palm V in the cradle for a few minutes a day to re-charge it. According to the manual, the battery will never need replacing. When your battery gets low, a warning will be displayed. If your Palm V shuts down due to low power, you will have up to 1 week to charge the battery before losing all your data. That's alot better than the 5mins or so that we had with the previews Palm devices.
One very nice surprise is the Palm V speaker. It's actually quite loud and clear. Much louder in fact than the Palm III. I'm unsure if it will now allow DTMF dialing.
Software Specs:
There aren't too many changes to the actual Palm Operating system. All the same built-in applications are there. The built-in apps are:
Date Book
Lets you keep track of your appointments and events. There is a daily, weekly and monthly view. You can set alarms and attach notes to events. You can also easily set up repeating events.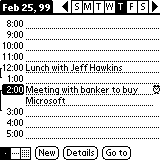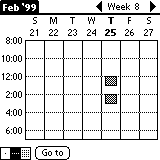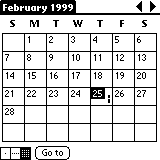 Address Book
This is your contact manager where you store addresses, phone numbers and other information. You can also beam information to other Palm devices (equipped with an IR port). Contacts can also be categorized.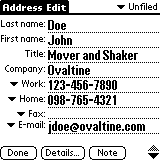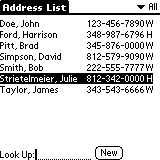 To Do List
This is your task list manager where you can create lists of tasks with priorities and due dates. Tasks can also be categorized.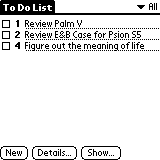 Memo Pad
This is your note taker application. Unfortunately, memos still have a 4k max size limit. I can't believe they didn't fix this!
Calculator
Simple function calculator.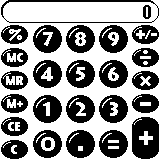 Expense
Application to collect expense data that you can then transfer to your PC's spreadsheet.
Mail
Application that lets you manage the email that you send and receive through the email application on your desktop computer. You can read, reply to, compose, and delete email on your Palm V but  to send or receive you have to hotsync to your PC or use a modem. The Palm V will support Microsoft Exchange, Eudora, Lotus cc:Mail, and others.
There are a couple new features to the OS. One is the onscreen contrast adjustment. When you press the button on the top of the Palm V, it will popup a slider that you can tap on to change the contrast. The other new feature is the graffiti trainer. This
application helps you learn graffiti by showing what you are writing on the display.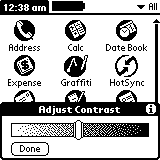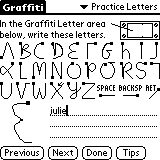 Another small addition is the new prefs option to leave the Palm V turned on while it is in cradle.  The only other changes are small graphical changes to things like the hotsync icon, and the addition of the new Palm Computing logo into some of the different screens. When you reset the Palm V, you will see the new Palm Computing logo.
As for the desktop software, it is pretty much the same also. But, you now have the option to sync with the Palm desktop or with Microsoft Outlook.
I was kind of disappointed that there wasn't anything really new or exciting about the OS even though the Palm V has a new processor. I'm not sure what new things I wish it had, but I just wish it had something new!
As far as the overall speed of the Palm V, it seems to be quite a bit faster than my Palm III.  Palmdev has confirmed that a Palm V has less wait states than a Palm III (faster memory accesses). To test this I used Ron Nicholson's Chipmunk Basic and a small program from Byte magazine that computes prime numbers (Thanks Ron!):
#sieve.bas
#Byte prime number sieve benchmark
new
20 t = fn 17
25 s = 8192
26 s = 4096
30 dim f(4098)
40 for i = 0 to s-1 : f(i) = 1 : next i
50 c = 0
60 for i = 0 to s-1
70   if f(i) = 0 then goto 110
80   p = i+i+3 : if i+p > s then 100
90   for k = i+p to s step p : f(k) = 0 : next k
100   c = c+1
110 next i
120 ? c;" primes found in ";
130 t = (fn 17)-t : t = t / 100
140 ? t;" seconds"
150 end
run
I came up with the following benchmark times:
Sieve Benchmark Finish Time for finding 1027
prime numbers
Palm V with 1686k free
33.62 seconds
Palm IIIx with original memory board and 2573k
free
33.66 seconds
Palm III with original memory board and 1896k
free
37.95 seconds
Palm III with TRG 8mb board and 7986k free ram
38.07 seconds
Palm III with TRG 8mb board and 928k free ram
40.77 seconds
PalmPilot Pro with original memory board and
886k free
37.83 seconds
Overall Summary:
The Palm V is a very sexy looking PDA with an excellent display and a nice rechargeable battery. But, should you buy it? At $449, you'd better think about a few things first. First of all, the Palm V can not be upgraded to add more memory (except by 3rd party vendors like EFIG.COM which will split the Palm V open, make the upgrade and then glue it back together). This is a big deal to someone like me who has an 8meg TRG board in their Palm III that has only 125k free! 2meg is not a lot of space when you start adding all the cool applications that are available. I sure wish Palm would have at least made the Palm V a 4meg device.
Also, if you already have a Palm III, you really shouldn't upgrade to the Palm V unless you really need the better screen. Basically the Palm V is the same as the Palm III except that the memory can't be easily upgraded.
Here's a table that compares a PalmPilot Professional, Palm III, Palm IIIx and the Palm V as far as features and price.
Price
RAM
Flash RAM accessible by TRG Flashbuilder or Flashpro
RAM Upgradeable?
Power
Palm V
$449
2mb
824k
No
Lithium-ion
rechargeable
Palm IIIx
$369
4mb
824k
Yes
2 AAA's
Palm III
$299
2mb
824k
Yes
2 AAA's
PalmPilot Professional
$199
1mb
0mb
Yes
2 AAA's
One word of caution…. if you don't want to upgrade to the Palm V, don't go to a store and look at, fondle or otherwise go near one. If you do, you will walk out of the store with it!

Product Information
Price:
$449.00
Manufacturer:
Palm
Pros:

Best display of any PDA I've seen!
Sexy metal case.
Lithium-ion rechargeable battery.

Cons:

Only 2meg of RAM.
Ram not easily upgradeable except by 3rd party vendors.
Memos still have 4k max size limit.
The backlight isn't useful unless you are in almost complete darkness.