We use affiliate links. If you buy something through the links on this page, we may earn a commission at no cost to you. Learn more.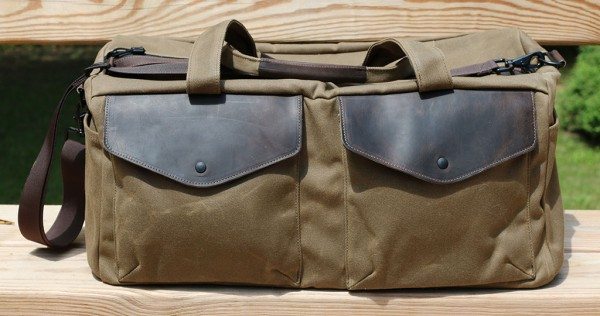 We just returned from a week long road trip that started in Indiana and included stops in Asheville, North Carolina, Charleston, South Carolina and Greensboro, North Carolina. This was the longest driving vacation that we've ever done. For luggage we ended up taking the Biaggi bag that I reviewed last year along with the new Outback Duffel bag from WaterField Designs.  With a total of over 1,000 miles and two hotels, let's see if the Outback Duffel was a worthy travel companion.
Note: Images can be clicked to view a larger size.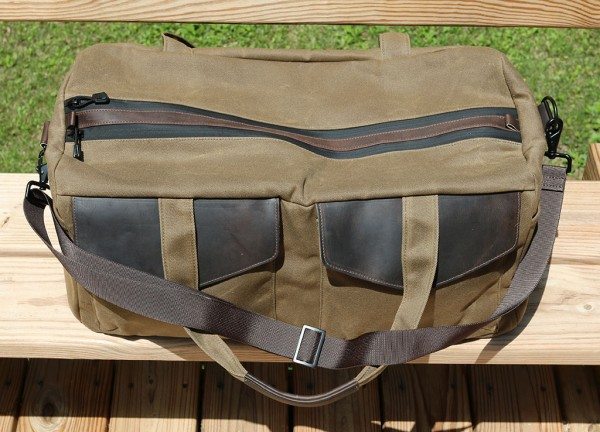 WaterField's new Outback Duffel is available in two sizes, two choices of material, three flap colors and with either a single or double compartment. I was sent their large size duffel in waxed canvas with chocolate brown leather pocket flaps and a double interior compartment.
Bag dimensions:
Small: 17.25 x 10.25 x 11 inches
Large: 21.5 x 10.75 x 12.5 inches
I'm a big fan of waxed canvas because I just love the look and feel of the material. You don't have to baby it like fancy leather bags because more you use it and beat it up, the better it looks. It's also a lot lighter weight than a leather bag of the same size.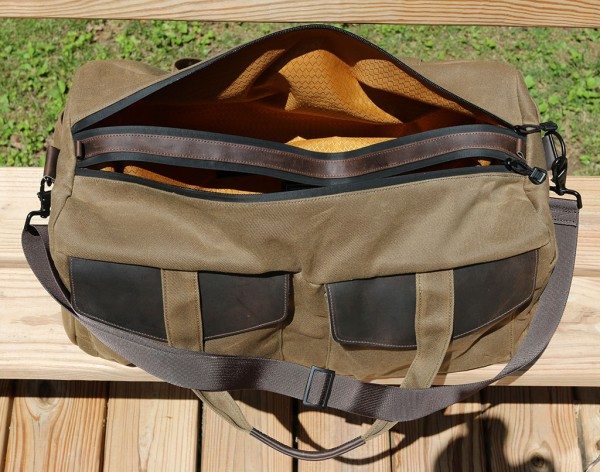 My favorite style of every day bag is a messenger bag because they typically have one large compartment that can hold all your gear. So I was immediately comfortable using the duffel because it follows that same type of storage layout. As mentioned above, the Outback Duffel is available with either a single compartment or a double compartment. I decided to try the double compartment. The top of the duffel has two long zippers that provide access to each compartment.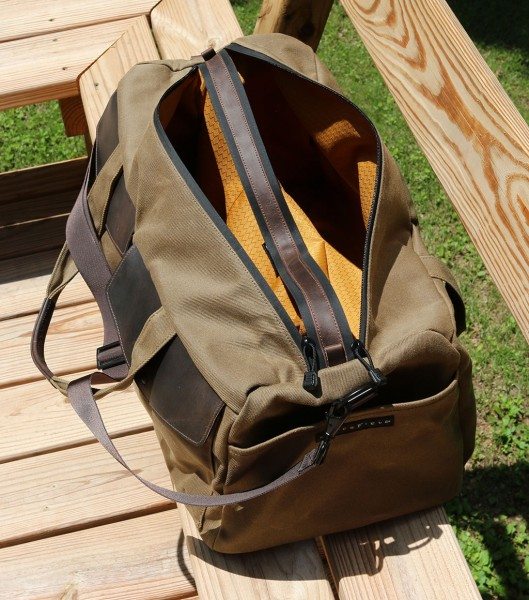 The exterior of the duffel has two flapped pockets on one long side and an open pocket on each end.
The interior of the bag has WaterField's traditional gold colored lining that makes it easier to find objects at the bottom of the bag. The center wall that separates the two compartments is described by WaterField as being "billowy". This design allows both compartments of the bag to expand and contract as you add and remove objects from either side.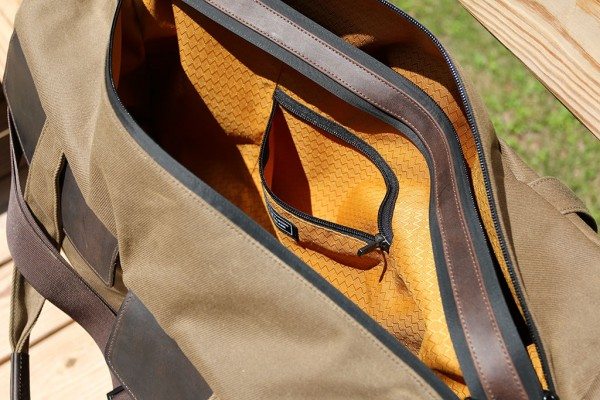 Duffel bags typically have very little in the way of organization features, but the Outback Duffel does offer a bit more than a standard duffel because it includes the four exterior pockets and a nice sized zippered pocket. The zippered pocket built into the dividing section of the double compartment style bag.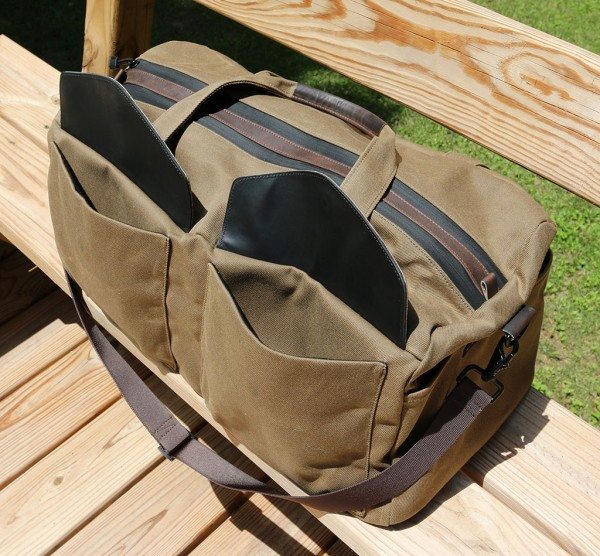 The two pockets on the front of the duffel are lined with a soft knit material on the front side of the pocket. This material makes the pockets perfect for holding small tablets, phones, book readers, etc. The leather flaps over these pockets have hidden magnets to hold them closed. I like the use of magnets as opposed to using Velcro or plastic clips, but I did notice that the pocket flaps would sometimes pop open when I would carry the bag using the two carry handles. I only noticed this when the bag was full and heavy.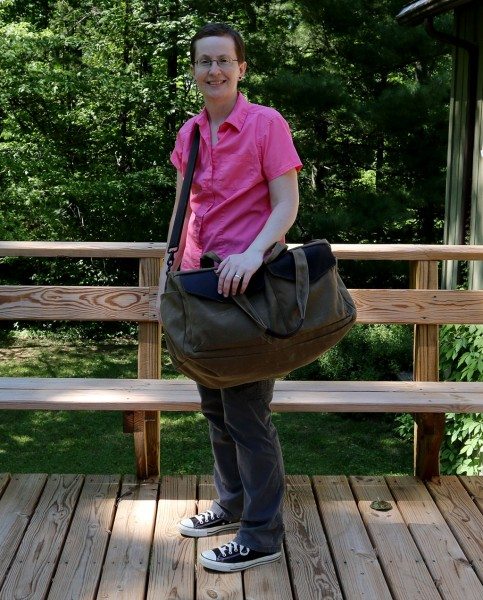 The Outback Duffel can be carried using the two carry handles or with the included shoulder strap like you see here. The webbed strap attaches or detaches from the bag's metal D rings on each end.
The large sized duffel is a big bag, but it's not too big. For size reference, I'm 5'6″. I used it on our trip to hold a week's worth of socks, and underwear for two people in one side of the bag and books, 13″ Macbook Air, Nexus 7 tablet, iPad mini, Kindle Paperwhite ebook reader, two point and shoot cameras, cables, power adapters, pens and notebooks in the other side of the bag.
If I could add anything to the Outback Duffel, I'd probably add a long zippered pocket on exterior of the bag on the side opposite of the two flapped pockets. I would also consider adding either a leather or rubber bottom to the bag to protect it from icky / dirty surfaces.
During our road trip, this bag worked great. It was easy to move around from place to place and held everything we needed it to hold with room to spare. It will definitely go with us on our next road trip!
The Outback Duffel shares the same great construction and workmanship of every WaterField Designs bag, pouch and wallet that I've every used. If you buy one of these bags, you'll be using it for years and years to come and it will look and perform just as good as the first day you began using it.
Updates 09/12/17
The Outback duffel doesn't get used every day, but it is one bag I plan to always keep because we almost always use it when we take a road-trip style vacation. This past Labor Day weekend, we used the duffel when we took a quick trip to Turkey Run State Park here in Indiana. It was the perfect sized bag to hold our hiking shoes and clothes for two days. I really like the two zippered sections that keep items separated like dirty clothes vs. clean clothes or shoes vs. clothes.
Source: The sample for this review was provided by Waterfield. For more info about the Outback Duffel or to order one, visit sfbags.com

Product Information
Price:
$219 - $279
Manufacturer:
WaterField Designs
Pros:

Roomy
Easy view interior
Has 5 pockets in addition to the main compartment(s)

Cons:

Exterior pocket flaps can pop open when lifting a full bag using the handles