We use affiliate links. If you buy something through the links on this page, we may earn a commission at no cost to you. Learn more.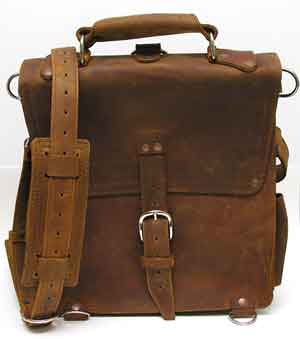 Do you have problems with your laptop and gear bags holding up to all of the every day wear and tear that you subject them to? The Saddleback Leather Company makes gear bags that are super rugged and are built to last a lifetime. To back that up, they offer a 100 year warranty on each bag they sell. Let's take a look at one of their latest bags, the vertical messenger.
FYI: Most of the pictures in this review are thumbnails that can be clicked on to see larger sized versions.
I know that this bag doesn't look like what most of us picture in our mind when we think of a classic messenger bag. To me it looks like the big brother to the Saddleback Leather Explorer's Satchel. And in a way, that's exactly what it is. It's made of thick rugged full grain leather and is available in 5 colors: Carbon Black, Chestnut, Dark Coffee Brown, Dark Tobacco Brown, and Light Tobacco Brown. I was sent the Dark Tobacco Brown version of the Messenger bag for this review.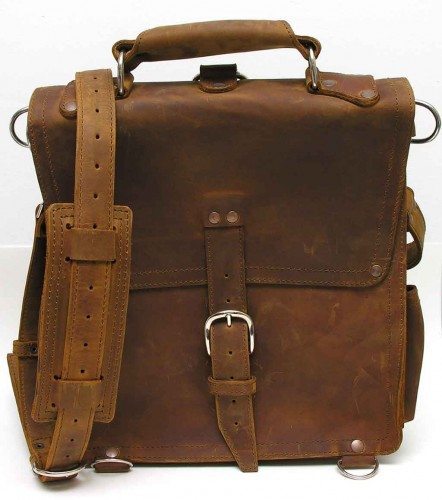 This is a vertical oriented bag with a buckle down flap and a wide comfortable grab handle on top. If you click on the image, you'll notice a lot of scuffs and scratches in the leather. No, I didn't test the ruggedness of this bag by dragging it behind my car before taking the review shots. 😉 Scratches and scuffs are just the nature of bags like these and are not to be considered a defect or a problem with the workmanship. I think of them as character making battle scars.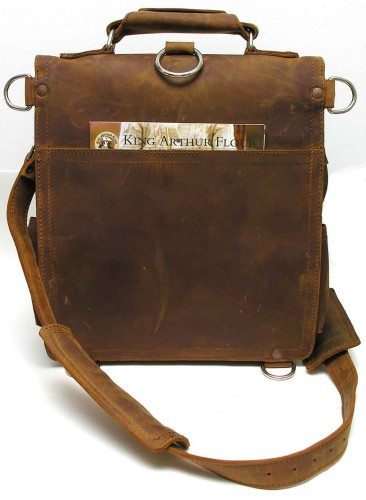 If you flip the bag around to see the back, you'll find a large vertical pocket that can hold several standard, large format sized magazines or file folders. You'll also notice several D rings that can be used to attach different items to your bag. The large ring below the grab handle is used to convert the messenger from a shoulder bag, to a backpack. The Saddleback Leather Briefcase bag had this same feature.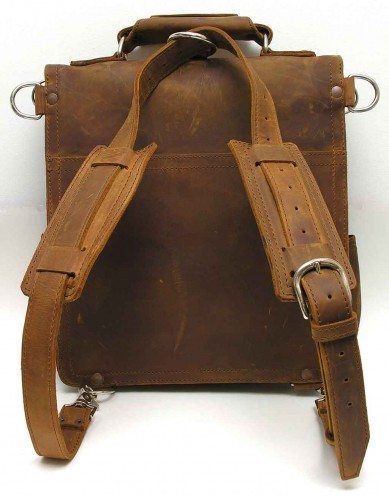 It only takes a minute to unhook the shoulder strap, run one end through the metal ring and the attach the clips to the bottom D rings.
You'll notice that the strap is adjustable and has two shoulder pads.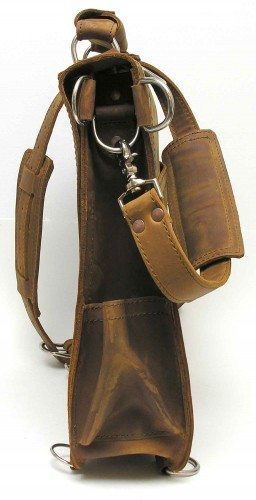 Each side of the Messenger bag has a open topped pocket that is large enough to hold a phone, compact umbrella, water bottle, etc.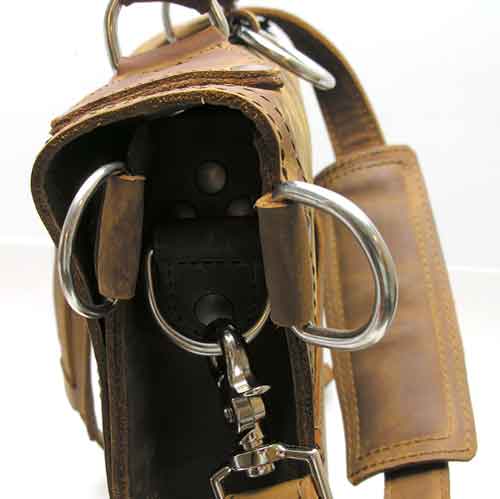 As I mentioned earlier, there are several metal D rings positioned in different areas of this bag. These rings are handy for hooking different items such as keys, flashlights, etc. The hardware is nickel plated metal, which normally used for dog collars and horse tack, making it feel very strong and rugged.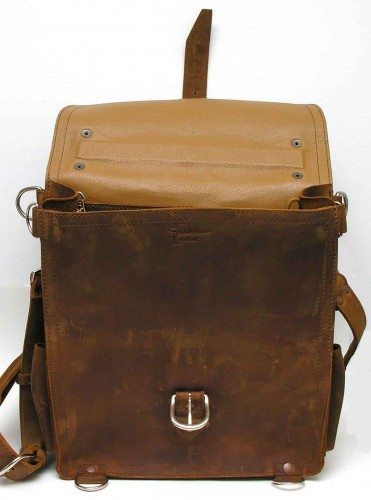 The buckled flap lifts up to reveal one large compartment.

Inside, you will find an open topped pocket on each side and a key holder attached to a leather strap. This compartment can also be customized by clipping in the included divider.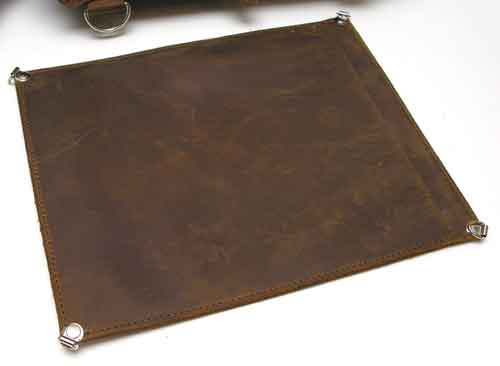 The divider is made of thick leather and has metal eyelets riveted into each corner.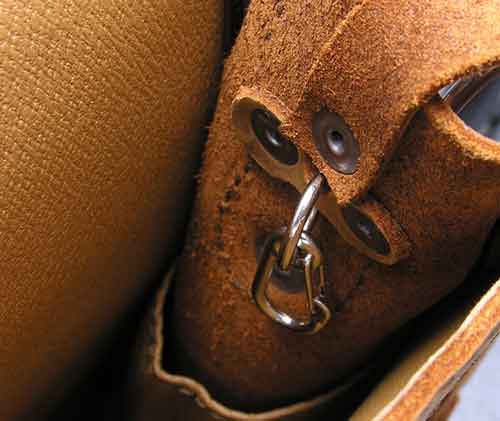 Matching clips are riveted into the main messenger bag compartment.

It takes a bit of blind wrestling to clip in the bottom edge of the divider, but once installed, the bag now has two compartments instead of one. The divider does wiggle around a little, but I think this is a nice feature nonetheless.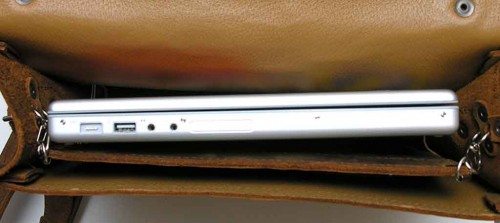 Here we see my 15″ Macbook Pro in the bag. Since the messenger isn't padded, I suggest that you protect your laptop with a padded sleeve before placing it into the messenger bag. With the MBP in the bag, there is still plenty of room for the AC adapter, a mouse, other cables, etc.
I had to chuckle a bit when I read a comment on the messenger bag page on Saddleback Leather's site. They mentioned that this is a light weight sleek bag. I wouldn't call any Saddleback Leather bag 'light weight'. 😉 When empty, this messenger bag weighs in at 6 pounds 2 ounces on my electronic scale. For me it's too heavy to use for my everyday bag, but then I'm only about 5'6″ and 130lbs. Most guys probably wouldn't even blink at the weight though.
Here's what the messenger looks like when worn as a shoulder bag and as a backpack. For me, the bag felt more comfortable worn as a backpack as the weight was evenly distributed instead of just wearing it on one shoulder.
When you see one of these bags in person, you immediately know that it's been built to last for a lifetime. The materials and construction are top notch. I couldn't find one defect with this bag no matter how hard I looked.
If the price and weight of this bag doesn't bother you, then the Saddleback Leather Messenger bag is a terrific gear bag that will last for years and years to come. It will serve you well on your next adventure down the Congo, or during less exciting adventures on your commute to the office. Either way, you'll turn heads when people see you with this great looking rugged classic styled bag.
Note: The links to Saddleback Leather Company on this page are affiliate links. If you use one of these links to make a purchase, we will earn a small percentage of the sale, so we appreciate it if you click through.
Product Information
Price:
$329.00
Manufacturer:
Saddleback Leather Company
Pros:

Rugged
100 year warranty
Converts from shoulder bag to backpack
No breakable parts
Classic style

Cons: