We use affiliate links. If you buy something through the links on this page, we may earn a commission at no cost to you. Learn more.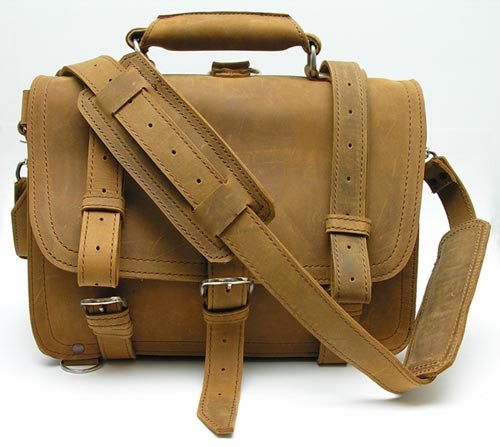 I love leather gear bags. Not the froo-froo kind though. I'm talking about the more rugged style of leather bags. The kind that Indiana Jones might appreciate if he was a real person. The kind of bag that might be able to tell stories if it could talk. The kind of bag that isn't made on an assembly line, but in a more personal setting. Bags from the Saddleback Leather Company of Texas fit this criteria and according to owner Dave Munson, these are the kind of bags that your grandkids will fight over when you're dead. Sounds good enough to me, let's take a closer look…
The Saddleback Leather Company sells four types of leather products. They sell briefcases, satchels, suitcases and messenger bags. I was sent their medium sized Light Tobacco Brown briefcase to review. This style of bag is available in four sizes (S, M, L, XL) and four colors (Light Tobacco Brown, Chestnut Reddish Brown, Dark Coffee Brown and Carbon Black).
Upon first seeing this product, I was struck by its robust look and feel. I had an overwhelming urge to beat my chest like Tarzan or something… I resisted that urge though as I'm a girl and it just wouldn't look right ;o) This bag has been built to last. I mean really last. Saddleback Leather bags are constructed of 4-5 ounce full grain leather, which comes from the top layer of the cow hide (the toughest part).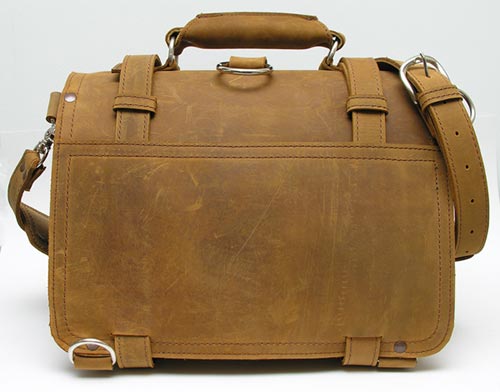 You'll notice if you look closely at my pictures, that you can see scuffs, scrapes and blemishes on the surface of the leather. If you like your bags to look perfect and pristine, you probably won't like these bags. Personally, I think they look very cool and give the bag character.
The briefcase has a large flap that is held closed by three straps with buckles. You don't have to fasten all three buckles though. I would leave the outer straps tucked under and would just fasten the middle buckle. You'll also notice an adjustable shoulder strap and a convenient grab handle at the top of the bag.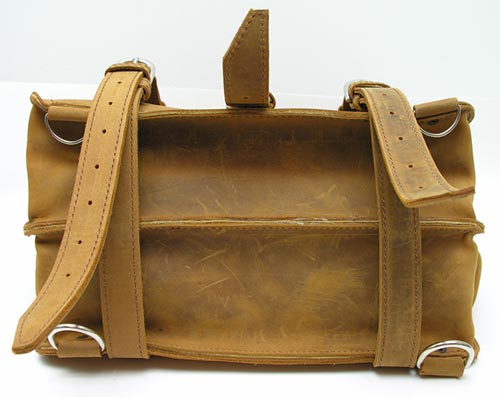 The flap straps wrap around the bottom of the bag, to give it stability. If you like, you can stow an umbrella, newspaper or tripod under these straps. You can even remove the straps completely. It's up to you.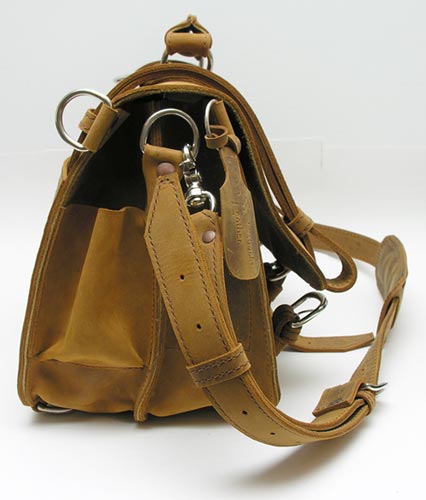 There are only three pockets on the exterior of the briefcase. One on either end, that can hold items such as your cellphone. My Treo 680 fit fine. The other pocket is located on the back of the bag and can accommodate a standard sized magazine (the top of the magazine sticks above the flap by about 2 inches with my Medium sized briefcase).
You might notice the extra metal rings on this bag. You can use them to attach key rings and other items. Three of them are also used when you convert the bag from shoulder style to backpack style. More about that in a bit.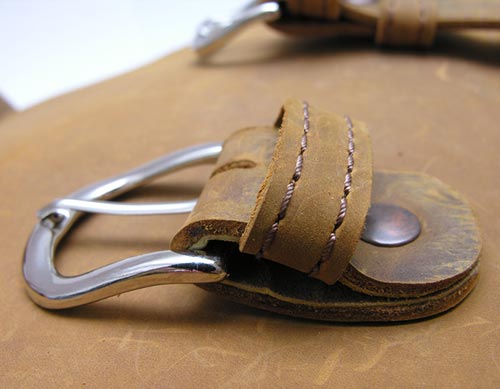 All of the hardware used on the briefcase is super sturdy. From the buckles to the rivets, these bags are made to last a lifetime. In the picture above, you can also get a good look at the quality stitching and the thickness of the leather.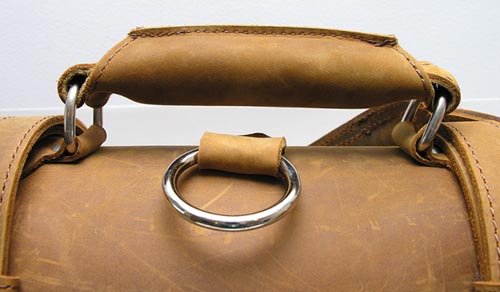 I really like the grab handle which is made of a large comfortable roll of leather. Once you have a gear bag with a grab handle, you'll never want one without it. It makes taking the bag in and out of a car so much easier.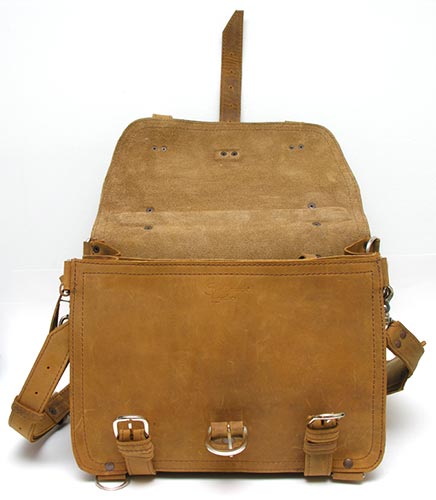 Unbuckle the main flap to gain access to the interior of the bag. As you will notice, there aren't any pockets on the exterior, under the flap. I kinda wish there was at least one flat pocket for papers or other thin items.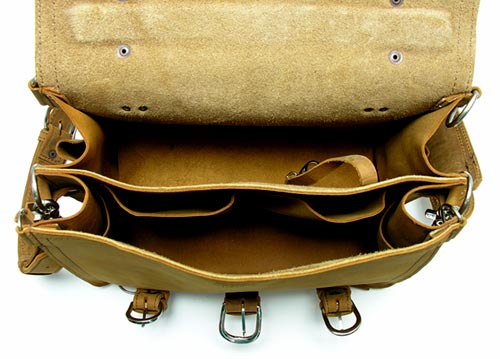 The interior of the Medium sized bag is separated into two main compartments. The back compartment is completely open and can be used for a laptop, books or other larger items. A 10 inch strap of leather with a spring clip for your keys is riveted to the divider wall. There is a false bottom in the back section. A leather flap lifts up so that you can hide flat items such as your passport or extra cash.
The front section of the bag has four open topped pockets sewn into the sides. One on each outside edge and then two on the center divider wall.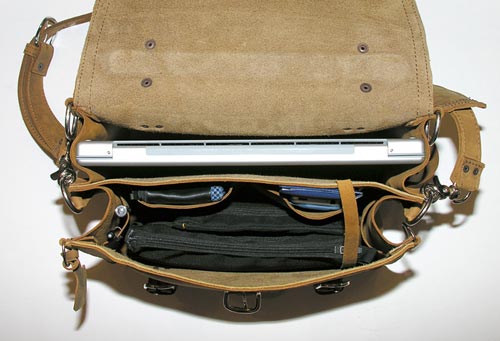 Here's what the briefcase looks like loaded with some of my stuff. My 15″ Macbook Pro fits in the back slot. It's a snug fit though and would not allow for an additional protective sleeve. In the front section, I have a couple of my favorite Waterfield gear pouches, along with a Waterfield Design wallet in one of the pockets. In the other pocket, I have a checkbook and my iPhone. The side pockets have pens and other small items.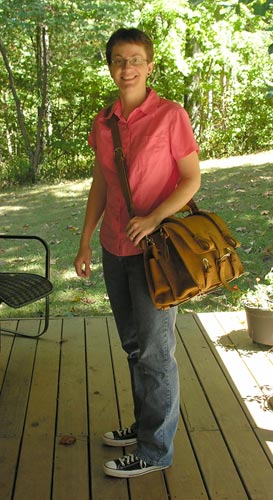 Here I am wearing the bag bandolier style. For reference, I'm 5'6″ and weigh 125lbs. It looks great doesn't it? It's an eye catching bag, that's for sure. But here's the thing… This bag is heavy. Empty, the bag weighs in at 6 lbs. 11 oz. That's with absolutely nothing in it at all. Load it up with your gear and it's going to give you a work out. At least it did for me… Maybe I'm just a shrimpy wimp though. ;o)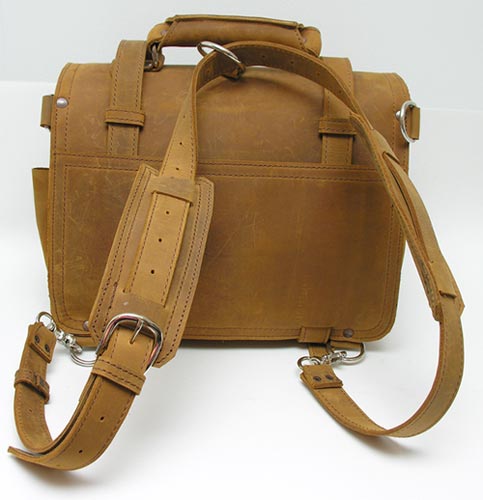 You can convert the bag to wear like a backpack. For heavier loads, this may be more comfortable. To convert it, you detach the shoulder strap, reattach one end to the bottom metal D-ring, pass the other end of the strap through the large metal ring near the grab handle, then reattach the end of the shoulder strap to the opposite bottom D-ring.
The shoulder pads can then be adjusted for just the right fit. Adjusting the straps to wear this bag backpack style is a bit tricky though and might not work for everyone, depending on their size.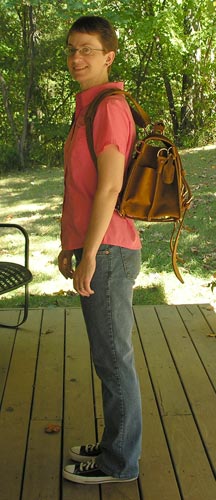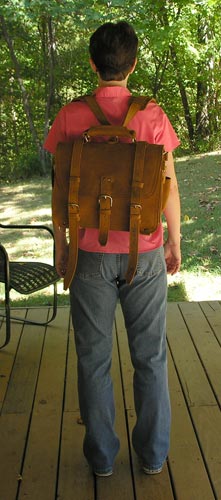 Although I am able to wear the bag this way, I couldn't quite get the fit just the way I wanted it. I almost wish there was another strap to go across my front.
I've been extremely impressed with the materials and workmanship of the Saddleback Leather Company Briefcase. I have no doubts that it will last longer on this planet than I will. It has a classic simple style that catches eyes better than all those other lame looking designer bags on the market. The only complaint that I have is that it's heavy. But I suppose if you want a bag made with the kind of materials that will last forever, you will have to deal with the bulk. This issue keeps me from using this briefcase as my every day bag, but on those days when I want to be noticed, I strap it on and bask in all the envious looks I receive.
Small (12 x 10 x 6 inches) – $410.00
Medium (14 x 11 x 9 inches) – $485.00
Large (16 x 12 x 9 inches) – $520.00
Extra Large (18 x 13 x 9 inches) – $545.00
Note: The links to Saddleback Leather Company on this page are affiliate links. If you use one of these links to make a purchase, we will earn a small percentage of the sale, so we appreciate it if you click through.

Product Information
Price:
$485.00
Manufacturer:
Saddleback Leather Company
Requirements:
Pros:

Eye catching
Quality materials and workmanship - will last forever
Can convert into a backpack

Cons: