We use affiliate links. If you buy something through the links on this page, we may earn a commission at no cost to you. Learn more.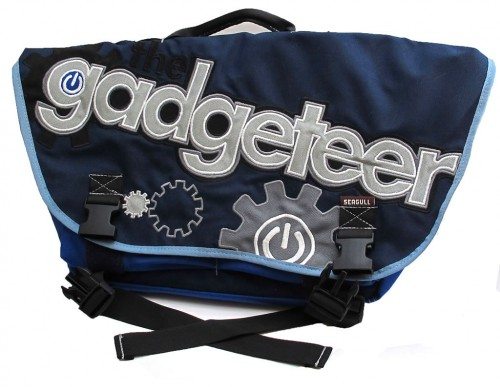 Messenger bags are my favorite style of gear bag. I have enjoyed carrying a Timbuk2 Laptop messenger bag for years. Even though I love it, I often think of ways I would improve it if given the chance. Because of that fact I'm always on the look out for other bags that tick all the boxes on my perfect bag check list. I recently discovered Seagull Bags out of Columbus, Ohio who make handmade custom messenger bags. I contacted them to see if I could review their products. They were nice enough to cut me a deal on a custom bag and here are the results.
Note: Images can be clicked to view a larger size.
My perfect bag checklist
Messenger style / shape
Grab handle
Exterior back pocket for magazines/papers
Exterior side pockets
Padded laptop / tablet interior pocket(s)
Interior pockets all around the sides
Custom artwork / logo
Since Seagull makes custom bags, I asked for every feature, pocket, etc. that I have ever dreamt about. But when they came back with a quoted  price of  $350 (that included the reviewers discount they were giving me), I had to revise my wish list. Working with John at Seagull was a pleasure. He was very patient with me as I asked questions and created the right list of features vs. price. I ended up getting:
Medium sized bag, Compression straps, 2 Extra Front Pockets, Side pocket Left, Side pocket Right, Exterior Flat Back Pocket, Padded back, Interior Flat Back Pocket, Interior Flat Front Pocket, Hidden pocket, Interior Organizer and Custom Artwork. All this worked out to $253 with the discount.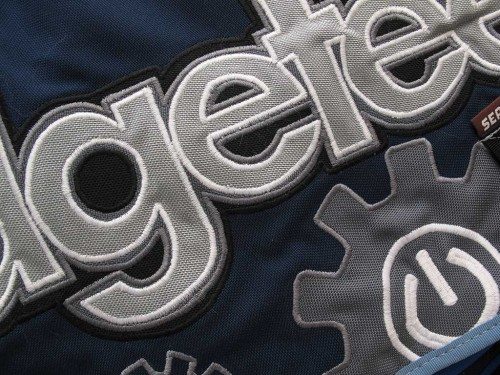 About 4 weeks after I placed the order, the bag arrived and the first thing I noticed was the awesome job they had done on the Gadgeteer logo which was appliquéd on the front flap of the bag. The logo uses multiple layers of different colored canvas and stitching to create a really cool effect.
As you can see from the first image in this article, the bottom edge of the main flap has a unique curve that isn't symmetrical. I asked if I could have a traditional shaped edge but that they wanted to stick with their signature style.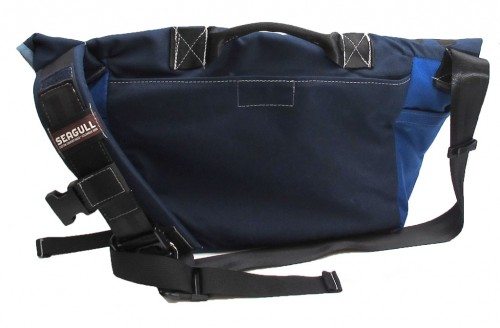 The bag has a 1000d Cordura shell (you can choose from 20 colors). As you can see, I opted for 2 shades of Blue.
You'll notice the grab handle on top and the flat pocket on the back… both custom options that I requested. The flat pocket is large enough to hold several magazines and has a Velcro patch at the top to hold it closed. I should have asked for a zipper instead…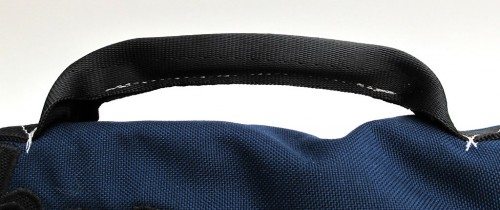 The grab handle gets the job done, but I wish it was a little more elegant than it is. It is made of seat belt webbing that has been rolled around some padding. It's smooth and comfortable, but I wish the seam was hidden better. I prefer Timbuk2's grab handle design.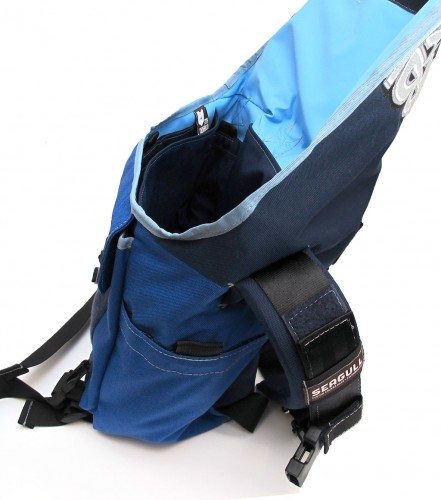 This side view shows you one of the requested side pockets, which is held closed with a strip of Velcro that runs the width of the pocket. These are large pockets that can hold all sorts of gear. My main idea was that I would use one side for my phone and one side for my car keys so that I would have easy access to these two items when wearing or not wearing the bag. Unfortunately, it's pretty difficult to access the pockets because the Velcro is crazy strong and takes real effort to pull it apart. I've been thinking about removing the Velcro from these pockets so I can actually use them.
You'll also notice the style of the main flap in the image above. See how it curves up from the sides instead of straight up from the back of the bag. This design keeps rain and dirt out of the bag when the flap is closed because it folds in on the sides closing any openings where weather can get in. This is great for couriers and people that ride bikes, but I found that it makes it harder to quickly fling open the flap. I'm used to slinging my bag into the passenger seat of my car and flipping back the flap so that I have access to the interior of the bag while I'm driving. I often shove the mail and / or drive thru breakfast food in there on my drive to work. Folding back the flap on the Seagull bag is not as easy. The curve of the sides and the thickness of the artwork on the flap cause it to bunch up and kink awkwardly. It will fold back, but it takes a conscience effort and 2 hands to do so.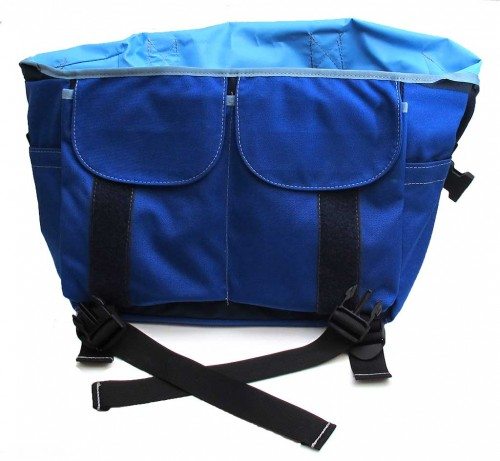 Under the flap you'll find two pockets with Velcro flaps. These pockets are large enough to hold a regular sized iPad. You'll also notice the strips of Velcro running down the center of those pockets. This is what holds the main flap closed.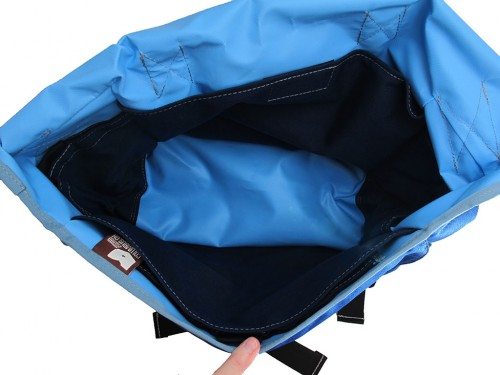 The interior of the bag has a large pocket with a Velcro closure sewn into the back wall of the bag. This pocket is similar in size to the magazine pocket on the exterior of the bag. On the sides are pockets that sort of match the pockets on the exterior sides. Yes, they also have Velcro running along the entire top edge. On the front wall of the bag is a large open pocket (no Velcro yay!) and inside is a panel of smaller pockets and pen/pencil slots. Behind that panel is yet another pocket, which has a Velcro'd top edge. The rest of the bag (the center section) is entirely open and ready for whatever you need to carry. I like to use zippered pouches to organize my stuff instead of just throwing it in the bag willy nilly.
The materials used and workmanship on this bag are great. Some aspects of the bag may not look as perfect or commercial as what I'm used to with brands like Timbuk2 and Waterfield, but that's not necessarily a bad thing. You can tell this is a unique one of a kind messenger bag. I like it a lot mainly because I love how great the logo turned out. What I don't like about the bag is all the Velcro. That's my own fault though as I didn't even think to tell them not to add any (or as much). Let that be a lesson to anyone thinking about having a custom bag made for them. Think about EVERY detail to make sure you get what you want. Although I don't think I'll be using this as my everyday bag,  it's definitely going to be displayed at Gadgeteer HQ for a long long time. Thanks Seagull!
Have you ever had a custom messenger bag made for you? If so, share your experience with us in the comments.
Product Information
Price:
Varies
Manufacturer:
Seagull Bags
Pros:

Get exactly what you want from pockets to artwork
Top quality materies and workmanship
Awesome logo work

Cons:

Can get really expensive
Sometimes you get features you don't really want - Velcro