We use affiliate links. If you buy something through the links on this page, we may earn a commission at no cost to you. Learn more.
If you're light on gear and in need of a medium sized bag to tote your stuff around town, the City Guide shoulder bag from Timbuk2 might be just the one for you. This 12 x 15.5 x 4.5 inch bag has an exterior which is constructed of ballistic nylon, and is available in 4 colors: Gray/Silver/Gray, Black, Navy and Red. The City Guide is not as storage abundant as Timbuk2's medium sized messenger bag, but its main compartment is big enough to hold a 12 x 10 inch notebook computer, with assorted cables and gear.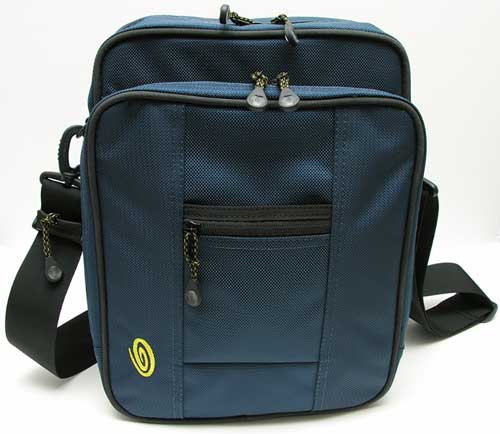 This bag has a sort of retro styling, with 2 zippered block shaped compartments sewn together. Each block has reinforced rubber piping around the outside edges. The compartments each have dual zippers with nice large pulltabs. The front of the bag has Timbuk2's trademarked swirl logo.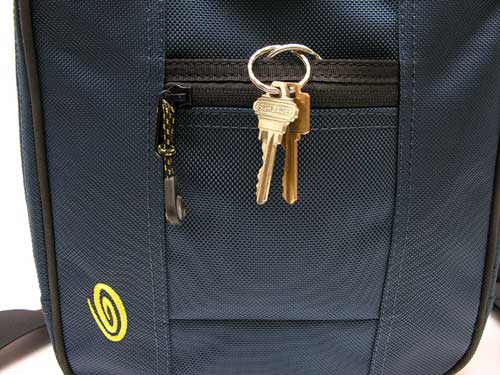 There are two smallish pockets on the face of the bag. One is zippered and could be used for coins or a small wallet. Behind that pocket is a somewhat larger open pocket. I stow my car keys in this one.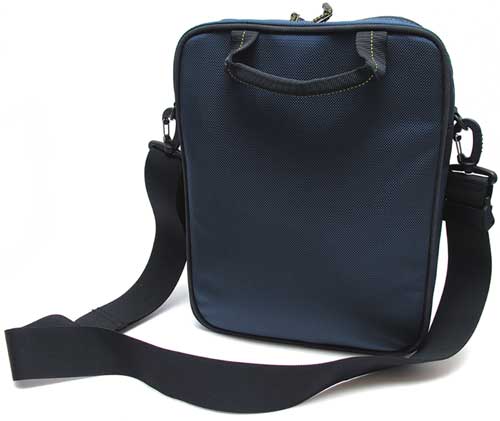 The back of the bag has a padded hand grip sewn into the top. What is lacking here, is an open topped flat pocket for papers, airline tickets, magazines, etc.
A wide shoulder strap attaches to metal D rings on both sides of the bag. The strap itself is approximately 2 inches wide and is pretty stiff. It's not padded, and I didn't find it to be all that comfortable on my shoulder. The stiff material had a tendency to dig into my skin when I had the bag loaded down.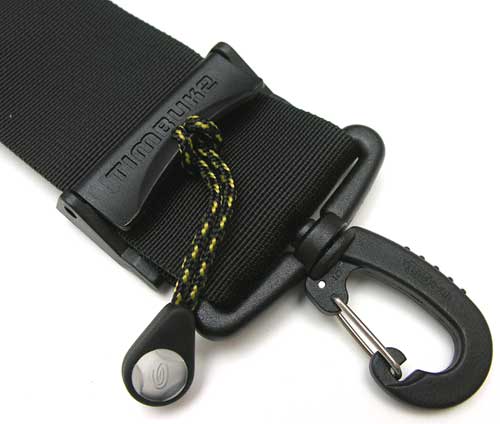 The strap is adjustable though. A small plastic lock on one end of the shoulder strap allows you to easily customize the strap length. Metal spring loaded clips keep the strap securely attached to the bag.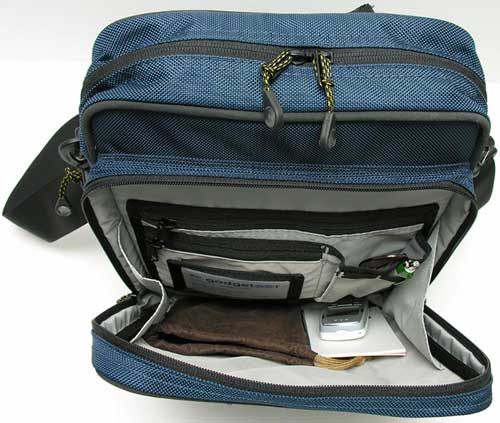 On to the interior of the City Guide… The front area unzips to give access to a gusseted organizer pocket. Inside you will find a see through ID pocket that can hold several business cards with a zippered pocket behind it. To the right are 2 pen/pencil holder slots and a plush-lined cell phone pocket. A large zippered pocket is located at the very back. Inside this pocket is an attached keyholder.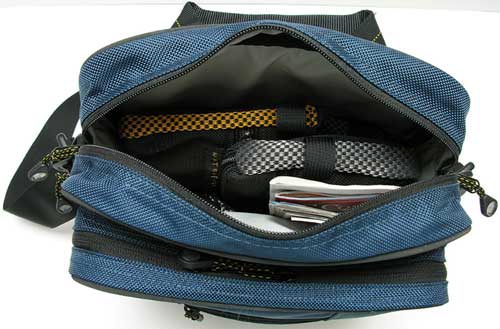 The main compartment of the City Guide unzips to reveal a large storage area. This area is completely open and does not have any pockets inside it. The front and back walls of this pocket are padded. As such, this makes a good area to carry a laptop. I would probably put the laptop in another protective sleeve first though. Although the City Guide is padded, the padding isn't that thick.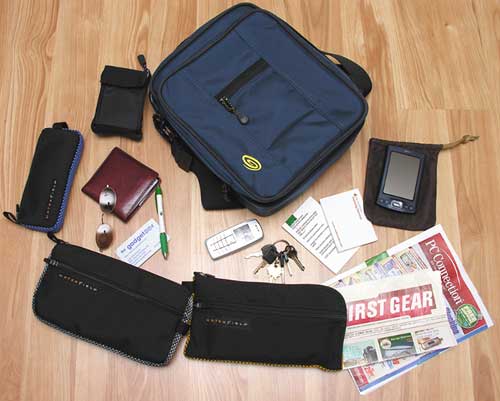 I don't carry THAT much stuff with me everyday, but what I do carry filled up the main pocket and didn't leave much room for anything else. In the picture above, you can see everything that I carry with me. I have 3 Waterfield zippered
pouches, my blood glucose checker, PDA, cellphone, magazines, misc. papers, business cards, sun clips, wallet, car keys, and pen. Each of the Waterfield pouches are crammed full of items as well. One is for tech gear like a media card reader, various media cards, usb thumbdrive, sync cables, etc. The other is full of personal items like chapstick, kleenex, eye drops, asprin, etc. The smallest pouch holds an iPod and cables.
After only a day, I quickly came to the conclusion that this bag is just too small to function as my everyday gear bag. Even though I didn't think I carried that much stuff around with me, I guess it's too much for this bag. The bag does hold what I carry, but there's no room for anything else to be added.
Timbuk2's City Guide shoulder bag is a nice bag. I have no complaints about the workmanship or the materials. Not everyone will appreciate the style though. In my opinion, it's a little boring (square). At 60 dollars, I think the price is a bit high. I've seen similarly constructed bags in retail stores for about half that price. If you are a fan of Timbuk2 and don't mind the price, and like the style, the City Guide would make a nice around town bag.
Product Information
Price:
60.0
Manufacturer:
Timbuk2
Pros:

Nice organizer section
Plush lined cell phone pocket
Adjustable shoulder strap

Cons:

Shoulder strap not padded
Expensive