We use affiliate links. If you buy something through the links on this page, we may earn a commission at no cost to you. Learn more.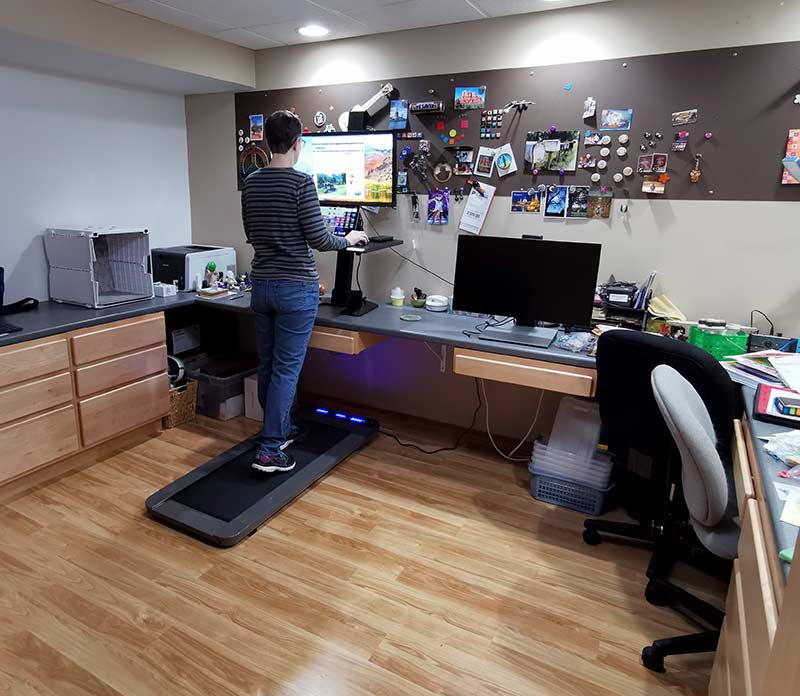 REVIEW – Raise your hand if you have an office job where you sit all day. For several years we've been hearing that sitting is the new smoking. Even if you workout several times a week, if you still sit behind a desk all day, you're doing damage to your overall health. How do you change that behavior? You can get a standing desk to start and to raise the bar, you can get a treadmill to pair with your standing desk. Let's take a walk on the Ultra-Thin Office Treadmill from Versadesk.
What is it?
The Ultra-Thin Office Treadmill is obviously a treadmill, but it's not exactly like a traditional treadmill that use at the gym or that you might already own at home. This treadmill is mini-sized, easy to move, and has no handles to get in the way.
What's in the box?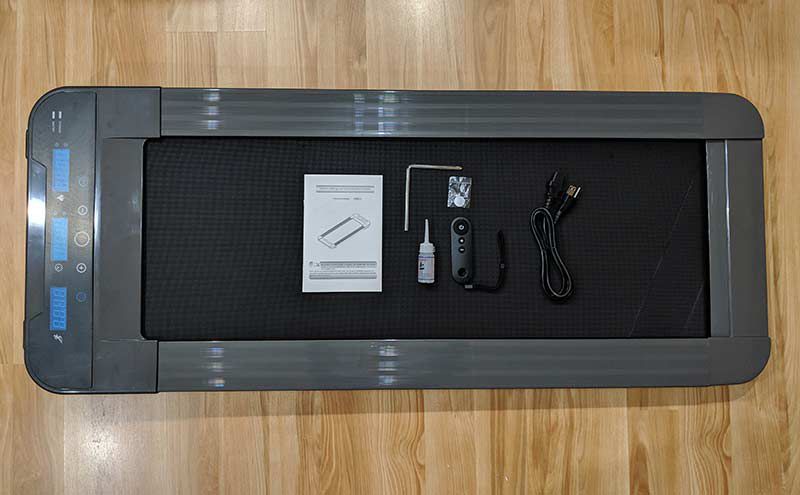 Versadesk Ultra-Thin Office Treadmill
Remote control
Power cord
Belt adjustment tool
Oil
User manual
Design and features
The Versadesk treadmill is 52 inch x 21 inch and has two wheels on the front that allows you to lift the back of the treadmill to roll it into the right position under the desk.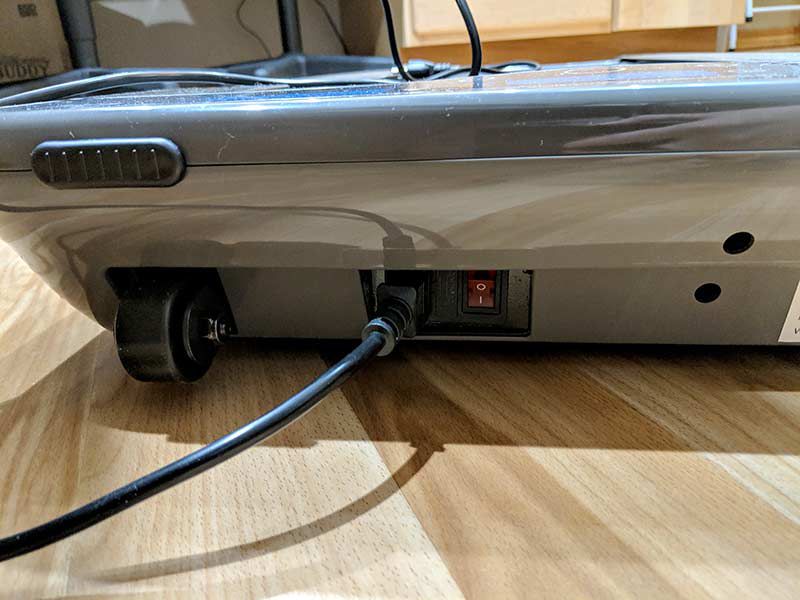 The power cable connects to the front of the treadmill and the power switch is located next to the cord.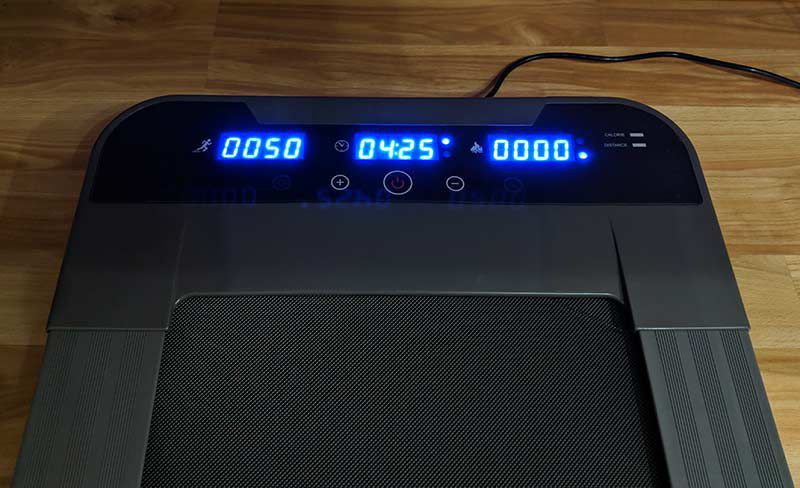 Also on the front edge of the treadmill is a live dashboard that tracks time, steps, speed, calories and distance during the session. This data isn't saved between sessions and resets when you cycle power on the treadmill.
Below the LEDs is a touch power button with individual + and – speed buttons on either side. In my opinion, the location of these buttons is strange because you can't tap them with your foot while the treadmill is in motion unless you want to take a tumble. Luckily, a remote control is included with the treadmill.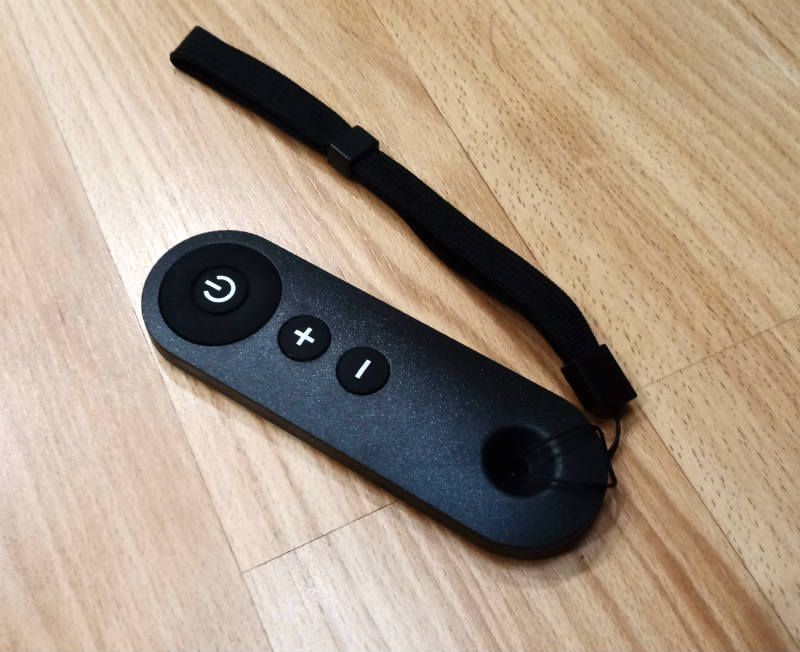 The remote provides a much safer way to control the treadmill while it's in motion. There's a power button and buttons to increase and decrease the speed. There's even a wrist strap.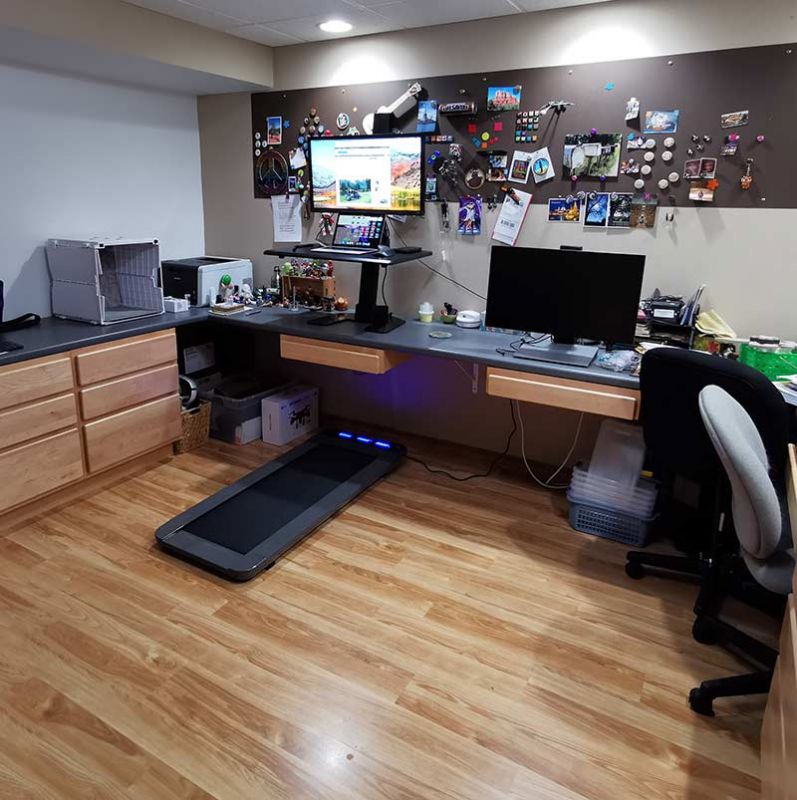 To use the treadmill, you'll want a standing desk. Versadesk sent me their Sunrise Desk Riser motorized desk so I could better test the treadmill. This is a really nice standing desk that sets on top of your regular desk and has one button that raises the desk platform and one button that lowers the desk platform.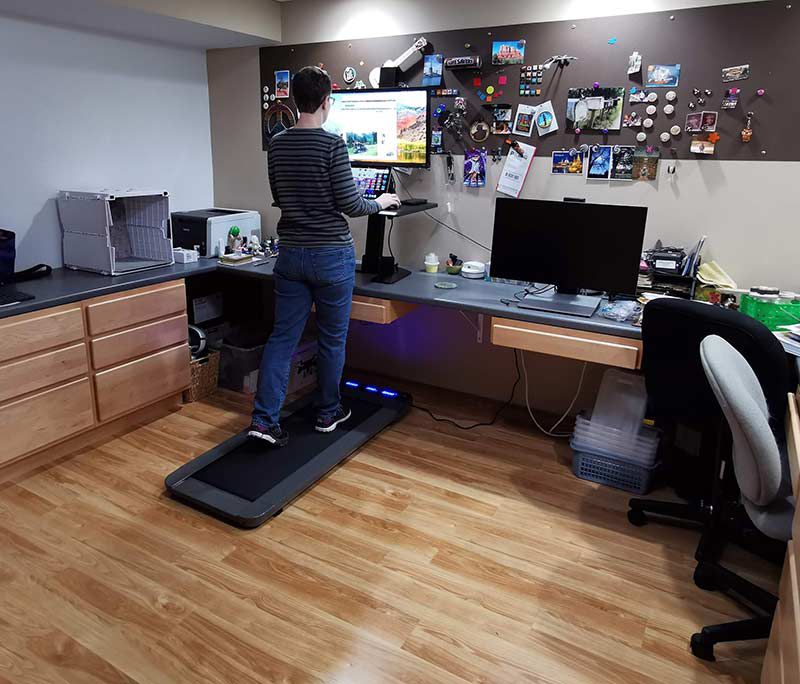 With the treadmill in place, connected to power, and powered on, you're ready to get more active. Using the remote control, you can press the power button and the treadmill's anti-slip belt will begin turning at the lowest speed of 0.8mph. Using the speed increase button on the remote, you can crank up the speed to a maximum of 6mph.
The Versadesk Ultra-Thin Office Treadmill can accommodate walkers of up to 200lbs and although it has an anti-slip belt and a sturdy base, I don't think it's recommended that you run on it. In my opinion, it's for walking only. This is mainly because the length of the belt (40 inches) isn't long enough for running.
For walking, the treadmill is smooth and not unlike many other treadmills that I've walked on when it comes to the feel of walking on it. You do have to adjust the way you walk on it because the Versadesk treadmill's belt is not as wide as traditional treadmills. The Versadesk's belt is 14.5 inches wide vs. the 20 inch wide belt on my standard treadmill.
What I like
Compact
Relatively easy to move around as needed
Can store vertically if you attach it to a wall
What needs to be improved
On deck control buttons should be removed as it's not safe to use them while walking on the treadmill
Handheld remote is IR so it needs to be able to point to the front of the treadmill which can cause potential problems for the walker
Final thoughts
If you've been looking for an easy way to get more active without paying for a gym membership and scheduling workouts, adding a standing desk and portable treadmill is an easier way to move more while you're working on other things. It does take some time to get used to walking and working on a computer, but it's not too bad of an adjustment.
I like the Versadesk Ultra-Thin Office Treadmill because it's easy to place where it's needed, isn't too loud, and is comfortable to walk on. With a setup like this, you'll be able to burn more calories than you do while sitting and your body will love you for it.
Price: $479.00 (Use discount code: GADGETVSD to save 15% (expires 5/30/19).
Where to buy: Versadesk
Source: The sample for this review was provided by Versadesk.