We use affiliate links. If you buy something through the links on this page, we may earn a commission at no cost to you. Learn more.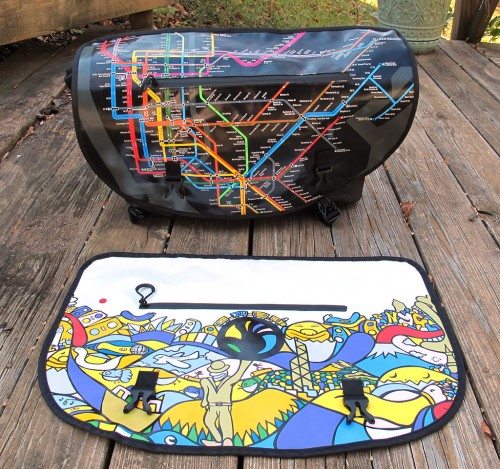 My favorite type of gear bag is the messenger style bag. I like the shape, the fact that it can sit upright instead of flopping over like some bags, and that it can hold a lot of stuff. So, what's better than a messenger bag? A messenger bag that has interchangeable flaps so you don't get tired of it. At least that is the concept behind the 17″ Transit Messenger Bag from SLAPPA.
Note: Images can be clicked to view a larger size.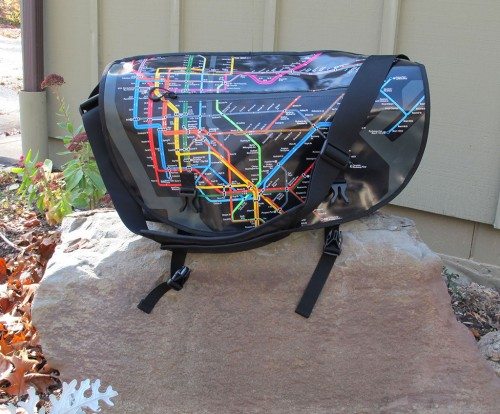 The Transit bag is made of Black 1680D Nylon that's been PU coated for water resistance.
The flap has a pocket on the outside that is accessed by a zippered pull ring. Plastic buckles are sewn into the bottom edge of the flap to hold it closed.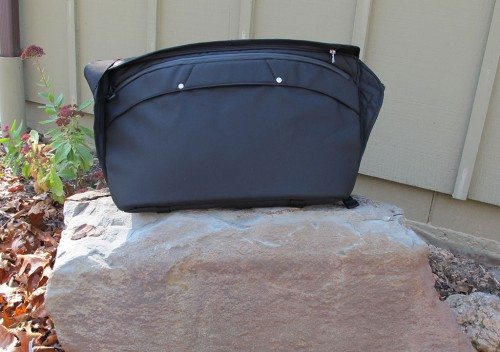 The back of the bag is pretty plain except for the zippered pocket for your laptop.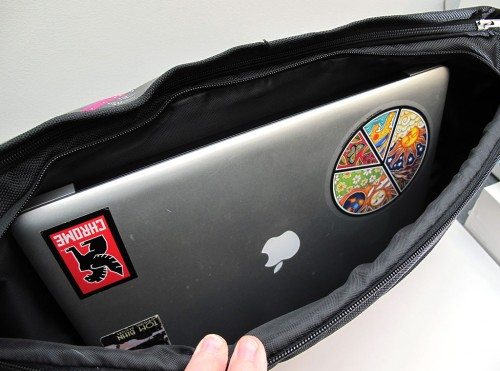 According to SLAPPA's product page for the Transit, it can accommodate up to a 16″ laptop (do they even make 16″ laptops? 17″ yes, but I'm not sure I've ever heard of a 16″). The outer wall of the laptop section is thickly padded with what feels like .5 inch of firm foam. The inner wall has a much thinner padding. Probably less than .25 inches.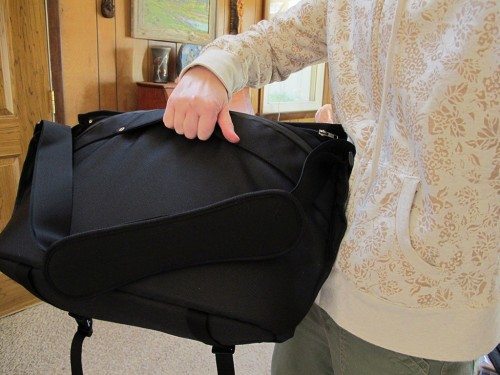 At first I was bummed that the bag didn't include a grab handle, but then I figured out that it's built into the back of bag. Clever!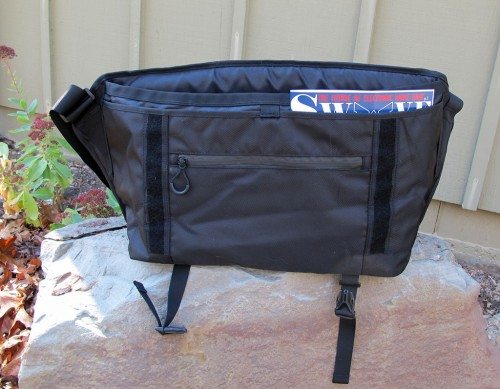 In addition to the laptop pocket, the Transit has other storage areas. When you lift the flap, you are greeted with 2 large side by side open topped pockets that are big enough to hold a full sized magazine.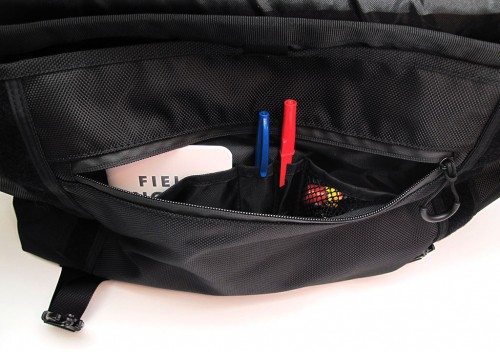 In front of the 2 large pockets is a zippered storage area with slots for 2 pens. On one side of the pen slots there is a pocket big enough for a Field Notes sized notebook. On the opposite side is a mesh pocket that can be used for various small objects.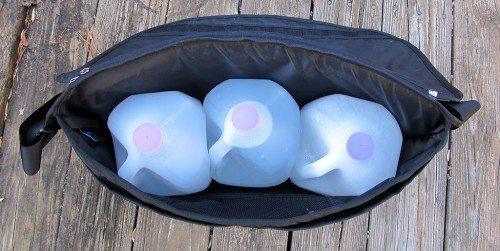 SLAPPA states that the main storage area has room to hold 3 gallon jugs. So I tried it and sure enough, they fit… barely.
Although it's not pictured, there's a zippered mesh pocket inside the main section. That's it though, there are no other slots or pockets inside the bag to help organize your gear.
The interior of the bag is made of a thin nylon. I actually prefer my bags to have a rubber/tarp liner because they are easier to clean.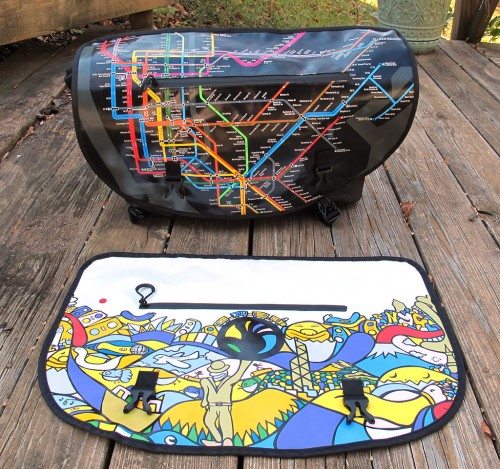 The main feature that sets the SLAPPA Transit bag appart from other messenger bags is the interchangeable flap. SLAPPA sells the bag with your choice of 6 different flaps. They sent me the New York Subway Map flap and another flap with a graphic from artist Pesu. All 6 flaps are pretty flashy. It would be nice if SLAPPA would also offer some plain colored flaps. I don't see on SLAPPA's site where they sell the individual flaps. I'll update the review when I find out.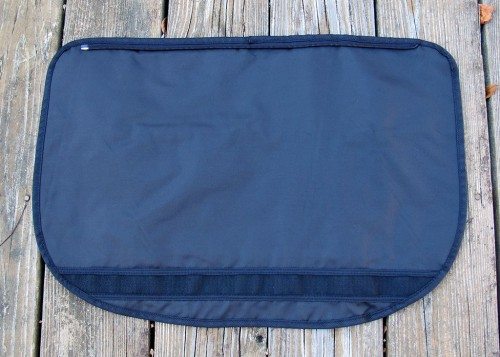 The flaps have glossy tarp type material on the outside and then nylon on the inside. A 1″ inch wide horizontal strip of Velcro is sewn into the bottom edge. In my opinion there either needs to be a wider strip of Velcro or a 2nd strip because the flap doesn't match up very well with the 2 vertical strips on the bag. As designed, the flap is held closed with just 2 one inch Velcro squares where the two strips intersect. Of course you can use the plastic pinch buckles to secure the flap.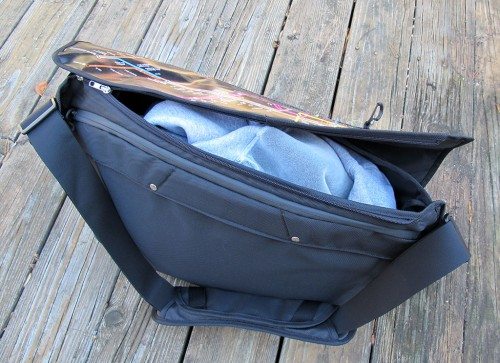 The flaps use SLAPPA's patented M.A.S.K. technology for interchangeability. M.A.S.K. technology is another way of saying that it uses a zipper.
The Transit's strap has a traditional bike messenger bag design instead of a shoulder bag design like Timbuk2. Although you can sling the bag over one shoulder, it wears best across the chest like you see here. For reference, I'm 5′ 6″ (close enough).
The padded laptop section keeps the bag comfortable against your back when walking. I didn't test it riding a bike.
At $89.99, the SLAPPA Transit Messenger Bag is significantly less expensive than big name bags from companies like Timbuk2, Waterfield and Tom Bihn, but there's that saying "you get what you pay for…" and I think that applies here. The Transit bag isn't a bad product, it's just not a bag that will probably last you for several years like those other brands. The interior nylon lining is thin and not that easy to clean if you happen to spill something on it.
The SLAPPA Transit Messenger Bag is best suited for someone who wants to try a messenger bag for the first time to see if they like that style. Or for someone that isn't too hard on their gear and carries a light load. If you're looking for a bag that you'll still be using 5yrs from now, I don't think it will be this one…
Product Information
Price:
$89.99
Manufacturer:
SLAPPA
Pros:
Cons:

Flap needs more Velcro to stay closed
Interior material isn't the easiest to clean
Flap designs are all pretty busy/flashy