Julie's Favorite Gear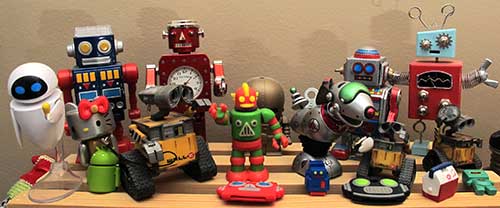 Hey folks, here's my ever evolving listing of the gear (and other favorite things) that I use on a daily basis. Each category has been sorted in order of usage. The most used item is on top. I'm also posting regular gadget diary posts and EDC updates where I talk about the gadgets I'm using and adventures I'm having on any particular day.
Smartphone and Related Accessories:
Samsung Galaxy S3 - Android Smartphone currently flashed with the CarbonROM custom ROM
Egrips Non-Slip Strips
RND Power Solutions Deluxe Cradle/Desktop Docking Station – USB charging dock for the SGS3.
Nokia DT-910 Wireless Charging Stand
Samsung Galaxy S 3 i535 Wireless Charging Inductive White Back Cover Door
Computers and Accessories:
13″ Macbook Air – This is my one and only computer that I use for everything from gadgeteer work, couch surfing and travelling. I flirted with a 15″ Macbook Pro w/Retina display for a week and absolutely loved the retina display. What I didn't like so much was the extra weight, size and heat on my lap. So I sent it back. I'll continue using my MBA until I can replace it with a Retina screened version.
Apple iPad mini (White, Wifi/4G 64GB) – I rarely used my 3rd gen full sized iPad, but I'm using the mini a lot more… mainly as an eBook reader with the Kindle app and for some of my favorite games like Scramble and Words with Friends.
Logitech V470 Bluetooth Cordless Laser Mouse – I use this with my Macbook Air. I like the smaller size and fact that it doesn't require me to plug in a USB dongle. The down side is that it sometimes I have to manually reset/pair it because it will lose connection after I wake up my laptop.
Other Office Equipment:
Epson Artisan 800 All-in-One Printer
Coalesse Power Pod – Power "strip" cool enough to put on your desk instead of hiding it underneath.
Cameras and Related Gear:
Canon G11, 430EX II speed light, ST-E2 wireless flash remote – This is the setup that I use for all my Gadgeteer review pics.
Eye-Fi Wireless SD Card – If you take a lot of pix and don't have one of these yet, get it now. Trust me!
Audio / Video Home Theater Gear:
Samsung 55″ LED TV
Samsung Blu-ray DVD player with WiFi
Onkyo TX-SR608 AV Receiver
DirecTV HD DVR
Roku 2 XS - I'm starting to use this streaming media player more and more for watching free movies and shows with my Amazon Instant Video account. It's tiny, silent and never seems to have a hiccup.
Boxee Box – I use this mainly for streaming downloaded video which is stored on my Macbook Air or the USB external drive connected to my time capsule router/backup system, to a big screen TV in another room.
Dropcam Echo – I keep an eye on my house with this remote Wifi camera.
Bose MIE2i Mobile Headset - Current favorite earbuds. I hate in-ear style buds, and have found these to be the most comfy (and great sounding) so far. It comes with a nice zippered storage pouch too.
Miscellaneous Devices:
Miscellaneous Gear:
GoSmart STYLUS – So far the best capacitive stylus I've tried for both writing and drawing.
ANicelyDone Stylus Handpad – Cushioned pad that allows you to rest your entire palm on the tablet's display while drawing/writing.
Sensu Artist Brush Stylus – Looks and feels like a traditional paint brush.
Uniball Jetstream - My favorite ink pens. They put down a smooth thin line that never skips.
Intelli IMT-500 Chromatic Tuner – My favorite clip-on tuner for my ukuleles and guitars.
Flashlights:
ICON Link Flashlight – This is my current quick grab flashlight.
Coast LED Lenser LED Lantern (TT7105CP) – I grab this one whenever our power goes out at home. It's still using the original batteries!
Huntlight FT-A3 – I keep this one in my gear bag.
Photon X-Light Micro – Keychain flashlight.
Gear Bags, Pouches, Cases, Wallets and other items of holding:
Timbuk2 Custom Laptop Messenger Bag – I prefer traditional messenger style bags and this one is roomy and looks great. I've been using one for years now. I recently replaced the one shown in the review due to damaging it. The one I have now is made of waxed canvas with a Blue stripe.
Quiver Moleskine Pen Holder – So far, my favorite way to keep a pen with my journal.
Waterfield Wallet – I've been using this same wallet every day for over 6 years and it still looks new.
Waterfield Cableguy Pouches – My favorite way to organize the stuff in my gear bag.
Waterfield Muzetto – My weekend shopping / travel bag.
Timbuk2 X-Small Classic Messenger Bag - I use this one when I need to carry more gear than the Waterfield Muzetto will carry, but not enough to fill the Laptop Messenger.
Kensington iPad mini cover – My current favorite iPad mini case.
Col. Littleton Front Pocket Wallet – My current favorite minimalist / travel wallet when I don't want to carry a bag or have a jacket with pockets.
Other Geek Gear
Sprira Odyssey Running Shoes – Most comfortable sneakers I've ever worn!
Favorite Apps
MightyText – This is a great free Android app that links to your phone and lets you send/receive text messages via your computer's browser. Messages sent from your browser show up in your SMS history on your phone and visa versa.