We use affiliate links. If you buy something through the links on this page, we may earn a commission at no cost to you. Learn more.

ARTICLE – Today we have the fourth and final post of the Gadgeteer team's favorite gadgets of 2021 series of articles. My guess about vacuums being the most popular gadget/product with the team this year turned out to be spot on. Be sure to check out part one, part two, and part 3.
David Sheneman
Shure AONIC 215 Gen 2 TWS earbuds review – great audio quality, long battery life, and so much more
The Shure AONIC 215 Gen 2 headphones have become my favorite Bluetooth headphones for listening to music. The sound quality, the long battery life, and the fact that they passively block out so much outside noise makes them great for a walk on my treadmill, listening to music, or catching up on my favorite TV shows.
EZQuest USB-C Multimedia Hub review – lots of ports in one compact device
The EZQuest USB-C Multimedia Hub has become my most used USB-C accessory. Since my MacBook Pro has only USB-C ports, most of what I connect to needs to be adapted to something else. Streaming video over wired ethernet while controlling an ATEM video switcher over USB-A, with power pass-through, reading flash drives or connecting drives for Time Machine backup, and so many more scenarios, this device does it all.
FluidStance Raise 36+ monitor shelf review – elevate your monitor to save your posture
The FluidStance Raise 36+ monitor shelf became an instant necessity for me as soon as I started using it. Raising a monitor or my laptop a few inches off the desk, offering a space to tuck my keyboard and mouse when I'm not using them, and having a wide shelf area to keep all the adapters, drives, etc., that I always seem to have around has allowed me to be more comfortable while I work. I'm planning to take this home to use in a new work from home office area I'm going to set up in the new year so I'll need to get another one for my desk at work as soon as possible because I like it that much.
Andy Jacobs
AMABILIS Responder Lite Tactical Chore Jacket review – It looks tough, and it is
Never miss one of our posts again. Sent MON, WED, and FRI with the latest gadget reviews and news!
The AMABILIS Responder Lite Tactical Chore Jacket impressed me when I removed it from its packaging and continued to impress me as I wear it and use its features.  I like its style that blurs the line between urban, work, and military, and its materials and construction are top-notch.  Its fit allows freedom of movement whether alone or paired with a hoodie or other base layer.  But most impressive to me was its multiple large pockets (two of which have magnetic closures!) and other small but useful features.  I've also gotten a few compliments on it and questions about where I got it.
The Ausounds AU-Frequency ANC True Wireless Earbuds have a very good sound, excellent battery life, and very effective active noise cancellation.   They are small and lightweight, yet remain stable in my ears even during vigorous exercise, and the water-resistance protected them from heavy sweat.  The Bluetooth pairing remains very stable as well, and their range is good.  They fit well in their magnetic charging case and the case is very slim with a small profile and form-factor, which makes it easy to carry in a pocket.  They are one of my go-to sets of wireless earbuds that I use for almost everything.
EVERGOODS Civic Access Pouch 2L (CAP2L)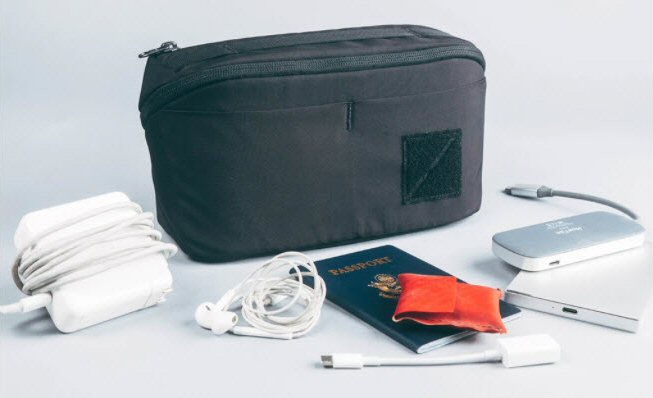 The EVERGOODS CIVIC Access Pouch's (Civic Access Pouch 2 Liter) exterior is made of 420d HT nylon that is padded to protect its contents.  Its rectangular shape has been optimized to fit into packs and bags, and its angled YKK zipper opening allows open access to its 2-liter capacity. It also has a quick-access top external 3D pocket with a key leash, utility loops for attaching, and a Velcro field for further customization with a patch of your choice (like the EVERGOODS Hi-Vis Patches, or any 2 x 2 inch patch of your choice).  Inside CAP2L is a 210d HT nylon in grey for higher visibility, as well as an "adaptive internal layout" composed of an internal 3D security pocket, 2 vertical rows of utility webbing, and a unique floating divider pocket for maximum customization.  CAP2L is my current favorite for organizing and protecting the small and delicate items I carry in my EDC bag.
Joe Porletto
The Fix It Sticks Gun Field Maintenance Kit has become a permanent addition to my workbench as well as my range bag. What I love most about this kit is its modularity, along with the fact that it has practically every tool I need to work on and maintain all of my firearms.
Because this kit was designed with a forward-thinking mindset there are plenty of open slots and compartments to add more tools as I acquire them or to add tools specific to the firearm I take to the range that day. The individual Torque Limiters are lifesavers and have prevented me from destroying expensive accessories while mounting them several times. I really like knowing when I'm out in the rain and something breaks that I can reach for this kit and know instinctively it contains the right tool for the job.
For some reason, I own a bunch of flashlights. I just seem to constantly acquire them and it's a bit of a problem. But, out of all the flashlights I own there are only two that I use daily and the Acebeam PT40 is one of them. This Acebeam is the flashlight I take with me on every evening walk with my dog and I feel safer because of it.
The Turbo mode puts out a startling 3000 lumens and has frightened away scores of terrifying raccoons, bunnies, and rats that might otherwise have harassed my poor, shy pitbull, Addy. And the powerful Strobe mode is great for keeping human ne'er-do-wells at a distance when we're walking really late at night. The right-angle design and magnetic cap also make it useful when I'm working on my car or searching for a lost tennis ball under the couch.
Garmin Instinct Solar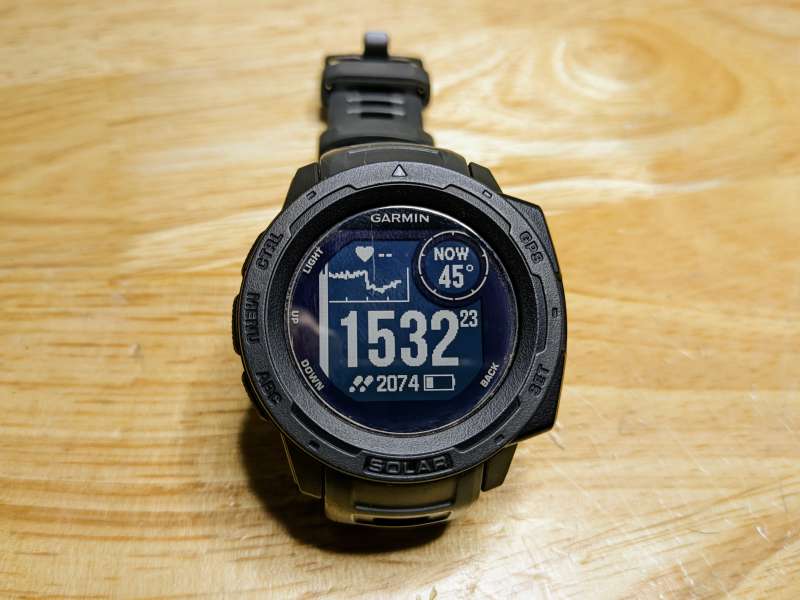 One personal purchase I made in 2021 that I'm really excited about is my Garmin Instinct Solar watch. This watch is featured-packed but because of its monochrome display, great power management, and solar functionality, the battery seems to almost never run out. Aside from being a great fitness tracker the Instinct Solar syncs seamlessly with my phone and alerts me to any notifications that I choose, even allowing me to reply to texts with prewritten phrases. The Garmin Connect app is excellent as well and provides some great data visualizations and training motivation.
The design of the Instinct Solar is quite subdued, which I appreciate. There aren't any bright gaudy colors or oversized screens that scream fitness tracker. This is a watch that I enjoy wearing daily to work, to the gym, and on any adventures that I may have. I can even wear it to bed and have it track my sleep patterns. If you're looking for an affordable fitness tracker with GPS capabilities and terrific battery life, be sure to check out the Garmin Instinct Solar.
Raul Sanchez
I really like the llano RGB Video Light because it has been very helpful for me especially while I'm taking photos and video in low light clubs. Although it doesn't give off a tremendous amount of light, it produces a decent amount of light to illuminate my subject without blinding others around me. When used with the silicone diffuser, the diffuser helps prevent harsh shadows. And having the ability to control the color temperature, hue, and brightness makes this video light a great tool in my camera gear bag.
The Manfrotto MVG220 3-Axis Stabilized Handheld Gimbal is my favorite gimbal so far. Having the Multi-Function knob on the side of the gimbal gives me more options to get creative when using the gimbal. And, having the accessories such as the Follow Focus, Remote Control Handle, and the Fast GimBoom not only expands my creativity for unique shots and angles but they also make shooting with the gimbal easier. I really enjoy using the Remote Control Handle which allows me to place the gimbal on a flat surface while still controlling the gimbal at a distance.
I just recently bought a Rydohi portable CD player and I really like this one. What I like about this CD player is that it has Bluetooth capabilities. So, not only can I plug in my wired headphones into the 3.5mm audio jack but I can pair the CD player to other Bluetooth devices such as Bluetooth headphones, earbuds, speakers, or my car's Bluetooth. And speaking of a 3.5mm jack, this CD player has an extra 3.5mm audio jack so you can have someone else plug into the CD player to listen to the music as needed. The CD player has a slot for a microSD card so I can play the music that is on the microSD card, making this CD player a versatile media player The CD player also has a built-in 18 hour rechargeable battery which is nice to have since I remember having several packs of AA batteries at the ready when I used to have a CD player way back in the day.
Julian Perry
Over the years, I have reviewed several headphones, and while most of them have been very good, the AfterShokz Aeropex Open-Ear Endurance headphones are the most versatile including my need to use them when I sleep to listen to my favorite sounds of rain and thunder. They are lightweight, comfortable, and sound pretty good considering that they are never worn in your ears. They also allow me to listen to music while remaining aware of my surroundings.
Chamberlain Secure View Garage Door Opener with Smart Camera review
When I purchased and moved into my new home, there were several things on my list that I really wanted to put in place as soon as possible. Near the top of the list was a garage door opener that would not only automate the opening/closing of the garage door but since I order from Amazon a lot, it must be able to work with their myQ secure in-garage delivery. As many of you would know, porch thieves are growing in numbers, and so if there is a way to keep your packages safe, then it is worth it. The Chamberlain Secure View Garage Door Opener with Smart Camera has a built-in light and camera so I can see live and pre-recorded all activity when anyone accesses my garage and I also get specific notifications related to amazon. The mechanism is very quiet and has been a winner.
If you have been following my reviews over the past 2 years, you would know that I am a big fan of Litheli tools and that I have reviewed several of them. I have been doing some work in my home and found that I needed an Impact Driver to make some tasks easier. I decided to research several brands including some very expensive ones. In the end, I came to the conclusion that the best bang for the buck for me would be the Litheli. I did take into consideration that since I have several of their tools I would have lots of batteries and I already knew that the quality would be great. I have now used the Litheli Cordless Impact Driver for several tasks, and it has not disappointed me. It is somewhat heavy when compared to something like the Dewalt or Milwaukee Impact Driver, but it performs flawlessly, has lots of power, and is built like a tank.
Lynn Lopez
I have the Dreame Bot Z10 Pro auto-empty robot vacuum running 5 days a week at my house. Every Monday, Wednesday, and Friday it vacuums my main living area, kitchen, master bedroom, and master bathroom. Every Tuesday and Thursday it vacuums our two offices, a spare bedroom, and our home theater room. Maybe five times since I have reviewed it, it has gotten stuck or went into an area with too much clutter. I simply modified to map to block off those areas and never had the problem again.
The Noreve iPhone 11 Pro leather wallet case has become my main phone cover since I reviewed it. I never thought I would like such a bulky cover, but having only one thing to carry with me instead of two (phone and wallet) has really been awesome. The card area has not stretched out at all and even though I pop it out of the case every night to charge (I really don't have to do that, but do it anyway because it makes me make sure I am placing it on the wireless charger correctly) it has never lost its great grip on the phone. If and when I replace my iPhone 11 Pro, I will most likely get a version of this case for my new phone.
Tineco Floor One S5 Series smart cordless vacuum & mop review
I have gotten rid of any mops I have had and only use the Tineco Floor One S5 Series smart cordless vacuum & mop now. It does such a wonderful job of cleaning the floors. I do have to admit that I have to spend a little extra time after using it to clean out the dirty water container and the brush, but I feel it is well worth it. I figure I do the same thing with a mop or any other type of mopping device. I love that it vacuums and mops at the same time and leaves just a slight sheen of water on the tile that dries very quickly.
Smythe Richbourg
I have a shelf full of power banks, but most of them weigh in at 2-3x what this little gadget does, and with the UGreen Powerdot Power Bank, I don't have to remember both cables, only a USB-C<=>USB-C. That means I can charge all my major devices, plus earbuds from it.
I still have my little 10.5″ iPad Pro, and the Zagg Messenger Folio hasn't been taken off since I reviewed it. Paired with my Pebble mouse, it's a small but potent editing station. USB-C charging for the attached BlueTooth keyboard is nice, but I miss the Smart Connector my big iPad has with the Magic keyboard. But this combo is half the cost, so…
Not my review, but I bought the AfterShokz Opencomm Headset as a result of the review with personal funds, and I love them. If I'm at home taking calls, it's more than likely this is what I'll have on. Why? Well, it's wireless, the mic stays right by my mouth, and I can hear things like the dog or the doorbell or the teakettle without losing touch with my callers. The connection is pretty solid, but by the time I get to the fridge on a break, I start to get static. It's very easy to forget you have them on.
Don't forget to read part one, part two, and part 3 of this series too.