We use affiliate links. If you buy something through the links on this page, we may earn a commission at no cost to you. Learn more.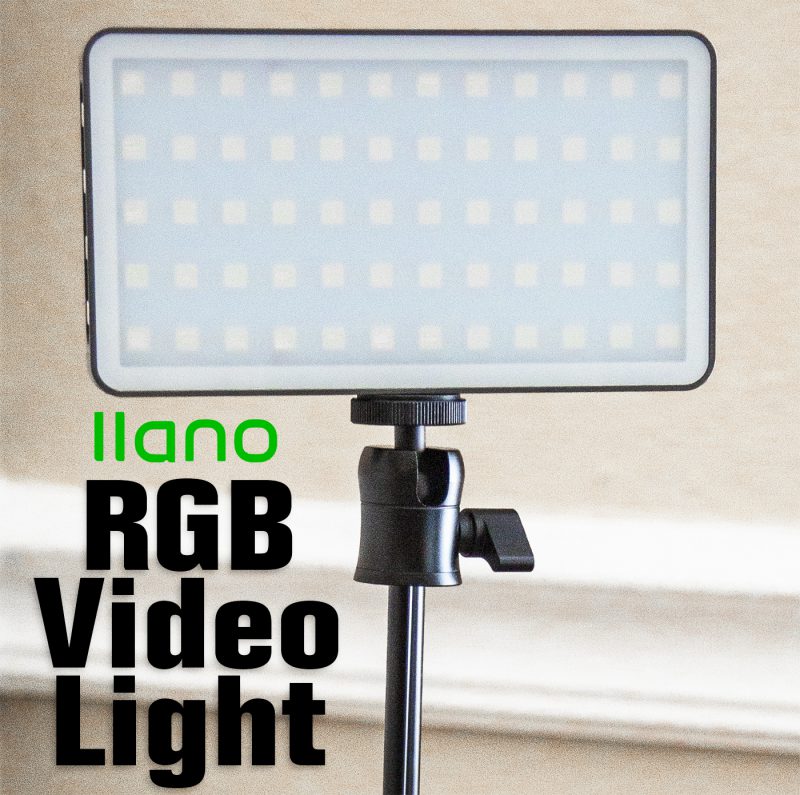 REVIEW – Photography and videography work best with light to brighten your subject or scene, and having a decent amount of illumination helps when shooting to get that perfect exposure. However, there are times when you can't get an adequate amount of light, so just a little bit of fill light will have to do. And then there are times when you need something different such as colored light, or even a lighting effect, to set a mood or feeling. With the llano RGB Video Light, you are able to meet these demands. Not only is this light suitable for photography and videography but it is also a nice addition when you are on a video conference, streaming, or if you just need light for general use.
What is it?
The llano RGB Video light is a portable and rechargeable LED light that adds extra illumination to your scene and also emulates several lighting effects such as police lights, lightning, S.O.S, and more. It is perfect for photography, videography, video conferencing, vlogging, streaming, mood lighting, or for whatever project you are working on that could use some light or lighting effects. You're able to change the color hue, saturation, and brightness of the LED's so you will have plenty of options when using this light.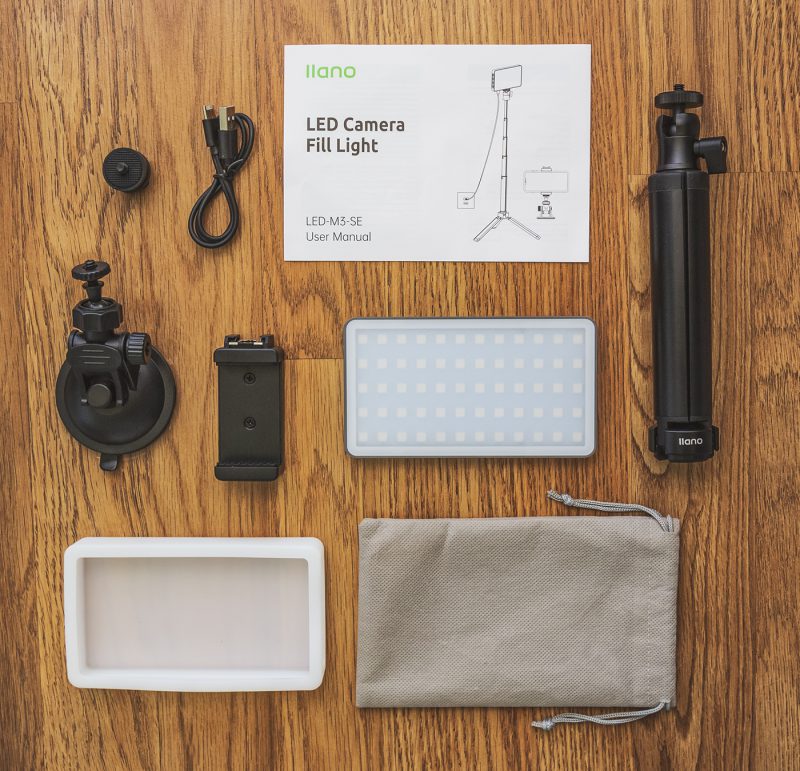 What's in the box?
RGB  video light
Telescopic Table Tripod
Smartphone holder
Suction cup mount
Silicone sleeve
1/4″  cold shoe mount
USB-C Cable
Manual

Hardware specs
| | |
| --- | --- |
| Main material | Aluminum Alloy |
| Beads number | 60pcs |
| Power | 8W |
| Color temperature | 3000K-6500K |
| CRI | ≥95 |
| Lumen | ≥1200Lux |
| Brightness Range | 10% -100% |
| Battery | Built-in lithium battery 4000mAh |
| Working Time | 100% power continue output for about 2.5 hours |
| Charging Time | About 3 hour |
| Charging Port | Type-C |
| | |
Design and features
This light has a slim design and the housing is constructed of aluminum metal alloy which feels very solid and feels like it can survive a few bumps and bruises if you happen to drop it. The LCD panel, although small, is bright and easy to read. The LCD screen is only about 1″ in. (25.4mm) wide and 0.5″ inch (12.7mm) tall. It would have been nicer to have the screen double that size, though. The LCD is basically the Menu screen which displays all the settings from the Hue color, to saturation, to the brightness, to the battery level.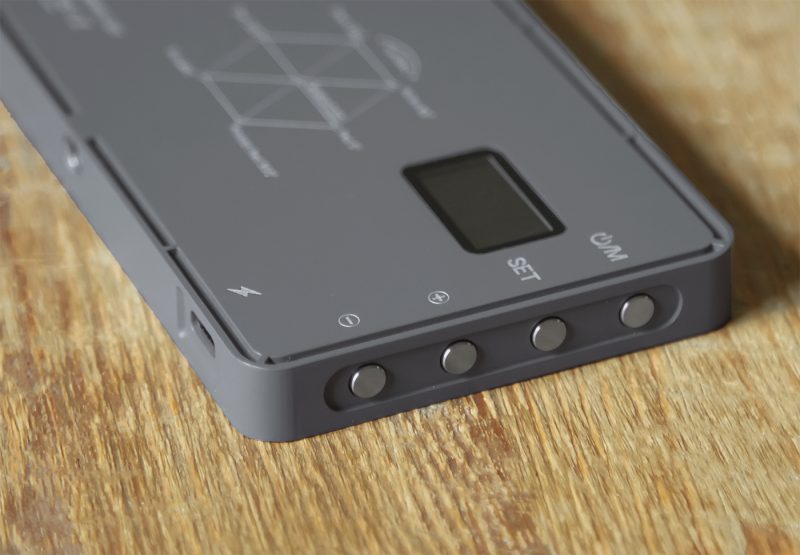 Along the side of the video light, are round metal buttons for the Power/Mode, a Set button, and an Increase button, and a Decrease button. These metal buttons are very responsive and have a nice solid click to them when pressed. Continuing along the bottom just below the buttons is the  USB-C port to charge the video light. This video light has a battery life of up to 2 and a half hours on 100% brightness. It also takes about 3 hours to fully charge this video light.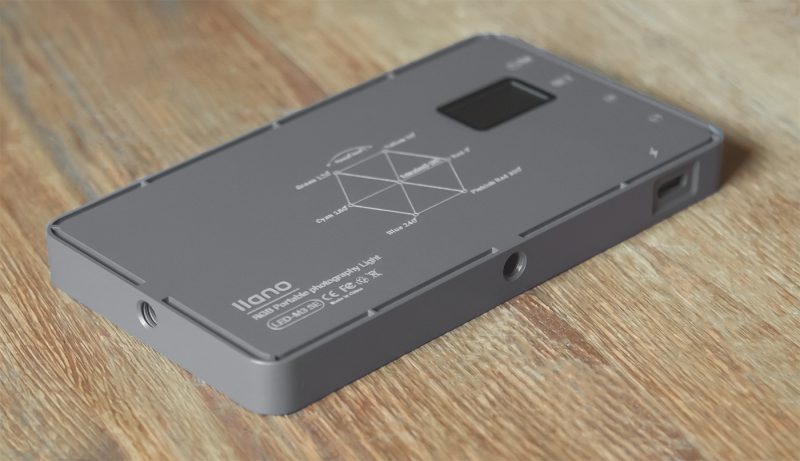 There are two 1\4 " in. tripod thread mounts, one is bottom of the video light, and the other is on the opposite side of the buttons. It was nice to see that there was an extra 1\4″ in. thread mount on the side, in case you need to place the video light in a vertical position instead of a horizontal position. This makes using the video light more versatile in the way you can position it.
Never miss one of our posts again. Sent MON, WED, and FRI with the latest gadget reviews and news!
Operating this light to achieve the color you want is pretty easy once you know what each button on the side are for. The top button is both the Power button and Mode button signified by the Power icon and the letter M. The Mode function switches between the steady light and the light effects. Then, the next button is the SET button which is kind of like a Select button. It switches between the options you are adjusting on the LCD screen. Below the SET button is the Plus button, and the last button is the Minus button.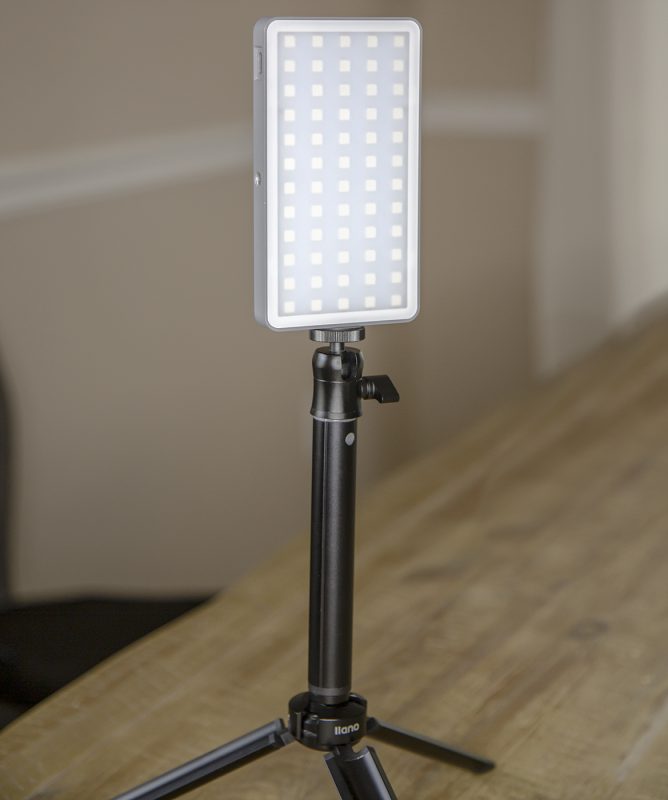 Since there are nine light effects (0-8) available, you can scroll through the light effects using the Plus and Minus buttons. You have the option to adjust the brightness of the light effects from 100% all the way down to 0%. To adjust the brightness level, you just press the SET button and the small arrow moves from the lighting effect icon to the Brightness icon. Once the Brightness icon is selected, then you can adjust it using the Plus and Minus buttons.
The lights consist of 60 LED beads which give off a decent amount of light, but more on the LED lights below.
On the back of the light is a small diagram that you can refer to in case you want to dial in a certain color for the light. I set the light to these numbers and found them to be pretty accurate to the colors listed. Keep in mind that I didn't use any kind of color hex code reader or anything but just what I observed with my eyes. But it is a nice touch to refer to the numbers on the diagram to get you to the color you are looking for.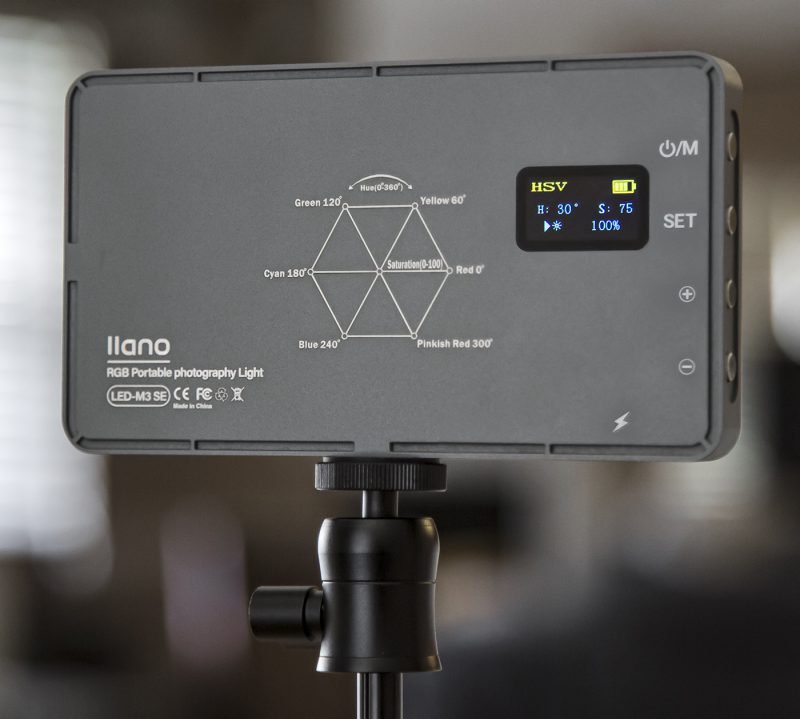 Performance
The lighting effects work well and are best suited for video rather than for photography. You really won't get the sense of lightning or a police car when using the effect in a photo. But, if are shooting a video and need to emulate lightning or the red and blue lights of a police car, then this RGB light would work well. And since this is an RGB light, changing the colors on the light would greatly enhance or accentuate the mood and feel of your photos or videos. This light would be a nice addition for content creators to have in their gear bag.
With its 60 LED beads, I found that the light output wasn't as bright as I had anticipated. It gives off a decent amount of light in close range of your subjects. However,  if you wanted to use this light on a wider or bigger open area, the intensity really isn't there unless the room or location is fairly dark. Even as I used it as a continuous white video light, I couldn't be too far away from the person I was filming, or else they wouldn't be illuminated enough. Don't get me wrong, this light did great for me when I shot some photos and videos in a dimly lit club. It gave off a decent amount of light for me to photograph and film people. Plus, the light wasn't so bright to blind people or make me conspicuous as I shot with this light. But for me, I would like the option to have the light go brighter when I need that extra light. In essence, this light is more suited as a fill light rather than a main key light. That is to say that you can certainly use this as a main key light but you wouldn't be getting a large amount of light than if you used a more powerful light source.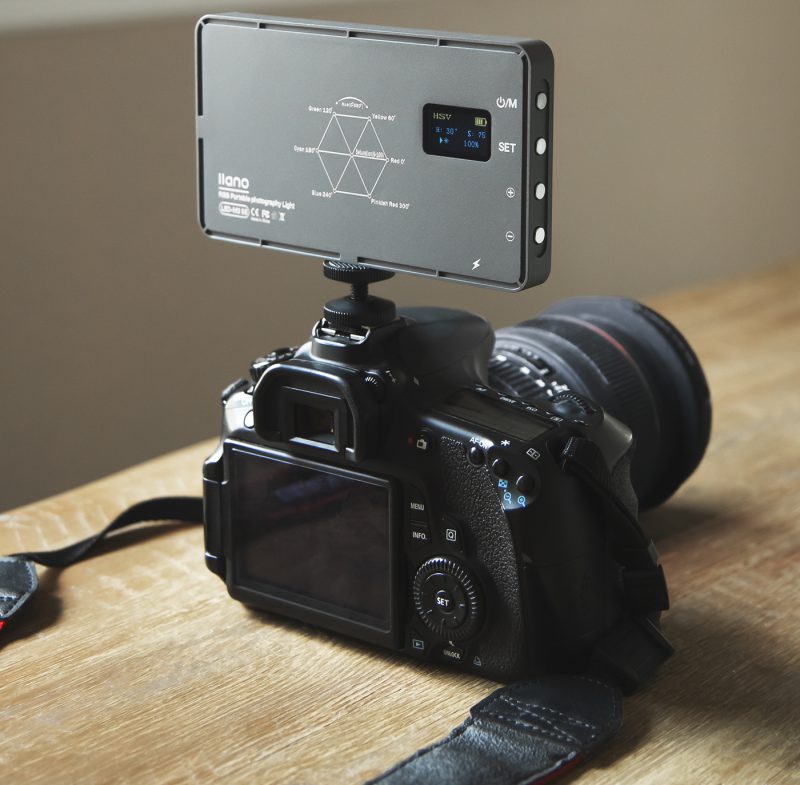 One thing I noticed is that this RGB light never got hot.  I kept the light on at 100% brightness for an hour and afterward I placed my hand over the LED beads. I found that I could lay my hand there and not feel any heat that could burn me.
As the special effects lighting is a great feature to have with this light, there was no way to adjust the speed of the effects. I think it would have been nice to have variable speeds of the effect. For example, if you wanted to make the Lightning effect flash quicker or slower in your video, or if you want the "breathing", or pulsing, light effect to change smoother or more rapidly, then having to be able to adjust the speed would make the effects more flexible.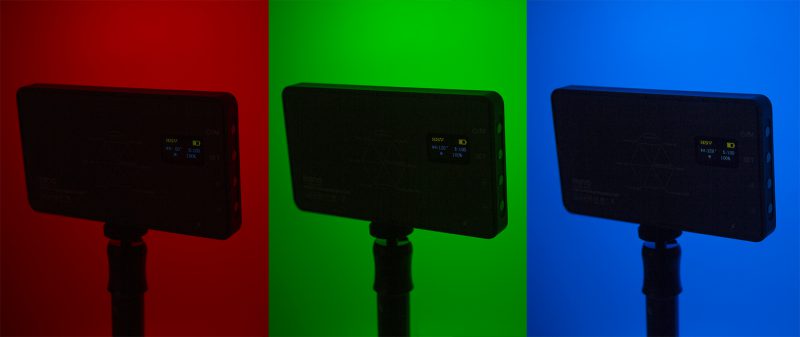 What I like
Lighting effects
Rechargeable battery
Lightweight and thin
Silicone Diffuser
Color Diagram on back
No need for color gels
What I'd change
Brighter output
Longer battery life
Bigger LCD screen

Final thoughts
When you need that extra kick of light to your photo or your video shoot, then the RGB Video Light from llano is a great addition to have in your photo or video arsenal. It's a great fill light to have and in really dark environments may even be suitable enough to be your main key light. With the capabilities of the lighting effects, this light becomes a handy tool for your video projects, or content creation, when you want to add a little extra mood to your video or emulate a certain effect such as lightning or police car lights. I found this light to be perfect while I was shooting photography in a dimly lit club since it wasn't blinding to people's eyes nor was it conspicuous. It gave me just enough light when shooting up close with a portrait shot. And with the silicone diffuser on, the light was soft with fewer harsher shadows on people's faces.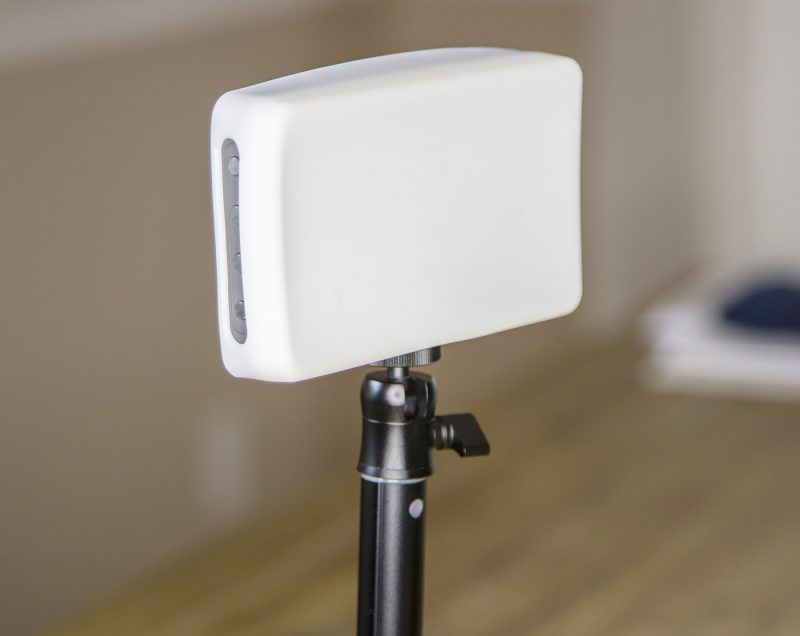 I really like the ability to change the different colors of light right on the device itself since this eliminates the need for colored gels, or any additional covers, to produce the desired light color or color temperature. Plus, the addition to create the included lighting effects is something I can see that will get a good amount of use in upcoming video projects.
Price: $69.99
Where to buy: Amazon
Source: The sample of this product was provided by llano.