We use affiliate links. If you buy something through the links on this page, we may earn a commission at no cost to you. Learn more.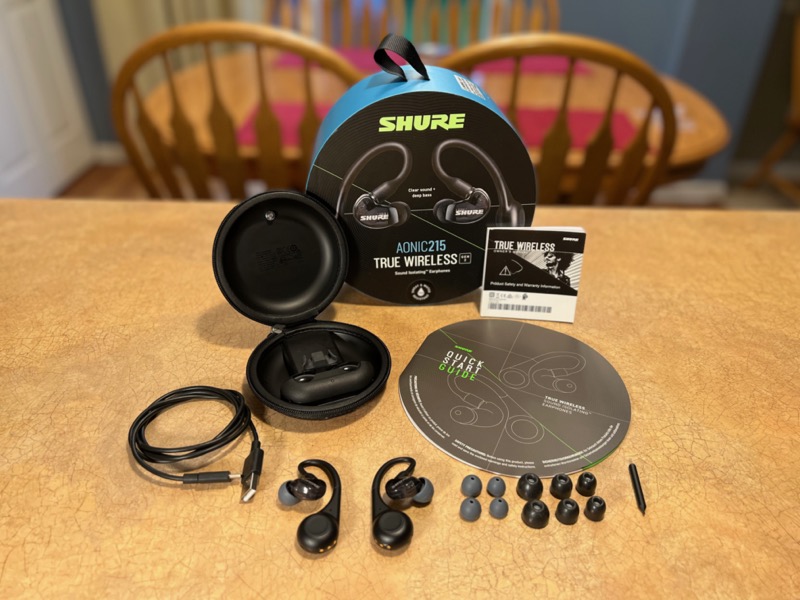 REVIEW – Bluetooth headphones are a dime a dozen these days. It seems like every brand you know of (including a shoe company), and many you've never heard of, is making one or more types of true wireless earbuds. With so many options out there how do you decide what's best for you? It's never wrong to go with a well-known audio brand and Shure definitely fits that bill. Today I'm reviewing their new AONIC 215 Gen 2 True Wireless Sound Isolating Earphones.
What is it?
Shure's AONIC 215 earphones are a pair of their SE215 in-ear monitors along with a pair of wireless adapters which turn them into true wireless Bluetooth stereo headphones. Shure includes a charging case for carrying and keeping the earphones ready to use.
What's in the box?
RMCE-TW2 Wireless Adapter Set
1 pair – 215 Detachable Sound Isolating earphones
Charging case
USB-A to USB-C Charging Cable
Soft Flex Sleeves (S, M, L)
Foam Sleeves (S, M, L)
Quick Start Guide
Owner's Manual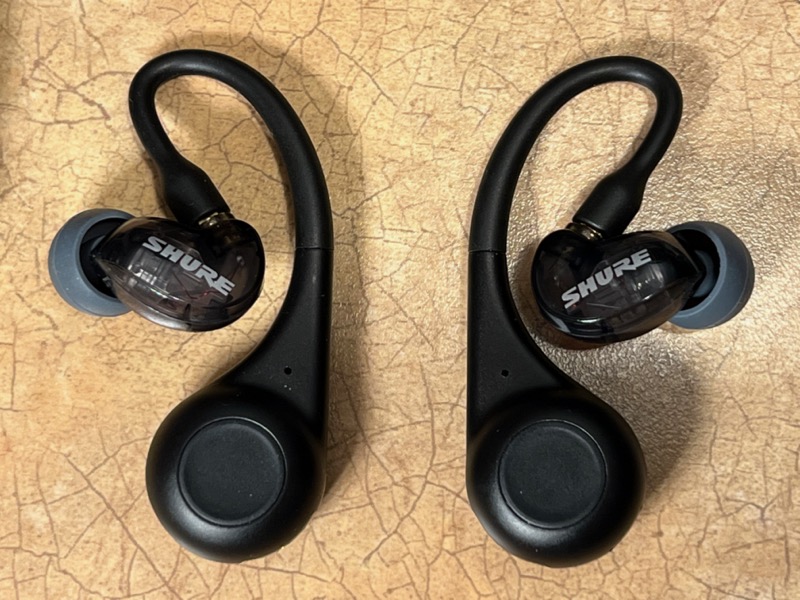 Hardware specs
Secure Fit Wireless Adapters
Frequency: 2402 to 2480 MHz
Modulation Type: GFSK, π/4DQPSK, 8DPSK
RF Output Power: -1.18 dBm EIRP (Left), 1.99 dBm EIRP (Right)
Antenna Type: Integral antenna
Antenna Gain: -4.32 dBi (Left), -2.73 dBi (Right )
Supported Codecs: Qualcomm aptX™, SBC, AAC
Working Range: 10 m
Operating Temperature: 0°C to 45°C (32°F to 113°F)
Charging Temperature Range: 0°C to 45°C (32°F to 113°F)
Storage Temperature: -10°C to 35°C (14°F to 95°F)
SE215 Earphones
Transducer Type: Single Dynamic MicroDriver
Sensitivity: (at 1 kHz) 107 dB SPL/mW
Impedance: (at 1 kHz) 20 Ω
Noise Attenuation: up to 37 dB
Frequency Range: 21 Hz–17.5 kHz
Input Connector: MMCX connectors
Net Weight: 20.8 g (.7 oz.)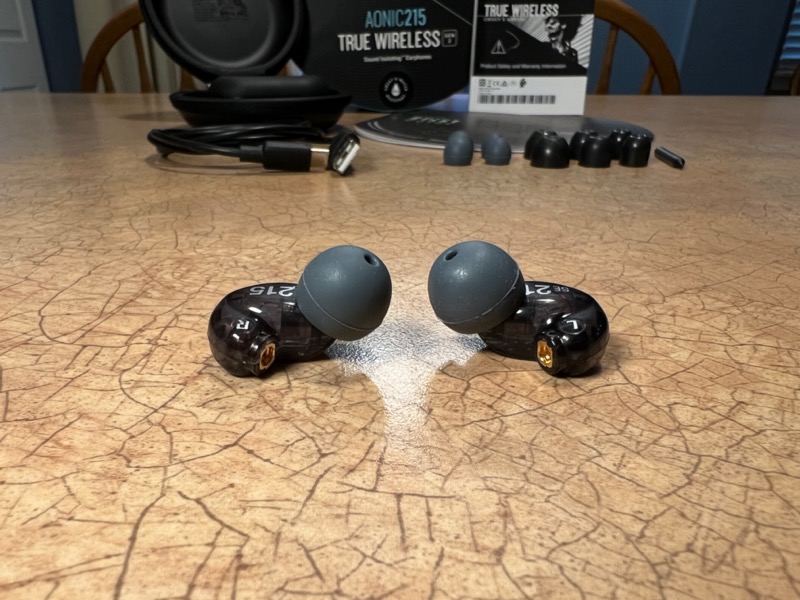 Design and features
The AONIC 215 earphones are a pair of in-ear style earbuds that come with a set of wireless adapters that attach to the earbuds by a short lead that acts as the cable as well as an ear hook to keep them in place as you walk, ride a bike, or whatever activity you may be engaging in while you listen. The earbuds are detachable from the wireless adapters, which is great for cleaning, replacing the earbud or wireless adapter, or attaching the earbuds to a cable (with or without a mic and remote built in) for ultimate flexibility.
The wireless adapters are black and the earbuds are available in black or blue. The package comes with 3 sizes of foam ear tips and three sizes of rubber silicone style ear tips. 
All the electronics are stored in the wireless adapters. The large end of the adapter sits behind the ear with the hook attached to the earbud going over the ear, holding them in place as you go about your business. The flat surface of the wireless adapters is where the multifunction button is, and it's a real button, not a touch-sensitive pad that doesn't always respond when you tap it. One benefit of this design is that I'm not having to push these into my ears to play/pause, skip tracks, or adjust volume because the buttons are on the wireless adapters, not the part that fits into my ear.
The last piece of the puzzle is the charging case. The case is round and uses a zipper for closure unlike cases that just have a flip top. The USB-C charging port is on the bottom of the back of the case along with a three LED battery level indicator and a button to check the battery level when the case isn't plugged in. Inside the case below where the earphones plug in to their charging contacts is an LED that glows red while the earphones are being charged and green when they're fully charged. Due to the size of the AONIC earphones this case is larger than most similar charging cases. I definitely won't be carrying these around in my pocket like I do with my everyday wireless earbuds.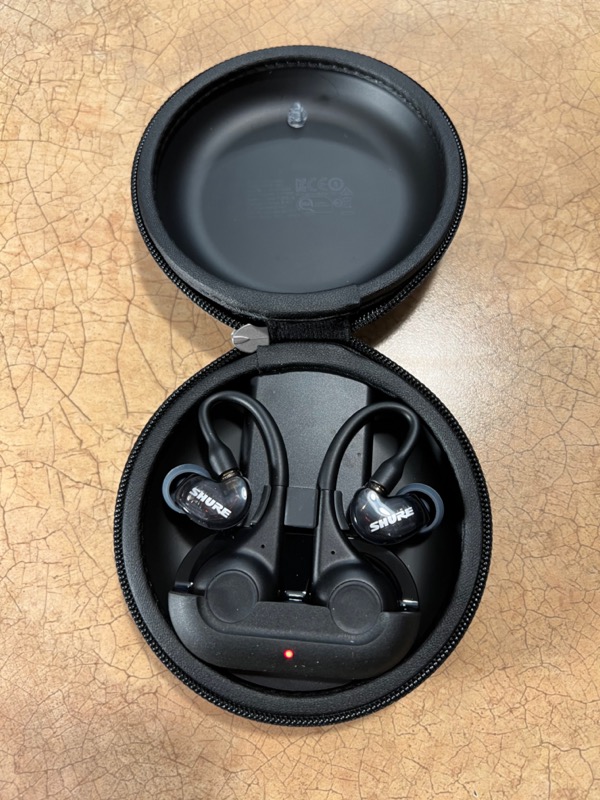 The AONIC 215s don't feature active noise cancellation. Shure says their passive Sound Isolating technology blocks up to 37 dB of noise, which is a pretty good amount of noise reduction. They can achieve this because of the way the earbuds fit in the ear, sealing it off from outside noises. In my experience this level of isolation from outside sound helps create better sound quality without as much volume, protecting my ears in the process. Of course, if you do need to let through some of that outside sound Shure offers their Environment Mode, which uses the built-in mics to pass through some of the ambient sound for safety and convenience.
Installation and setup
Like any other Bluetooth devices these have to be paired to a phone, tablet, computer, or other playback device before use. They're supposed to go into pairing mode after being removed from the case for the first time. Mine didn't do that on their own so I held down the button on one earpiece for a few seconds to turn it off, then held the button down for five seconds to manually put it into pairing mode. Once I did that the lights on the earpiece flashed red and blue and they showed up in my phone's Bluetooth menu. Pairing took just a few seconds and they were ready to go.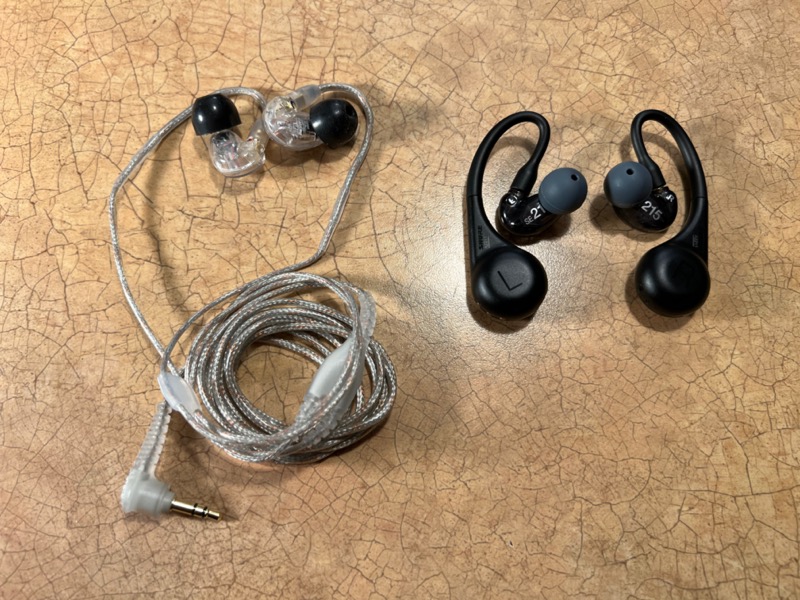 These can be paired with multiple devices for use in different scenarios. I have these paired with my iPhone for listening to podcasts and music, my iPad for watching TV while I'm walking on my treadmill, and a Google Pixel 6 for all my Android use. Although you can pair these with multiple devices they can only be connected to one device at a time – no answering calls from my iPhone while I'm watching a video on my Android phone or iPad.
If you don't want to customize anything about the AONIC 215s then this is all you have to do – pair them with a phone or tablet and enjoy the sound. If you want to tweak the EQ, change the functions of the buttons, adjust the level of the audio that is passed through with environment mode, turn on/off prompts and tones, and control other settings, then you need to install the ShurePlus PLAY app, available in both the iOS and Android app stores. 
Helpfully, because the EQ settings are stored on the earphones and not the playback device, any settings you change will be the same on whichever device you're using to play back audio. You probably won't want the same settings for music and TV or movie watching, though, so it's helpful that the PLAY app has built-in presets such as bass boost, bass cut, treble boost, treble cut, and vocal boost, as well as the ability to create and save your own presets. Switching presets is easy to do in the EQ tab of the PLAY app. I did notice that presets don't sync between devices, though. If you've changed the settings with a preset, the settings will still be the same but you can't use the same custom presets on one device from another one. It's possible to make the same preset on two different devices and use them on both, but they don't sync. Even still, not having these change EQ every time you switch devices is a nice feature.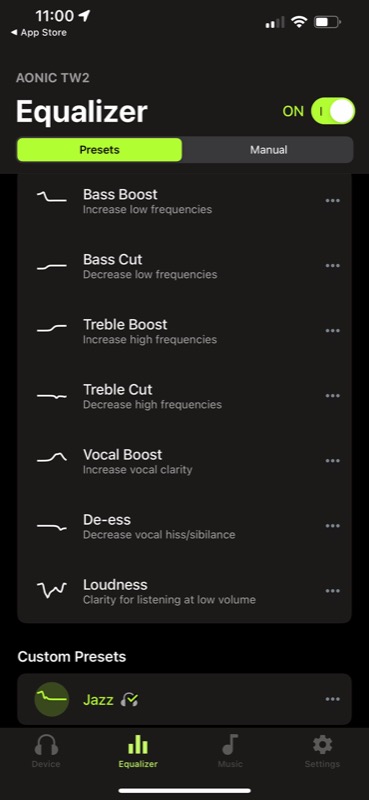 One of the things I really like about most true wireless earbuds is that you can use one or the other and still have full functionality. The AONIC 215 earphones work the same way. The fact that I can customize what the buttons do on each wireless adapter means I can have the same controls no matter which individual earpiece I'm using.
The AONIC 215s have an IPX4 rating for sweat and water resistance. I wouldn't take a shower or go swimming with them in but if you're out on a jog and it starts to rain you won't have to worry about getting them a little wet. 
In Use
Sound quality is as good as I would expect from one of the most respected audio manufacturers. Bass was solid, midrange was full without being harsh, and the highs were crystal clear. I found myself hearing new things in music that I've listened to for years. For instance on one live album I can hear the buzz from a guitar amp that I don't remember hearing before. On other tracks I can hear static in the background, most likely from the original tape it was recorded on. Again, these are things I haven't heard before, or I'm hearing them with more clarity and able to identify them more than usual anyway. These are Bluetooth headphones so there is always going to be some distortion to the sound due to the additional layer of compression involved but I won't fault Shure for that – it's just part of the Bluetooth experience – there's a tradeoff to be had for the convenience of having wireless headphones.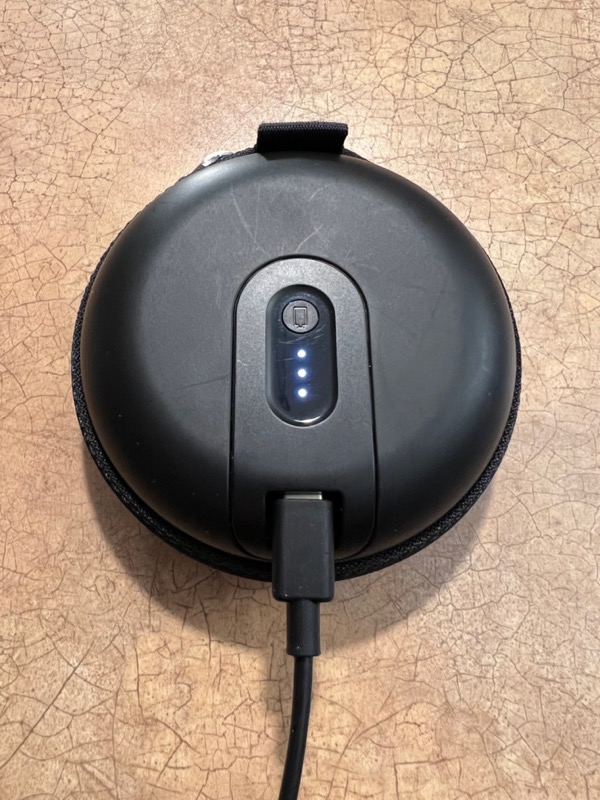 Another thing that's often part of the Bluetooth experience is dropouts. I can happily report that this hasn't been a problem with the AONIC 215 earphones. I did have a couple glitches one time for just a few seconds during testing but I can't say whether it was the earphones or something in the music app on my phone. Apart from those few seconds these have stayed connected and streamed audio consistently without any issues.
I did feel like I needed to keep pushing the earbuds into my ears. I'm guessing I just don't have the right size ear tip installed. I don't feel like this is affecting the audio quality or seal but it just feels like they should fit a little tighter. 
As with other Bluetooth headphones and earbuds I've used both iOS and Android show the battery level which is a great way to see exactly how much charge you have before you start listening and so you'll know when it's time to top them off again.
One thing that can be a concern with the hooks that go over your ears is how they work with glasses. I didn't have any problem with my glasses while wearing these earphones. My glasses rested on my ears just like usual and I couldn't even tell there was something else there for the most part. That's the feeling I had in general while wearing these – other than feeling the earbud itself inside my ear and a slight bit of pressure from the wireless adapter that sits behind my ear I can't really tell there's anything there.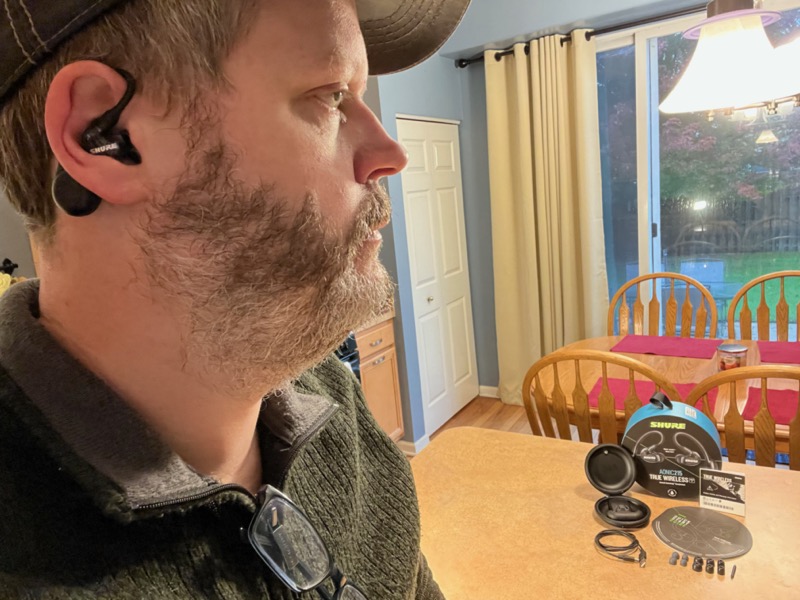 When I turned on Environment Mode I noticed a little bit of a background hiss, kind of like the constant background noise when listening to something on an old cassette tape. This isn't noticeable when I have music playing for the most part but when listening to podcasts or if the music is softer it's more apparent. In the PLAY app you can adjust the Environment Mode Level, which decreases the noise but then it also lets through less ambient sound. I still think this feature is important for safety while out in the elements, or to hear family members while you're doing the dishes or something around the house but I do wish it could be a little quieter. I've noticed this with other earbuds that have this feature as well so it's not isolated to Shure's products.
Shure quotes up to 32 hours of battery life with the charging case – that's 8 hours on the earphones themselves and up to three more full charges in the case. I didn't do any scientific testing to confirm whether those times are accurate but I did only have to charge the case one time over the course of a few weeks of periodic use. As I write this review the left earpiece is at 50% and the right is at 65%. I don't know why they're so different from each other. I'll keep an eye on those numbers and if it continues to be a problem I'll reach out to Shure support and see what they think might be going on. As it is, I typically listen for 2 – 3 hours at a time at the most, then return the earphones back to the charging case for a few hours or even a few days. With that amount of use I don't anticipate the different battery levels being an issue.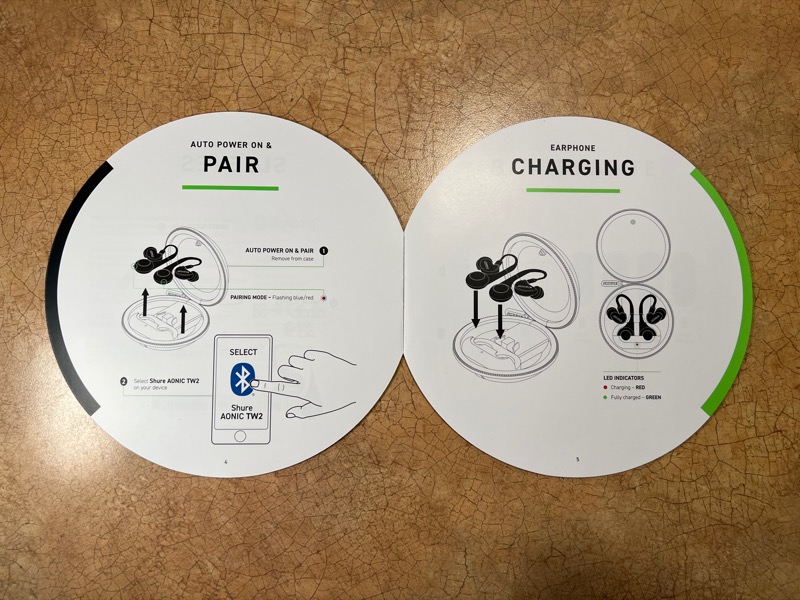 Most of my daily listening for the last few years has been podcasts with a single Galaxy Buds earbud in one ear or the other. I listen while working, doing chores around the house, or whenever I'm dong something that doesn't require reading or complete concentration. I use one earbud because I want to be able to hear what's going on around me. I don't listen to music with one earbud, though, because I miss so much that way, plus the audio quality isn't up to the same level of the AONICs 215s. The quality of these earphones has me wanting to find more time throughout the day when I can block out the distractions around me and listen to the music that I enjoy (and use the Environment Mode if I really need to hear what's going on).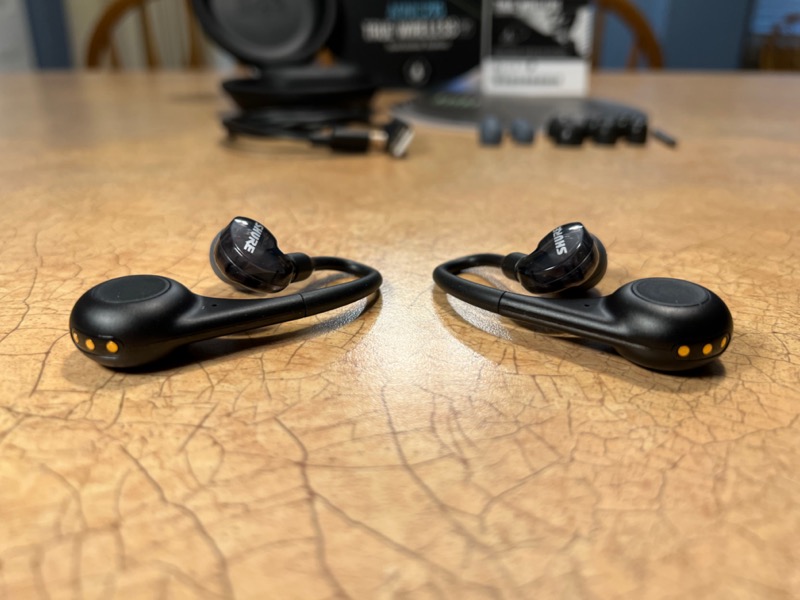 What I like
Audio quality – these are the best sounding Bluetooth earbuds I've used
PLAY app – having the ability to adjust EQ settings (and save presets) and controlling what each button does are very convenient features
Long battery life
Can use either earpiece on its own with full functionality
What I'd change
Decrease the noise level when Environment Mode is turned on
Final thoughts
Thanks to Shure's legendary audio quality these earphones allow me to listen to the music I enjoy without feeling like I'm missing anything or without having to wear larger over-the-ear headphones to get the quality level I want. They're not the cheapest true wireless headphones available, but if you value audio quality and flexibility, look no further.
Price: $229
Where to buy: Amazon or Shure
Source: The sample for this review was provided by Shure. For more information visit their site.