We use affiliate links. If you buy something through the links on this page, we may earn a commission at no cost to you. Learn more.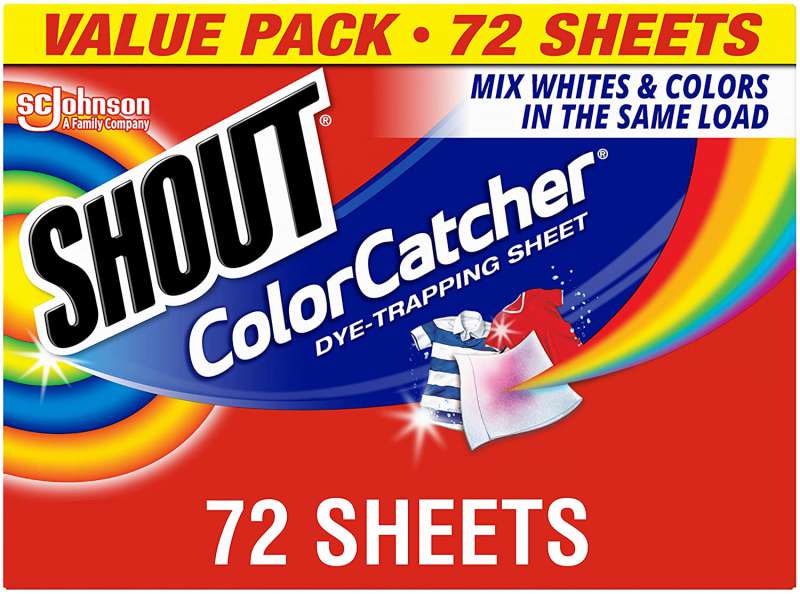 ARTICLE – I recently saw a meme claiming no one under 40 sorts their laundry anymore. Guess what? I'm over 40, and I don't sort my laundry either!
When we lived in Europe, a friend got me into Shout color catchers, and I haven't looked back. I loved these when we had a tiny washing machine, and I threw in a load every day to stay on top of things. When we were in temporary housing and I'd go to the laundromat, these dye-trapping color catchers saved me money by doing fewer loads. And now, well, I'm just used to it and don't plan on going back to the hassle of sorting whites from colors.
You just throw in your unsorted laundry to the washing machine with a color-catcher sheet and your detergent. (I use Breezeo detergent sheets.) The color-catcher sheets absorb any extra dyes, which prevents them from staining your lighter clothes. You can tell they're working, too, because you'll see color remnants on the used sheets… and a lack of stains on your white tee shirts and socks.
And it's not a problem if they go through the dryer, too, so you don't have to stress about picking them out after your wash cycle.
A box of 72 Shout color-catcher sheets costs $9.94 on Amazon. I have these on my current Subscribe and Save list, which brings down the price a little.
Clearly, I'm not the only one using this laundry hack and skipping the sorting; they have a 4.9 out of 5 star Amazon rating with more than 20,000 ratings.