We use affiliate links. If you buy something through the links on this page, we may earn a commission at no cost to you. Learn more.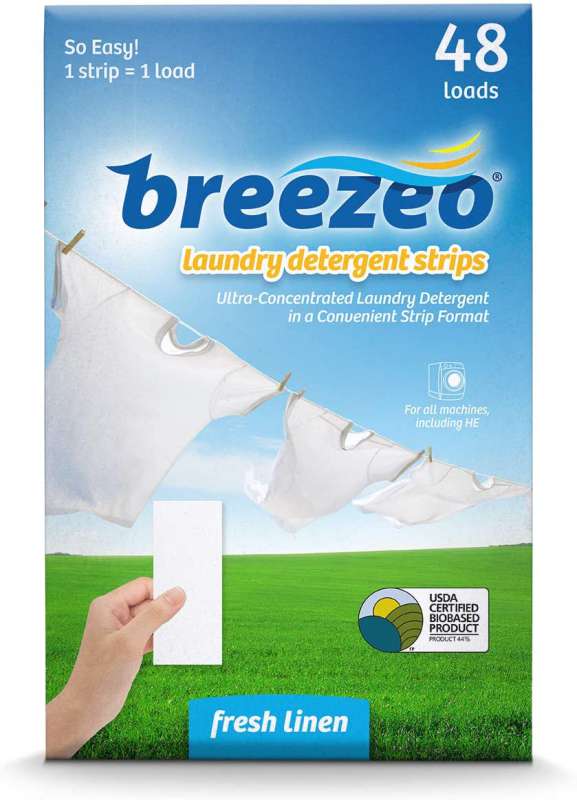 ARTICLE – Do you ever have a problem with laundry pods not fully dissolving? Or liquid detergent leaving behind marks, stains, or discoloration on your clothes? 
I did. And I thought I was the only one, figuring it was a user error on my part.
But then I read in one of my online parenting groups that others were having the same problem. Especially college kids who are laundry newbies or impatient types like yours truly who often forgets you're supposed to put the pods in before the clothes.
Since I doubt I'll change my ways, I went with the solution the other moms recommended: laundry sheets. Before that, I didn't even know laundry sheets existed. 
I tried Breezeo and have never looked back. They're now part of my regular Subscribe and Save list. 
They work great, dissolve without issue, and I love the environmentally-friendly packaging and compact design. As an aspiring minimalist, it ticks every box. 
Just rip off one strip for smaller loads and add a second for larger loads. They work for all types of washing machines, and you can also use them for hand-washing. 
They're great for travel and camping, too. 
Breezeo laundry strips are' $9.99 for 48 loads on Amazon, 50 cents cheaper if you add them to a subscription.
These detergent sheets currently have a 4.4 out of 5-star rating on Amazon with more than 5,400 ratings.