We use affiliate links. If you buy something through the links on this page, we may earn a commission at no cost to you. Learn more.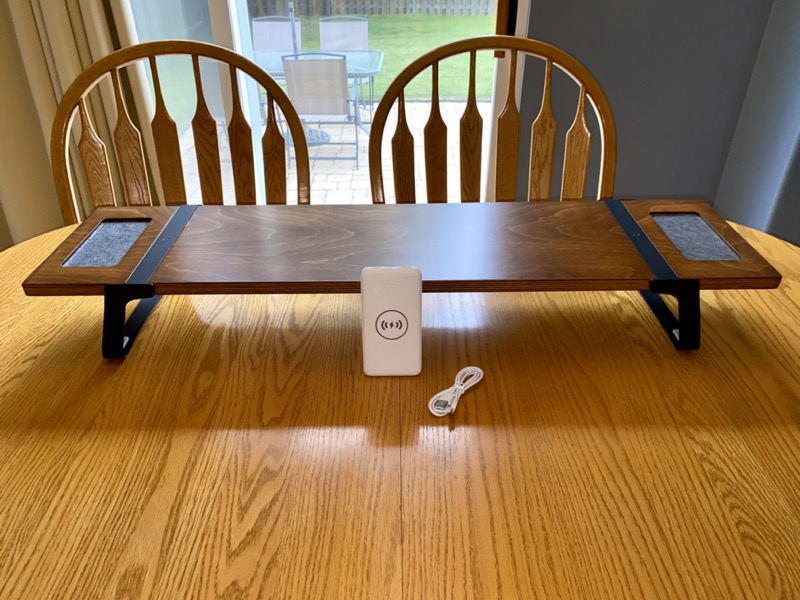 REVIEW – Good posture is very important when you're working long hours at a computer. Raising your computer monitor to the right height can make a big difference in neck and back pain that can come up when you're not seated properly. Of course, you could use a stack of phone books or boxes but what you really need is something designed for this purpose. That's where the FluidStance Raise 36+ monitor shelf comes in. 
What is it?
The Raise 36+ is a monitor shelf and portable battery combo that gives you several benefits while you're working. First, it helps raise your computer monitor, all-in-one computer, or laptop to a better height to help your posture and provide a more convenient viewing angle. Second, it gives you a place to put your keyboard and mouse when you need to work on something on your desktop. Third, it comes with an 8,000 mAh, Qi-enabled portable battery pack to help keep your devices charged and ready for use.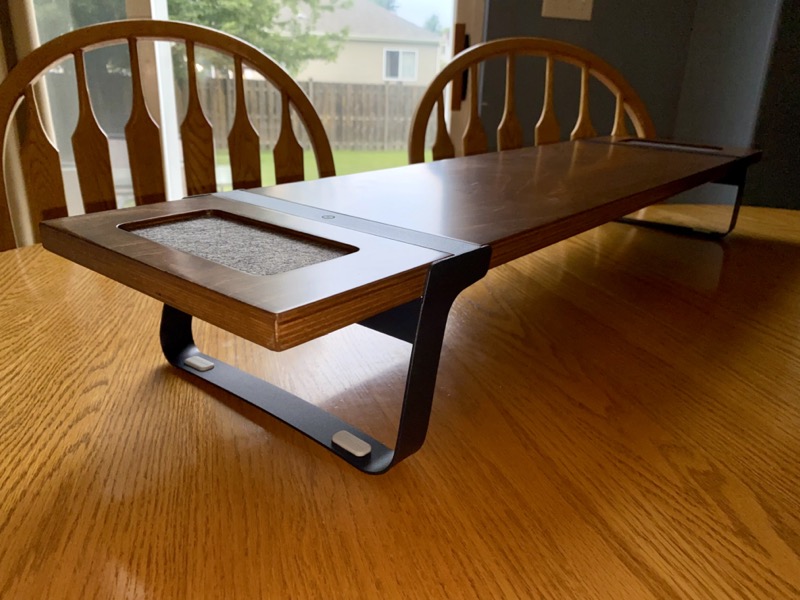 What's in the box?
Desktop Monitor Shelf
Portable Battery Charger
USB-A to MicroUSB Cable
Hardware specs
Shelf
Dimensions: 4.75" H x 36" W x 9.25" D
Weight: 10 lbs.

 
Battery
Capacity: 8,000 mAh
Inputs: MicroUSB, USB-C
Outputs: 2x USB-A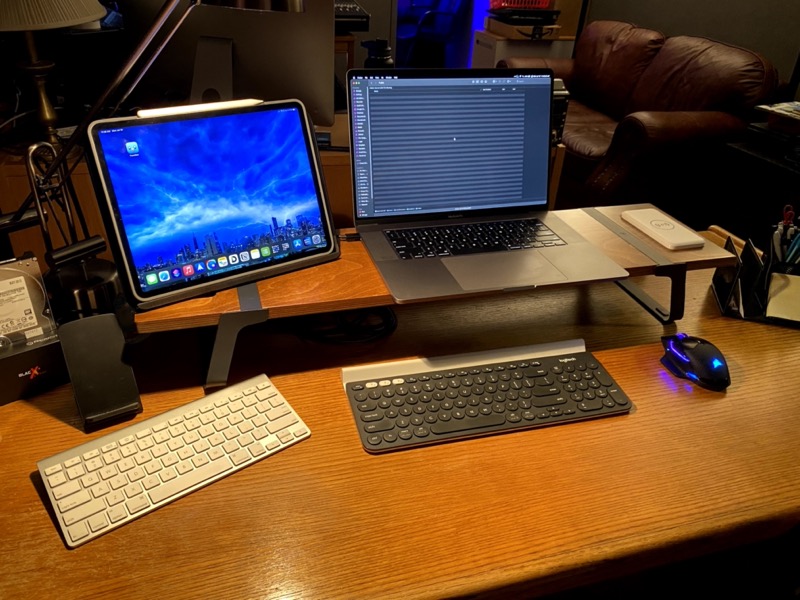 Design and features
The monitor shelf is a well-designed wood shelf, available in either a dark walnut finish or a light natural finish, made from 13-ply veneer plywood, held up by two steel legs. There are silicone rubber feet at the bottom of the legs that help prevent the shelf from sliding around on your desk. At either end of the shelf there are felt-lined recessed cavities that are designed to hold the included battery, pens and pencils, or other small items you might have around your desk. 
The depth of the monitor shelf is plenty for just about any monitor you'll come across. I've been using my laptop on the stand and it hangs out just a little at the front and back but the rubber feet on my laptop sit fully on the shelf so it doesn't slide around or sit at a funny angle or anything. I don't feel like it's going to go anywhere, but it's something to be aware of if you plan to use it this way. Because of the width of the shelf I'm easily able to have my laptop and iPad Pro sitting next to each other. This is convenient if I need to use the iPad as a reference or if I want to plug it in to my laptop to use as a second monitor. Having them both at the same level is very nice. This is where I'd like a little more depth – the iPad case has a built-in kickstand which is great, but it has to sit a couple inches forward from where my laptop screen is, so it's a little awkward. That's not really the fault of this stand, but if it was a little deeper I could have them a little bit closer to each other.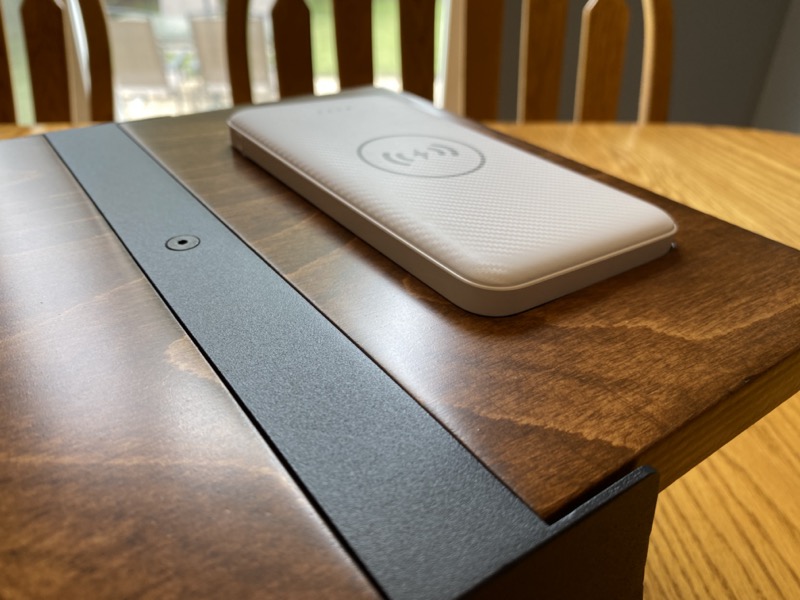 The battery charger is small and sleek, easy to slip into a pocket if you need to take it with you, or just rest it in one of the cavities on the shelf to make sure you always have it on hand when you need to charge up. The battery has 4 USB ports – MicroUSB and USB-C inputs for charging the battery pack and two USB-A outputs for charging other devices. In addition, the top of the battery pack is a Qi charging pad to charge an iPhone, Android phone, Bluetooth headphones, or anything else you have that is Qi-enabled.
I did have a few problems with these items – nothing major, but I wanted to point them out here. First, the stand was a little bit wobbly when I took it out of the box. The wood seems like it's pretty flat, so I don't think it's warped at all. The steel legs were bent just a little bit. This causes the stand to wobble. I was able to bend the legs to try to get them to sit properly on the desk. I got it close but I think I need to go just a little bit further. It's hard to tell if this was a design flaw or if the warping occurred in shipping. The shipping box wasn't damaged at all so it doesn't seem like a shipping issue, but it's hard to say.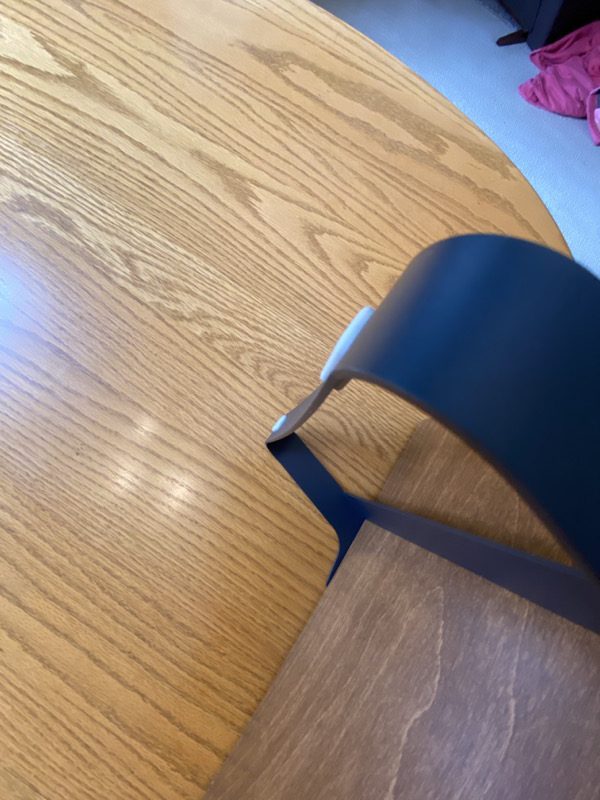 The second problem I have is with the charger. It includes a USB-C port, which on many products can act as an input and an output, usually enabling you to charge the battery or another device faster than with the MicroUSB input or USB-A outputs. In this case, the USB-C connector is input only and it's only rated up to 5V/2A, which is exactly the same as the MicroUSB input, and doesn't support PD or any other faster charging standard.
The third problem is also with the battery. The Qi charging pad, which is very convenient, only supports charging up to 5W, which is the slowest Qi charging rate. The Qi standard supports up to 15W, and even higher depending on the charger. Even 10W would have been nice. Still, it's nice to have another Qi-capable charger at my desk and it will be a benefit when I need it. I just have to remember it's going to take longer to charge anything when I use it.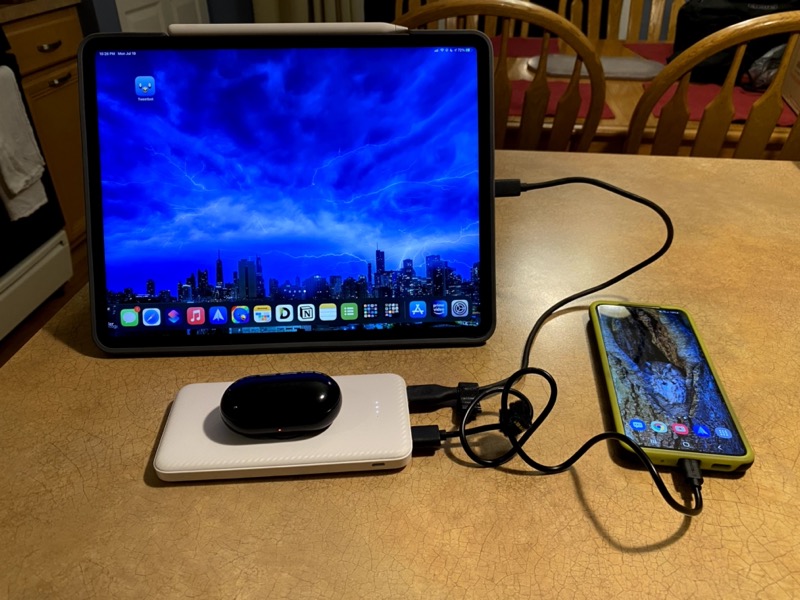 Installation and setup
There's not much to do. Take the products out of the box and set them on the desktop, then set your monitor or computer on the shelf and enjoy the improved viewing angles. The battery should be charged first, which can take a few hours depending on its starting level and the power capability of the charger you use.
What I like
I like having my laptop and iPad raised off my desktop. The viewing angles are so much better and I don't feel like I'm straining my neck looking down all the time. In addition to improved viewing angles and reduced neck pain, I have more of my desk available to use. I can slide my keyboards and mouse under the shelf at any time and have desk space to write on or do any other kind of work that doesn't require a keyboard and mouse. 
I also like having another battery charger, especially one that's made to fit in a slot on the desk so it's always nearby. With so many devices in my life that I need to keep charged up it's nice to always have convenient power available.
What I'd change
It would be nice if the shelf was a little deeper. Having the room to keep my laptop and iPad screens at the same distance would be convenient. Also, it would be nice to not have the shelf wobble like it does. I'm pretty sure I can tweak it a little more and get it to sit flat but I would prefer to not have to do that. Lastly, I'd like to see the issues with the battery addressed. I do feel like it's just a nice add-on to the shelf, so I don't want to complain too much, but having those issues fixed would make it an even better value.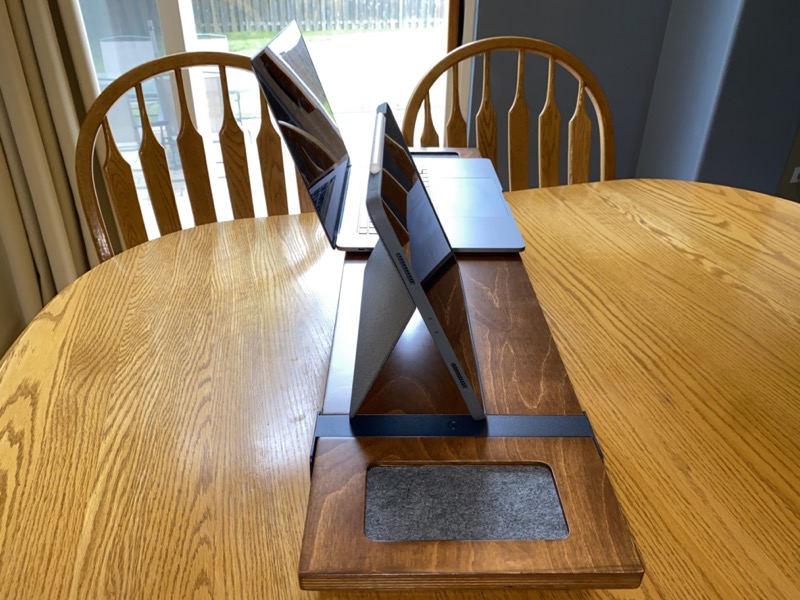 Final thoughts
Overall this has already been a great addition to my desk in the week or so that I've been using it. The convenience of raising my computer and iPad, the extra storage it provides underneath, and having another battery pack available any time I need it, have already made my life a little easier.
Price: $169
Where to buy: fluidstance.com
Source: The sample for this review was provided by FluidStance. For more information visit their site.